Jump to Recipe
A delicious Torta Ahogada filled with mouthwatering carnitas and drowned in a red chile and tomato sauce! It's one of the best Mexican sandwiches you'll ever eat!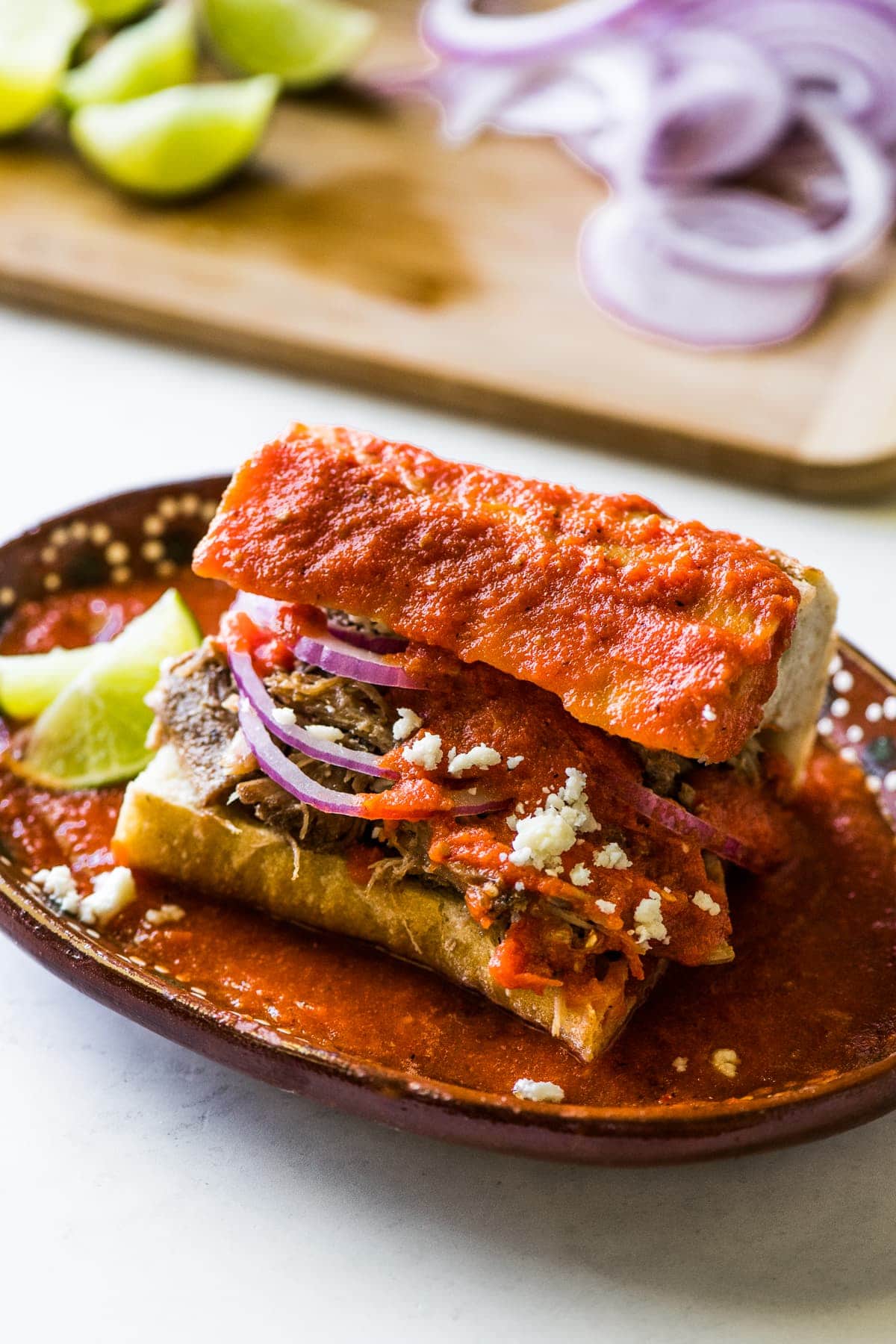 Tortas Ahogadas are the ultimate Mexican sandwich and are such a treat to eat!
Stuffed with tender pork and smothered in a red chile and tomato sauce, they can be a little messy to handle but are so so worth it!
Grab a few extra napkins, an ice-cold horchata, or agua de tamarindo, and dig in!
What is a Torta Ahogada?
A torta ahogada (or 'drowned sandwich' in English) is a Mexican sandwich made from a crusty bread roll that's filled with pork carnitas and red onions. It's dipped or "drowned" in a red chile sauce and served with fresh lime wedges.
This sandwich is especially popular in the Mexican city of Guadalajara, Jalisco where it's sold in countless restaurants and by street vendors.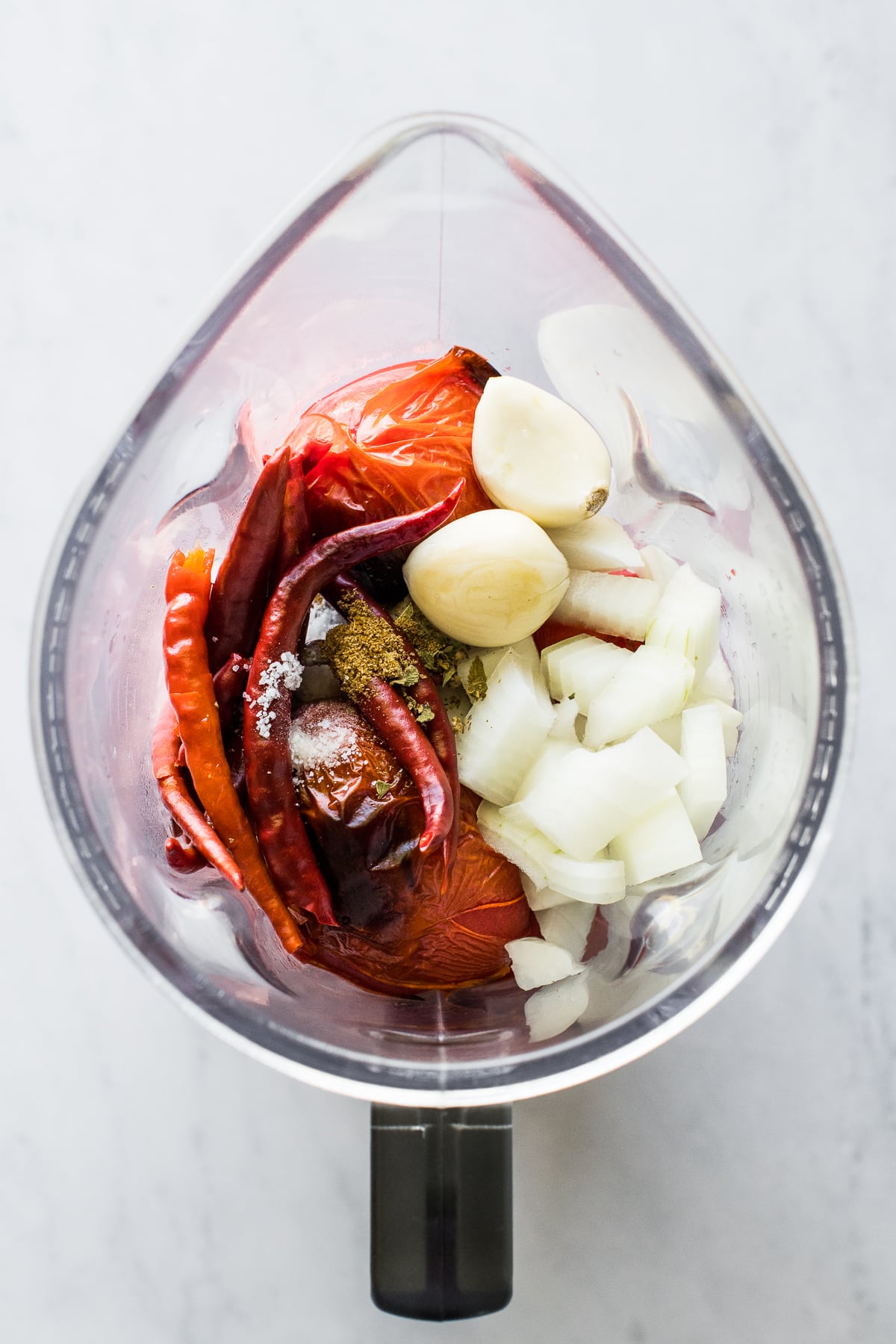 Ingredients You'll Need
Bread – Tortas ahogadas are traditionally made with a bread called birote that's crunchy on the outside and soft on the inside. It's similar to bolillo bread, but the outside is crunchier and has a saltier, almost sourdough-like flavor. Birote isn't always easy to find in the U.S., so I recommend using a crusty bread like a French baguette or a sourdough. About a 6-8 inch size roll per person is great.
Carnitas – You'll need 1 pound of cooked shredded pork carnitas. I made this carnitas recipe and used the leftovers to make tacos and salad bowls!
Red Onions – Raw sliced red onions and pickled red onions are great to give the sandwich a slight tanginess!
Tomatoes – Roma or plum tomatoes are used to make the base of the red sauce.
Chile de Arbol Peppers – These peppers are what give the sauce a spicy kick. Learn more about chile de arbol peppers.
Garlic, Onions, Vinegar, & Spices – Ground cumin, Mexican oregano, a splash of white vinegar, garlic, and onions are all blended together with the tomatoes and peppers to make a tasty red chile sauce.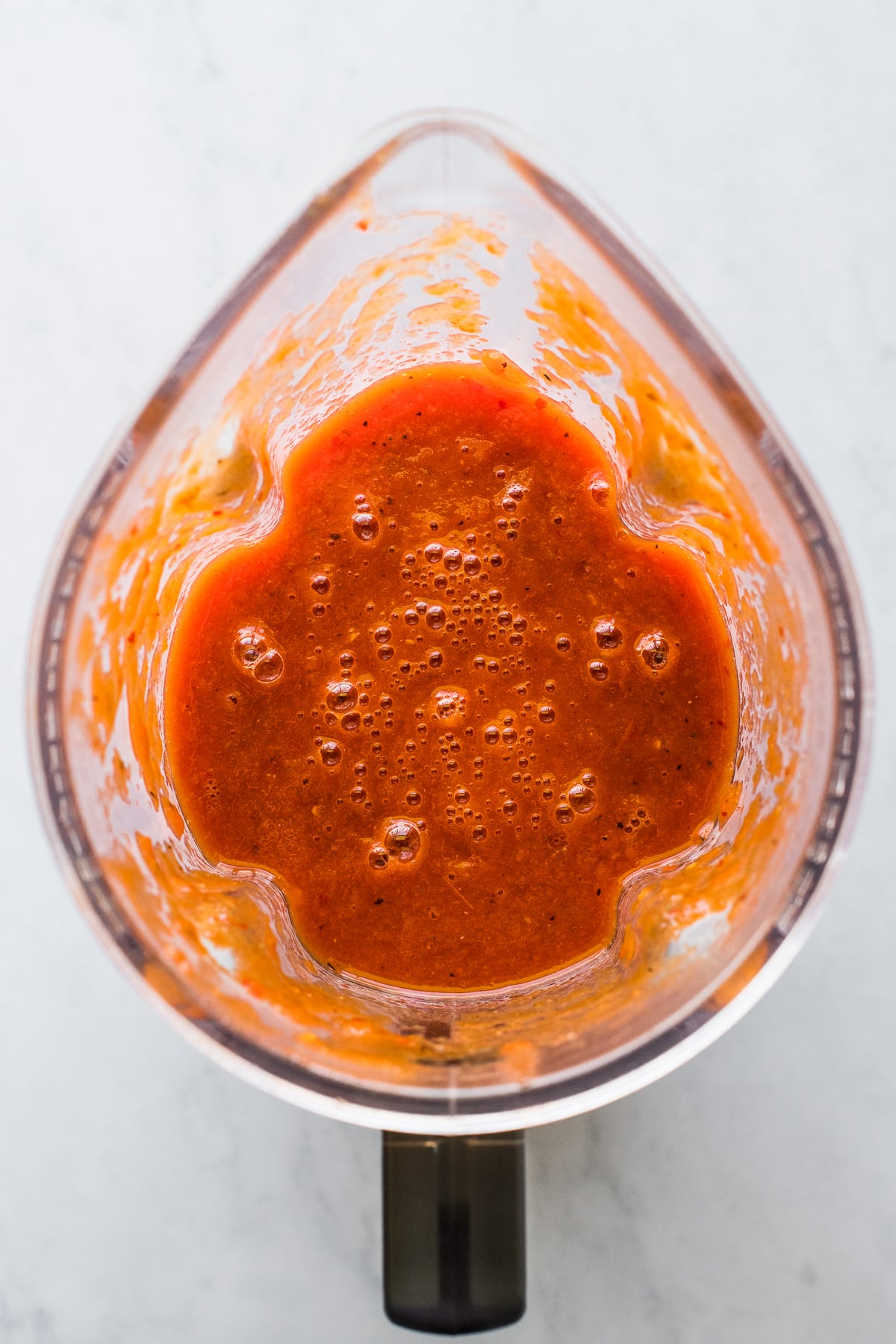 How to Make Tortas Ahogadas
First, you'll need to make the sauce. Start by placing the dried chiles in boiling water until they softened. Then, roast the tomatoes under the broiler or over an open flame until the skins begin to blister and blacken.
Add the roasted tomatoes, softened chiles, and the remaining sauce ingredients to a blender and puree until smooth. Lightly cook the sauce in a saucepan with some olive oil until it starts to simmer. This will deepen the flavor of the sauce even more and cook out any strong raw onion flavors.
Next, assemble the sandwiches by stuffing each roll with a generous amount of carnitas and sliced onions. Place them bowls (a pasta bowl is great for this) or a plate with deep sides that can hold a good amount of liquid. Generously pour the sauce on top of each sandwich and enjoy!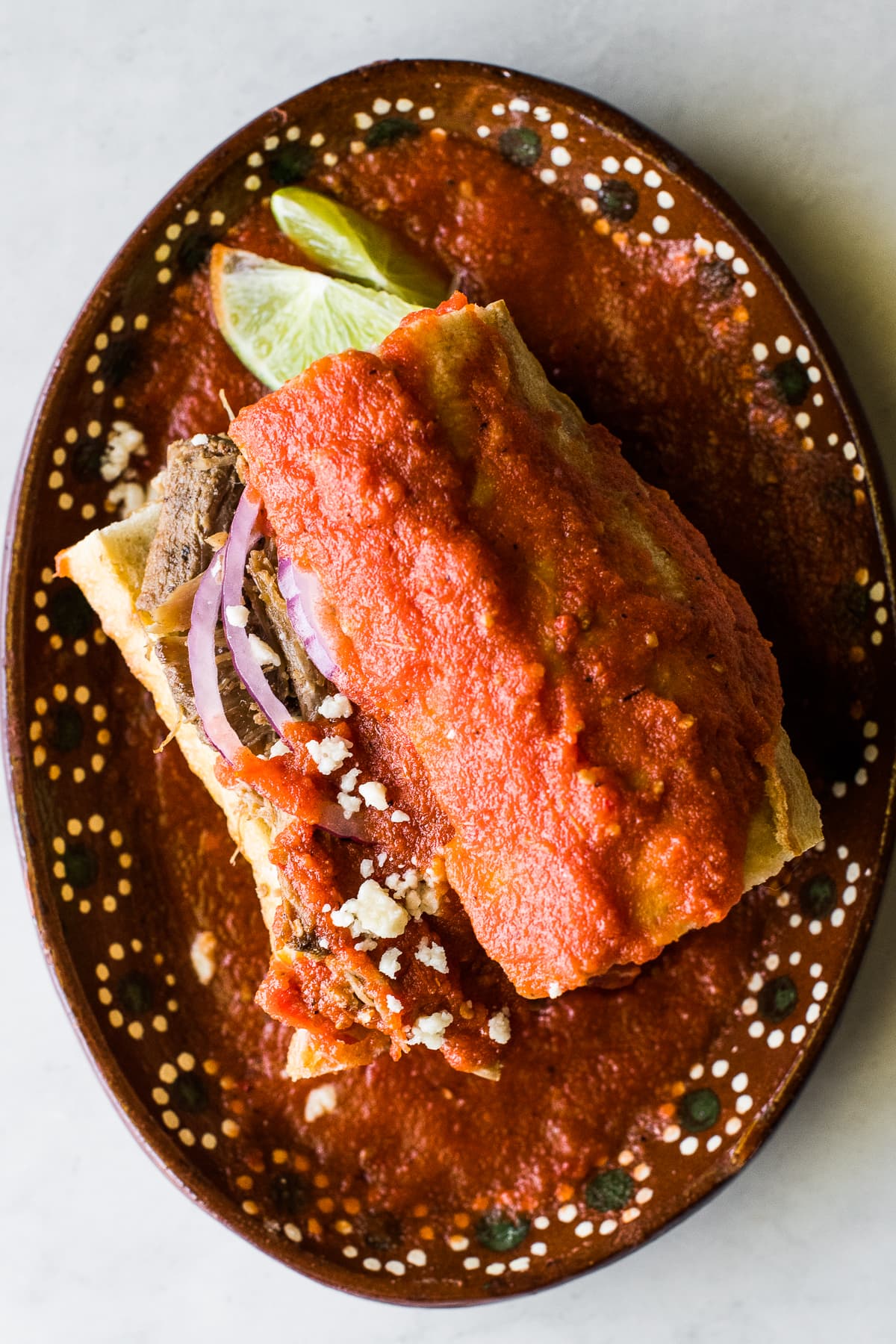 Tips for Making the Best Tortas Ahogadas
Use a crusty bread. It ensures that the bread doesn't totally disintegrate and fall apart after soaking and sitting in the sauce. A crusty French baguette or a sourdough are great options!
Adjust the heat level of the sauce to your liking. 8-10 peppers gives the sauce a medium heat. For a mild heat, use 5 peppers. For an extra spicy kick, use 15 or more peppers.
Strain the sauce for an extra smooth consistency if desired. The sauce is typically strained before serving to achieve a smoother consistency (almost like a hot sauce), but this step is optional. I personally prefer the sauce when it's not strained since I find that it sticks to the bread better, but it's totally up to you!
To save some time, make the sauce ahead of time. While I don't recommend making the entire sandwich ahead of time since it will get soggy, you can make the sauce up to 3 days in advance. When you're ready to eat, just heat up the sauce on the stove or in the microwave.
Prep: 10 minutes
Cook: 25 minutes
Total : 35 minutes
A Torta Ahogada filled with mouthwatering carnitas and drowned in a red chile and tomato sauce! It's one of the best Mexican sandwiches you'll ever eat!
Ingredients
For the sauce
2 pounds roma tomatoes
8-10 árbol chiles, rinsed and stems removed
3 cloves garlic
1/2 cup chopped onions (white or yellow)
2 tablespoons distilled white vinegar
1 teaspoon kosher salt plus more to taste
1/4 teaspoon ground cumin
1/4 teaspoon dried oregano (Mexican oregano preferred)
1 tablespoon olive oil
Instructions
Heat 2 cups of water in a medium saucepan over high heat and bring to a boil.

Remove the saucepan from the heat, add the dried chile de arbol peppers, cover, and let sit and soak for 15 minutes to soften and rehydrate.

While the chiles soak, place the tomatoes on a large baking sheet. Broil in the oven for 8-10 minutes, flipping the tomatoes halfway through roasting, until the skins are blistered and charred.

Transfer the softened chiles to a blender using a slotted spoon to drain out any water.

Add the roasted tomatoes, garlic, white onion, vinegar, salt, cumin, and oregano. Puree until smooth.

Heat olive oil in a medium saucepan over medium-high heat. Add pureed sauce, stir to cook, and bring to a simmer. Remove from heat.

Assemble the sandwiches by filling each roll with pork carnitas, red onions, and a sprinkle of cotija cheese.

Place each sandwich in a shallow bowl or a plate with a lifted edges. Pour a generous amount of sauce all over the top of each sandwich.

Squeeze a lime wedge or two on each sandwich and serve.
Isabel's Tips:
Use a crusty bread. It ensures that the bread doesn't totally disintegrate and fall apart after soaking and sitting in the sauce. A crusty French baguette or a sourdough are great options!
Adjust the heat level of the sauce to your liking. 8-10 peppers gives the sauce a medium heat. For a mild heat, use 5 peppers. For an extra spicy kick, use 15 or more peppers.
Strain the sauce for an extra smooth consistency if desired. The sauce is typically strained before serving to achieve a smoother consistency (almost like a hot sauce), but this step is optional. I personally prefer the sauce when it's not strained since I find that it sticks to the bread better, but it's totally up to you
Nutrition Information
Serving: 1torta Calories: 518kcal (26%) Carbohydrates: 73g (24%) Protein: 24g (48%) Fat: 15g (23%) Saturated Fat: 4g (20%) Cholesterol: 49mg (16%) Sodium: 1762mg (73%) Potassium: 701mg (20%) Fiber: 6g (24%) Sugar: 25g (28%) Vitamin A: 2589IU (52%) Vitamin C: 36mg (44%) Calcium: 150mg (15%) Iron: 4mg (22%)