The ancho chile is a staple of Mexican cooking. Their mild heat and sweet smoky flavor are unique and can enhance the flavor of any meal. Let's take a look at the spicy dried pepper.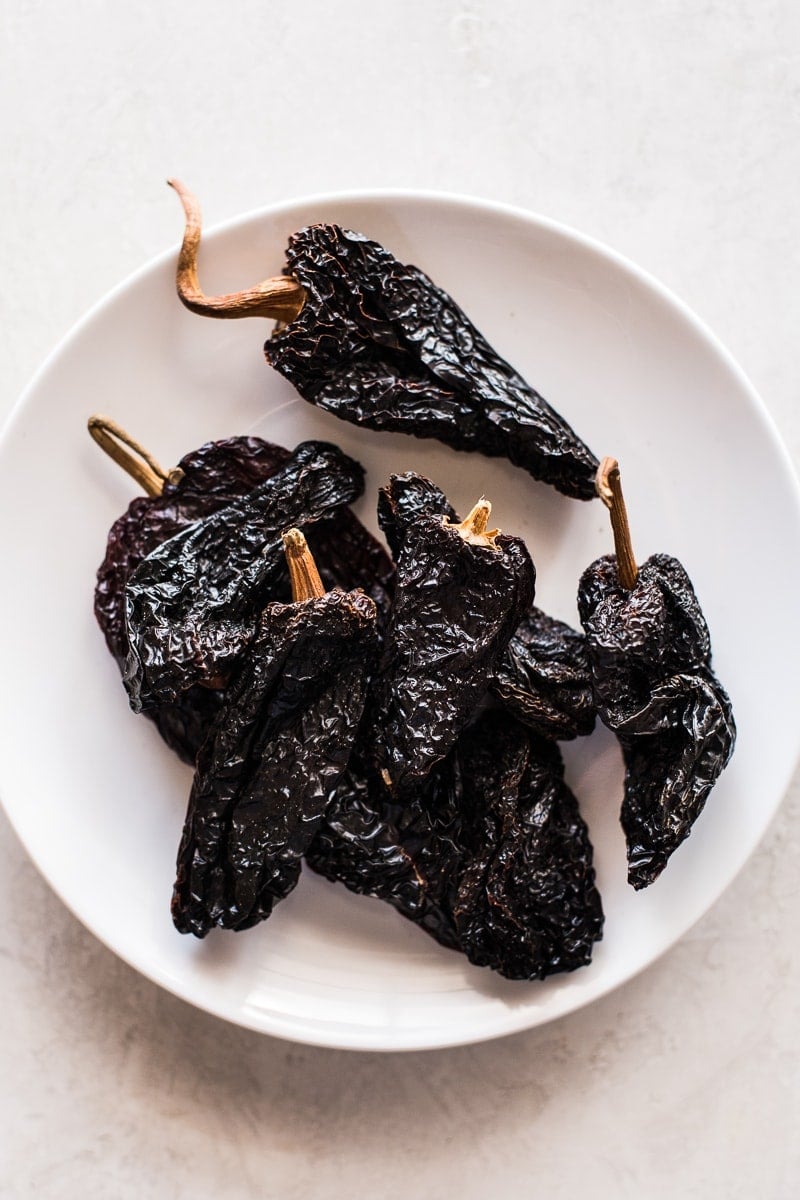 What is an ancho chile?
Ancho chiles (also called anchos) are dried poblano chile peppers.
Most poblano peppers are green, which means they are unripened. To produce anchos, the peppers are allowed to ripen on the plant until they turn red in color. They are then picked and dried. Sun dried ancho chiles are the gold standard.
Selecting and Storing Ancho Chile Peppers
Anchos themselves are fairly large. They are three to four inches long and about 2.5 inches wide. Ancho means "wide" because this variety is one of the largest chile peppers. They are also the most popular dried pepper in Mexican cooking.
When choosing an ancho chile, look for ones that are still pliable and soft if possible. Peppers that are dusty or brittle are past their prime and could be bitter. Always choose peppers that are not broken and have slightly translucent skin.
Dried chiles can be stored in the pantry for up to a year. However, for the best flavor, use them within three to six months. You can also store them in the freezer to maximize their shelf life.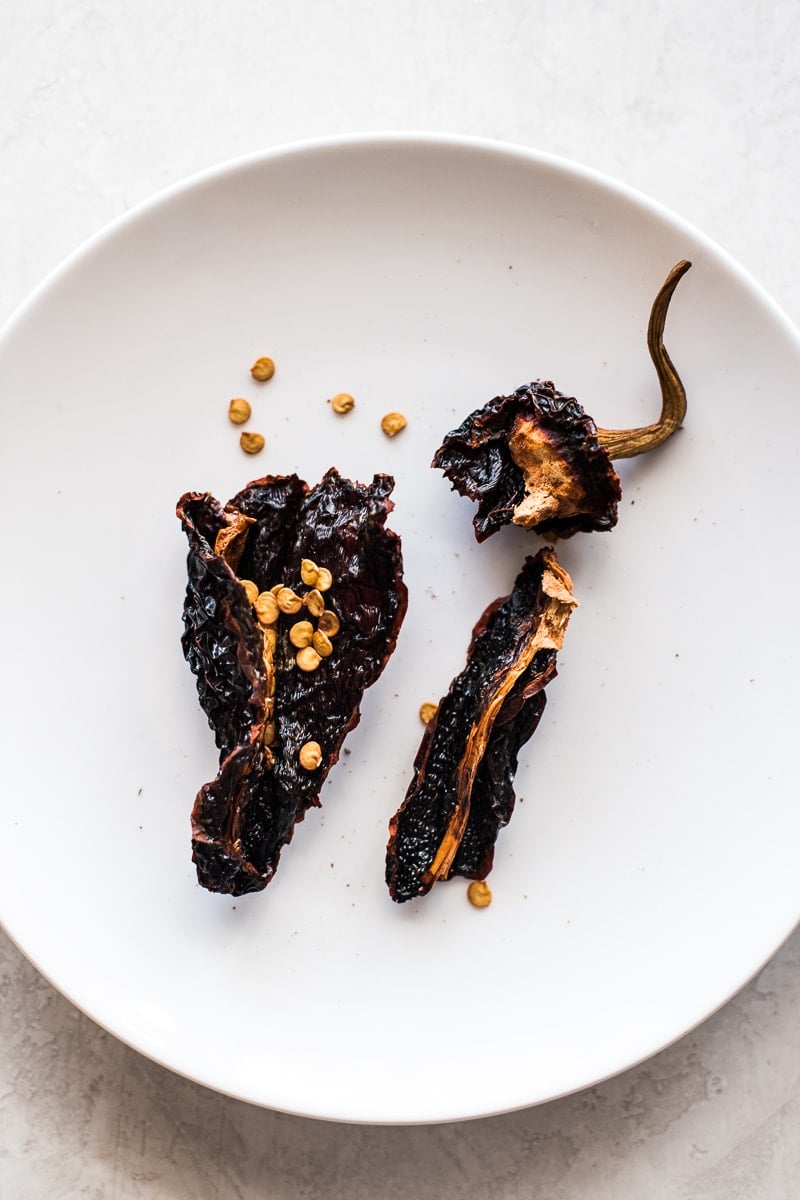 Are ancho chili peppers hot?
Ancho chiles are only as spicy as poblano peppers. They measure about 1,000-1,500 SHU on the Scoville Scale. This is a very mild pepper. In comparison, jalapeno peppers, are much spicier. 
Because the peppers are allowed to ripen on the plant, they develop a sweetness that balances out the capsaicin in the pepper. A smoky flavor is imparted to the peppers during the drying process. Their scent is often compared to that of a raisin.
How do you use them?
Traditionally, ancho chiles are pureed and used in sauces. It is one of the key ingredients used in making mole sauce.
Ancho chiles are softened and reconstituted in hot water before being pureed into sauces. Remove the stem and seeds first. Next, soak them in the water for 15-20 minutes. If you puree the peppers for sauces after rehydrating them, the flavor will be more consistent.
Frequently, roasting ancho chiles is suggested. This brings back some of the flavors that go dormant during the drying process. Just put them in the oven at high heat for a few minutes or flash sear them in a pan for about 15 seconds per side.
Besides the ubiquitous mole sauce, the flavor of an ancho chile tastes great in these dishes: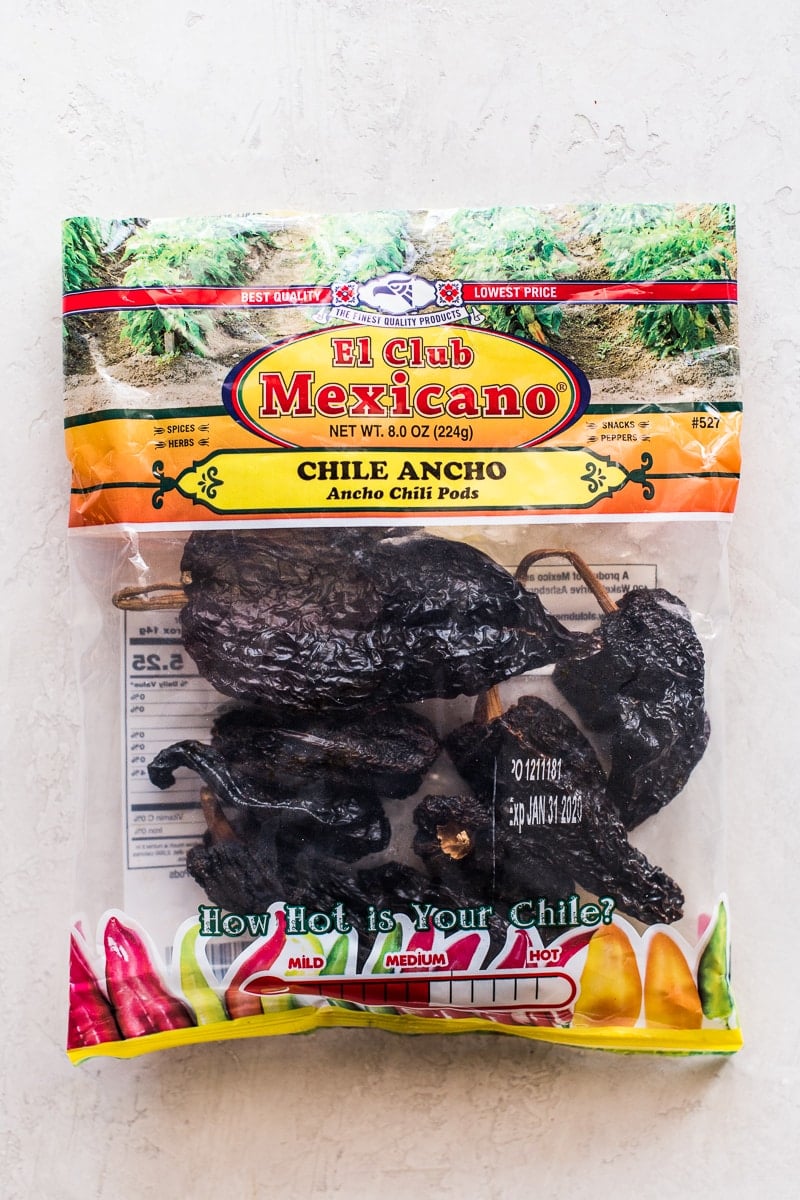 What is a good substitute for ancho peppers?
Ancho chiles are fairly easy to find because they are so popular. They are also difficult to replace in a recipe because their flavor is such a unique combination of smoky, spicy and sweet. However, if necessary, you can substitute mulato or guajillo peppers for ancho chili peppers.
If you can't find ancho peppers, you can probably find dried ancho chile powder in the spice aisle. 
An alternative in the spice aisle would be chipotle powder. While it will not have the earthy flavor that an ancho chile has, chipotle peppers will give your dish a smoky flavor.
Learn about other Mexican peppers