Guajillo peppers are a popular dried chile widely used in Mexican cuisine. It has amazing layers of flavor with a little heat and some fruity and smokey notes. Use guajillos in salsas, moles and stews!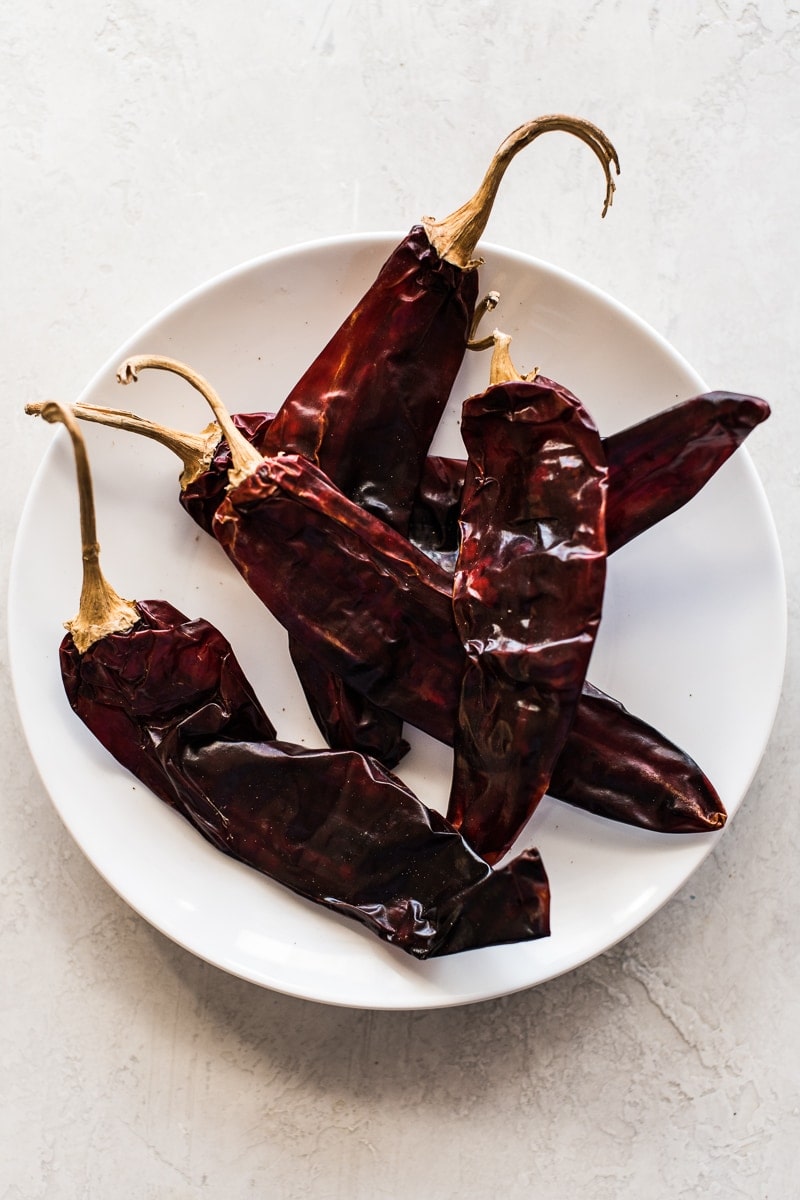 What are guajillo peppers?
Guajillo chiles [pronounced gwah-HEE-yo] are mild peppers that are very popular in Mexico. They are the second most popular dried chile pepper used in Mexican cuisine after ancho chiles. 
Guajillo chiles are the dried form of the mirasol pepper. They are almost never used raw.
There are two distinct varieties of the guajillo. The guajillo puya is smaller and therefore, hotter because the chemicals are more concentrated. The guajillo is longer and wider. It has a very rich flavor and is not as spicy. 
These peppers have a dark reddish brown skin that is wrinkled like raisins. They grow four to six inches long with a slight curve at the bottom.
The flavor of the guajillo is unique. People say it has notes of tangy cranberry and crisp tea. There are a lot of fruity undertones in the taste. They have a smokey flavor layer as well. This unusual taste combination makes it very popular for cooking.
Guajillo peppers are typically sold in two ways:
Dried whole peppers– you can either toast and grind the peppers into a powder, or rehydrate them to make a sauce. Dry roasting in the oven or searing them in a pan will draw out even more of the flavor. To rehydrate, open them up and remove the seeds then let them sit in a bowl of hot water.
Powdered– In the powdered form, the peppers are already ground and ready to be used in recipes.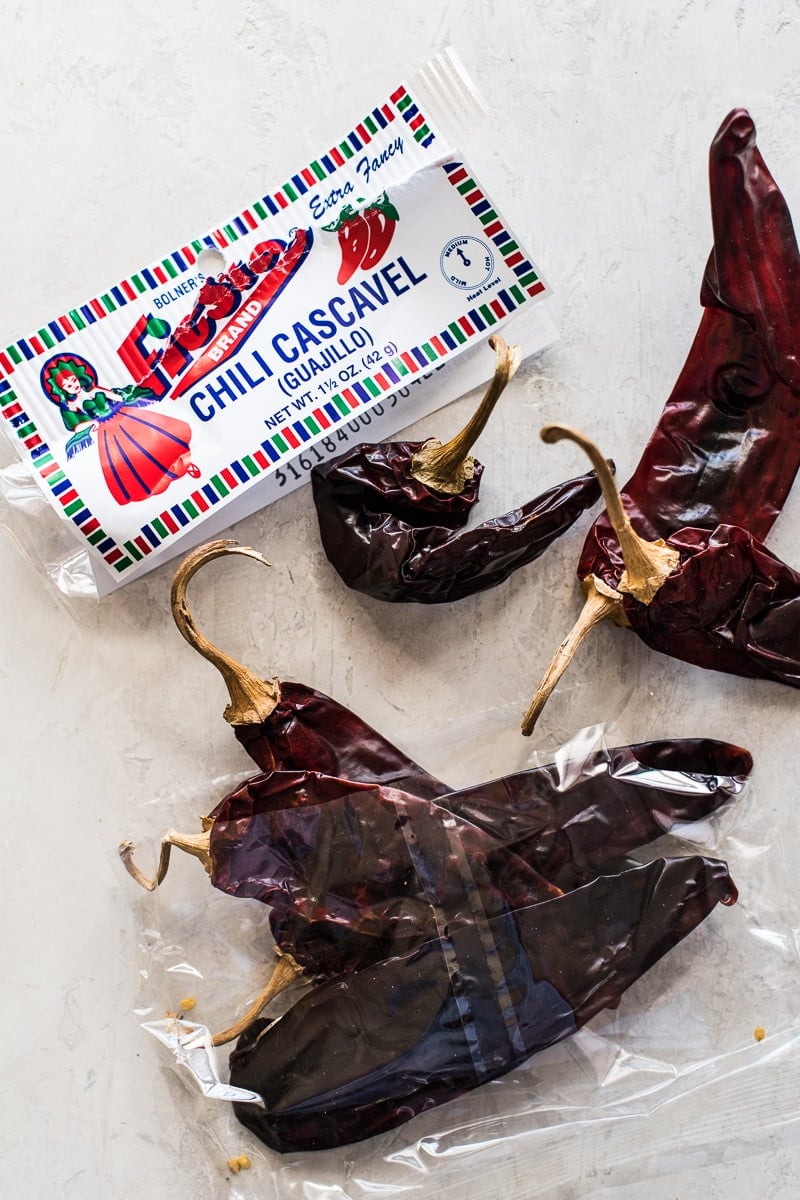 Are these peppers hot?
Guajillo are considered mild to medium chili peppers. They range from 2,500-5,000 SHU on the Scoville Scale.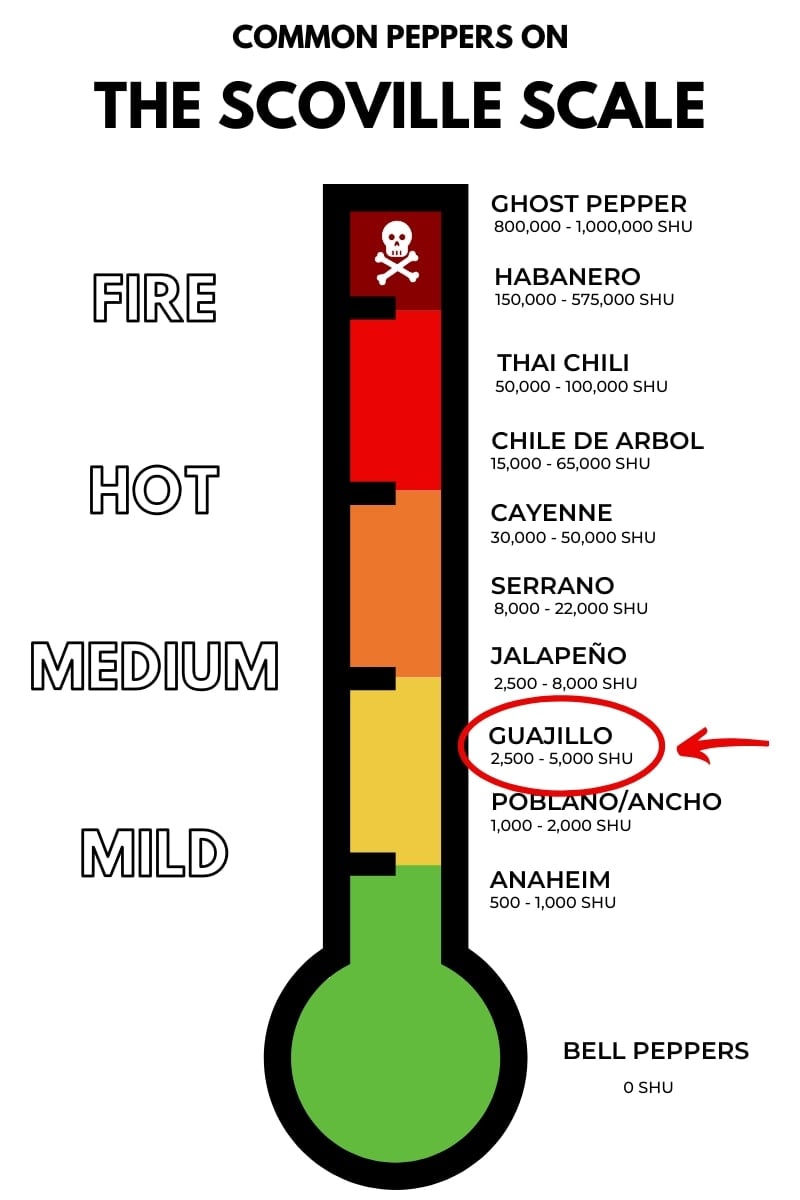 For reference, bell peppers have 0 SHU. The hottest known pepper, the Carolina Reaper, comes in at a whopping 1.5 million SHU.
Jalapenos are a little bit hotter and poblanos are a little more mild than guajillos.
What is a good substitute for guajillo peppers?
Because of the unique combination of flavors, this pepper is hard to replace. You won't find anything else with the same layers of flavor.
However, if you want a replacement, you can use pasilla peppers or ancho chiles instead.
You can buy dried guajillos at hispanic grocery stores or even at large grocers if you live in an area with a growing hispanic population. If you can't find any locally near you, you can easily buy them online on Amazon.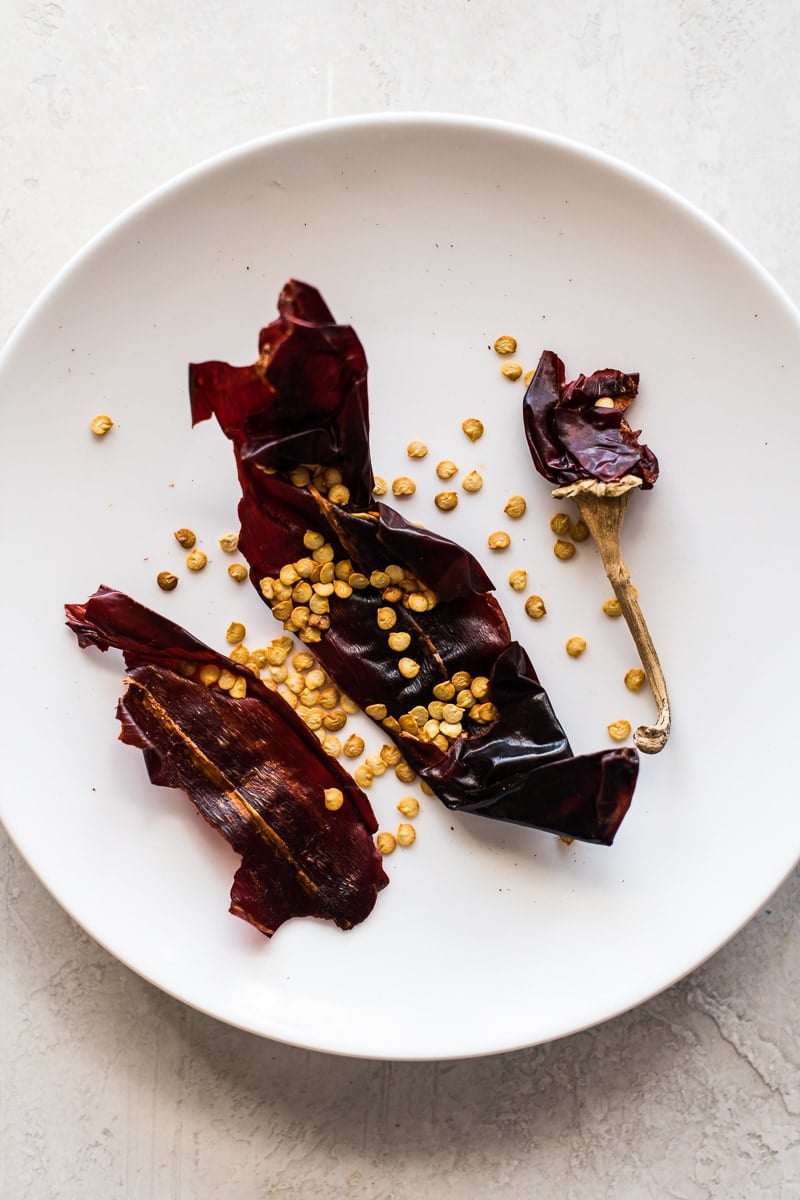 How to buy, store, and use the peppers
When choosing dried guajillo peppers, look for ones that are still pliable. The more brittle they are, the less intense the flavor will be.
Store them in a dry place at room temperature.
These are great to use for in so many recipes! They have a little heat, but not so much that makes it difficult for some people to consume the food. If you love the idea of spicy Mexican food, but can't always handle jalapenos, guajillos are the pepper for you.
Guajillo chilis are included in traditional mole sauce along with anchos and chipotles. And they are also the peppers you will find in harissa chili paste, a Tunsian staple.
Recipes using Guajillo Chiles
Here are a few recipes made with Guajillo chiles:
Learn about other Mexican peppers