Jump to Recipe
These Enchiladas Verdes are made with chicken and covered in an easy salsa verde sauce that's perfect to make during the week! Baked to perfection, they make a great dinner and tasty leftovers that everyone will be excited to eat!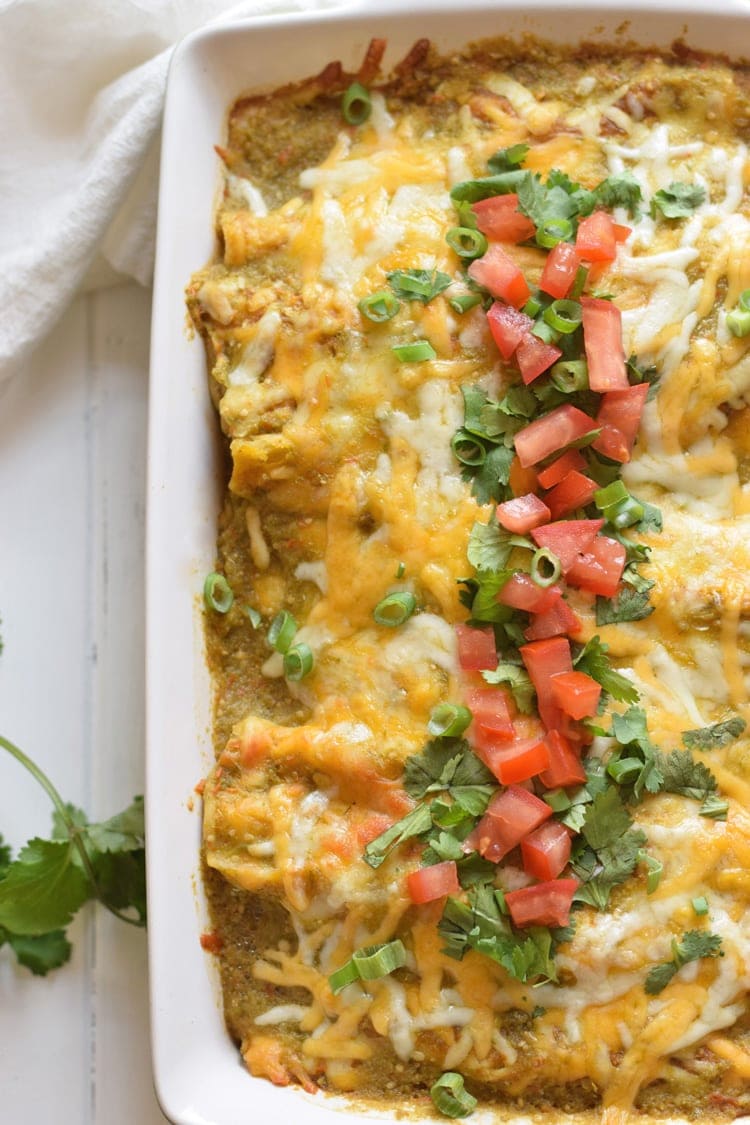 Enchiladas are easily one of the most popular Mexican dishes in my house!
Though there are many variations involving the filling, the cheese, the tortillas, the toppings and the spice/heat level, the one thing that sets enchiladas apart from your regular old taco or burrito is that it's covered, or in my case, smothered in an enchilada sauce!
If you like enchiladas with lots of sauce, these Enchiladas Verdes won't disappoint!
What Makes These Enchiladas Verdes Great
These chicken enchiladas verde are baked, great for dinner and make tasty leftovers.
They're made with simple ingredients. Seasoned baked chicken in corn tortillas, covered with sauce and cheese. So easy!
They're a classic Mexican dish that's super flavorful!
Ingredients you'll need
First up, let's go over what you'll need.
Chicken – This recipe has instructions on how to cook it for yourself using either chicken breast or thighs, but you can also just snag a rotisserie chicken at the store if you need to save a little time.
Tortillas – I used store-bought yellow corn tortillas, but you can use any type of tortillas you prefer! Corn, flour, low carb, paleo-friendly, they all work in this recipe! If you want to make your own, check out these recipes for corn tortillas and flour tortillas.
Salsa Verde – I highly recommend making your own salsa verde. It's just so easy and versatile, once you make it, you'll wonder where it's been your whole life! This recipe uses my easy salsa verde recipe but if you're short on time, you can use your favorite store-bought brand of salsa verde. My personal favorite is the Herdez brand.
Cheese – Lots of it! This recipe uses a Mexican shredded cheese blend that includes Monterey Jack, Cheddar and other cheeses. But if you've only got cheddar or mozzarella in your fridge, that works, too.
Once you've got all your ingredients ready to go, just spoon some chicken into the each tortilla, roll them up into little tacos and place them a baking dish seam side down. Cover the tortillas with the salsa verde, top with cheese and bake!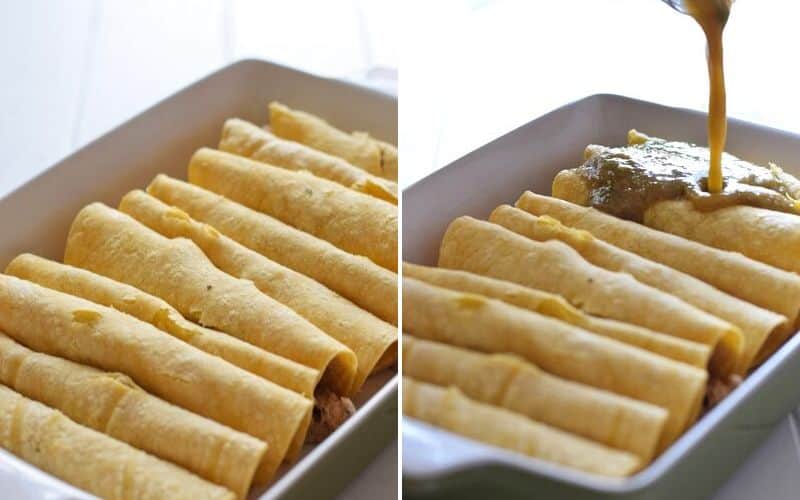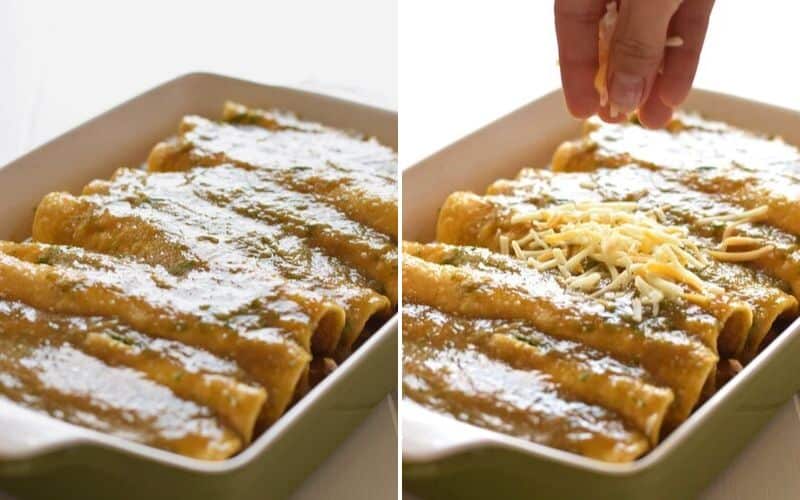 Tips for the best Enchiladas Verdes
Warm up the tortillas before stuffing and rolling them. I like placing them on a plate, covering them with a damp paper towel and heating them in the microwave for about 30 seconds. The damp towel will create some steam which will help the tortillas from drying out.
Be careful not to overstuff the tortillas. Otherwise the tortillas will unroll or even rip.
Try to cover the enchiladas as much as possible with the salsa verde. Any parts that aren't covered with sauce (or cheese) will likely turn out crispy and/or hard.
If the cheese starts to get too brown on top before it's ready to be taken out, just carefully place foil on top of the baking dish for the remaining cook time to stop the browning.
Recipe Variations
Use a different protein: While this recipe calls for chicken, you could also use cooked turkey or pork instead (a perfect use for any carnitas you have leftover).
Make it vegetarian: You can easily make this dish vegetarian by replacing the chicken with beans. Just stuff the enchiladas with the beans, cheese and some chopped spinach, then finish according to the rest of the recipe!
Make it spicy: Add a little cayenne pepper or some chopped jalapeno peppers or serrano peppers to the chicken to get a little more heat!
Don't have salsa verde? You could substitute in this green enchilada sauce or authentic enchilada sauce instead.
I like to top my enchiladas with some chopped cilantro, green onions and tomatoes. Not only does it look pretty, but I'm obsessed with cilantro!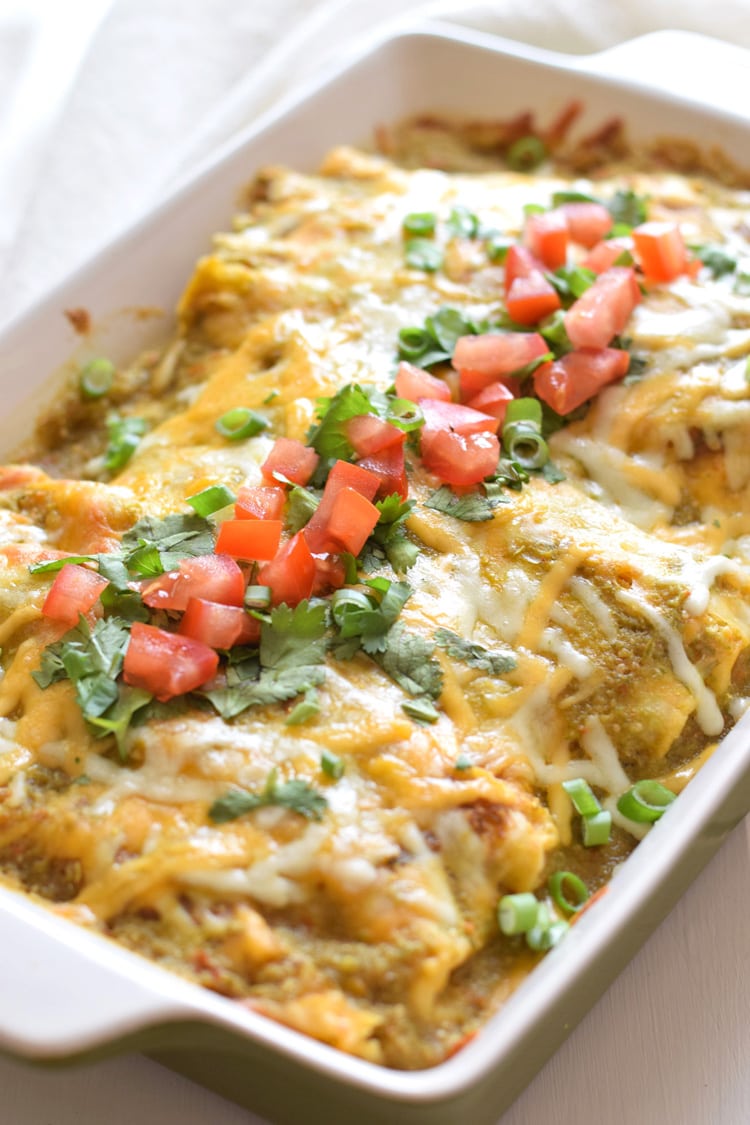 Serving Suggestions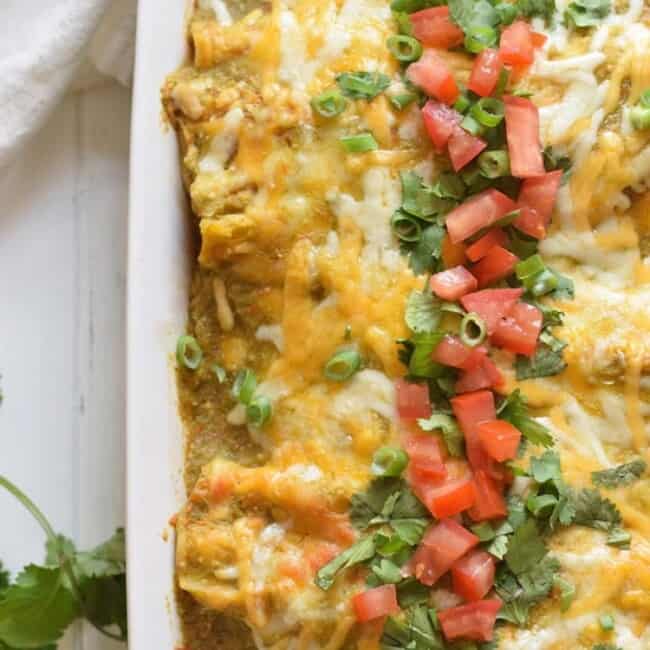 Prep: 5 minutes
Cook: 30 minutes
Total : 35 minutes
These Weeknight Enchiladas Verdes are made with chicken and covered in an easy salsa verde. Baked to perfection, they make a great dinner and tasty leftovers that everyone will be excited to eat.
Ingredients
For the enchiladas
1 1/2 cups Easy Salsa Verde recipe (or store bought salsa verde)
12 corn tortillas (soft flour tortillas can also be used)
2 cups shredded Mexican cheese blend
optional toppings: diced tomatoes, chopped cilantro, chopped green onions, sour cream
Instructions
Preheat oven to 350°F. Cover a large baking sheet with parchment paper and set aside.

Slice chicken breast or thighs into thin strips. In a medium bowl, combine sliced chicken, olive oil, cumin, oregano, onion powder, salt and lime juice.

Place seasoned chicken onto prepared baking sheet and bake in oven for 10 to 12 minutes, or until chicken is no longer pink and fully cooked through.

Place corn tortillas on a plate and cover them with a damp paper towel. Warm tortillas in the microwave for 30 seconds to soften them up and make them pliable.

In a 2 or 3 quart baking dish, begin to assemble the enchiladas. Spoon some of the baked chicken into a warm tortilla. Roll it up and place in the baking dish, seam side down. Continue until all tortillas have been filled.

Pour the salsa verde evenly on top of the enchiladas. Top with shredded cheese.

Bake for 20 minutes or until cheese starts to bubble.

Serve with diced tomatoes, cilantro and green onions.
Isabel's Tips:
To save time, use any leftover shredded chicken you have in the fridge or use a store-bought rotisserie chicken and shred it at home instead of baking your own. Season the shredded chicken as instructed in the recipe.
Nutrition Information
Serving: 2enchiladas Calories: 388kcal (19%) Carbohydrates: 23g (8%) Protein: 30g (60%) Fat: 21g (32%) Potassium: 29mg (1%) Vitamin A: 350IU (7%) Vitamin C: 3.3mg (4%) Calcium: 350mg (35%) Iron: 2.9mg (16%)