Jump to Recipe
Made with baked corn tortillas covered in salsa verde and topped with sunny side-up eggs, fresh cilantro, radishes and green onions, this Mexican Salsa Verde Chilaquiles Casserole is the perfect breakfast and brunch dish. (gluten free, vegetarian)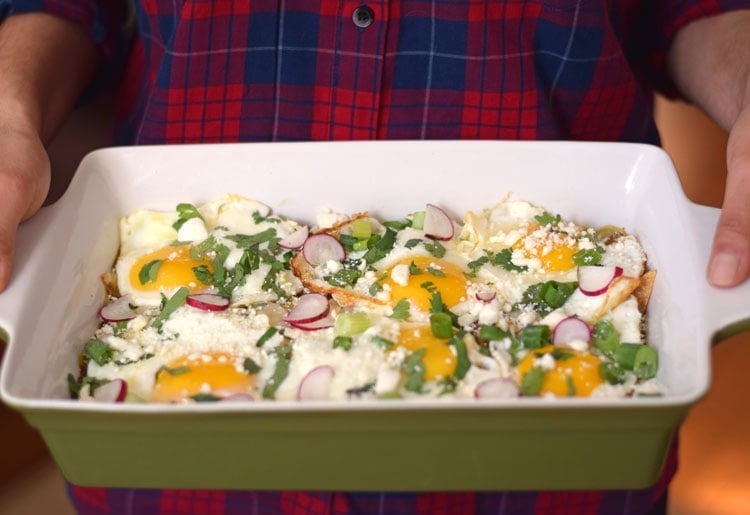 Raise your hand if you love weekend brunch!
Who doesn't, right?
You have time to sleep in, ease into the day and enjoy a relaxed meal that often tastes 10 times better than if you had eaten it on a weekday. I swear it's like magic.
Now that we've established how amazing weekend brunch is, let me introduce you to your new favorite brunch recipe.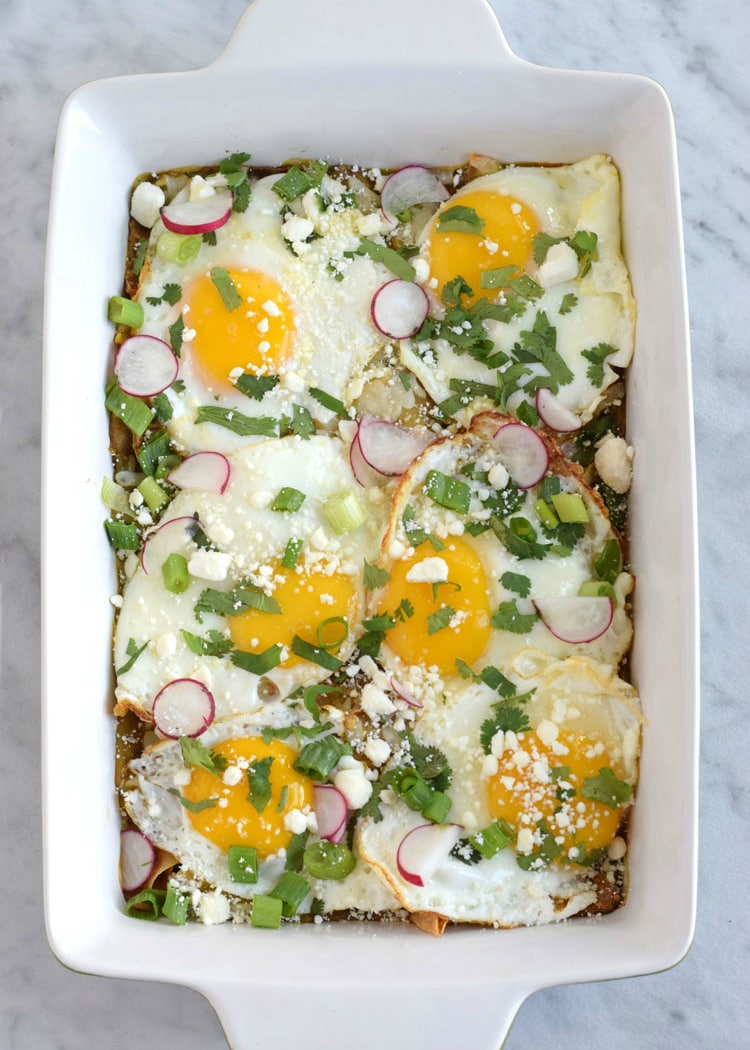 Made with baked corn tortillas covered in salsa verde and topped with sunny side-up eggs, fresh cilantro, radishes and green onions, this Mexican Salsa Verde Chilaquiles Casserole is the perfect start to a beautiful (and delicious) weekend.
I think we can both agree that the dish looks absolutely amazing but just in case you've never heard of chilaquiles before, let me fill you in.
Chilaquiles are a simple Mexican dish that incorporate some of the essential ingredients found in a Mexican kitchen – corn tortillas, chiles, cilantro and eggs. It's quick and easy to make and there are a lot of different variations so you can truly make it your own. It's without a doubt Mexican soul food.
Instead of making my own salsa verde, I'm taking a little shortcut this time and keeping this recipe simple by using a jar of HERDEZ Salsa Verde. While my mom's homemade salsas will always be number one in my heart, this salsa verde truly packs some amazing flavors unlike any other store-bought salsas I've tried. It's made with fresh ingredients like green tomatillos, serrano chile peppers, onions and cilantro and it isn't watered down, which is so important when making authentic Mexican food.
If you prefer to make your own, here's an easy salsa verde recipe that I recommend!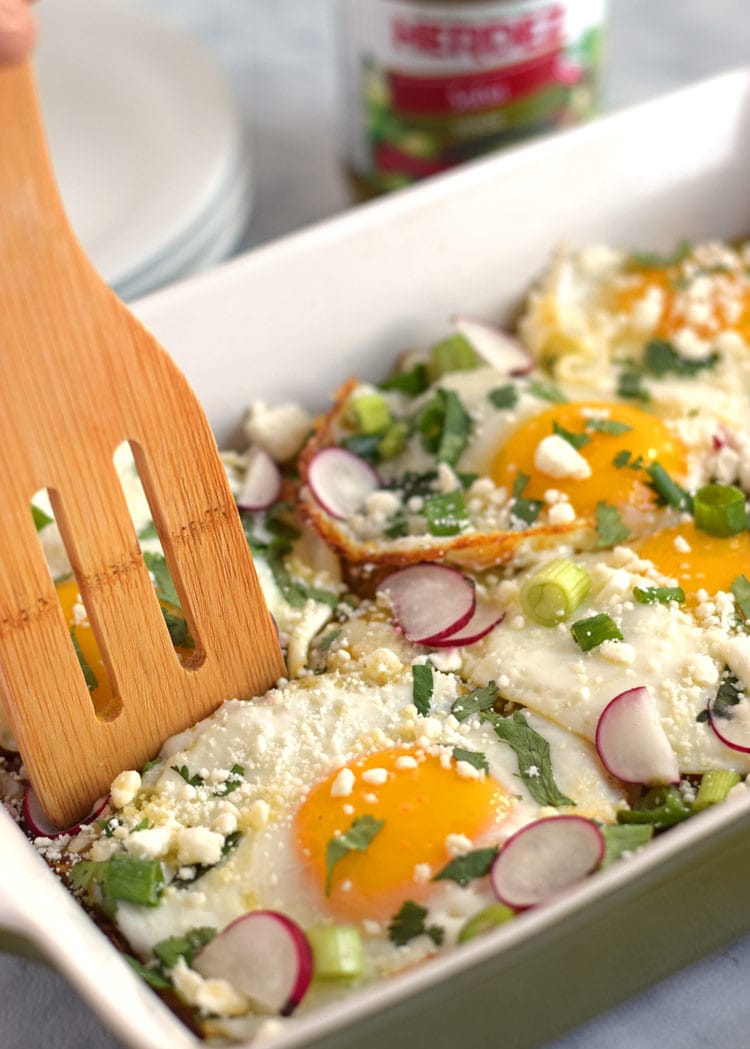 Since moving away from my family in Oklahoma City, an area with a substantial and growing Hispanic population, to the City of Pittsburgh, where the Hispanic population is extremely small, I've come to really appreciate how much the Mexican culture means to me.
And a big part of the culture is the importance of family.
Now I come from a large immediate family. I'm the youngest of six and I have more than 10 nieces and nephews. Now just try imagine us all getting together for someone's birthday party.
Yep. There are a lot of bodies running around in one house.
Sure, it can seem a teeny bit chaotic to an outsider, but it seems totally normal to me. And it's also actually lots of fun. 🙂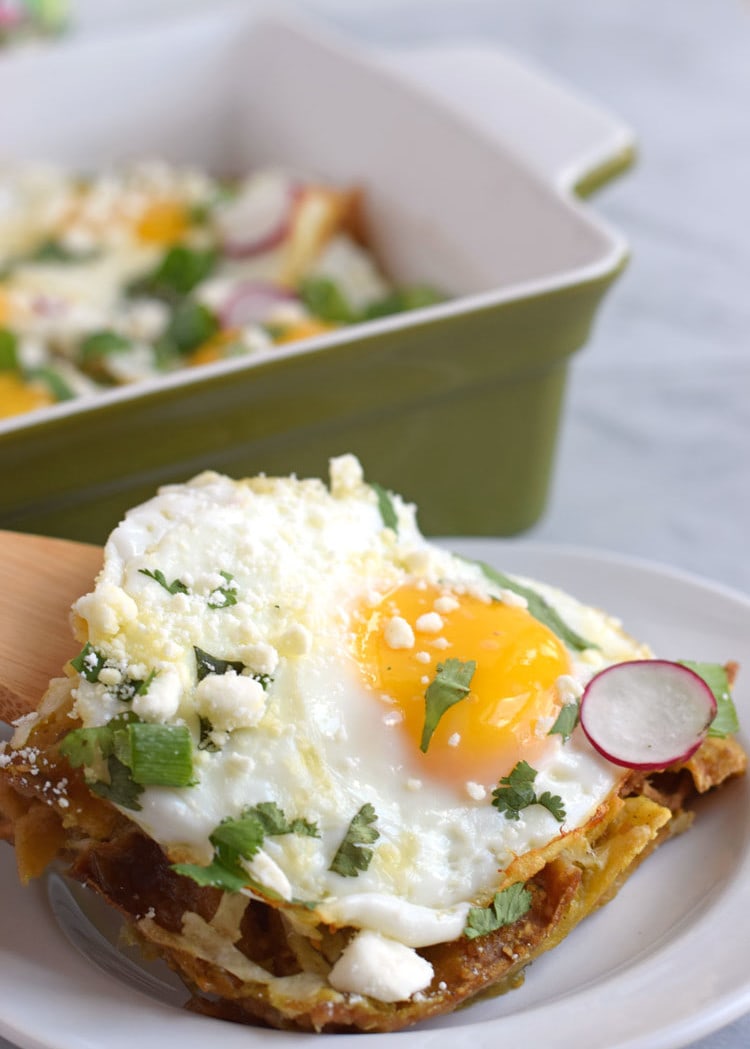 My sisters and I are usually in the kitchen with my mom helping her get the food ready. She usually has the final say on whether a dish is missing something flavor-wise or not. For example, I'll follow her instructions on how to make something, ask her to taste it while I'm actually in the process of cooking it and she'll somehow immediately know whether something is missing or not. And naturally, she'll simply adjust the recipe on the spot.
She's just the best.
Meanwhile, the kids are usually running around and playing in the backyard. But every once in a while, my seven year old niece will pop her head into the kitchen to see what we're up to. If she's feeling extra curious, sometimes she'll even ask to help. We usually try to give her an easy task such as mixing together a sauce or kneading some dough.
With Dia del Nino (Children's Day) coming up on April 30, I'm reminded how important all my nieces and nephews are, whether it's the youngest who is seven or the oldest who is 18 (or 19, or 20 – whatever it is, it just means I'm getting old). While I won't be with them or the rest of my family in late April, I will be making a trip to see everyone in May. And rest assured, when I'm home, I'll be making this chilaquiles recipe for everyone to enjoy.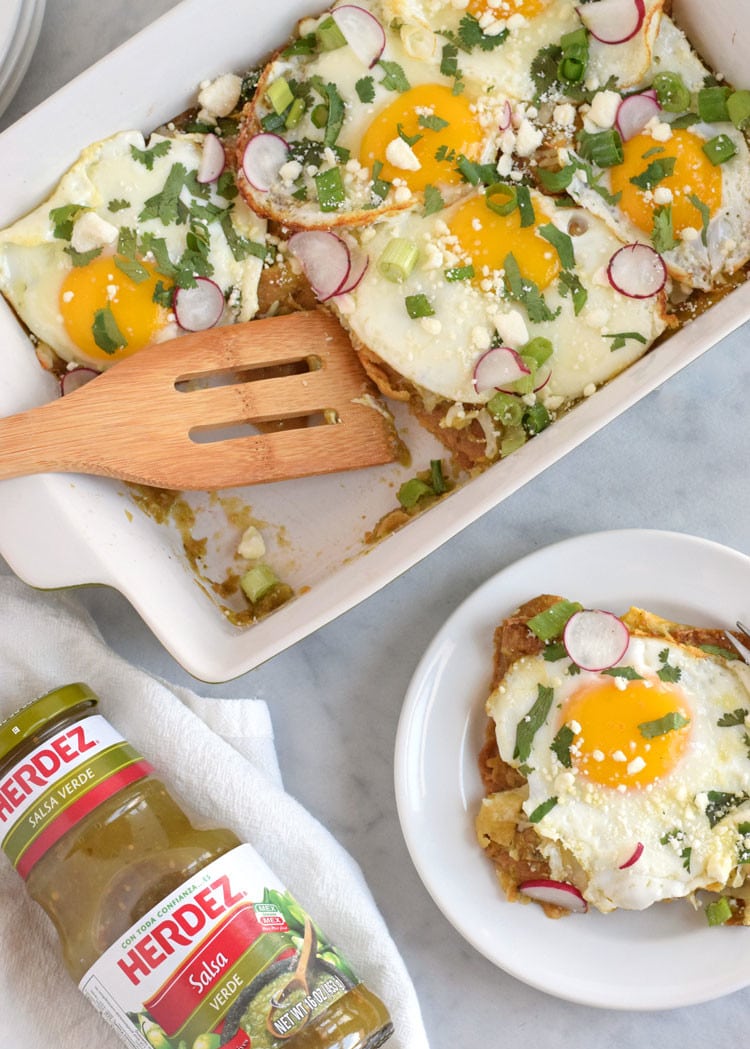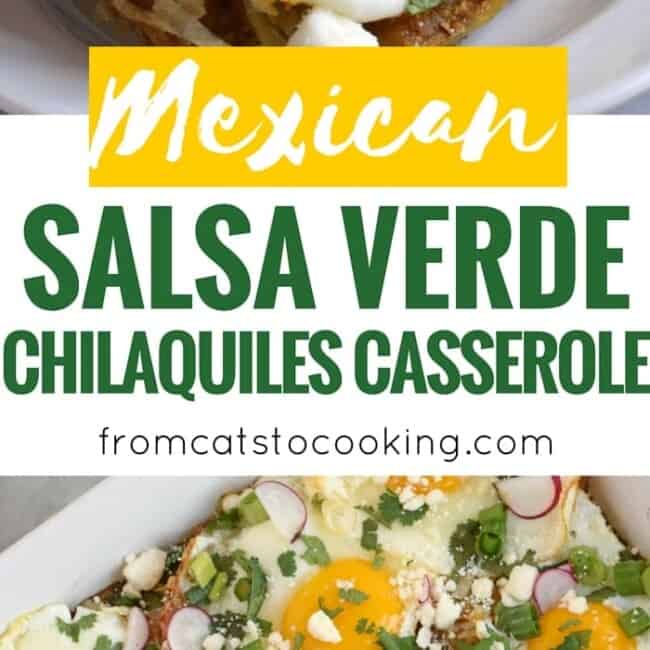 Prep: 5 minutes
Cook: 30 minutes
Total : 35 minutes
Made with baked corn tortillas covered in salsa verde and topped with sunny side-up eggs, fresh cilantro, radishes and green onions, this Mexican Salsa Verde Chilaquiles Casserole is the perfect breakfast and brunch dish.
Ingredients
10 corn tortillas
16 oz jar HERDEZ® Salsa Verde
1/2 cup mozzarella cheese shredded
1/2 cup feta cheese
1/2 cup cilantro chopped
1/2 cup green onions chopped
2 small radishes thinly sliced
6 eggs
2 tbsp olive oil
Instructions
Preheat oven to 400 degrees.

Cut corn tortillas into sixths, place evenly onto a large baking sheet and bake for 10 to 15 minutes, depending on tortilla thickness. The tortillas should turn a nice golden brown and be crisp like tortilla chips.

Place chips in medium baking dish and pour the HERDEZ® Salsa Verde over the chips.

Sprinkle 1/2 cup mozzarella cheese on top and bake in oven for 10 minutes.

Remove from oven and cover baking dish with aluminum foil.

Heat 1 tbsp of olive oil in a large frying pan over medium-high heat.

Cook 3 sunny side-up eggs and carefully place on top of casserole.

Use the remaining tbsp olive oil to cook the last 3 eggs and carefully place them on top of casserole.

Top with cilantro, green onions, radishes and feta cheese.

Dig in!
Nutrition Information
Serving: 1serving Calories: 464kcal (23%) Carbohydrates: 24g (8%) Protein: 12g (24%) Fat: 16g (25%) Saturated Fat: 5g (25%) Polyunsaturated Fat: 1g Monounsaturated Fat: 5g Trans Fat: 0g Cholesterol: 203mg (68%) Sodium: 1828mg (76%) Potassium: 115mg (3%) Fiber: 3g (12%) Sugar: 2g (2%) Vitamin A: 450IU (9%) Vitamin C: 19mg (23%) Calcium: 160mg (16%) Iron: 1.6mg (9%)