Jump to Recipe
Made with Mazola® Corn Oil*, this Roasted Spaghetti Squash is stuffed with taco-seasoned ground chicken, black beans, poblano peppers, onions, and melted cheese. An easy and delicious weeknight meal perfect for the whole family!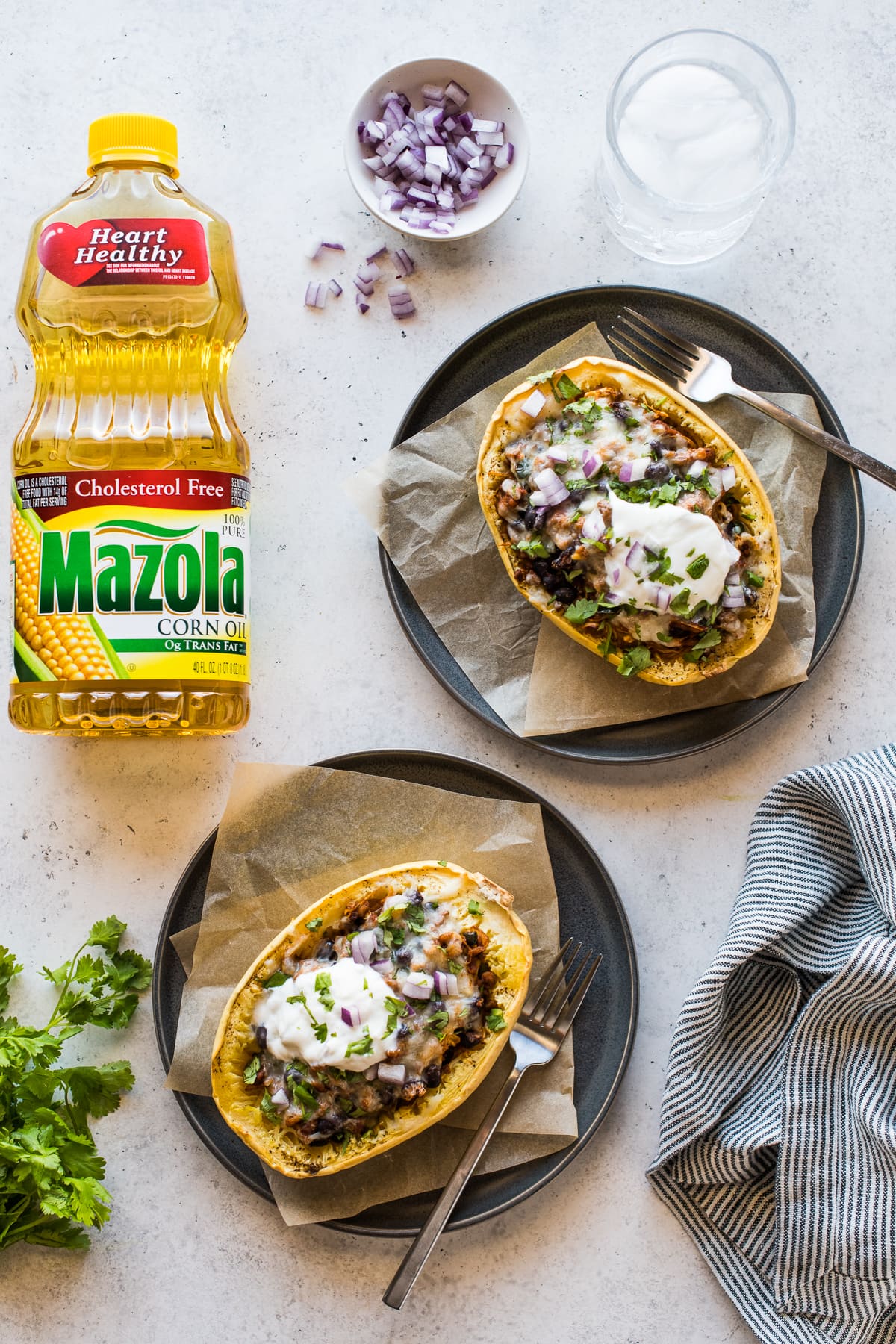 This post is sponsored by Mazola® Corn Oil. All opinions expressed here are my own.
I'm always looking for easy and tasty new ways to add more veggies to my meals, and this Taco Stuffed Spaghetti Squash recipe is everything I've ever wanted!
This tex-mex inspired recipe has got all my favorite taco seasonings and ingredients jam packed in a spaghetti squash cup.
Because it's made with veggies instead of a tortilla, it's perfect for meal prep since the leftovers reheat well throughout the week!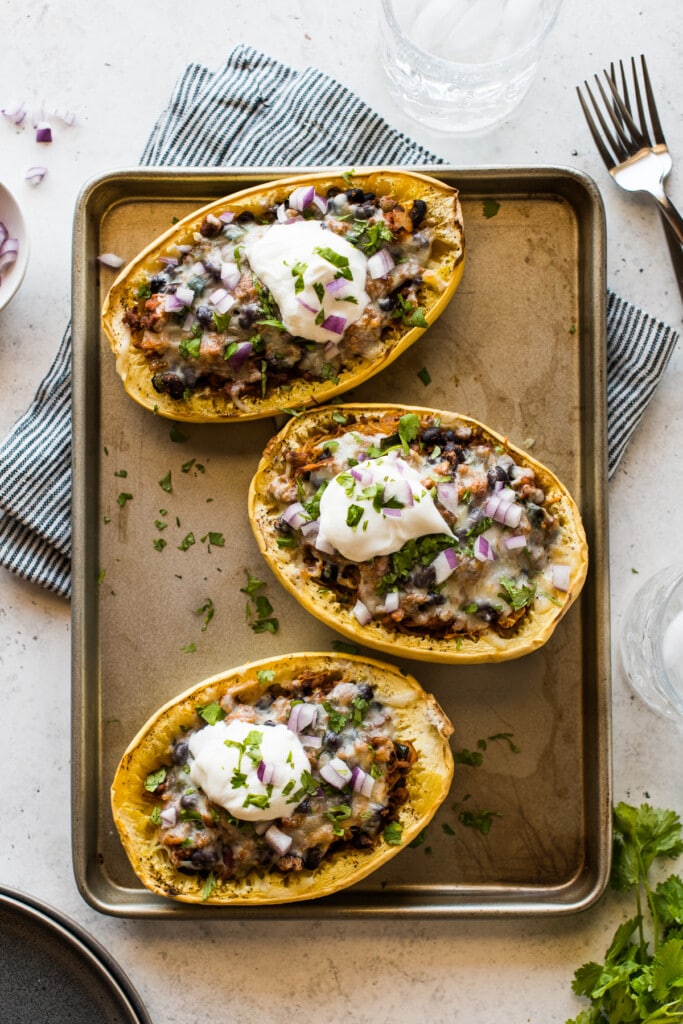 February is Heart Health Month, so when my friends over at Mazola® reached out wanting to collaborate on a recipe to bring awareness to heart disease, I knew this dish would be perfect.
Made with tons of delicious ingredients like black beans, onions, peppers, spaghetti squash, lean ground chicken, and heart-healthy** Mazola® Corn Oil, this recipe checks off all the boxes. It's low in saturated fat and sodium, and full of veggies, fiber, and lean protein.
AND it tastes really good!
Heart disease affects so many people, but one of the best ways we can help combat that is through eating a heart healthy diet as often as possible.
Heart healthy meals don't have to be bland and boring and this recipe is proof!
How to make stuffed spaghetti squash
Let's get to the nitty gritty.
The first step to making stuffed spaghetti squash is roasting the squash in the oven until nice and tender. To help deepen the roasted flavor, drizzle a little Mazola® Corn Oil on each squash half and then season it with some salt and pepper.
Roast it in the oven cut side up until the inside is tender, about 40-45 minutes.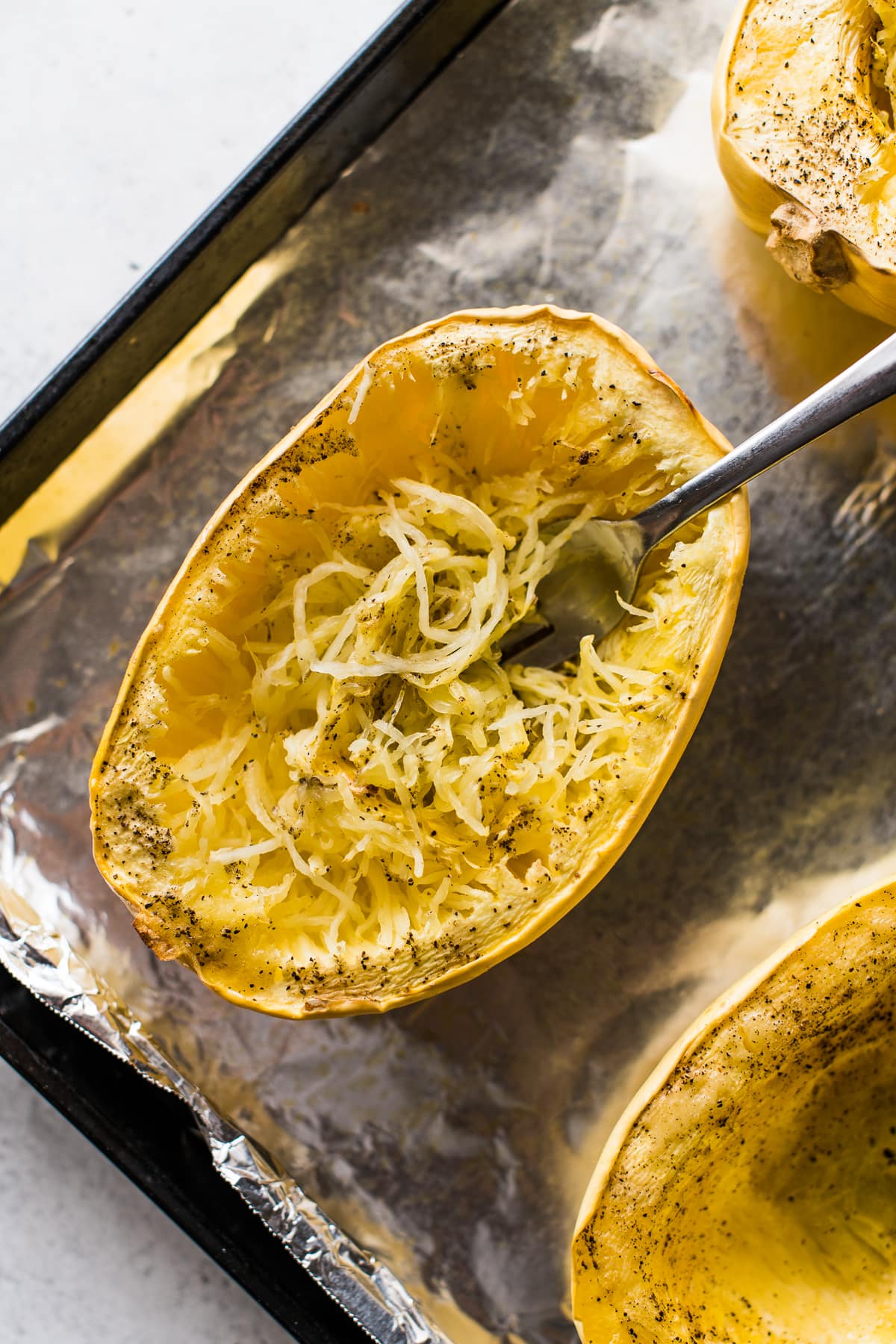 Once the squash has cooled enough to touch it, scrape out the inside of each half with a fork to create the "noodles."
The noodles will then get tossed together with the rest of the filling mixture made from lean ground chicken, onions, poblanos, garlic, taco seasonings, tomato paste, a little water, black beans, and a little Mazola® Corn Oil.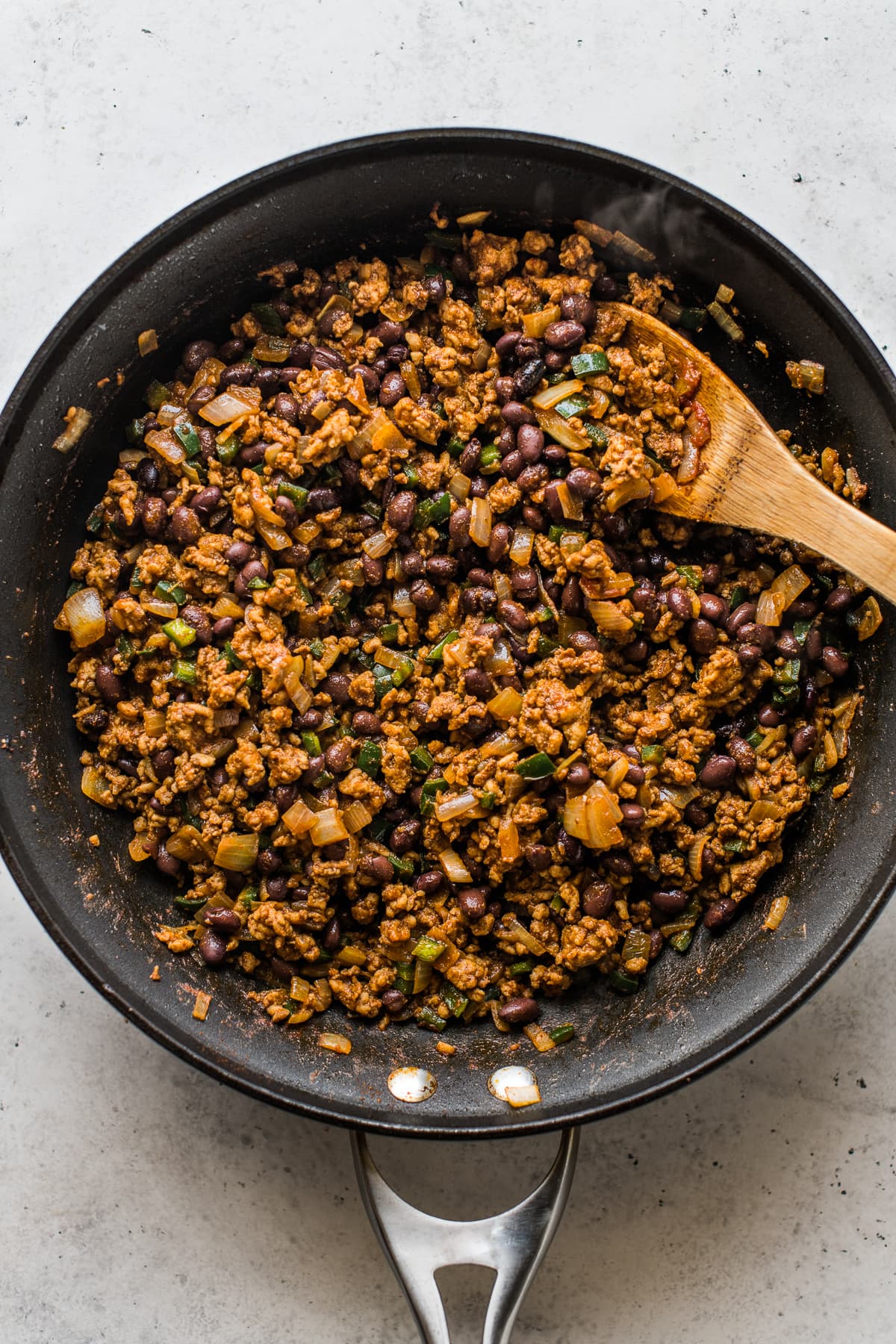 Last but not least, place the meat and squash mixture into each of the squash halves and top them with a little shredded cheese.
Bake in the oven or broil until the cheese has fully melted and dinner is ready!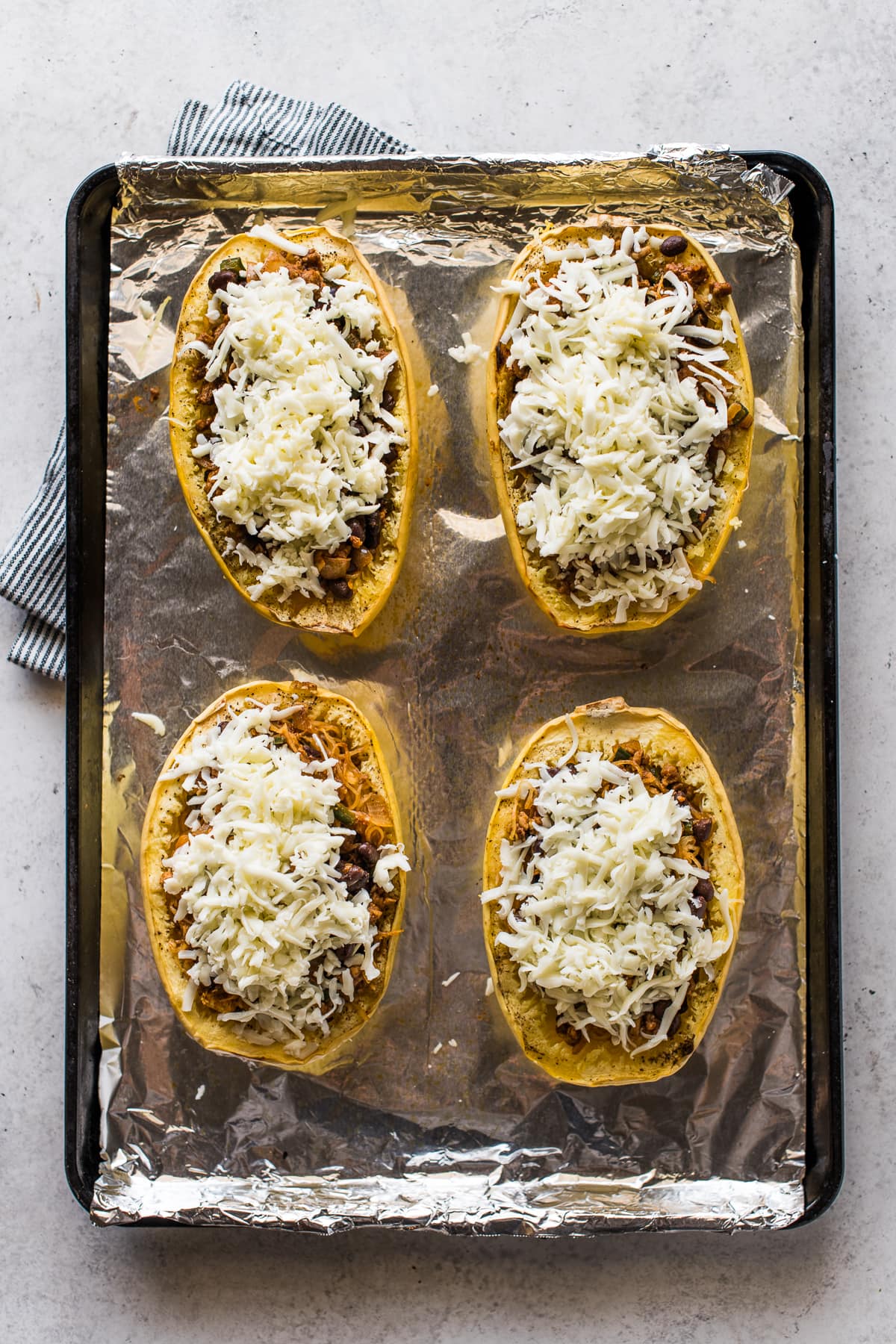 I topped mine with a little cilantro, red onions, and sour cream, but you could use any of your favorite taco toppings like hot sauce, pico de gallo, or guacamole.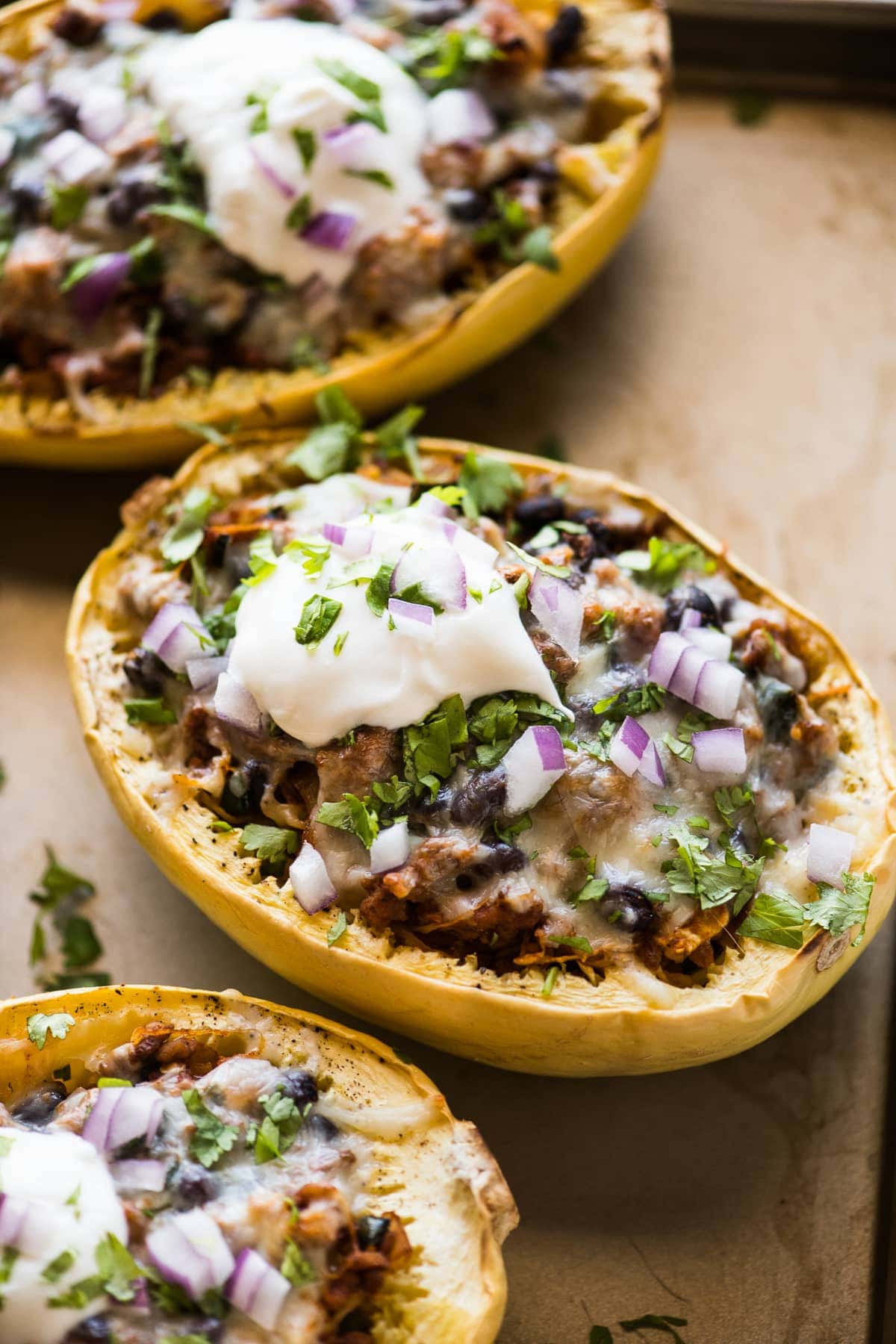 Tips and substitutions
To make this dish extra low carb, omit the black beans and add in some more veggies like broccoli florets, peas, or mushrooms!
Can't find Oaxaca cheese? You can use any melty cheese instead. Mozzarella and Monterey Jack are great options.
Buy low sodium beans if possible. I always try to buy low sodium so I can more easily control the amount of salt in a dish.
Storage
To store any leftovers, I recommend removing all the filling and transferring it to an airtight storage container. It will stay fresh in the fridge for up to 4 or 5 days.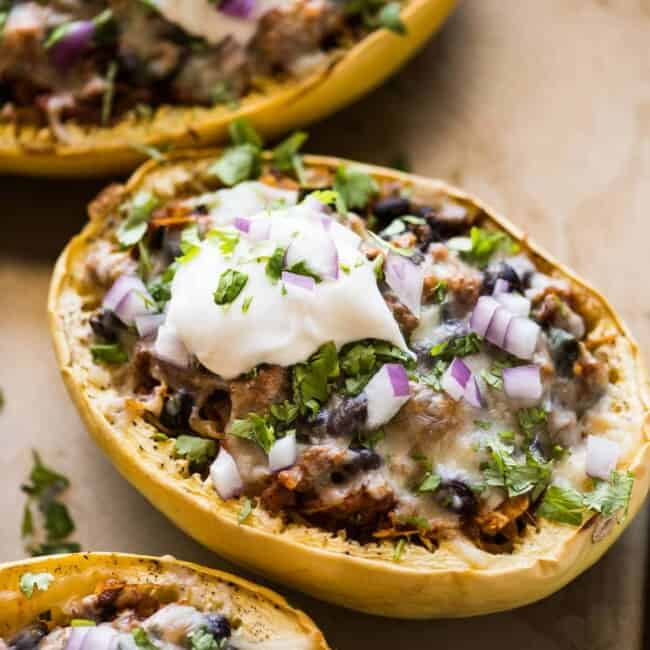 Prep: 10 minutes
Cook: 1 hour
Total : 1 hour 10 minutes
A healthy and satisfying Taco Stuffed Spaghetti Squash recipe made with taco-seasoned chicken, black beans, peppers, onions, and cheese.
Ingredients
2 small-medium spaghetti squash
5 teaspoons Mazola® Corn Oil, divided
3 1/2 teaspoons kosher salt, divided
1 teaspoon freshly ground black pepper divided
3 cloves garlic, minced
1 small onion, diced
1 poblano pepper, diced
1 pound lean ground chicken
1 tablespoon chili powder
2 teaspoons ancho chili powder
1 teaspoon ground cumin
1/2 teaspoon paprika
1/4 teaspoon dried oregano
2 tablespoons tomato paste
1/2 cup water
1 (15-ounce) can black beans, drained and rinsed
1 cup shredded Oaxaca cheese (or mozzarella)
chopped cilantro for topping
diced red onions, for topping
sour cream, for garnish
Instructions
Preheat the oven to 425°F. Line a large baking sheet with aluminum foil and set aside.

Carefully slice the spaghetti squash in half lengthwise, then scrape out the seeds and the insides using a spoon and discard.

Drizzle 1/2 teaspoon of Mazola® Corn Oil over the cut-side of each spaghetti squash half.

Sprinkle each half with 1/2 teaspoon salt and 1/4 teaspoon ground black pepper.

Place the squash on the prepared baking sheet cut side up and bake in the oven for 40-45 minutes, until the squash is tender.

Set aside to cool while you make the filling.

Heat the remaining 3 teaspoons of oil in a large deep skillet over medium-high heat.

Add the garlic and cook for 30 seconds, until fragrant.

Add the onion and poblano and cook for 4 minutes, until the onions start to become translucent.

Add the ground ground chicken, chili powder, ancho chili powder, cumin, paprika, dried oregano, and the remaining 1 1/2 teaspoons of kosher salt. Stir together to combine and cook for 8 minutes, or until the chicken is fully cooked through.

Add the tomato paste and water. Stir together until the tomato paste is fully combined with the meat.

Add the black beans and mix to combine, then remove the skillet from the heat.

Using a fork, scrape out the insides of the spaghetti squash to create noodles.

Add the "noodles" to the skillet with the meat and toss together to combine.

Fill each of the squash cups with the mixture. Top each one with 1/4 cup of shredded cheese.

Bake the squash for 10 more minutes until the cheese has fully melted, or broil for 2-4 minutes until melted.

Garnish each squash with cilantro, red onions, and a dollop of sour cream. Serve immediately.
Isabel's Tips:
I always recommend buying low-sodium canned beans if possible so you can more easily control the amount of salt in the recipe.
If you can't find Oaxaca cheese near you, you can use mozzarella or Monterey jack instead.
Nutrition Information
Serving: 1squash half Calories: 467kcal (23%) Carbohydrates: 36g (12%) Protein: 35g (70%) Fat: 22g (34%) Saturated Fat: 7g (35%) Polyunsaturated Fat: 4g Monounsaturated Fat: 9g Trans Fat: 1g Cholesterol: 120mg (40%) Sodium: 2828mg (118%) Potassium: 1345mg (38%) Fiber: 12g (48%) Sugar: 7g (8%) Vitamin A: 1622IU (32%) Vitamin C: 34mg (41%) Calcium: 254mg (25%) Iron: 5mg (28%)
*Corn oil is a cholesterol-free food that contains 14g of total fat per serving. See nutrition information on product label or at Mazola.com for fat and saturated fat content.
**See www.mazola.com for information about the relationship between corn oil and heart disease.