Jump to Recipe
Mexican Tacos Al Pastor made with sweet, tangy and smokey marinated pork grilled to perfection and served with fresh pineapple. The best summer tacos!

Grab some fresh pineapple, friends, it's time to make some Tacos Al Pastor!
It's finally warm outside, the sun is shining and grilling season is upon us! I'm obsessed with grilling everything I can during the summer months. The smoke and heat from the grill really creates a flavor that's so hard to replicate from inside the kitchen. So if you're anything like me, keep reading and get ready to light that grill because we're about to create the ultimate summer taco experience.
What are Tacos Al Pastor?
Tacos Al Pastor are tacos filled with grilled pork that has been marinated in fresh pineapple juice, dried chiles, onions, a little orange juice and some classic Mexican spices. Traditionally, the meat is grilled on a rotisserie and sliced very thinly similar to gyro and doner kebab meat here in the states.
Since most people don't have a rotisserie at home, I decided to thinly slice the pork, marinate it and then grill the slices individually to try to achieve the same results.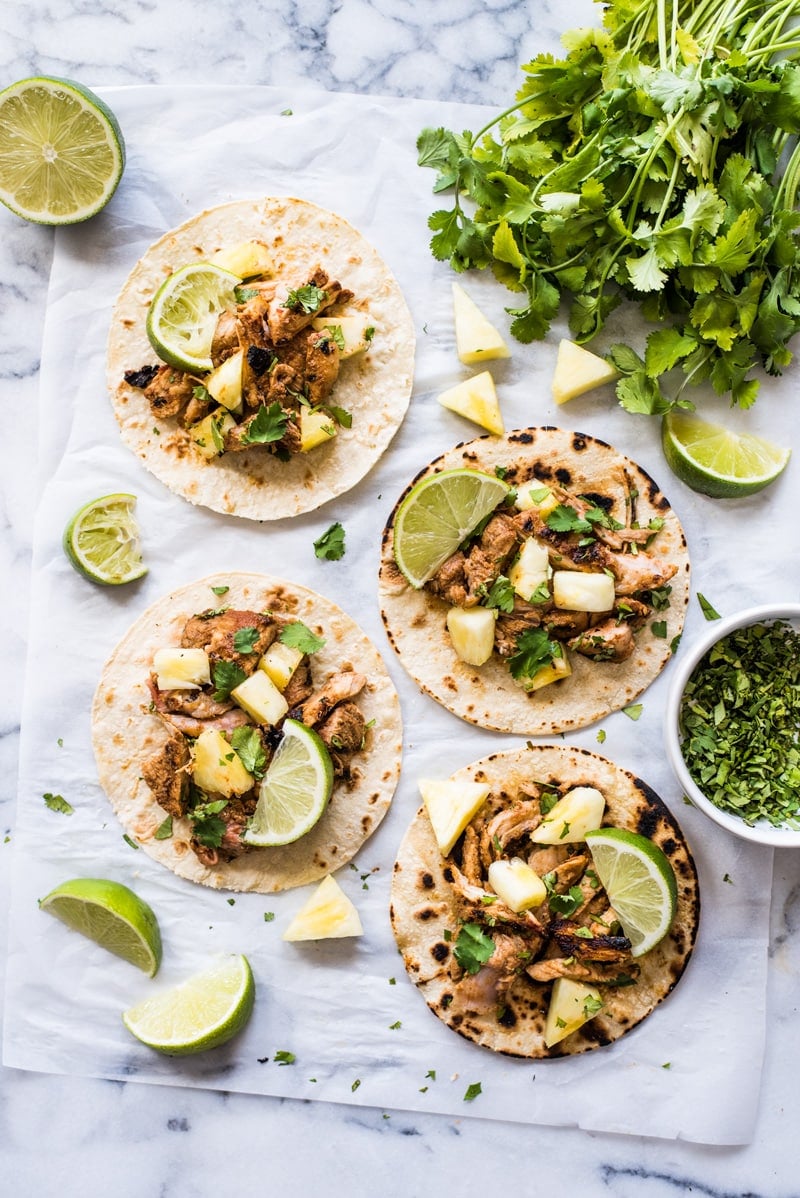 The results were pretty freaking tasty! I served mine on corn tortillas with fresh pineapple chunks, some cilantro and juicy lime wedges. If you're looking for a teeny tiny kick, you can also serve this with raw minced onions. It compliments the sweetness of the pineapple and the smokiness of the grilled pork perfectly.
Tacos Al Pastor are not spicy on their own, so if you're looking for some heat, I recommend topping them with some fresh jalapenos or this Easy Pineapple Salsa. 
For this recipe, I used a boneless pork loin to keep the fat content low but you could easily substitute boneless pork shoulder instead.
If you're looking to keep things low carb or don't want to serve the meat in tortillas, you could cut the meat into square chunks instead and place them on skewers with chunks of pineapple and other veggies. Al Pastor skewers would be a perfect way to tailgate or entertain on a hot day!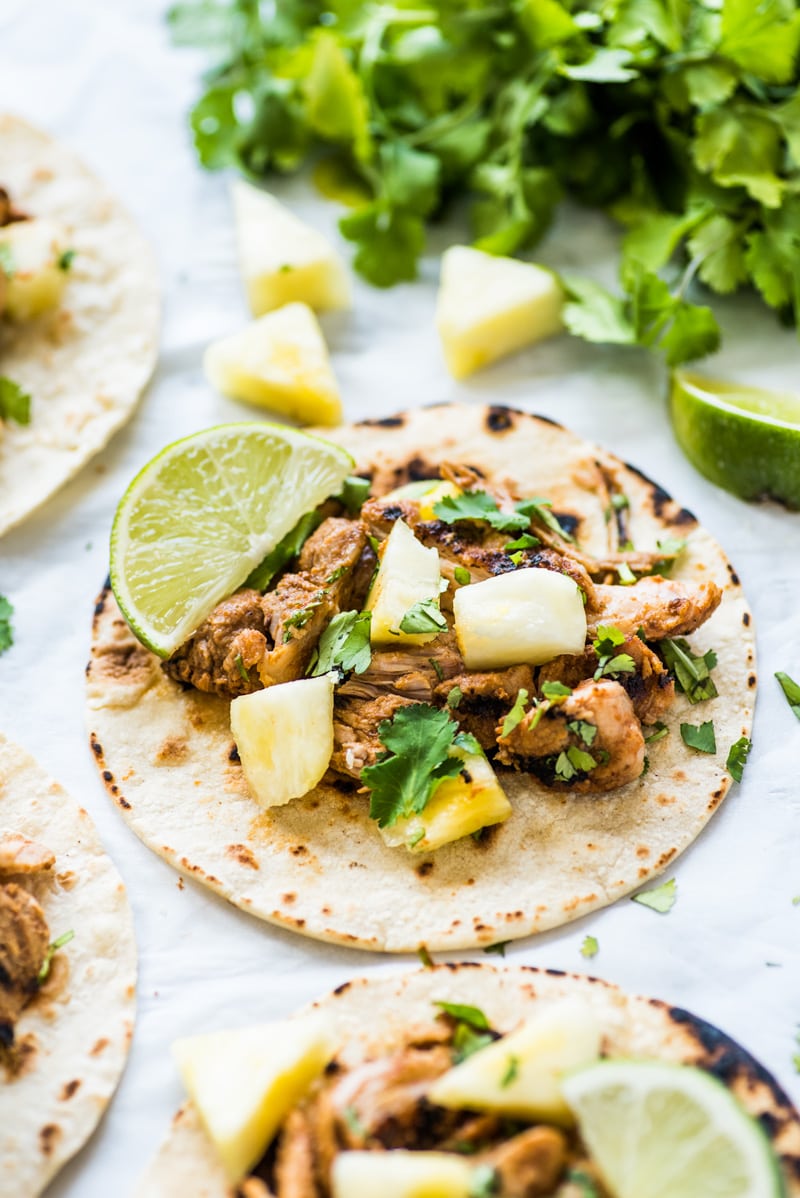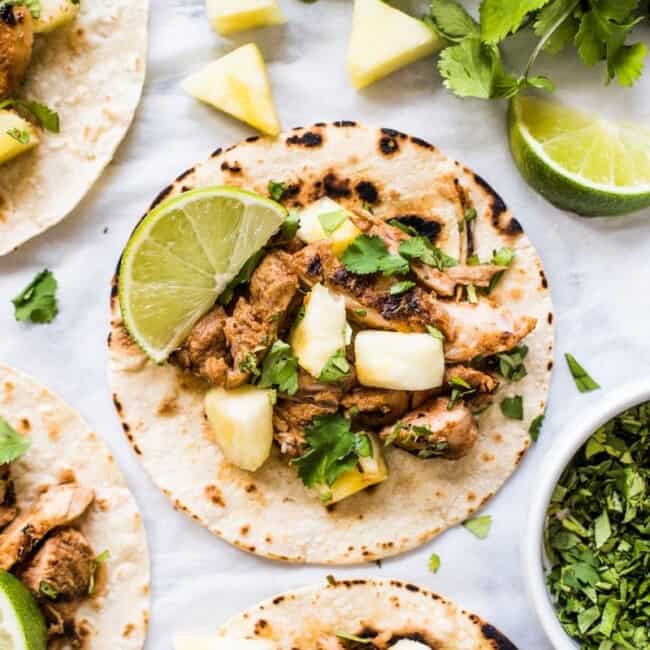 Prep: 4 hours
Cook: 15 minutes
Total : 4 hours 15 minutes
Mexican Tacos Al Pastor made with sweet, tangy and smokey marinated pork grilled to perfection and served with fresh pineapple. The best summer tacos!
Ingredients
For the marinade
1 dried arbol chile, stems and seeds removed
3 dried ancho chiles, stems and seeds removed
1 chipotle pepper in adobo sauce
1 medium yellow onion, quartered
1 pineapple, cored and sliced into bite-sized pieces (1 cup reserved for marinade, the remaining for topping)
1/2 cup orange juice
1/4 cup white vinegar
2 tablespoons kosher salt
2 teaspoons dried oregano
2 teaspoons minced garlic (about 4 cloves)
1 teaspoon ground cumin
3 pounds boneless pork loin (or boneless pork shoulder), cut into long 1/4-inch slices
cooking spray or oil, for greasing grill
For serving
warm corn or flour tortillas
diced pineapple
diced onions
chopped cilantro
lime wedges
Instructions
Fill a medium bowl with hot water. Add the arbol and ancho chiles, cover with plastic wrap or a large plate and let soak for 15 minutes. 

While the chiles are soaking, add the chipotle pepper in adobo sauce, onion, 1 cup of diced pineapple, orange juice, vinegar, salt, oregano, garlic, and ground cumin to a large blender.

Remove the soaked and softened chiles from the water, shake off any excess liquid and add them to the blender. Blend ingredients until completely combined.

In a large resealable plastic bag or a large mixing bowl, add the blended marinade and sliced pork loin. Toss together to coat and marinate for 4-12 hours in the fridge.

Remove from the fridge and grease grill with high-heat cooking spray or oil. Grill the meat over medium-high heat until fully cooked through.

Once all the meat is cooked, slice into thin strips or chunks and serve in warm corn tortillas with remaining fresh pineapple, onion, cilantro and lime wedges.
Nutrition Information
Serving: 1/12th of recipe Calories: 191kcal (10%) Carbohydrates: 6g (2%) Protein: 24g (48%) Fat: 9g (14%) Saturated Fat: 3g (15%) Polyunsaturated Fat: 0g Monounsaturated Fat: 0g Trans Fat: 0g Cholesterol: 50mg (17%) Sodium: 1205mg (50%) Potassium: 69mg (2%) Fiber: 1g (4%) Sugar: 4g (4%) Vitamin A: 700IU (14%) Vitamin C: 11.6mg (14%) Calcium: 10mg (1%) Iron: 2mg (11%)