Chamoy is a sweet and tangy condiment used all over Mexico as a topping, sauce, and even as a dip. Used by many street food vendors, it's most commonly used on fruits and candy. Here's everything you need to know about chamoy!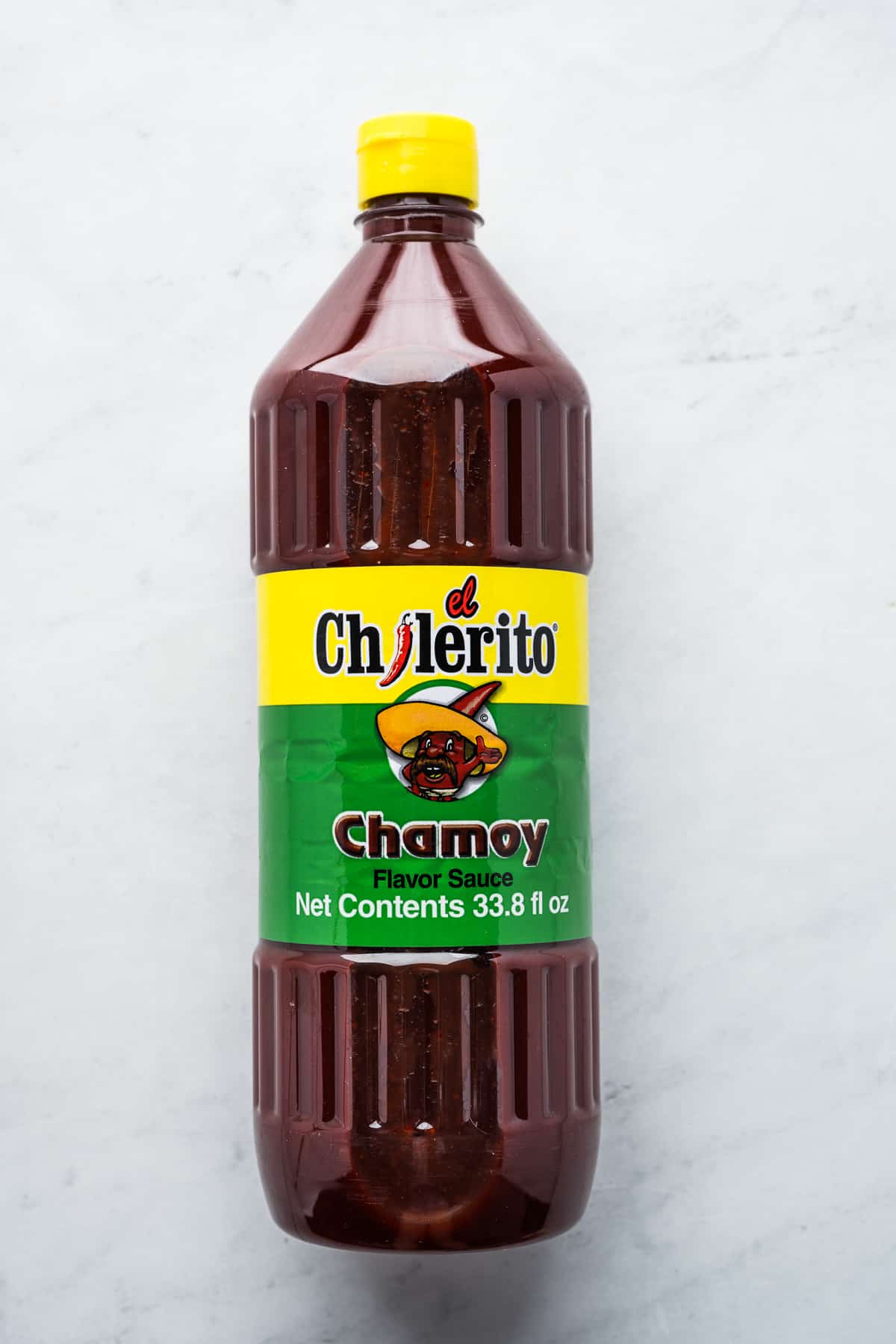 What Is Chamoy?
Chamoy is a sweet, sour, sticky, and tangy condiment made from fruit, dried chiles, sugar, and lime juice. It's most commonly used as a topping or drizzle on fruits, candy, and desserts. However, Chamoy is incredibly versatile and can be used in various ways, including as a dipping sauce, a marinade, and even as a component in cocktails and drinks! 
While most commonly associated with Mexican cuisine, chamoy is believed to be an Asian discovery. Over time, as more Asians immigrated to Central and North America, the sweet and tangy snacks found in Asian cuisine heavily influenced Mexican cuisine.
In Mexico, chamoy originated as a salted dried fruit but quickly evolved into a sauce used to coat candies and other sweet treats. The pairing of chamoy with candy is now a beloved combination, leading to an infinite variety of Mexican candies coated in chamoy sauce, and is why we tend to use it on sweet foods, such as fruit. The salty, sour, tangy flavor mixes well with sweets. 
How To Use Chamoy
There are many ways to use chamoy. Here are a few of my favorite easy methods to enjoy it: 
Have it as a snack: Cut up some fruit or veggies like cucumber, apples, watermelon, jicama, pears, or strawberries, then drizzle on top.
If you like candy apples: Coat a whole apple in the Chamoy sauce!
Enjoy it in a mangonada: A mangonada is a popular Mexican frozen drink made from mangoes, chamoy, and chile lime seasoning (like Tajín). It's typically served as a slushy made from blended frozen mangoes and ice, then layered in a cup with generous drizzles of chamoy. It's sometimes referred to as a chamoyada.
Make it spicy: Add some chamoy on nachos as a hot sauce or as a marinade for meats.
Use it as rim paste: For cocktails, beer, or micheladas.
Toss your favorite candy: Gummy candies work exceptionally well.
What Does It Taste Like?
By itself, chamoy tastes like sweet and sour sauce, sweet and tangy, with a hint of spice to balance it out. However, how the condiment is used can drastically alter its flavor. For example, when added to fruit, chamoy adds a subtle kick of spice but is not overwhelming, yet on more savory foods, the sweetness is highlighted. 
Where To Buy Chamoy?
Chamoy is readily available online and at many local grocery stores. You can find it in the Hispanic food section of most major grocery stores and in all Hispanic grocery stores. Most brands are similar in taste, leaving the most significant decision you must make being texture. Chamoy can be found in a variety of forms, including liquid, which is the most common form, but also as a paste or in powdered form. Your choice ultimately depends on your preference or how you intend to use it.
Storage
Most forms of Chamoy can be stored in a cool, dark place like your pantry for months after opening. However, homemade Chamoy only lasts about three weeks and must be kept in the refrigerator.
More Articles You May Like