Tajin seasoning adds an extra zing to just about any food, especially Mexican cuisine! Learn more about this blend and where it came from, plus all the ways to use it!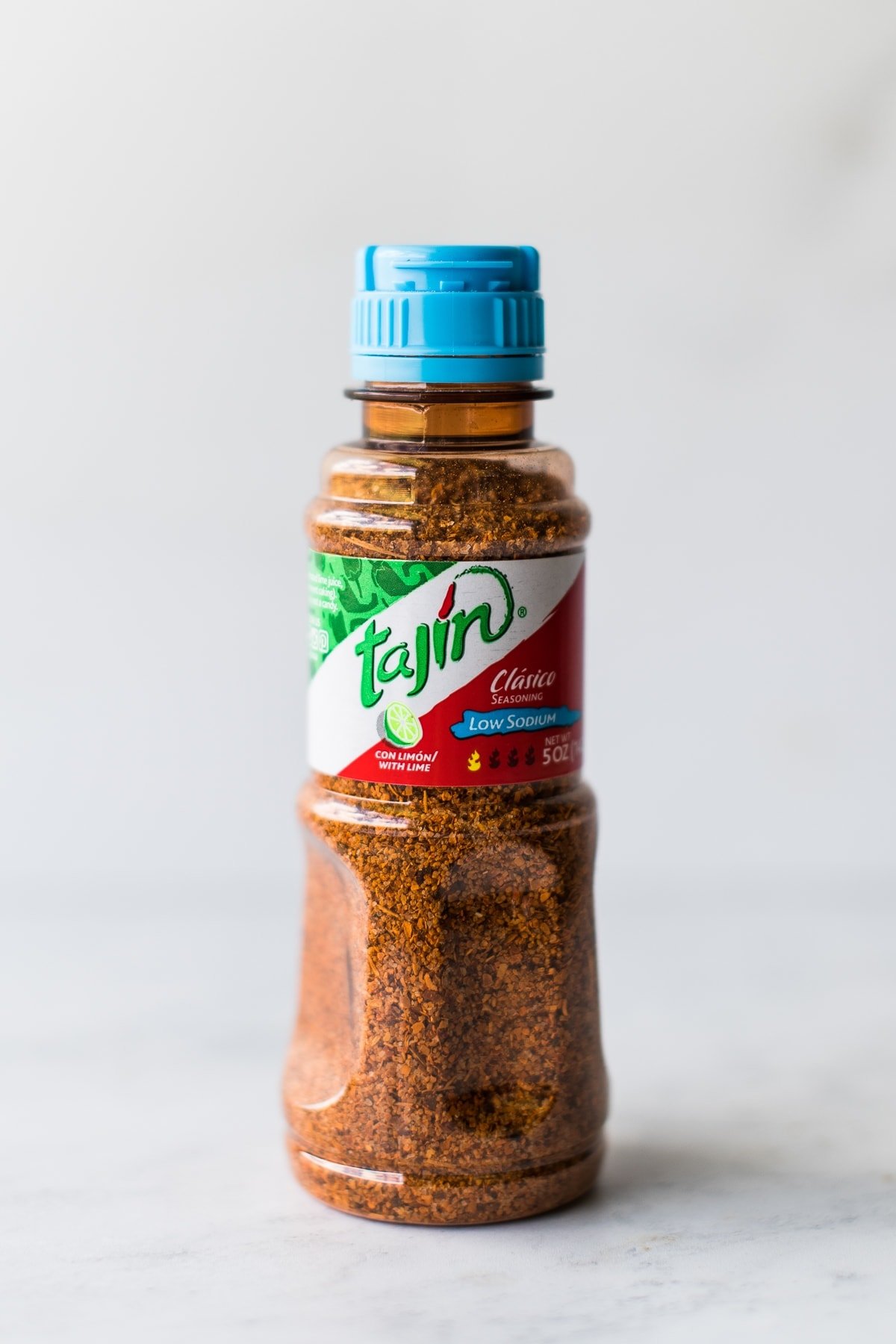 What is Tajin seasoning?
This popular brand of Mexican seasoning is made from a blend of chile powder, dehydrated lime juice, and salt.
The blend got its name from Horacio Fernandez, who loved slathering corn with his grandmother's signature chile sauce. He wanted to create something that he could carry with him everywhere, so he always had those flavors on hand.
While on a trip to El Tajín, located in southern Mexico, he learned that "aji" translates to "chile" in the native language. He was inspired and adopted the name of the archaeological site for his seasoning blend.
What does it taste like?
Tajin seasoning is a balance of salty, citrus, and mildly spicy flavors. It is a bit like the flavors you get when you eat lime tortilla chips with roasted tomato salsa.
Because it's a blend of seasonings, those flavors are concentrated. As a result, you only need a little bit to add a big dose of flavor to your food.
It's also a very mild heat, so you can still enjoy it, even if you don't tend to like spicy foods.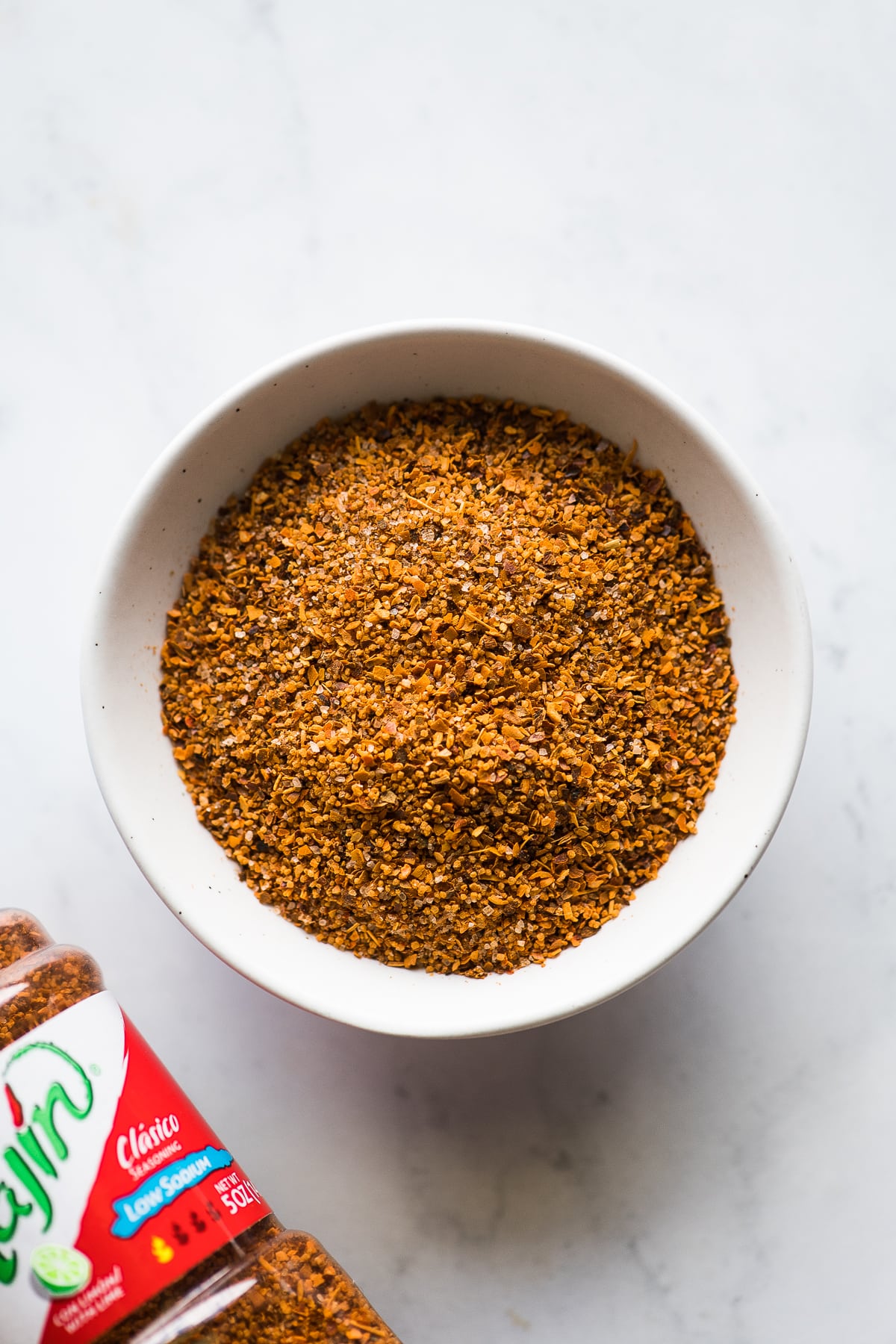 Where can I find Tajin seasoning?
Most grocery stores in the US carry the seasoning blend nowadays, but if your store doesn't have it, you can check out any Mexican specialty store.
Or, you can find it here on Amazon.
You can also make a homemade version by combining equal parts of the following:
Red chile powder
Crystallized lime powder
Fine sea salt
Store the blend in an airtight container and use it up within six months to a year.
Different Tajin blends
The most well-known version is Tajin Clasico, and that's what most people mean when they refer to this seasoning.
A low-sodium version is also available, as well as a spicier blend made with habanero chiles instead of the classic red variety.
The company also makes a couple of sauces and a container designed specifically to coat the rims of drinking glasses.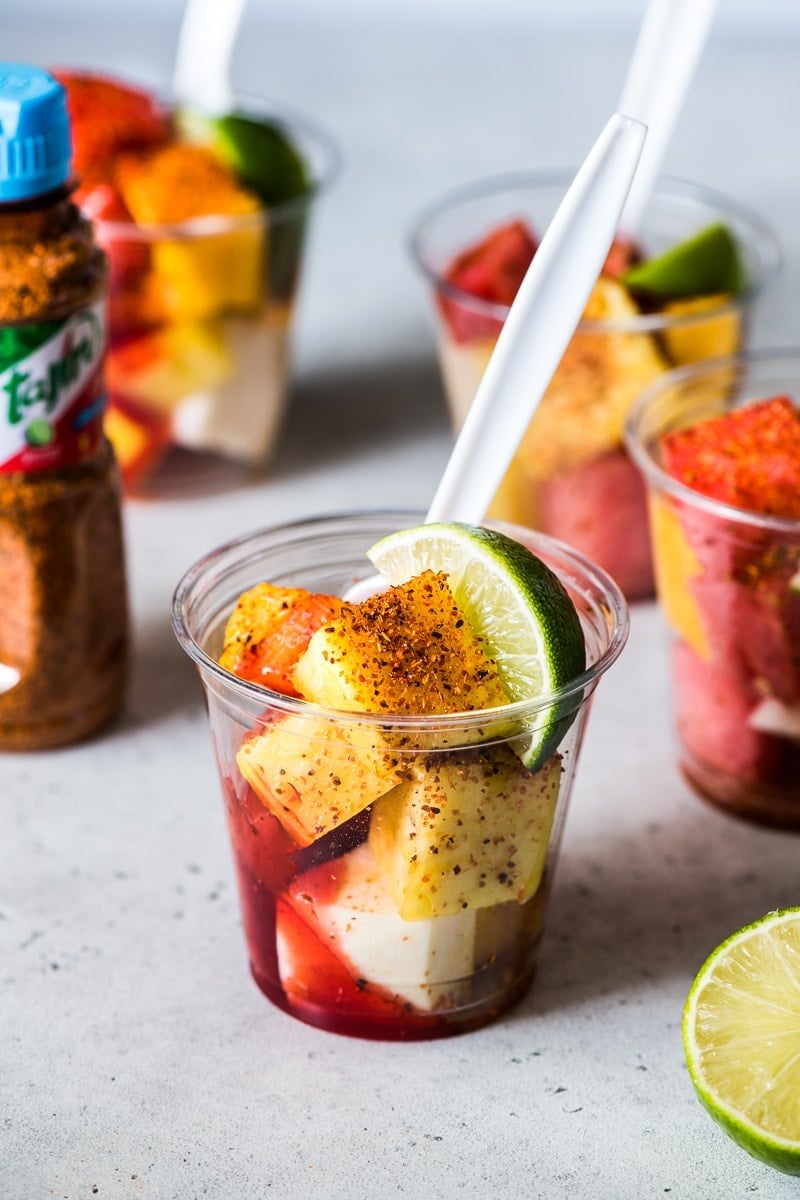 How to use Tajin Seasoning
There are so many different ways to use this seasoning blend! Experiment by adding it to whatever you can think of.
Some popular ways it's used include:
On fruit – I love to use a pinch of it when I make my Mexican Fruit Cup recipe. It is just like an authentic fruit stand, especially when mixed with chamoy.
Drinks – Used to coat the rims of glasses for popular Mexican drinks like mangonadas, micheladas, bloody marys or bloody marias, and margaritas.
Corn – Sprinkle over grilled or boiled corn. After all, that is the primary purpose it is intended for! Or use it when making Mexican street corn (elotes) or esquites.
Meat rubs – It works extremely well in marinades and rubs for chicken, steak, fish, and shrimp.
Guacamole – You won't need to add much else to your homemade dip.
On veggies – Sprinkle it over raw or roasted veggies.
Sweet treats – Add a little spice to fruit popsicles and sorbets with a dash of this seasoning.
With breakfast – Try it on your eggs, hash browns, and even avocado toast.