Jump to Recipe
Marranitos (Mexican Gingerbread Pigs) are a pan dulce, or sweet bread, flavored with molasses and commonly found in Mexican bakeries. Best served with a cup of milk or coffee and eaten on weekend mornings!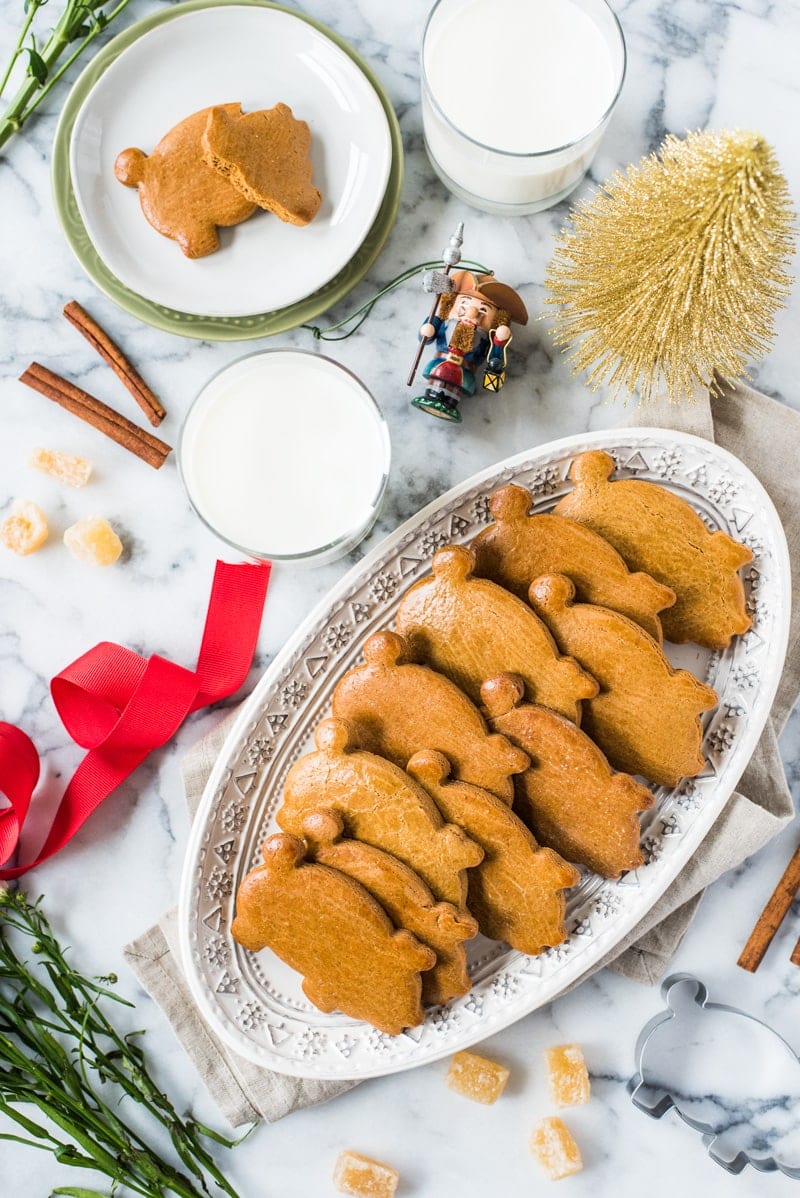 Is this real life?! Never in my wildest dreams did I think I'd learn how to make a batch of Marranitos (these little Mexican gingerbread pigs), let alone share them online. But here I am, sharing one of my favorite childhood Mexican treats like it's no big deal. Who am I kidding – I'm nearly 30 years old and these are still one of my favorite Mexican sweet breads! Let me explain.
they're shaped like little piggly wigglys. that right there is enough to put them in my top five.
they're somewhere between a cookie and a cake. they're not hard, but not totally soft either. best of both worlds.
they're not too sweet, which makes them perfect for dunking in a glass of milk or coffee on weekend mornings.
did I mention they're shaped like little pigs? okay, just checking.
If I could only pick one recipe to remind me of my childhood, it would be this one. I've probably said that about other recipes before, but I really (really, really) mean it this time. I grew up eating marranitos, or cochinitos as my family called them. I've also heard them called puerquitos, but they all mean the same thing – just different Spanish words for "little pigs".
Mexican Pan Dulce
My family used to pick up a big bag of pan dulce, or sweet bread, at the local Mexican bakery every weekend to eat for breakfast or dessert, and the only bread I'd ever reach for was the marranito.
They're the perfect mix of rich molasses flavor with a hint of sweetness that's satisfying and filling. Unlike other Mexican sweet breads that never really hit the spot (I'm looking at you, conchas), marranitos always seem to do the trick.
Ingredients and tools you'll need
Making these little Mexican gingerbread pigs is much easier than most people think! Aside from the usual baking ingredients like flour, butter, eggs and the like, you'll need some dark brown sugar, milk, a bit of ground ginger and some unsulfured molasses. All are ingredients you can find at most grocery stores, so the actual recipe ingredients should be very easy to find.
However, my favorite thing about this recipe – the cute little pig shapes – is something you'll probably have to order online. Here's the exact Pig Cookie Cutter I ordered on Amazon. It's smaller than the size of the marranitos you'll find in a Mexican bakery, but it's a normal size for homemade pan dulce.
I have no kids so I have no firsthand experience in this department, but I imagine this would be a fun baking project for the little ones. At least I certainly enjoyed making these. What's more fun that stamping out little piggies with a cookie cutter?!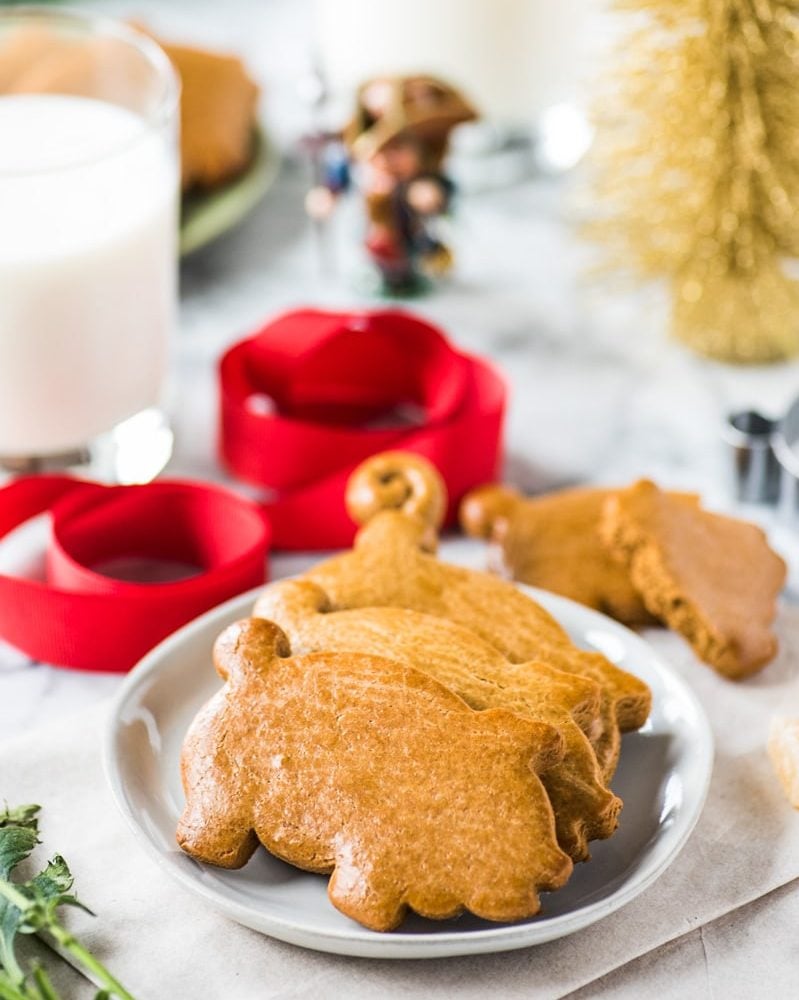 This recipe has been a huge hit in my house. Between John and I, we've eaten all but 3 of these gingerbread pigs and I'm definitely not sorry about it. It's been cold and has even snowed here already, so we've been dunking these marranitos in some Mexican Hot Chocolate which I'll be sharing on the blog soon.
Slowly but surely, I'm getting in the holiday spirit and am so excited that this will be the first year John and I spend Christmas together. We've been together for about 8 years and this is our first Christmas together! How nuts is that?
I've always gone to OKC to spend the holiday with family, and John's always gone to central PA to do the same. Since we got married in May, we thought it'd be best to take turns every year and switch off Thanksgiving and Christmas. So this year, Christmas will be with my family and next year it will be with his.
I must admit, having our families be so far apart is definitely a challenge, but we're making it work. It's just one of many challenges I'm sure we'll run into as a married couple, but that's what it's all about, right? All because of a little four letter word – love. 🙂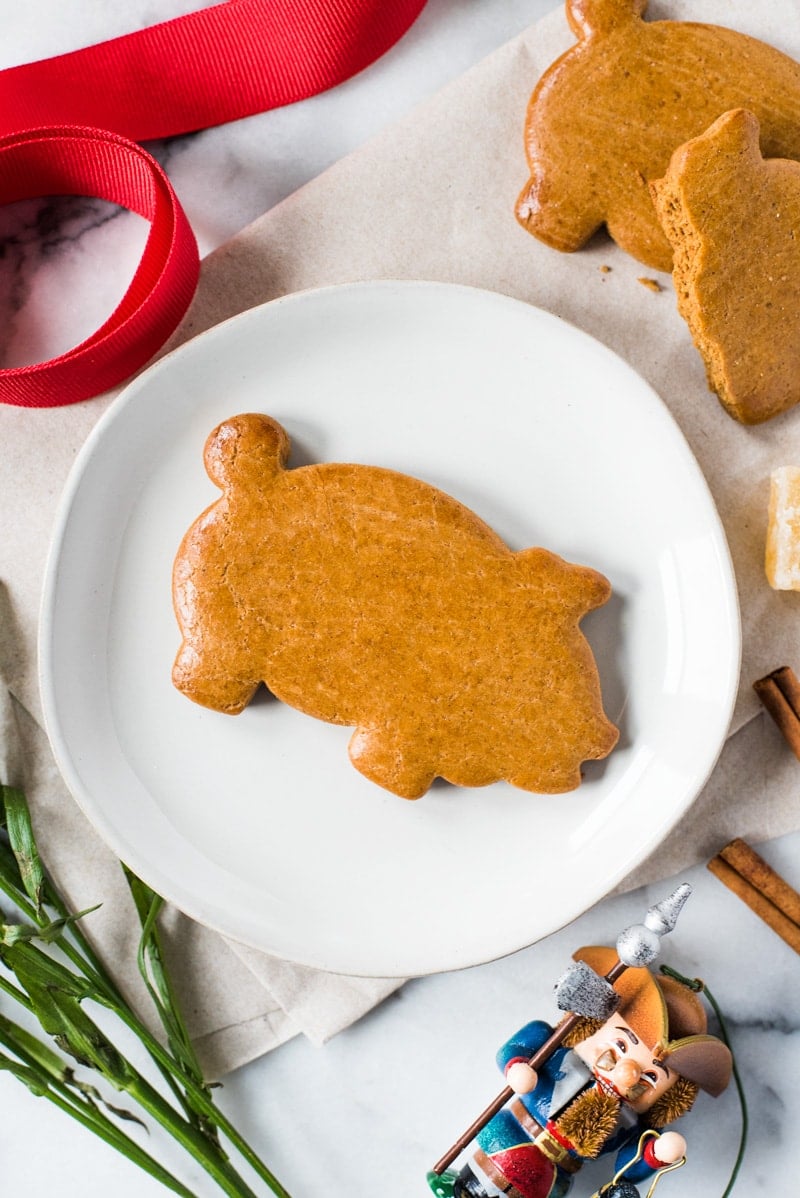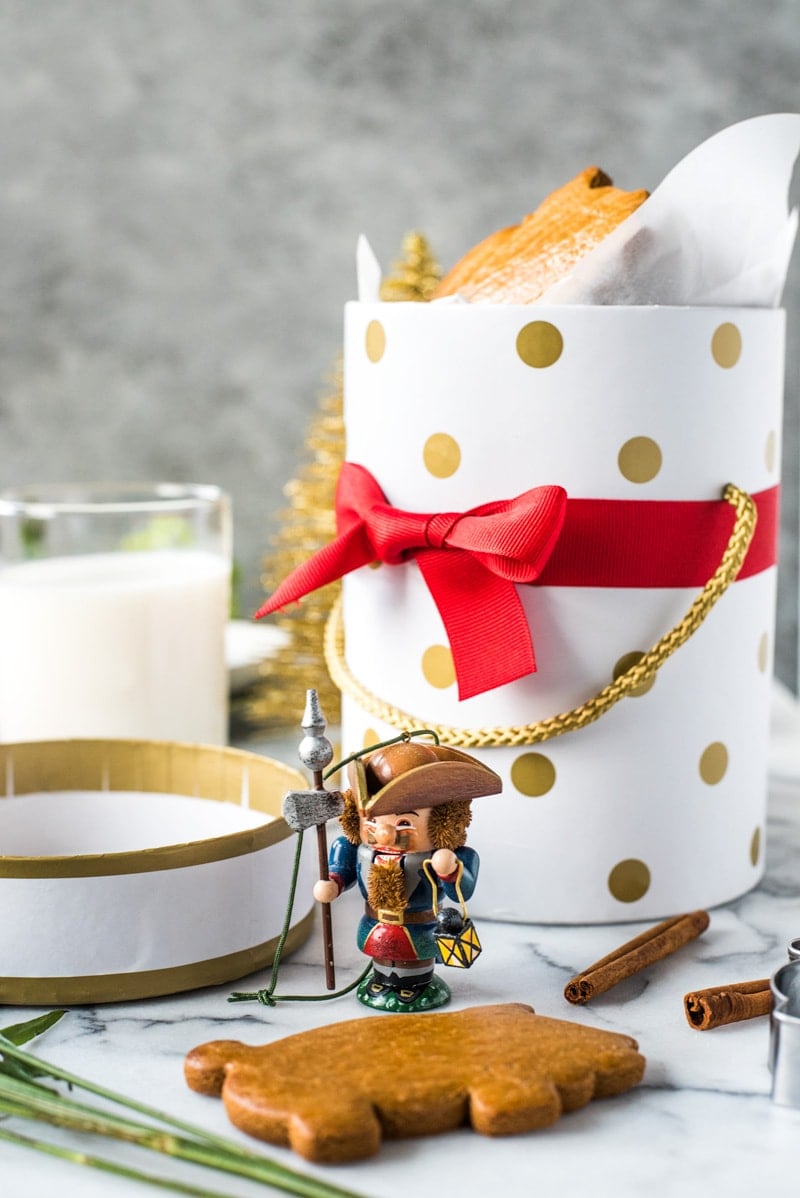 I hope you enjoy this recipe as much as I do!
More dessert recipes you'll love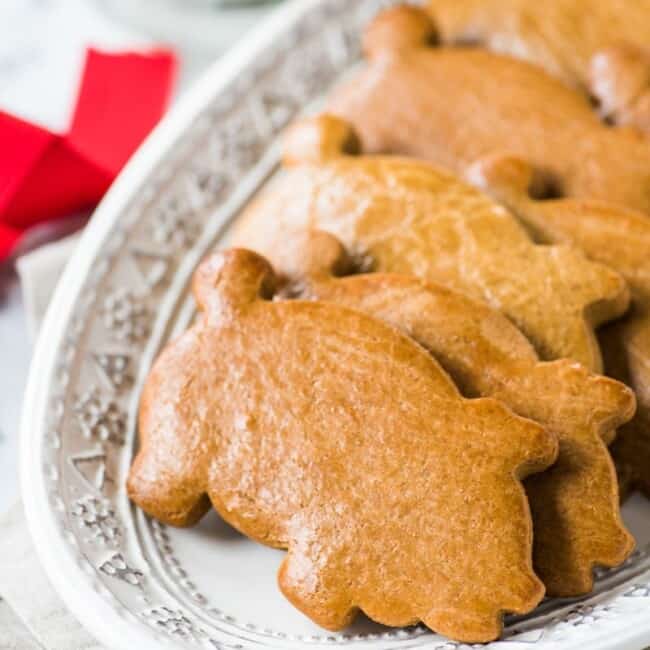 Prep: 25 minutes
Cook: 12 minutes
Total : 37 minutes
Marranitos (Mexican Gingerbread Pigs) are a pan dulce, or sweet bread, flavored with molasses and commonly found in Mexican bakeries. Best served with a cup of milk or coffee and eaten on weekend mornings!
Instructions
Preheat the oven to 350°F. Line cookie sheets with parchment paper and set aside.

In the bowl of a stand mixer, cream butter until smooth. Add the dark brown sugar and mix until well combined. Add in one egg, molasses, milk and vanilla extract. Mix together until smooth.

In a separate large bowl, add the flour, ground ginger, baking soda and cinnamon. Mix together to combine.

Add the dry ingredients into the wet ingredients 1 cup at a time and mix until well combined. The dough should cleanly pull away from the mixing bowl.

Transfer the dough onto a lightly floured surface and roll out to 3/8 inch thickness (or a little less than 1/2 inch). Use a pig shaped cookie cutter like this one to cut into pigs. Place pigs 1 1/2 inches apart on the prepared baking sheets. Brush the remaining beaten egg over the tops of the cookies.

In a small bowl, crack open the remaining egg and whisk. Brush the beaten egg over the tops of the pigs using a pastry brush.

Bake for 10 to 12 minutes, until the edges are lightly browned.
Isabel's Tips:
The number of cookies will vary depending on the size of the cookie cutter you use. Here's an affiliate link to the one I used.
Nutrition Information
Serving: 1marranito Calories: 152kcal (8%) Carbohydrates: 30g (10%) Protein: 3g (6%) Fat: 2g (3%) Saturated Fat: 1g (5%) Monounsaturated Fat: 1g Cholesterol: 18mg (6%) Sodium: 83mg (3%) Potassium: 56mg (2%) Fiber: 1g (4%) Sugar: 13g (14%) Vitamin A: 100IU (2%) Calcium: 20mg (2%) Iron: 0.4mg (2%)
This page contains affiliate links. If you make a purchase on Amazon after clicking one of my links, I may receive a small commission. The price of the item stays the same and any money I make goes to supporting this blog. I only endorse products and services that I fully believe in.