Sweet Tamales made with raisins and sweetened with cinnamon and sugar. Easy to make and perfect for holidays and celebrations with family and friends.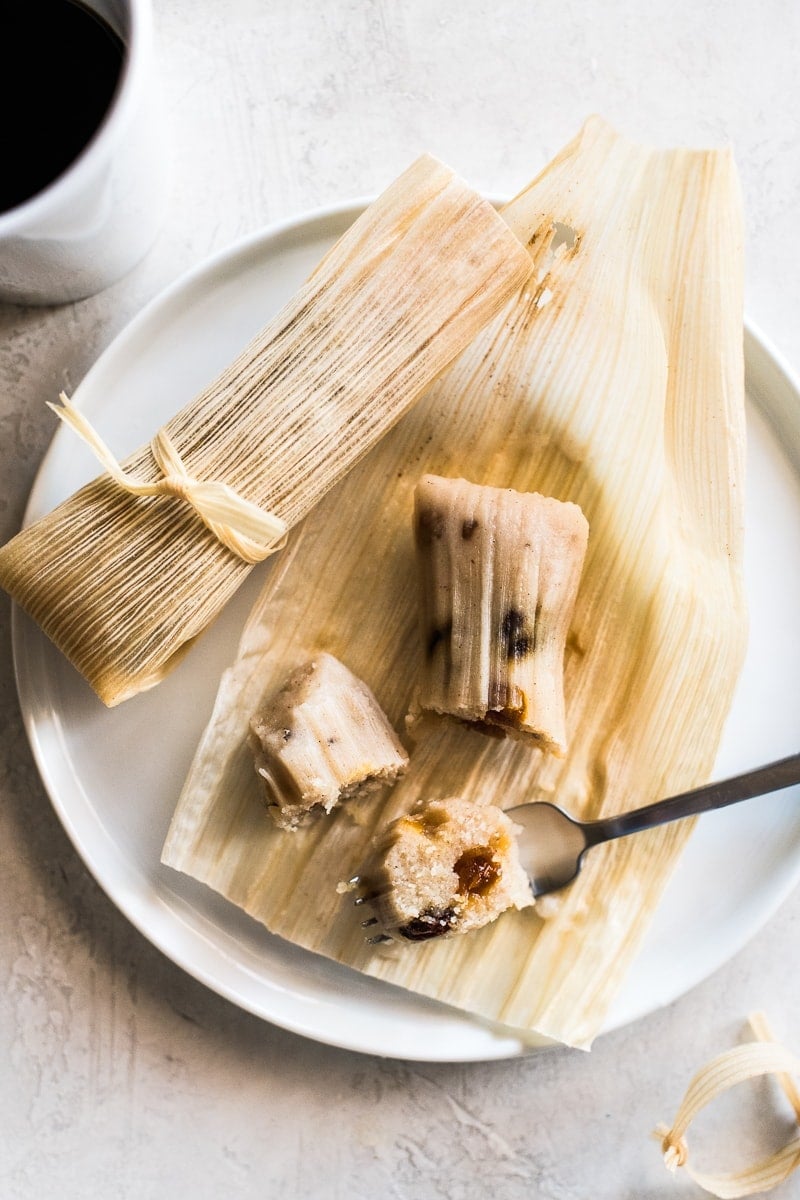 Many people have heard of savory tamales like these Red Pork Tamales, Green Chicken Tamales or Green Chile and Cheese Vegetarian Tamales, but did you know there's also sweet tamales?
What are sweet tamales?
Sweet tamales are a Mexican dessert made from a sweet masa corn dough and filled with a variety of fruit, nut and sugary fillings. Common fillings include raisins, pineapples, fruit preserves, cajeta and dulce de leche.
To give the tamales a festive touch, the masa is sometimes mixed with food coloring to give the dough a bright pink or yellow color.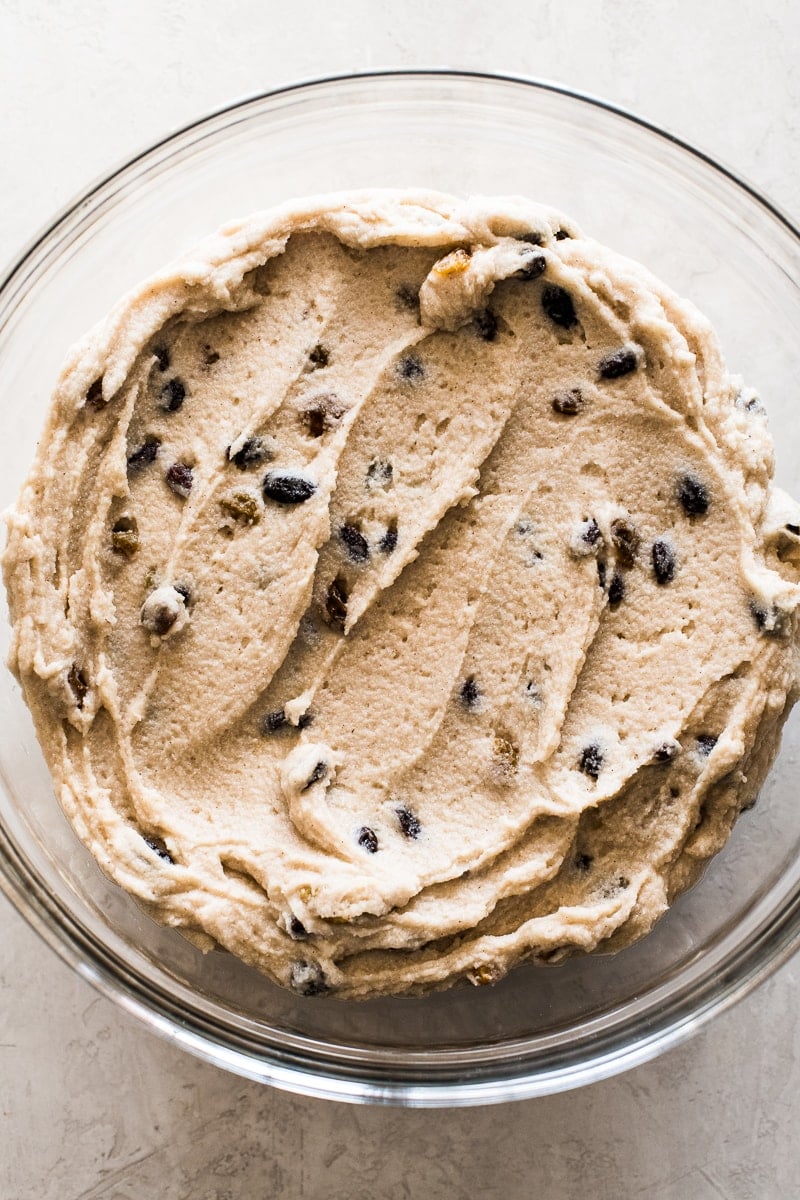 Ingredients in Sweet Tamales
These sweet raisin tamales are one of my favorite kinds to make because they're so easy! Here's what you'll need:
Raisins – I used a combination of regular black raisins and golden raisins for a bit of variety.
Sweet Masa Tamale Dough – You'll need some masa harina (I used Maseca), canola oil (or other vegetable oil with a neutral flavor), salt, baking powder, ground cinnamon and granulated sugar. This dough is very similar to regular masa for tamales, but includes the sugar and cinnamon for that sweet flavor.
Corn Husks – You'll need about 25-35 corn husks (about 1/4-1/3 pound). Dried corn husks can be easily found in most hispanic grocery stores or online.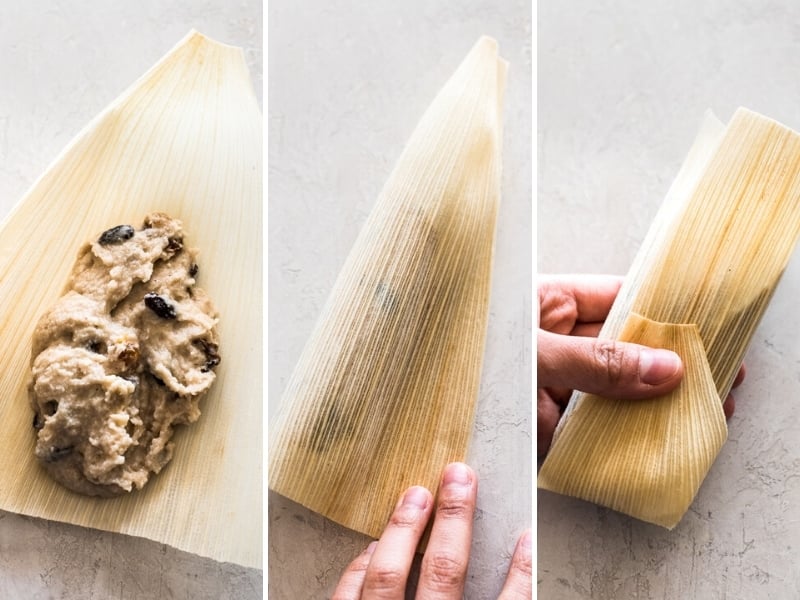 How to make Sweet Tamales
To get the raisins plump and juicy, you need to rehydrate them in some hot water.
Simply place the raisins in medium microwave-safe bowl, cover them with water and microwave them on high for 3-4 minutes until the water is very hot. Cover them with aluminum foil and let them sit in the hot water for about 10-15 minutes. Drain the water and set aside.
When you uncover the bowl, the raisins will be larger because they've absorbed some of the water. Rehydrating them makes sure that each bite of the sweet tamales includes a nice juicy pop from the raisins that is so satisfying!
Mix together masa ingredients to make the dough.
First, mix together the dry ingredients (masa harina, sugar, baking powder, cinnamon and salt) followed by the oil. Then mix in the rehydrated raisins and water. The dough will be very wet like a thick hummus and look like the photo above.
Assemble the sweet tamales.
This is the easiest type of tamale to make because it doesn't require spreading the masa! Simply scoop a big spoonful of masa into the middle of the softened corn husks and close. Since the raisins are already mixed into the dough, you don't have to "fill it" like savory tamales.
Steam and eat!
Cook the tamales open side facing up in a steamer pot like this one. A batch of 25-35 sweet tamales like in this recipe will take about 2 or so hours to steam. To check and see if they're cooked through, carefully remove a tamale and open it up. The masa should easily separate from the corn husks and it should be fairly firm.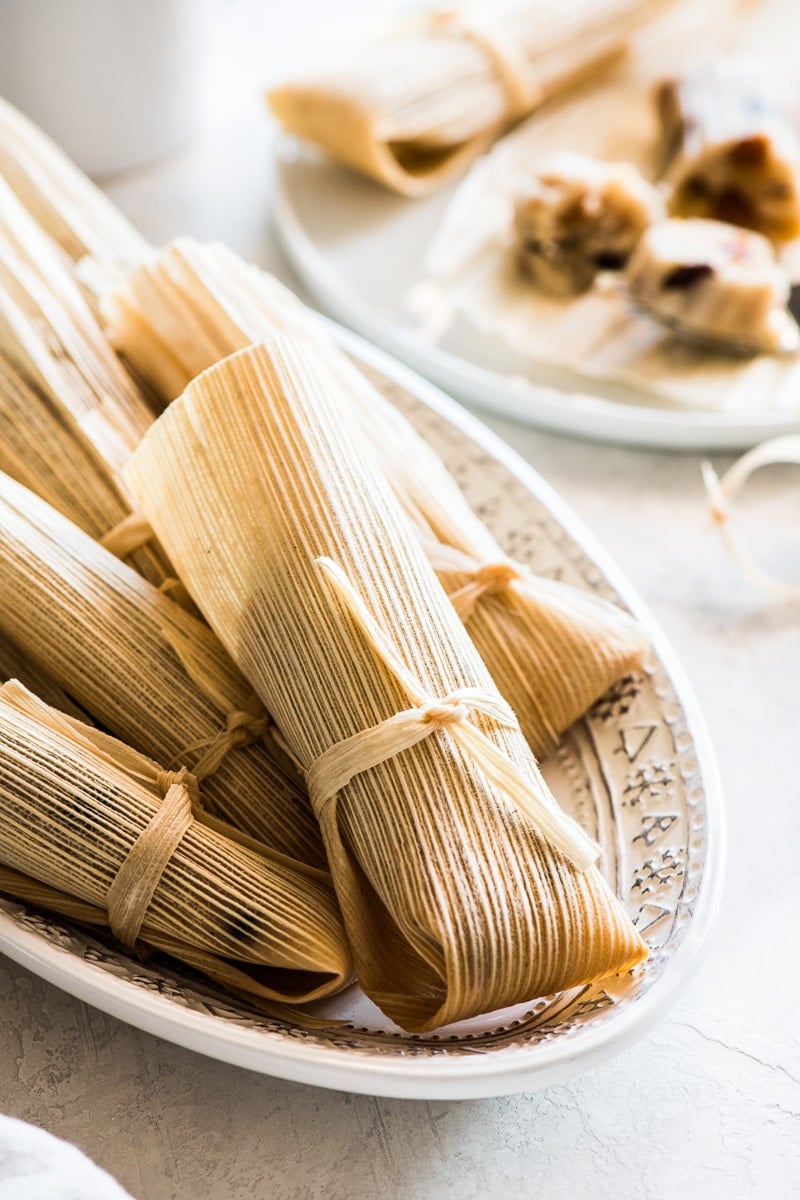 My favorite way to enjoy sweet tamales is in the mornings with a cup of coffee or as an after dinner dessert with a cup of Mexican hot chocolate.
They're so warm and filling, they're truly a Mexican comfort food that makes me so so happy.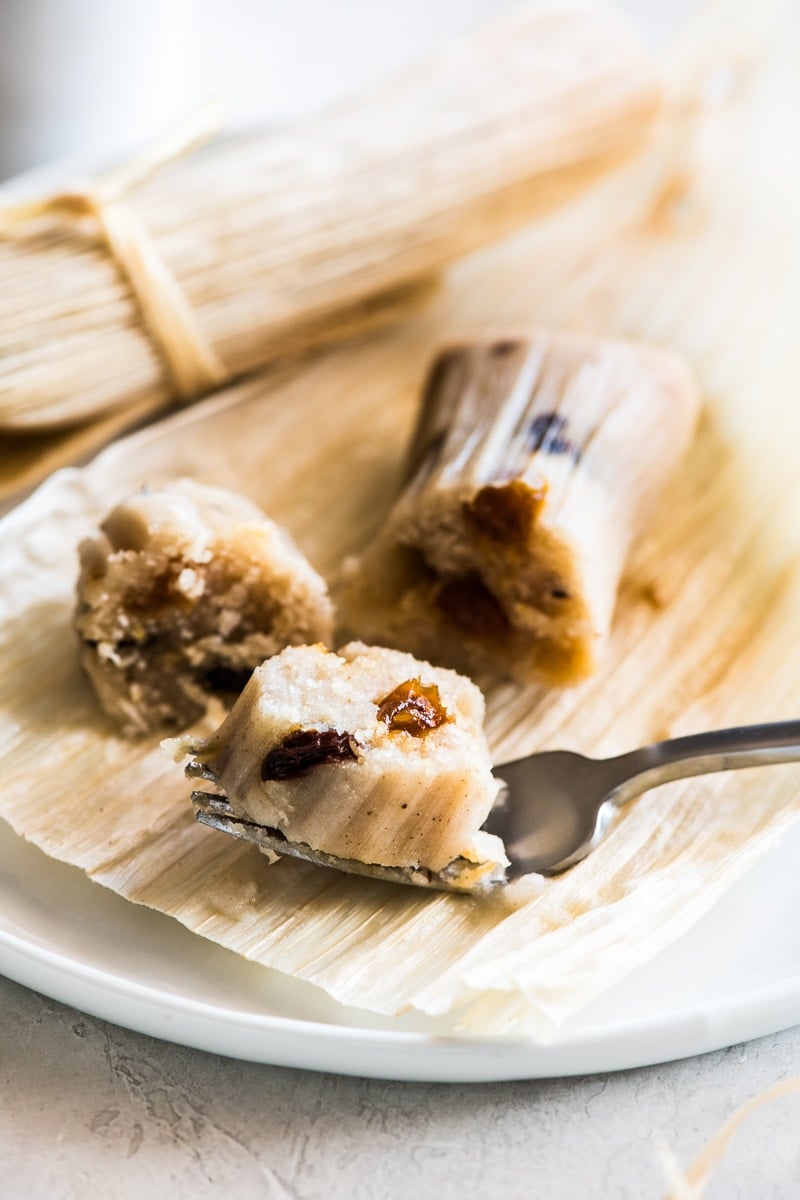 I hope you love this recipe – be sure to give it a review below! To get more easy Mexican recipes delivered straight to your inbox, sign up for my email newsletter. You can also follow Isabel Eats on Facebook,  Instagram and Pinterest!
Ingredients
25

corn husks

(about 1/4-1/3 pound)

1 1/2

cups

raisins

(any kind)

4 1/4

cups

masa harina (I used Maseca)

1 3/4

cups

granulated sugar

1 1/2

teaspoons

baking powder

1

teaspoon

ground cinnamon

1/2

teaspoon

table salt

3/4

cups + 2 tablespoons

canola oil

(or corn, vegetable or other neutral-tasting oil)

3

cups

warm water
Instructions
Prep the corn husks: Add the corn husks to a large bowl or pot. Pour enough hot water over the corn husks to cover them completely. Cover the bowl with aluminum foil and let them soak for 1 hour to soften them up. Meanwhile, rehydrate the raisins and make the sweet tamale dough.

Rehydrate the raisins: In a medium microwave-safe bowl, add raisins and cover completely with water. Microwave on high for 3 minutes, stirring after every minute. Remove from microwave, cover with aluminum foil or a plate and let sit for 15 minutes. Drain and discard the water. Set rehydrated raisins aside.

Mix the masa harina: In a large mixing bowl, add masa harina, granulated sugar, baking powder, ground cinnamon and salt. Mix together to combine.

Add the oil: Add canola oil and mix together with your hands, working the dough through your fingers until everything is well combined and incorporated. The dough should feel a little crumbly, almost like wet sand, and should lightly hold its shape when pressed together.

Add the rehydrated raisins: Add warm water and rehydrated raisins. Mix together with a spoon until fully combined.

Finish prepping the corn husks: Drain the water from the corn husks and pat them dry. Lay them flat onto a baking sheet for easy access.

Fill the corn husks: Grab a corn husk and identify which is the smooth side and which is the side with ridges. Place the smooth side face up into your palm or on a plate. Using a large spoon, scoop a big spoonful of the sweet tamale dough into the middle of the softened corn husks and close – no need to spread it out since all the filling is already mixed in!

Fold: Fold together the long edges of the corn husk like a book, and then fold it once more. Fold the pointy edge over so that only one side of the corn husk is open and exposed, and secure the folded edge with thin strip of corn husk by tied a knot around the tamale. If you don't want to go to the trouble of tying a knot around each tamale, you don't have to.

Prepare the steamer pot: Fill the bottom of the steamer pot with water and cover with the steamer insert. Place the sweet tamales in the steamer with the open end facing up, making sure to lean them against the side of the pot so they don't fall down.

Steam: Cover tightly with the lid and place steamer over medium-high heat. Bring the water in the steamer pot to a boil (you should be able to hear it bubbling), then reduce the heat to low. Cook for 1 1/2 to 2 hours, or until the masa is fully cooked. To check and see if it's cooked, carefully remove a tamale and open it up. The masa should easily separate from the corn husks and it should be fairly firm. When ready to eat, remove tamales from steamer, let sit for 3 minutes to cool, then serve.
Isabel's Tips
*The recipe makes about 25-35 tamales and easily fits in a 28-quart steamer pot.
The sweet tamale dough can be made up to 3 days in advance. Store it in an airtight container in the fridge until ready to use.
To freeze, place cooked and cooled tamales in an airtight container or zip-lock bag and freeze for up to 6 months.
To reheat, steam them for 15 minutes in a steamer pot, heat them in the oven for 10 minutes at 350°F or in the microwave for 1-2 minutes on high.
Nutrition
Serving:
1
sweet tamale
Calories:
231
kcal
Carbohydrates:
37
g
Protein:
2
g
Fat:
9
g
Saturated Fat:
1
g
Polyunsaturated Fat:
3
g
Monounsaturated Fat:
4
g
Trans Fat:
0
g
Cholesterol:
0
mg
Sodium:
31
mg
Potassium:
139
mg
Fiber:
2
g
Sugar:
21
g
Vitamin A:
0
IU
Vitamin C:
0
mg
Calcium:
180
mg
Iron:
0.5
mg
Did you make this recipe?
Leave a comment below and tag @isabeleats on social media!