Jump to Recipe
This Easy Cajeta (Mexican Caramel) recipe is made with only 5 ingredients and is easy to make. It makes a perfect topping for any dessert. If you like dulce de leche, you're going to love cajeta!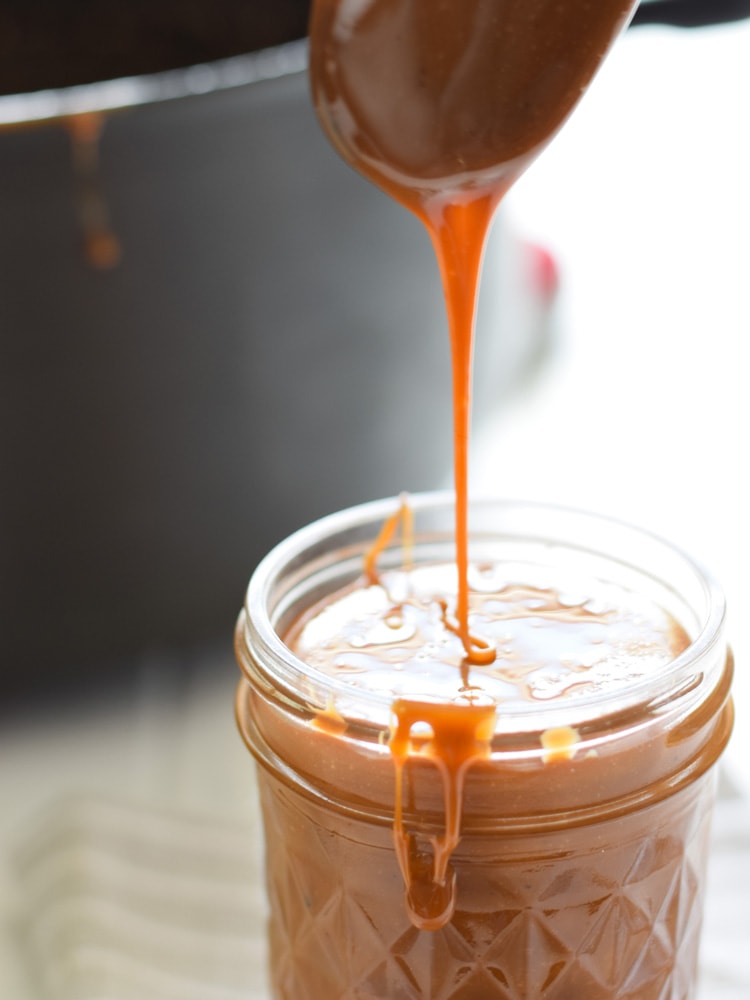 "Maybe I should make some dessert this weekend."
That's how it all got started. I said those words and John immediately shook his head in agreement.
More often than not, we like to end our dinner with a little something sweet around here. But because dessert is a normal, everyday thing, it's usually very low key. Nothing fancy – a handful of chocolate chips, some fresh fruit (fresh cherries are my favorite right now), a scoop of ice cream, a piece or two of hard candy – whatever we have in the house. Nothing crazy. Just a touch of sweet.
But when I actually make dessert from scratch, it's a different story.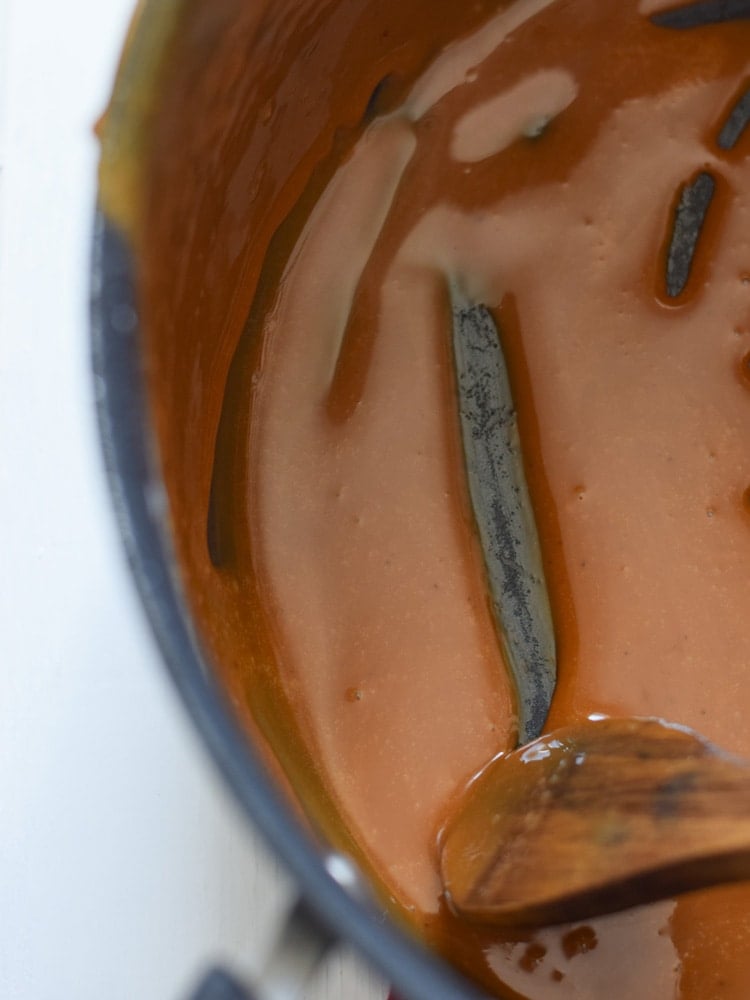 Now I'm not a baker. For some reason, baked goods and treats always take me about three tries to get just right. That or I give up (and I've given up quite a bit). I don't throw around the word "easy" when it comes to dessert very often, because it's not usually very easy for me. But when it is, I like to tell everyone about it.
Like right now. This post. This recipe. SO EASY! This cajeta recipe requires only five ingredients, a big pot, a wooden spoon and a stove.
What the heck is cajeta, anyway?
Sometimes known as Mexican caramel, cajeta is a sticky, gooey caramel-like sauce that's made by heating and caramelizing a pot of goat's milk and sugar until it reduces to a beautiful golden brown color. The goat's milk gives it a rich and complex flavor that you won't be able to stop eating. I know from first-hand experience.
It's VERY similar to dulce de leche. In fact, they're made the exact same way except dulce de leche uses cow's milk. So if your tummy is sensitive to cow's milk, this dessert sauce is calling your name!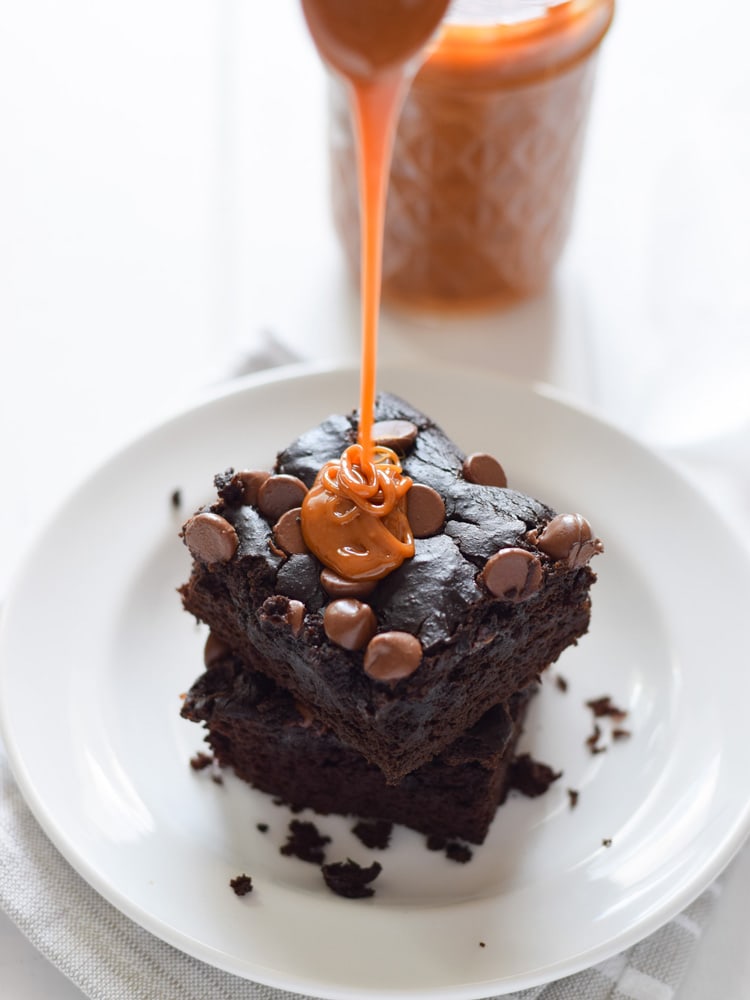 Mexican. Caramel. My mouth starts watering just thinking about it.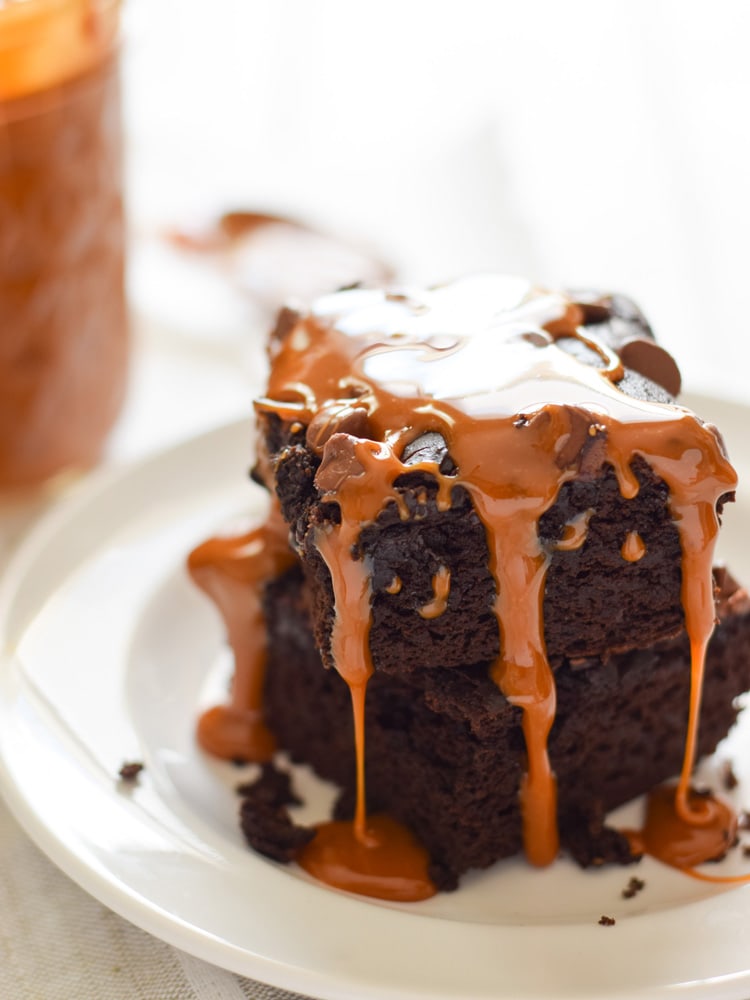 The brownies you see in this post? They're pretty damn good. AND they're made with beans (yes, beans!) which means they're "healthier" which means they deserve an extra drizzle of cajeta. It's only fair.
Grab the recipe for these Black Bean Blender Brownies here.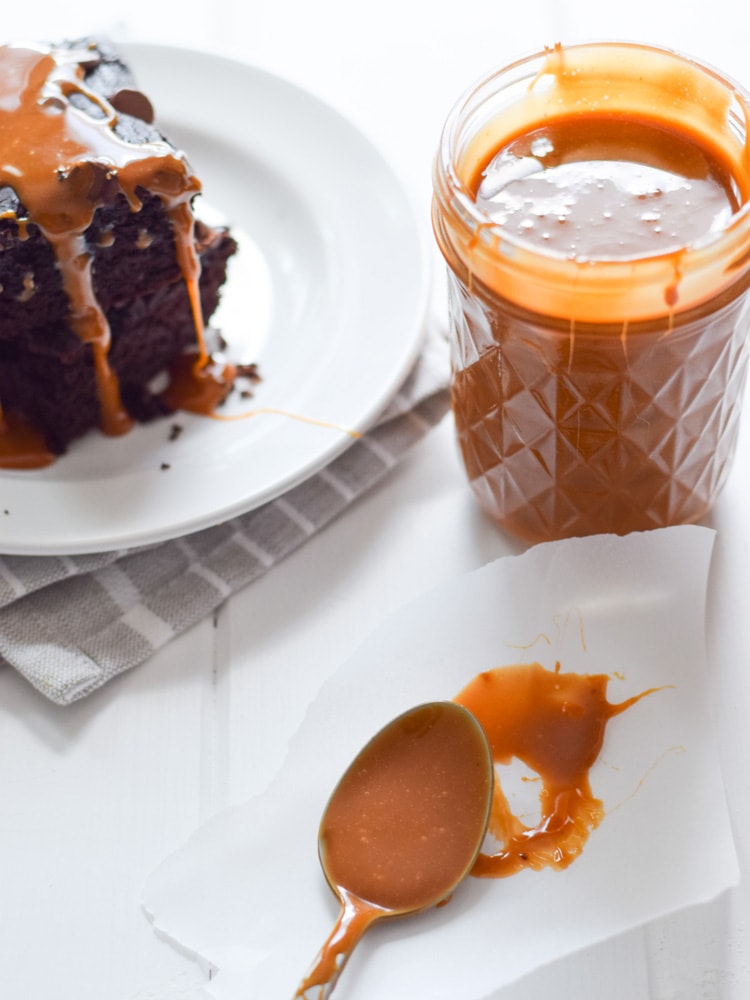 In addition to being easy to make, cajeta is also extremely versatile. Take a look at this list of ideas on how you can eat it!
10 Ways To Eat Cajeta (Mexican Caramel)
Like a lollipop/sucker – pour some onto a plastic spoon, let it cool, harden and voila! a cajeta lollipop! (my personal favorite)
Drizzled on top of these amazing Black Bean Brownies
Poured over your favorite ice cream
As a dip for fresh fruit like strawberries or apple slices
Drizzled on top of cheesecake
Sandwiched in between two cookies
Mixed into a cup of fresh coffee with milk for a sweetened cafe con leche
Drizzled on top of your favorite smoothie bowl for a decadent breakfast or snack
As a dip for classic churros and pumpkin churros
Drizzled on top of a warm slice of apple pie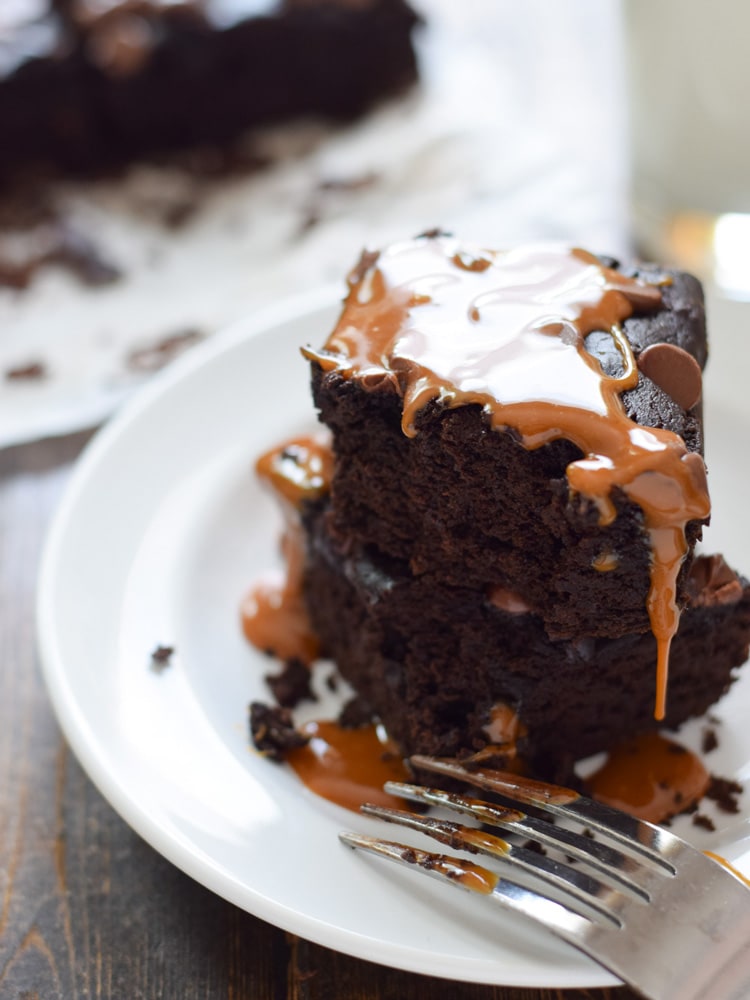 More Mexican dessert recipes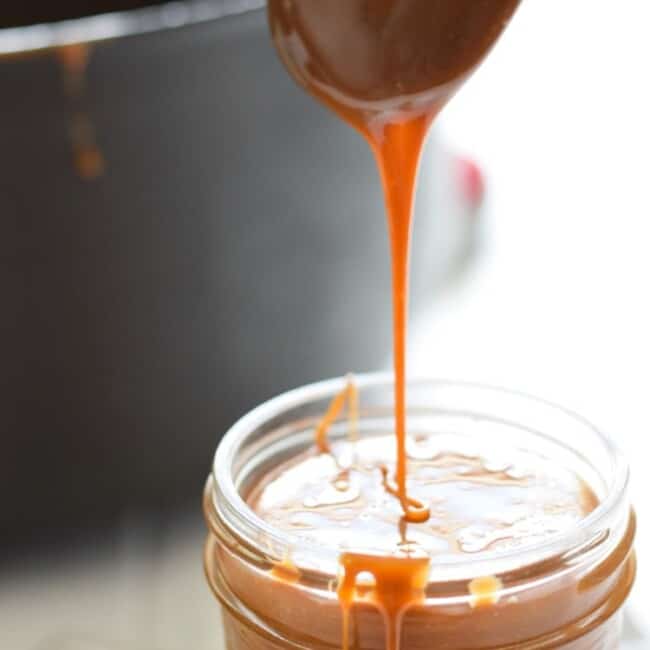 Prep: 5 minutes
Cook: 1 hour
Total : 1 hour
This Easy Cajeta (Mexican Caramel) recipe uses only 5 ingredients and is easy to make. It's a perfect topping for any dessert. If you like dulce de leche, you're going to love cajeta!
Ingredients
4 cups goats milk
1/2 teaspoon baking soda
1 cup sugar
1 cinnamon stick
1 teaspoon vanilla extract
Instructions
In a small cup, mix 3 tablespoons of goats milk with baking soda. Set aside.

Place the sugar, cinnamon stick and remaining milk in a Dutch oven or large pot over medium to medium-high heat.

Bring the mixture to a simmer, stirring frequently to dissolve the sugar.

Once simmering, remove the pot from the heat and add in the dissolved baking soda and goats milk. The mixture will froth up quickly, almost doubling in volume. Once the mixture stops bubbling, return the pot to the heat and bring it back to a simmer.

Cook until the mixture has reduced and thickened (about 45-60 minutes). Be sure to stir frequently, scraping the bottom of the pot so it doesn't burn. The cajeta is done when you can scrape the mixture aside and see the bottom of the pot. It should be thick like honey.

Remove from the heat and stir in the vanilla extract.
Isabel's Tips:
To store, pour the cajeta into a glass jar and let cool. Cover and store in the fridge for up to two weeks. The cajeta will thicken once it cools. To soften it, heat it up in the microwave a few seconds at a time or run it under hot water.
Nutrition Information
Serving: 1serving Calories: 131kcal (7%) Carbohydrates: 24g (8%) Protein: 3g (6%) Fat: 3g (5%) Saturated Fat: 2g (10%) Polyunsaturated Fat: 1g Monounsaturated Fat: 0g Trans Fat: 0g Cholesterol: 10mg (3%) Sodium: 109mg (5%) Potassium: 169mg (5%) Fiber: 0g Sugar: 24g (27%) Vitamin A: 100IU (2%) Vitamin C: 0mg Calcium: 100mg (10%) Iron: 0mg