Jump to Recipe
Easy no-fuss Breakfast Enchiladas the whole family will love! Filled with scrambled eggs, breakfast sausage, bell peppers, and onions and covered in the best enchilada sauce and melted cheese.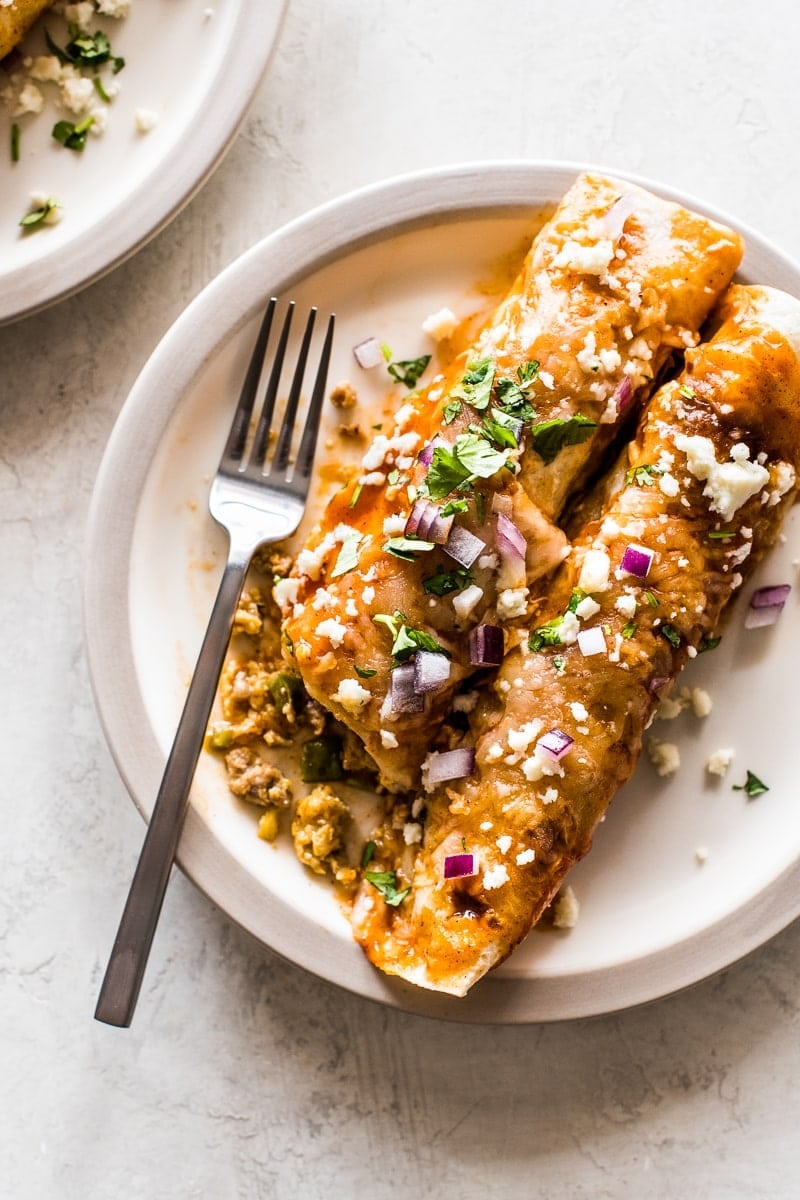 This recipe is sponsored by my friends at Pete and Gerry's Organic Eggs. All opinions expressed here are my own.
Enchiladas for breakfast are a real thing, friends! I made them for brunch one Sunday morning, and John and I were instantly hooked. We finished the leftovers throughout the week, and it made weekday breakfasts so easy.
It's a perfect recipe for feeding a crowd, so if you're hosting a brunch for friends or family, you're going to want to make this!
Here's what you'll need to make this recipe.
Breakfast Enchilada Ingredients
Eggs: I'm a big fan of Pete and Gerry's Organic Eggs! I love how they are Certified Humane and free range, so I know the hens are living the way they should. They're the most high-quality eggs I've ever had, and it shows in the color of the yolk and their flavor!
Breakfast sausage: I used a turkey breakfast sausage to keep things on the leaner side, but you can also use beef or a plant-based version if you prefer.
Enchilada sauce: To keep things really easy, you can use your favorite store-bought enchilada sauce. However, I prefer making my own because the flavor is so much better! Here are three homemade options – Easy Enchilada Sauce made from chili powder, Authentic Red Enchilada Sauce made from whole dried chiles, or Green Enchilada Sauce made from roasted green chiles.
Flour tortillas: I used store-bought flour tortillas (my personal favorite are the uncooked kind that you heat up on a skillet before using them). You could also use homemade flour tortillas if you have them on hand.
Peppers, onions, and spices: I'm always trying to get in some veggies when I can! I used bell peppers in mine, but feel free to use poblanos or jalapeños for a little more heat. I also added some ground cumin and chili powder for more flavor.
Shredded cheese: I used Monterey Jack cheese, but you can use any melting cheese you like. Cheddar and mozzarella are also great options.
How to make Breakfast Enchiladas
From start to finish, these breakfast enchiladas take 40 minutes to make. Grab a cup of coffee and let's get cooking!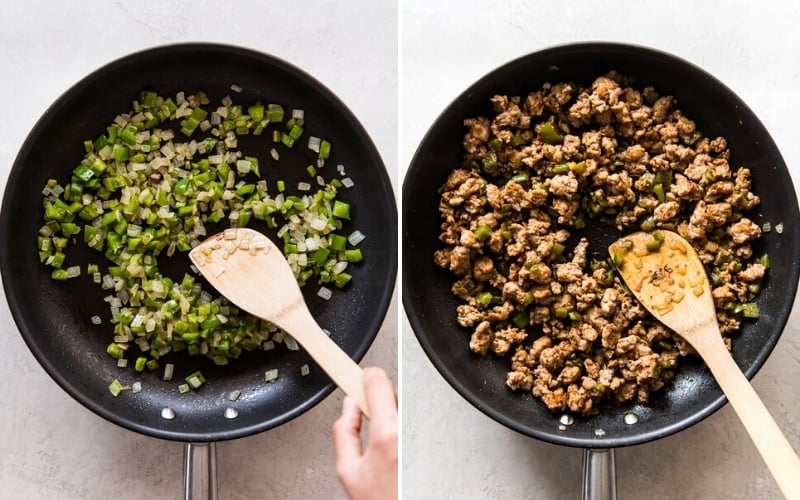 Saute the peppers and onions in a little olive oil for about 5 minutes, until they've softened and the onions start to become translucent.
Add in the breakfast sausage and spices and crumble it up with your spatula. Cook everything together for about 6-8 minutes until the sausage is fully cooked.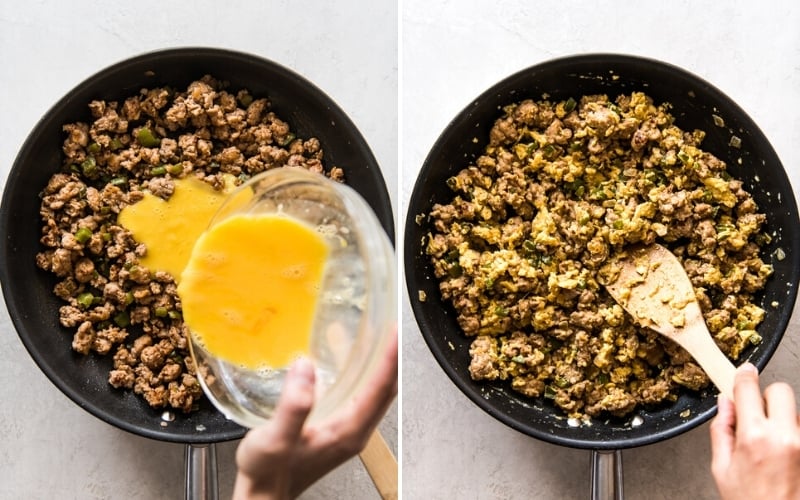 Add in the beaten eggs and stir them into the sausage mixture. Cook them for about 1 or 2 minutes, until they've just set like a soft scramble.
Remove the pan from the heat and let's start assembling the enchiladas!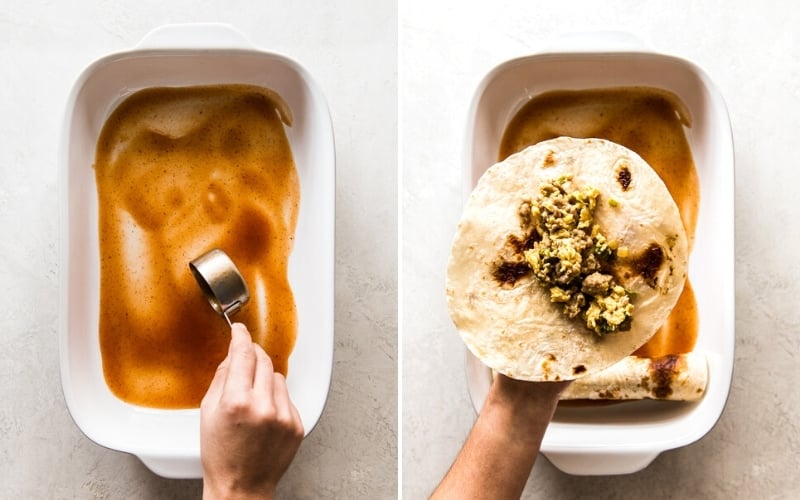 Pour some enchilada sauce in a 13×9-inch baking dish. This will help prevent the enchiladas from sticking to the bottom of the casserole.
Fill each tortilla with the sausage and egg filling, roll it up and place it in the baking dish seam side down.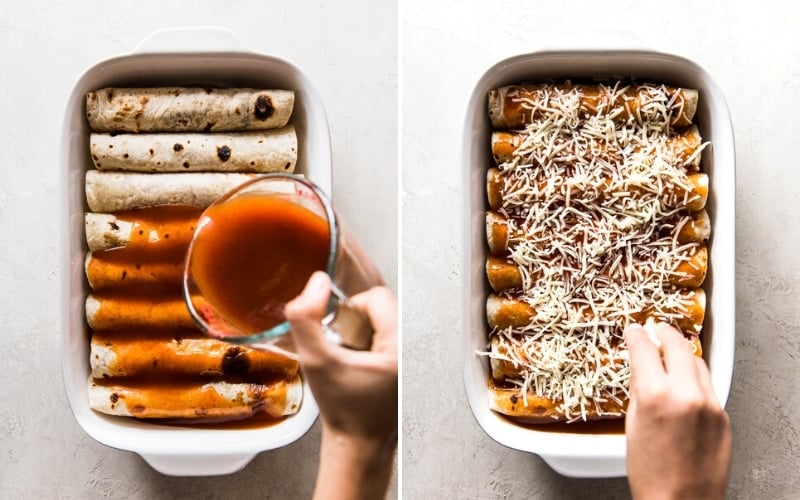 Then pour the remaining enchilada sauce all over the tortillas and top everything with some shredded cheese.
Bake at 375°F until the cheese has melted, about 15 minutes and voila! That's it!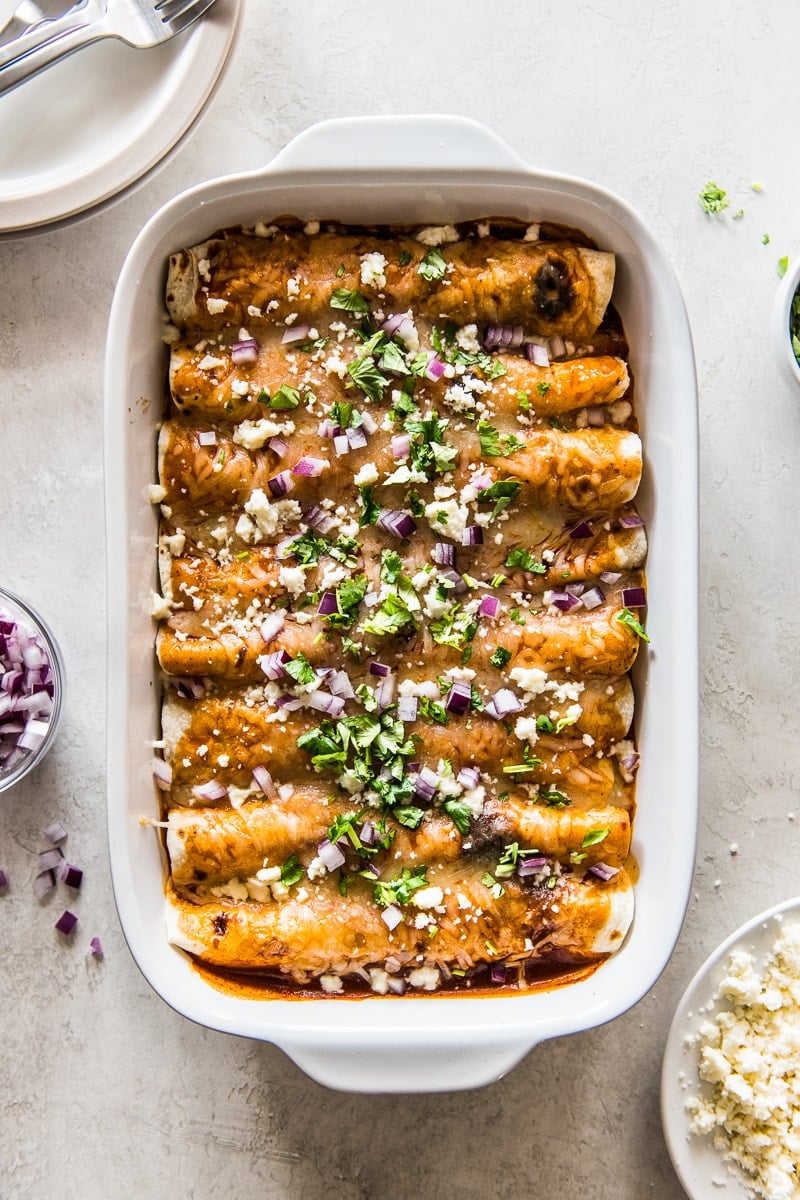 I topped my breakfast enchiladas with some chopped cilantro, diced red onions and crumbled cotija cheese for a nice salty finish.
These would also be great served with a dollop of sour cream and some fresh homemade salsa!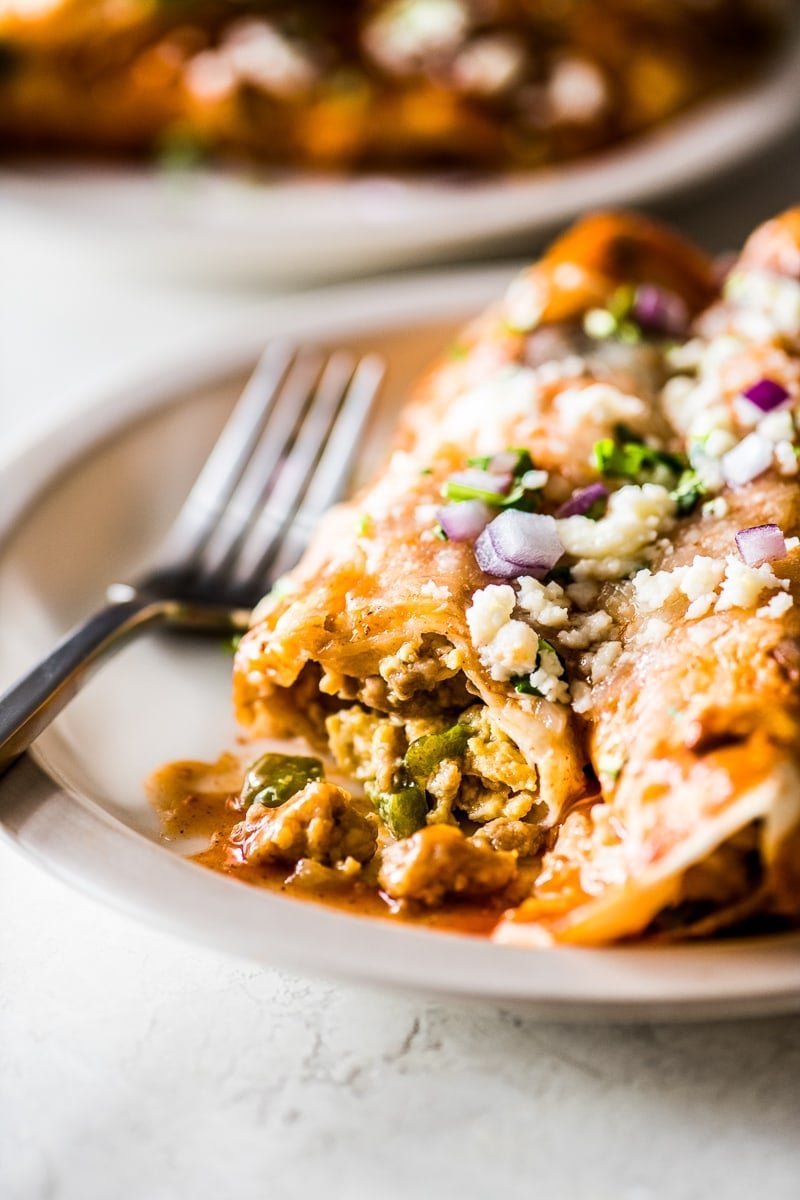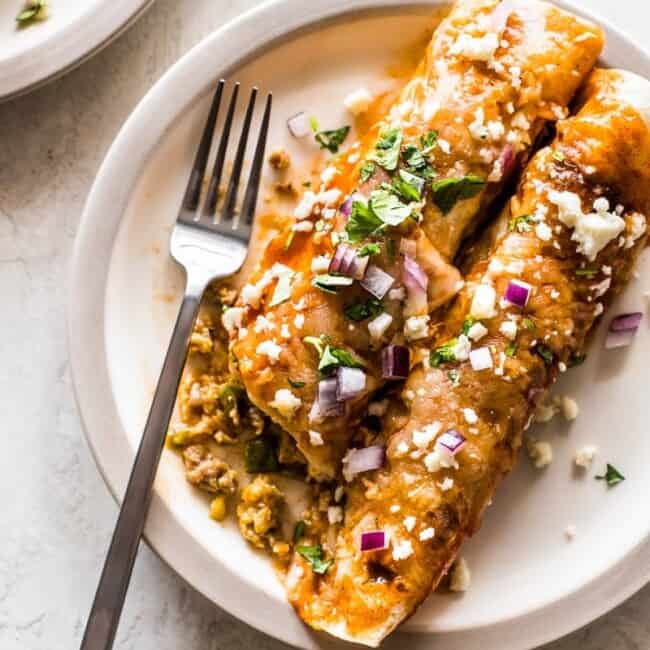 Prep: 10 minutes
Cook: 30 minutes
Total : 40 minutes
Easy no-fuss Breakfast Enchiladas the whole family will love! Filled with scrambled eggs and breakfast sausage and topped with enchilada sauce and cheese.
Ingredients
1 tablespoon olive oil
1 green bell pepper, diced
1/2 medium yellow onion, diced
1 pound breakfast sausage
1/2 teaspoon chili powder
1/4 teaspoon ground cumin
6 large Pete and Gerry's Organic Eggs, beaten
1 1/2 cups enchilada sauce (easy enchilada sauce, authentic enchilada sauce, green enchilada sauce, or your favorite store-bought brand)
8 8-inch flour tortillas
1 cup shredded monterey jack cheese
optional garnishes: crumbled cotija cheese or queso fresco, chopped cilantro, diced red onions
Instructions
Heat a large nonstick skillet over medium-high heat. Add olive oil, peppers and onions. Saute for 5 minutes, until veggies soften and onions start to become translucent.

Add breakfast sausage, chili powder and ground cumin. Saute for 6-8 minutes or until fully cooked, making sure to break and crumble the sausage into small pieces with a spatula. Drain and discard any excess fat or liquid.

Pour in eggs and cook for 1-2 minutes, until the eggs are just set and lightly scrambled. The mixture should still be a little wet. Remove from heat.

Preheat oven to 375°F. Spread 1/4 cup enchilada sauce into a 13×9-inch baking dish.

Assemble the enchiladas: fill each tortilla with the sausage + egg mixture, roll them up and place them in the baking dish seam side down.

Pour the remaining enchilada sauce on top of the tortillas and sprinkle them with shredded cheese.

Bake for 15 minutes, uncovered, until cheese has melted. Garnish with cotija cheese or queso fresco, chopped cilantro and diced red onions. Serve immediately.
Isabel's Tips:
To freeze – Let enchiladas cool completely in the fridge. Transfer the enchiladas to a freezer safe container or freezer bag and freeze. You can also wrap the enchiladas completely in aluminum foil and freeze.
Nutrition Information
Serving: 1Enchilada Calories: 362kcal (18%) Carbohydrates: 29g (10%) Protein: 21g (42%) Fat: 18g (28%) Saturated Fat: 5g (25%) Polyunsaturated Fat: 2g Monounsaturated Fat: 5g Trans Fat: 0g Cholesterol: 184mg (61%) Sodium: 810mg (34%) Potassium: 120mg (3%) Fiber: 1g (4%) Sugar: 2g (2%) Vitamin A: 16IU Vitamin C: 44mg (53%) Calcium: 13mg (1%) Iron: 15mg (83%)