These potato tacos are filled with Mexican-spiced mashed potatoes and lightly fried to create the perfect crispy crunchy outside and creamy interior. Stuff them with shredded cabbage and pico de gallo for a fresh and bright bite!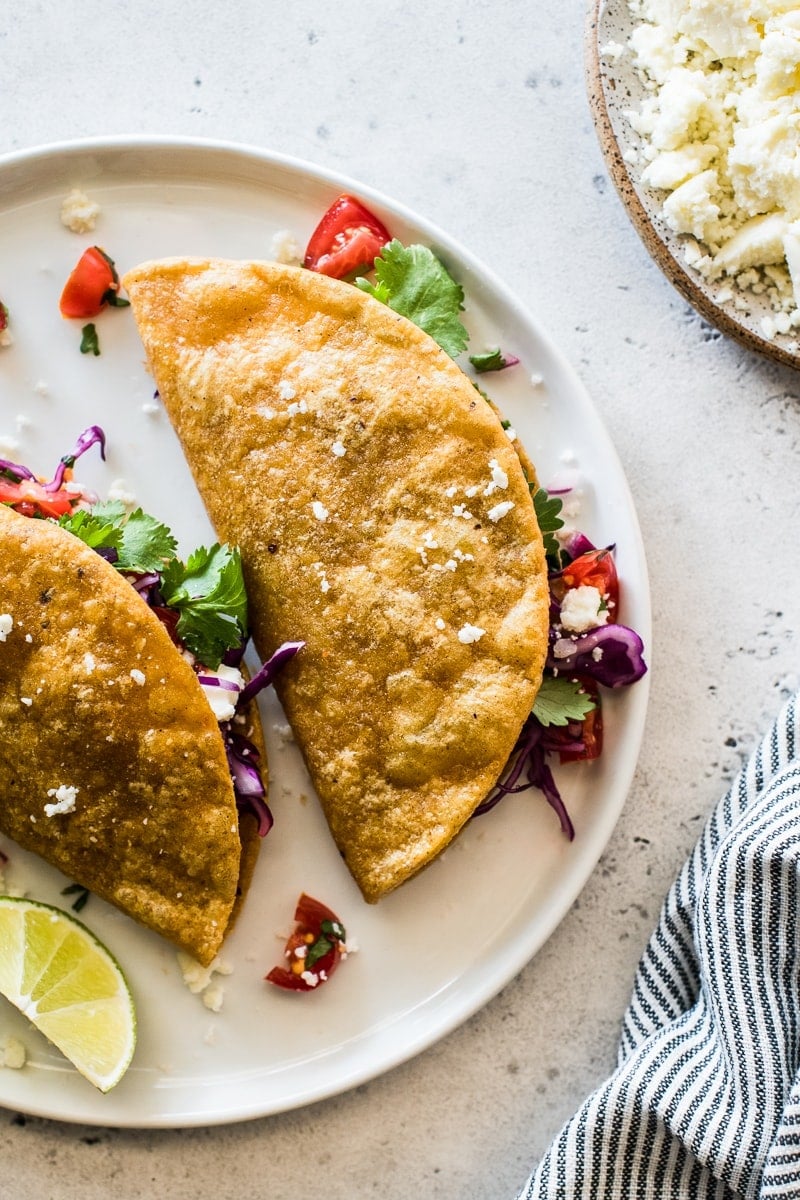 If you've never had potato tacos before, you are missing out! These tacos are made from mashed potatoes seasoned with garlic, cumin, butter and salt, and then stuffed in corn tortillas and lightly fried until crispy. They're pretty much the best fried tacos I've ever had and I know you're going to love them!
I grew up eating potato tacos in Mexico (or "tacos de papa" in Spanish) every summer when my family would go to visit my grandparents and extended family. Every restaurant in my parents' little hometown sells a version of potato tacos and they're all amazing. What's not to love about potatoes stuffed in fried tortillas, am I right?
That's why when I saw that my friend Molly from Spices In My DNA had a recipe for potato tacos in her new cookbook Eat More Plants, I got super excited and knew I had to make and share them with you!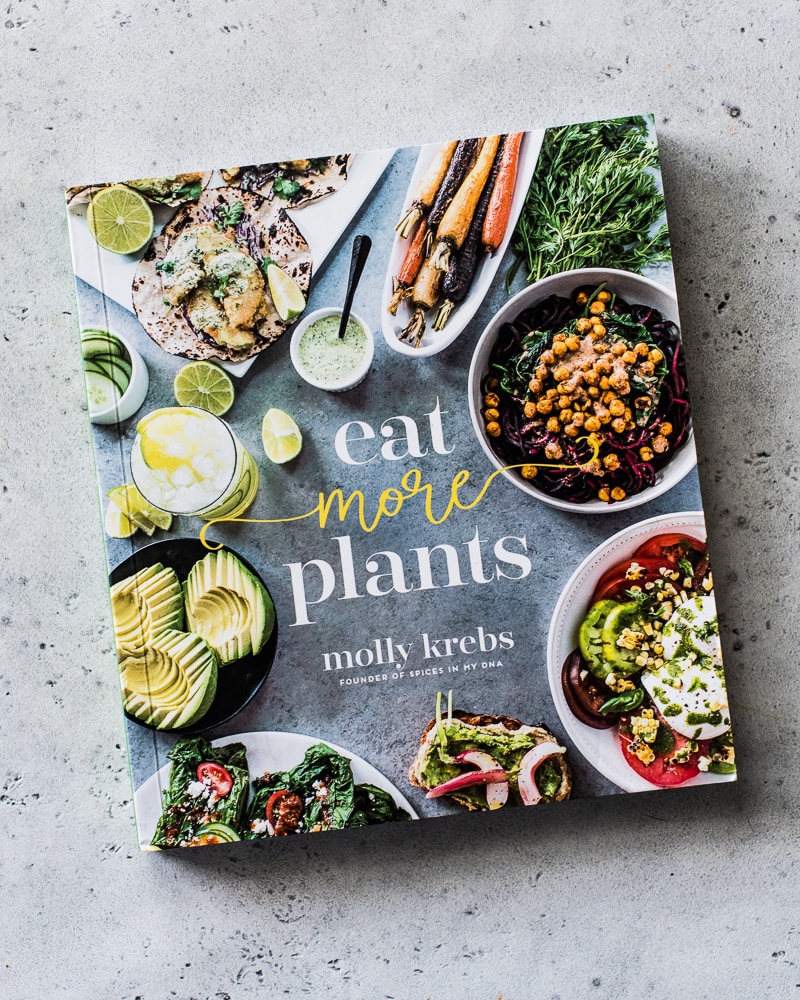 I first got to know Molly through the online food blogging world a few years ago. She was one of the first food bloggers that I met in real life and we instantly became friends!
She's one of the hardest working people I know and she's incredibly talented. Her photos are gorgeous, her recipes are always so creative with seasonal ingredients, and I'm so excited that she finally came out with a cookbook!
Eat More Plants is a cookbook full of easy and colorful plant-based recipes that celebrates vegetables. From veggie-filled bowls that are perfect for lunch, recipes like these potato tacos great for weeknight meals and even cocktails and desserts made from veggies (for real!), Molly's cookbook shows you just how easy it is to get in all your veggies!
When I saw this recipe in her book, I knew I had to share it with you guys. So without further ado, let's make some potato tacos!
How to make Potato Tacos
First, make the mashed potatoes. Start by cooking russet potatoes in boiling water until they're tender, about 20 to 25 minutes.
Strain out the water and then add in some butter, garlic, cumin and salt to give them a delicious yet subtle Mexican flavor. Mash them to your desired consistency and it's time to get frying!
Spread about 1/4 cup of the mashed potatoes onto one side of a corn tortilla. (I used my favorite store-bought corn tortillas from Mi Rancho, but you can make your own using this corn tortilla recipe if you prefer.)
Fold it over and press down lightly so that tortilla "sticks" to the potatoes and stays closed.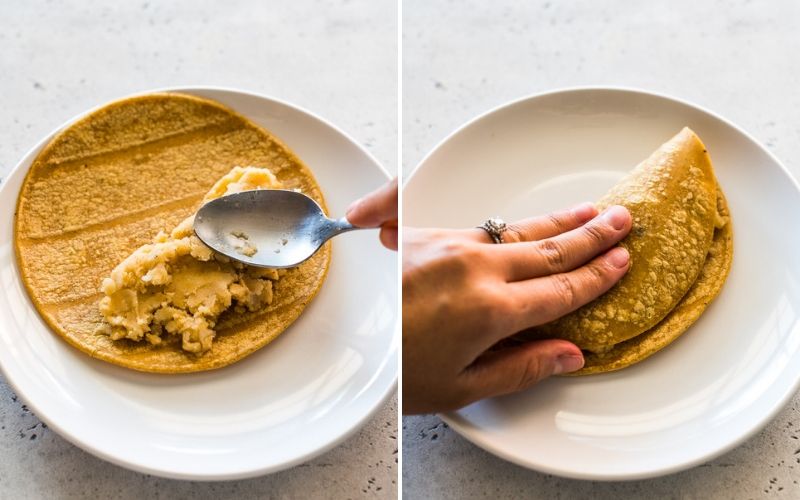 Lightly fry the potato tacos in a large skillet with oil for about 2 minutes per side, until the tortilla is crispy and browned.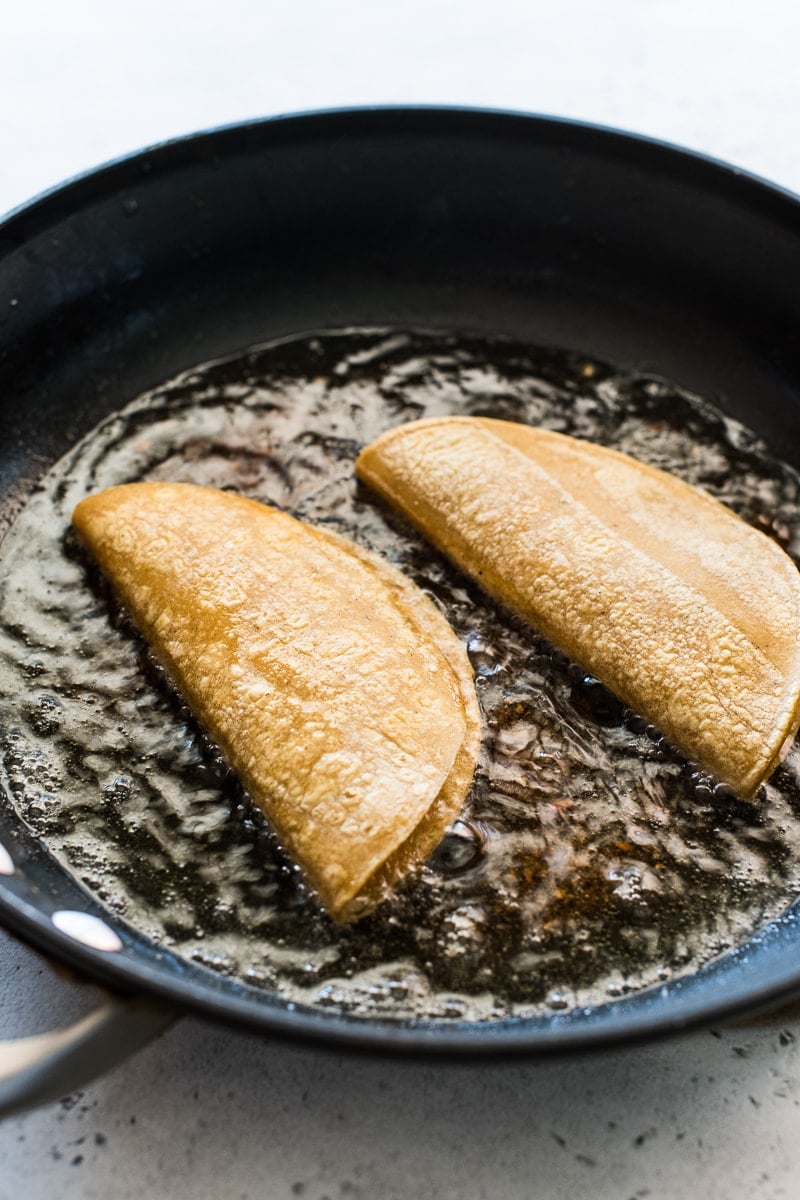 Remove the tacos from the oil and place them on plate or baking sheet covered with paper towels to soak up any excess oil.
Then stuff the tacos with shredded cabbage, pico de gallo, cilantro and cotija cheese!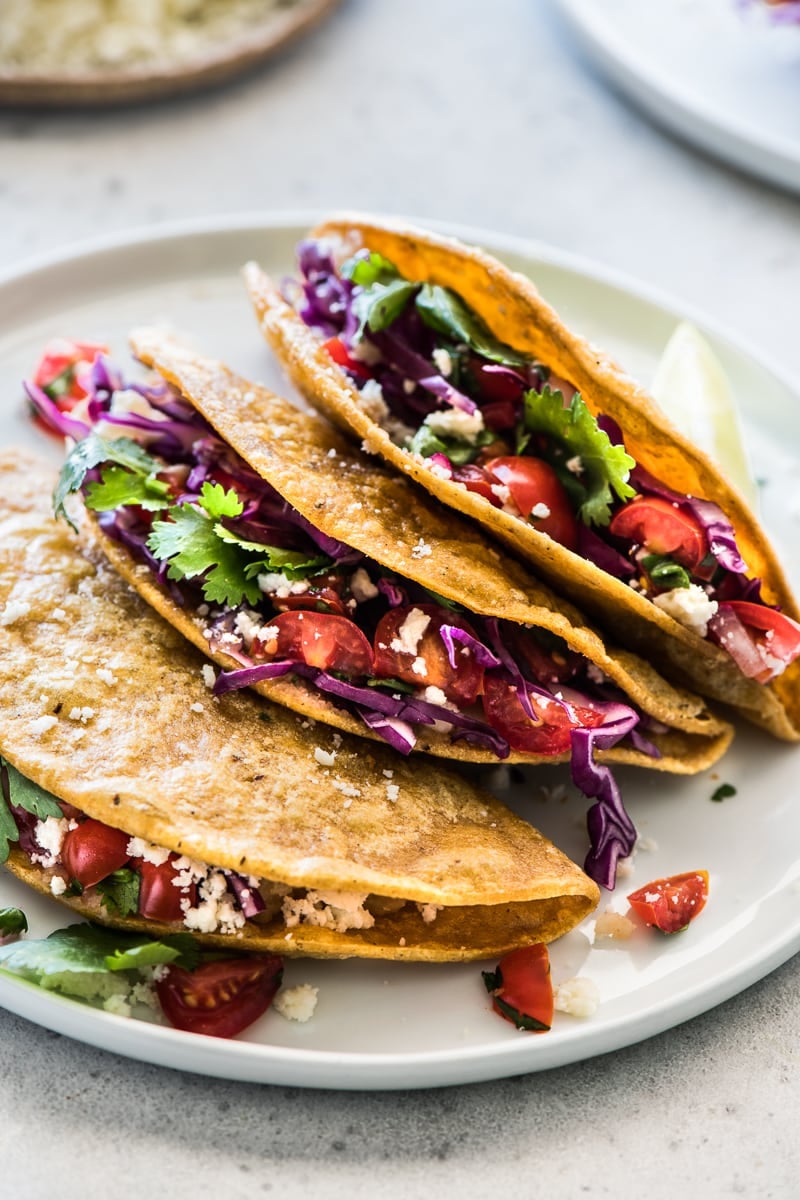 Last but not least, it's time to eat! You can eat them as is, but my favorite way is to drizzle some hot sauce on them for a little extra heat. Here a few hot sauces and salsas that would go perfect in these:
More taco recipes to try
I hope you love this recipe – be sure to give it a review below! To get more easy Mexican recipes delivered straight to your inbox, sign up for my email newsletter. You can also follow Isabel Eats on Facebook,  Instagram and Pinterest!
INGREDIENTS
For the tacos
2

pounds

russet potatoes,

peeled and cut into 1-inch chunks

2

tablespoons

unsalted butter

2

cloves

garlic,

minced (about 1 teaspoon)

1 1/2

teaspoons

ground cumin

1

teaspoon

chili powder

1/2

teaspoon

salt

1/2

cup

vegetable oil

corn tortillas,

as needed

shredded red cabbage,

as needed

1/2

cup

crumbled cotija cheese

fresh cilantro leaves,

for serving

lime wedges,

for serving
For the pico de gallo
3/4

cup

grape tomatoes,

quartered

1/4

cup

diced red onions

juice of 1/2 lime

(about 1 tablespoon)

2

tablespoons

coarsely chopped fresh cilantro

salt,

as needed
INSTRUCTIONS
For the tacos
Fill a large pot or dutch oven with water and bring to a boil over high heat. Add the potatoes and boil for 20 to 25 minutes, or until they are fork tender. Drain the potatoes and transfer them to a large bowl.

Melt the butter in the pot used for cooking the potatoes over medium-high heat. Add the garlic and saute for 30 seconds, or until it is fragrant.

Add the potatoes, cumin, chili powder, and salt and mash the potatoes until they are creamy and smooth. Set aside.

In a large nonstick skillet, heat oil over medium-high heat.

Spread about 1/4 cup of the mashed potatoes on one side of the tortillas and fold them to create tacos.

Fry each taco for about 2 minutes per side, or until the tortillas are golden and crispy, flipping the taco carefully with a small spatula.

Place the tacos on a plate or baking sheet covered with paper towels to soak up any excess oil. Continue frying the tacos in batches until complete.

Stuff the fried tacos with a small handful of the cabbage, some pico de gallo, a generous amount of cotija cheese and some cilantro. Serve the tacos with the lime wedges.
For the pico de gallo
In a medium bowl, combine the tomatoes, red onion, lime juice, and cilantro and stir to combine. Season with salt.
Did you make this recipe?
Leave a comment below and tag @isabeleats on social media!