Jump to Recipe
Grilled salmon marinated in a blend of spices, honey, soy sauce, lime juice, and Mazola® Corn Oil then served with a refreshing mango salsa. It's flavorful, moist, and flaky every single time!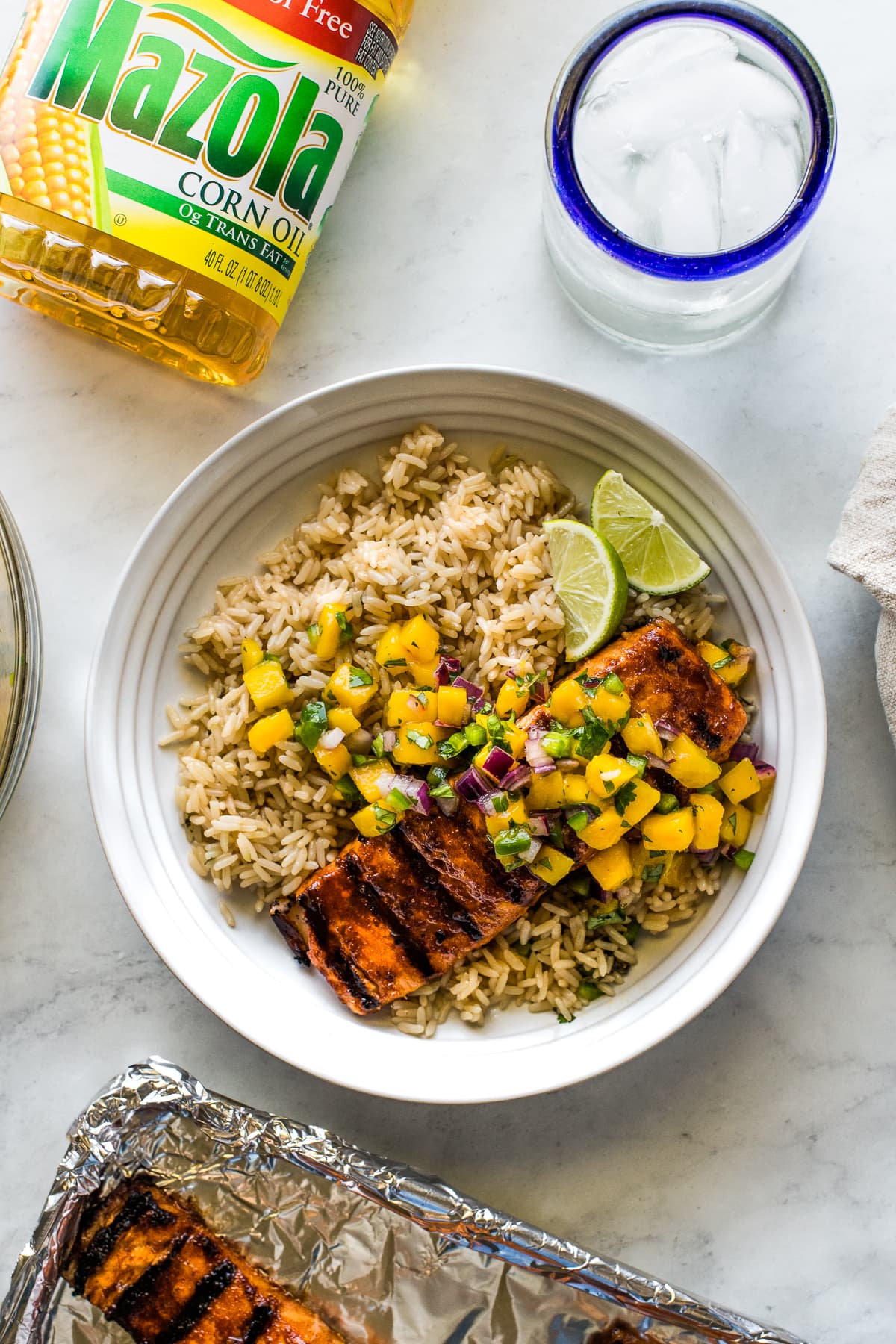 This post is sponsored by Mazola® Corn Oil. All opinions expressed here are my own.
One of my favorite things to grill when the weather gets warm are fresh salmon fillets. They're super easy to grill, don't take long to cook, and can be served with a variety of different side dishes.
It's a delicious summertime protein that I make about once a week, and my family loves it so much.
If you've never marinated and grilled salmon before, don't worry! The whole process is simple and once you do it, it will quickly become one of your new favorite ways to prepare salmon!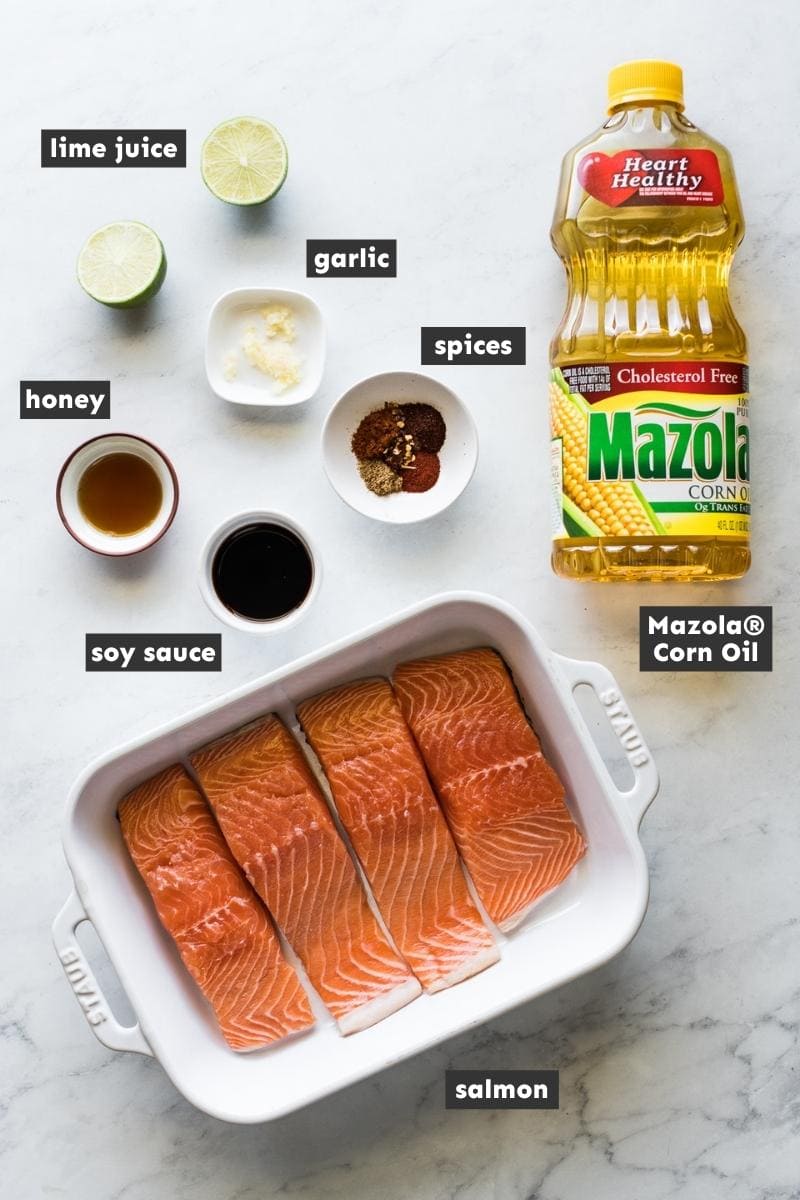 Salmon Marinade Ingredients
This chili garlic marinade has a mixture of spices and seasonings including chili powder, smoked paprika, ground cumin, chipotle powder, red pepper flakes, and garlic.
Some acid, salt, and fat are added in the form of lime juice, soy sauce, and Mazola® Corn Oil to get the salmon as flavorful as possible, as well as a little bit of honey to counterbalance some of the spices.
Mazola® is a great heart-healthy* all-purpose oil to use in recipes that are stir-fried or sautéed, as well as in marinades like this one!
Everything is mixed together and then poured over the salmon so that every fillet is coated with the marinade.
Despite some of the ingredients being spicy, the end result is only a mild-medium heat. That's because the soy sauce and honey really balance out the chili powders and add a touch of sweetness.
How long to marinate salmon
I recommend marinating salmon for a minimum of 1 hour and up to 8 hours for maximum flavor.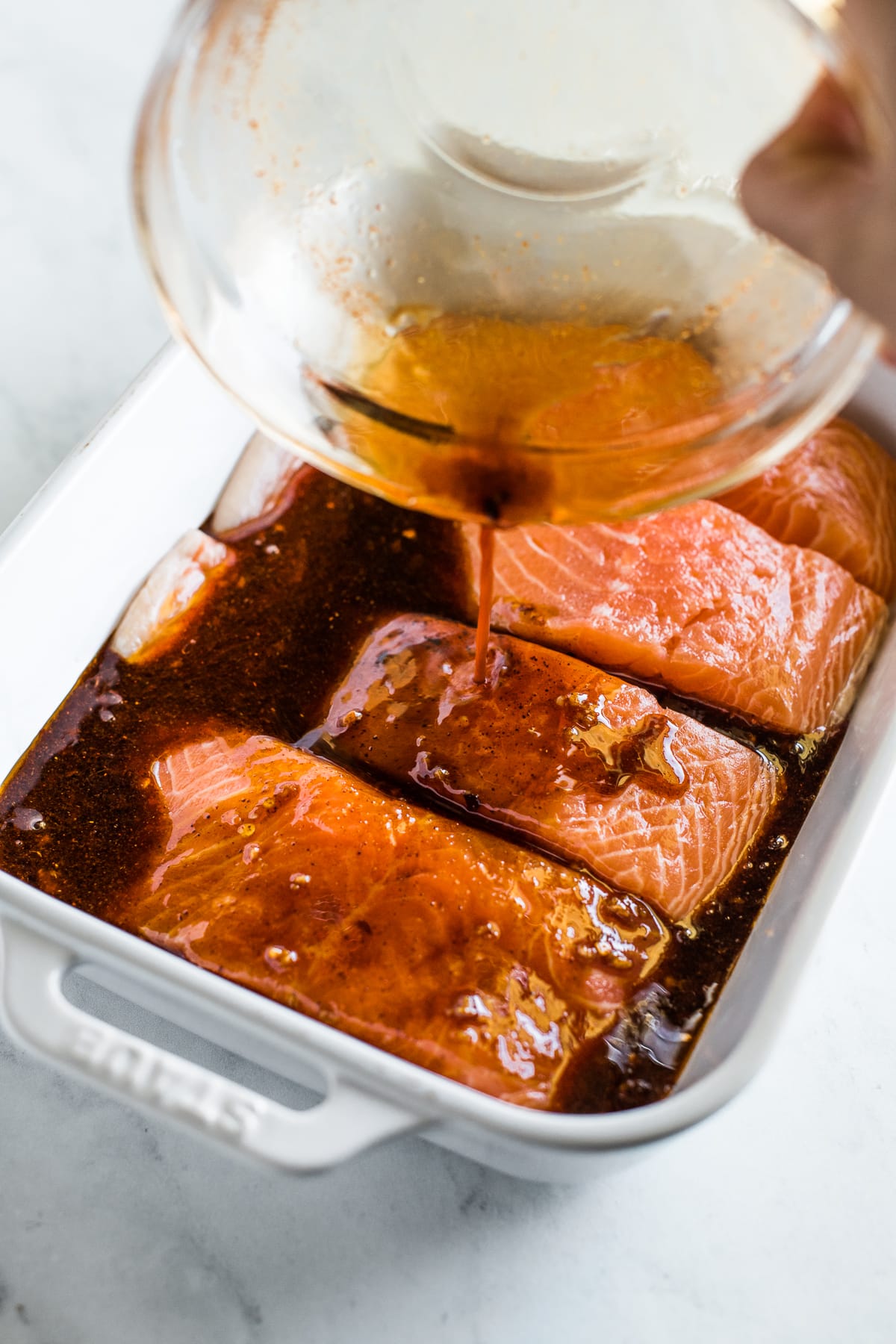 Reduce the marinade to make a basting sauce
Once the salmon is done marinating, shake off any excess marinade from the salmon and then pour the marinade into a small saucepan and cook for 5 minutes to reduce it and create a delicious basting liquid.
You'll brush this on the salmon while it's grilling to create a beautiful crust as well as when the salmon is done for a little added flavor.
Prep the grill grates and the fish
To help prevent the salmon from sticking and falling apart on the grill, I recommend rubbing the grill grates and the flesh side of the salmon with Mazola® Corn Oil. In addition to using Mazola® in the marinade, I also love using it for this because of its high smoke point of 450°F.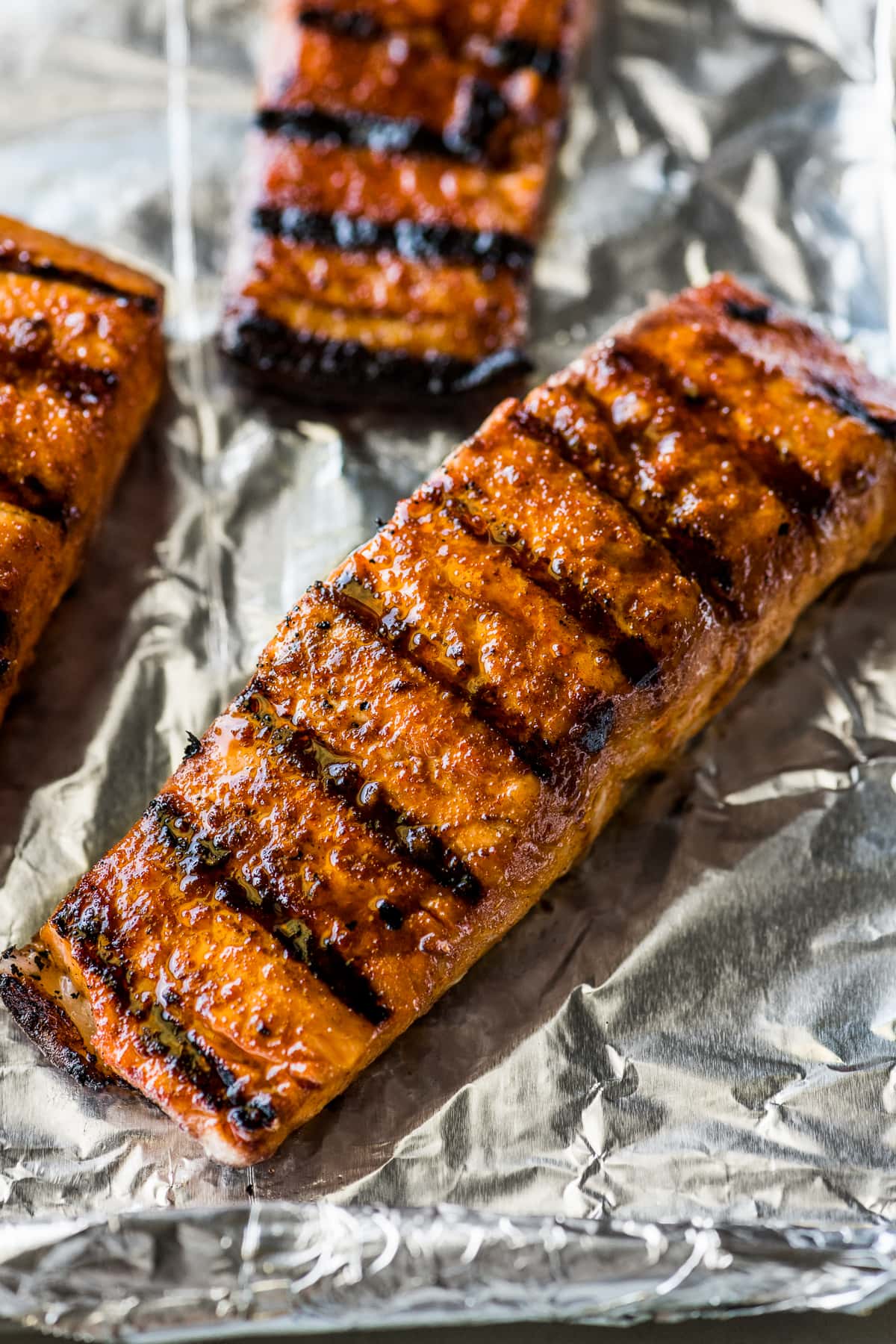 Leave the skin on
When grilling salmon, make sure to leave the skin on since it naturally holds together the fish and makes it 100 times easier to grill. After grilling, you can choose to remove the skin if you prefer, or you can eat it since it will be crispy and delicious!
Flip the salmon once
Once the grill is preheated to a medium-high heat (between 375°F-450°F) and you've applied oil to the grill grates and the salmon, place it directly on the grill skin side up and close the grill. Let it cook for 3 minutes, then flip it over, close the grill, and cook for 4 more minutes. That's it. No need to flip the salmon more than once! Doing so will likely overcook the fish and make it easier to fall apart.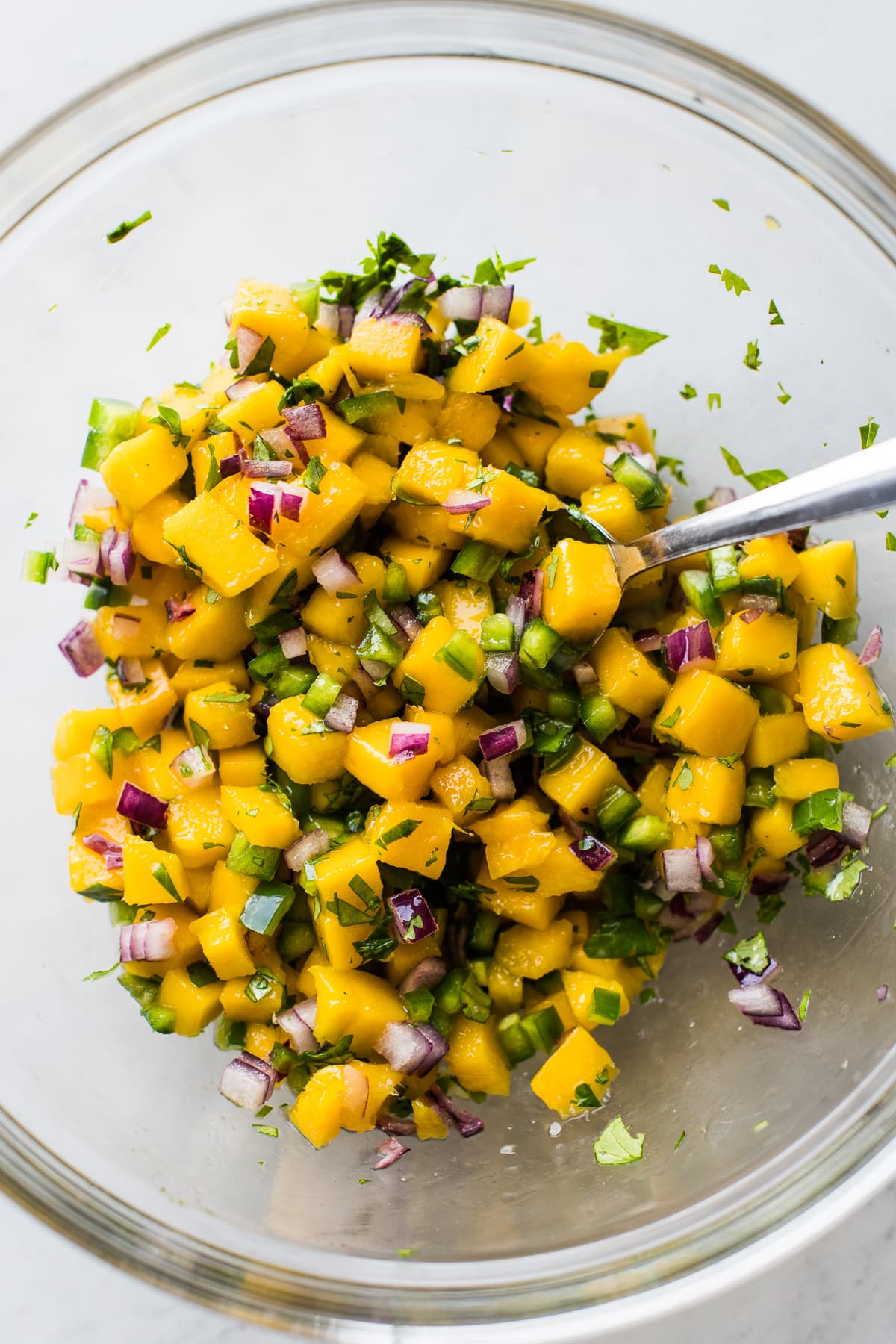 Serving Suggestions
To compliment the grilled chili garlic salmon, I served it with a quick mango salsa to add a bit of sweetness and crunch. I plated everything over some brown rice for a filling and satisfying weeknight dinner.
Here are a few other sides that would be delicious with this salmon: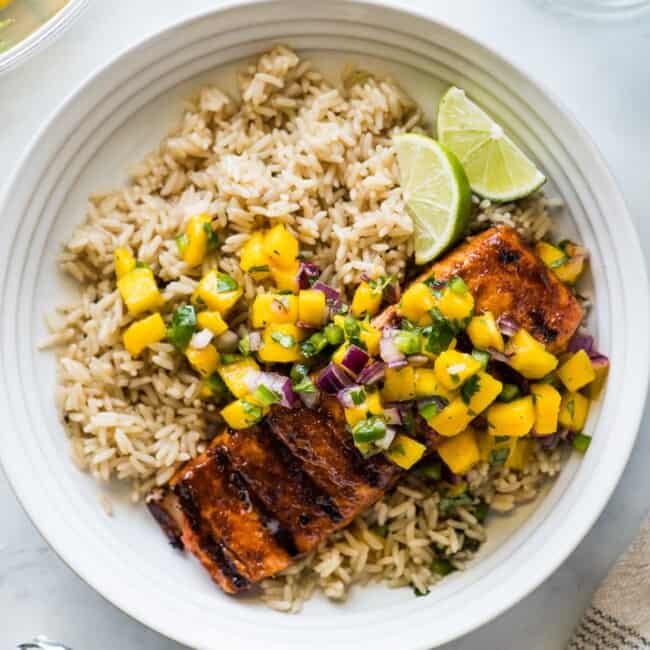 Prep: 1 hour
Cook: 12 minutes
Total : 1 hour 12 minutes
Grilled salmon marinated in a blend of spices, honey, soy sauce, and lime juice. Flavorful, moist, and flaky every single time!
Ingredients
For the salmon
4 salmon filets (about 1 ½ lbs salmon)
3 tablespoons low sodium soy sauce
2 tablespoons Mazola® Corn Oil, plus more for greasing grill
1 tablespoon honey
1 lime, juiced (about 2 tablespoons)
2 cloves garlic, minced
1/2 teaspoon chili powder
1/2 teaspoon chipotle powder
1/2 teaspoon ground cumin
1/2 teaspoon smoked paprika
1/4 teaspoon pepper flakes
For the mango salsa
1 large mango, diced
1 jalapeño pepper finely diced
1/4 cup diced red onion
1/4 cup lightly packed cilantro, chopped
1 tablespoon lime juice (about ½ lime)
1/8 teaspoon kosher salt
Instructions
For the salmon
Place the salmon filets in a zip-top storage bag or a baking dish skin side up.

In a small bowl, add soy sauce, oil, honey, lime juice, garlic, chili powder, chipotle powder, cumin, smoked paprika, and red pepper flakes. Whisk to combine.

Pour the marinade over the salmon, close the bag or cover the baking dish, and marinate in the refrigerator for 1-8 hours.

Transfer the salmon to a plate and set aside.

Pour the marinade into a small saucepan and bring to a boil over high heat. Reduce heat to low and cook for 5 minutes, stirring occasionally, until it has reduced slightly. Remove from heat.

Preheat the grill over medium-high heat (between 375°F-450°F). Apply oil on the flesh side of the fish and the grill grates so that the surface becomes nonstick.

Place the salmon on the grill skin side up, close the grill, and cook for 3 minutes.

Flip the salmon over with a spatula or tongs, brush some of the reduced marinade over each of the filets, then close and cook for another 4 minutes. (The salmon should have an internal temperature of 120-130F.)

Remove the salmon from the grill and serve with mango salsa.
For the mango salsa
Add all ingredients to a small bowl and mix together to combine. Taste and season with more salt if necessary.

Cover and refrigerate until ready to serve.
Nutrition Information
Serving: 1filet with salsa Calories: 374kcal (19%) Carbohydrates: 17g (6%) Protein: 36g (72%) Fat: 18g (28%) Saturated Fat: 2g (10%) Polyunsaturated Fat: 7g Monounsaturated Fat: 8g Trans Fat: 1g Cholesterol: 94mg (31%) Sodium: 593mg (25%) Potassium: 1044mg (30%) Fiber: 2g (8%) Sugar: 12g (13%) Vitamin A: 1055IU (21%) Vitamin C: 31mg (38%) Calcium: 47mg (5%) Iron: 2mg (11%)
*Corn oil is a cholesterol-free food that contains 14g of total fat per serving. See nutrition information on product label or at Mazola.com for fat and saturated fat content.
**See www.mazola.com for information about the relationship between corn oil and heart disease.