Jump to Recipe
This Easy Baked Mexican Chicken is quickly marinated in chili powder, cumin, oregano, and lime juice for a quick and easy weeknight dinner!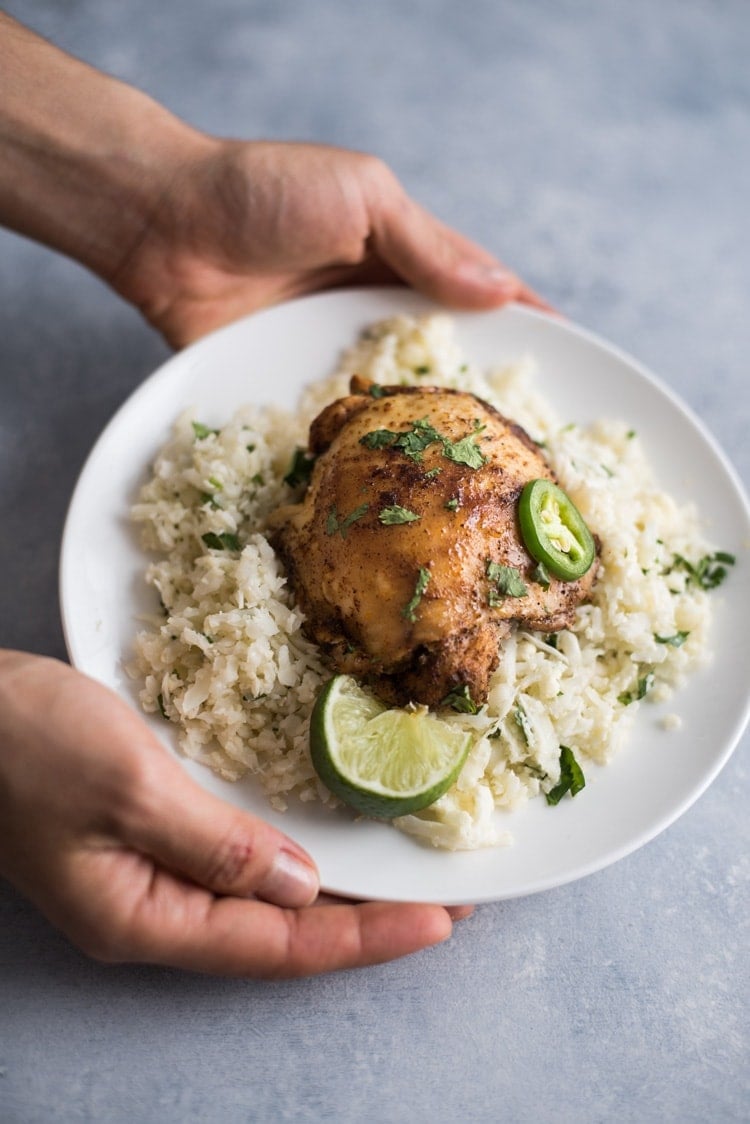 Let's talk about real life today. When I'm not creating and photographing recipes for the blog (which usually happens on the weekends), the dinner situation in my house is either eating whatever leftovers are in the fridge or making something simple at the last minute.
And when I say last minute, I mean last minute. 99 percent of the time, John and I forget to take meat out of the freezer in the morning to thaw. We usually end up having to submerge the frozen protein in hot water for an hour as soon as we get home so we're not cooking it frozen. Pain in the butt, and yet we never learn.
Once we've got our protein ready, we season it with whatever spices we have in the cupboard, serve it alongside some veggies and carbs and we're good to go.
But just because a recipe is easy, simple and made last minute doesn't mean it isn't flavorful and delicious! I mean, just look at the tv show Chopped. Those guys have NO idea what they're going to be cooking, and they only have 30 minutes to whip up a meal for a talented panel of judges!
Sure, most of the contestants are chefs, but that's besides the point. We can totally make tasty meals in no time, too!
This Easy Baked Mexican Chicken recipe is totally one of those quick and easy recipes. Marinated in Mexican flavors like chili powder, cumin and lime juice, this one pan Mexican Chicken is ready in under an hour and pairs well with any veggies you have on hand.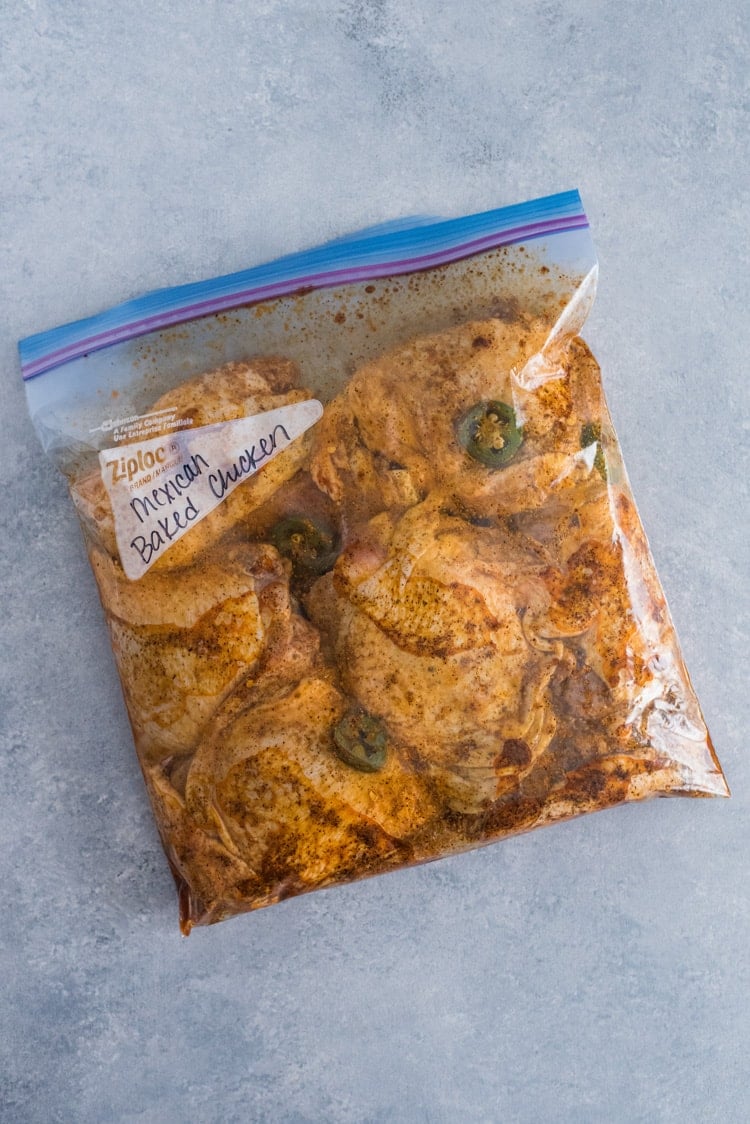 The trick to infusing a lot of flavor into chicken in a short amount of time is quickly marinating it in tons of spices and some acidic elements. The spices I used are really classic Mexican spices like chili powder, ground cumin, dried oregano, garlic powder and a few others. I also used apple cider vinegar and lime juice to really to help all the flavors penetrate the protein as much as possible.
Just add everything into a large gallon-sized resealable plastic bag and mix together. You can marinate the chicken anywhere from 20 minutes to overnight, but the longer you can let it sit to soak up all the juices, the better.
Since we're talking real life dinner situations today, I only marinated it for 20 minutes. #reallife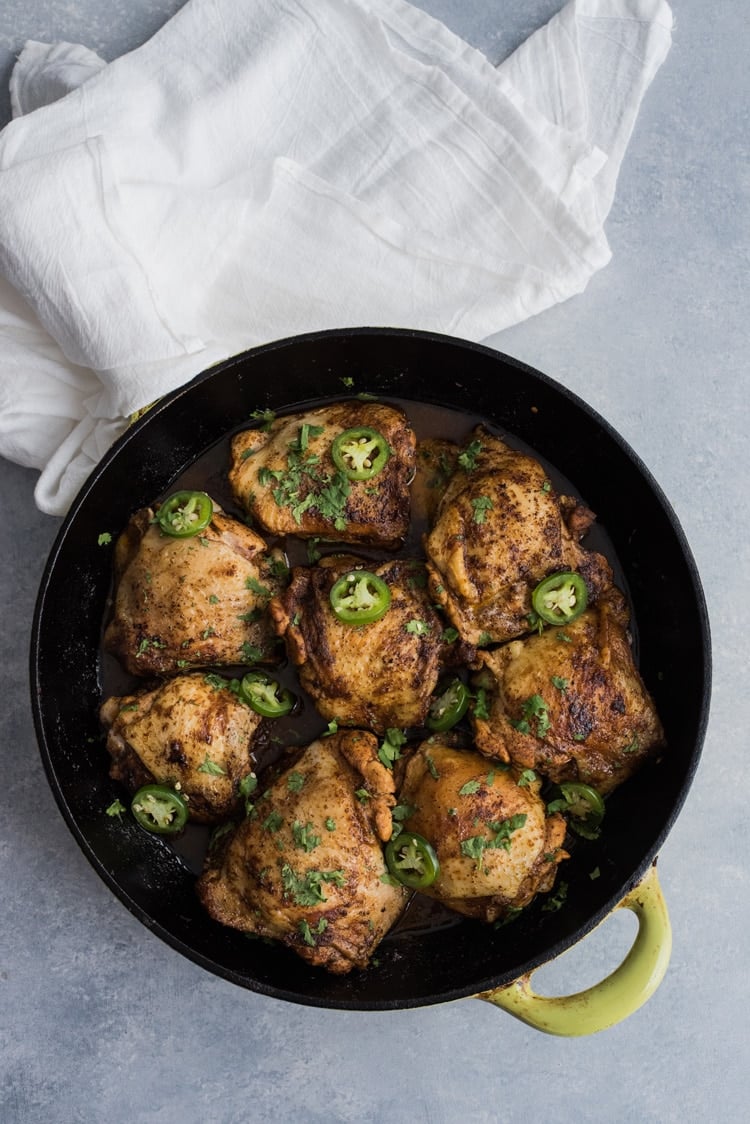 Once it's done marinating, preheat your oven to 400 degrees. Then place your chicken thighs skin side down in a large cast iron skillet over medium-high heat and cook for 10 to 15 minutes, until the skin begins to brown. Flip over the thighs, transfer the skillet to the oven and bake for another 10 minutes.
If you don't have a cast iron skillet, you can transfer the chicken thighs onto a baking dish or baking sheet instead. It's one extra plate to wash but sometimes you gotta do what ya gotta do.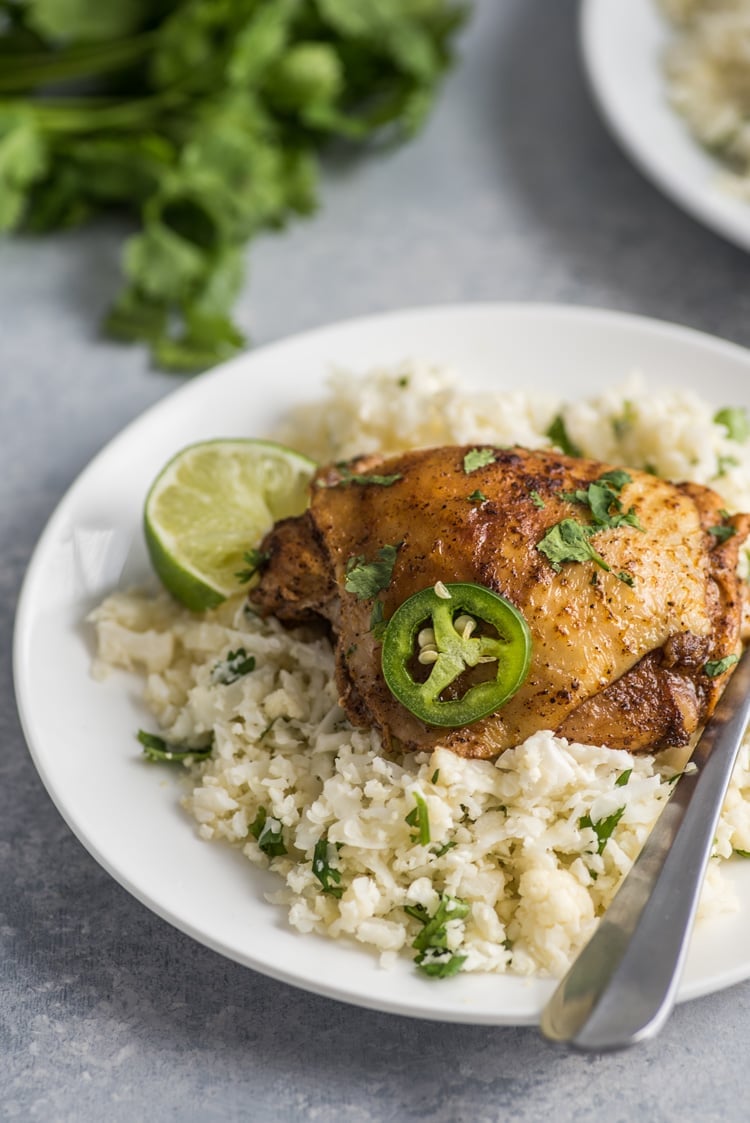 I served this Easy Baked Mexican Chicken with some leftover Cilantro Cauliflower Rice that I made last week. But you can also serve it with my Mom's Authentic Mexican Rice or even just some frozen veggies that you've got on hand.
Whatever you choose, just know that an easy last minute dinner can be delicious and flavorful! Don't settle for less.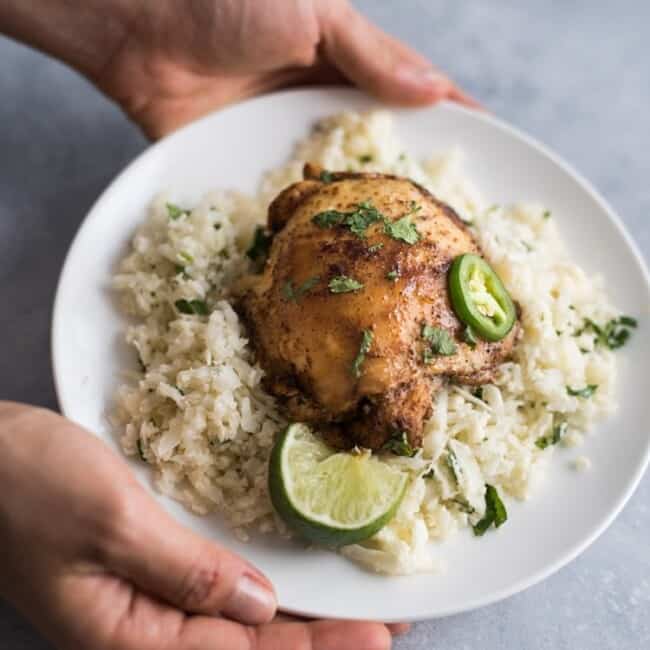 Prep: 25 minutes
Cook: 25 minutes
Total : 50 minutes
This Easy Baked Mexican Chicken is quickly marinated in chili powder, cumin, oregano, and lime juice for a quick and easy weeknight dinner!
Ingredients
2 teaspoon chili powder
1 teaspoon ground cumin
1 teaspoon onion powder
1/4 teaspoon dried oregano
1/8 teaspoon paprika
1/2 teaspoon garlic powder
1 juice of 1 lime (about 3 tablespoon)
2 tablespoon olive oil
1/2 teaspoon kosher salt
2 tablespoon apple cider vinegar
3 tablespoon chopped cilantro
1 jalapeno pepper, sliced
8 chicken thighs, about 3 lbs
1 tablespoon coconut oil
Salt and pepper, to taste
Instructions
In a small bowl, mix together chili powder, ground cumin, onion powder, dried oregano, paprika, garlic powder, lime juice, olive oil, sea salt, apple cider vinegar, cilantro and sliced jalapenos.

Place chicken thighs in a gallon-sized ziplock bag and pour marinade over thighs. Close bag and mix together. Let the chicken marinade in the refrigerator for 20 minutes or overnight.

When ready to cook, preheat oven to 400 degrees.

Heat coconut oil in a large cast iron skillet over medium-high heat. Place chicken thighs skin side down and cook until skin begins to get crispy and slightly light brown, about 10 to 15 minutes.

Flip thighs over, transfer skillet to oven and bake for 10 minutes. Season with more salt and pepper to taste and garnish with more cilantro and jalapeño slices if desired.