Jump to Recipe
This pineapple margarita is made with sweet pineapple juice and a fresh habanero pepper for a spicy twist on a refreshing cocktail!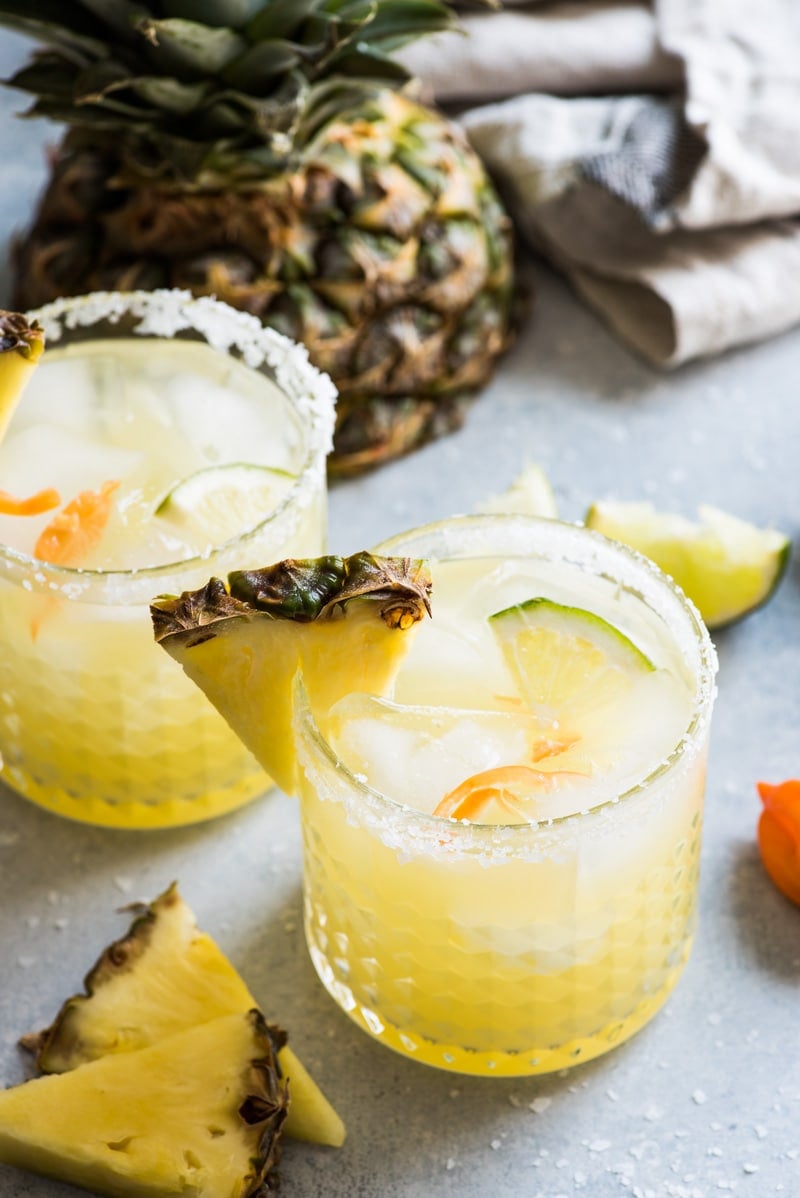 With pineapples officially in season, I think it's time to bust out the tequila and make some refreshing pineapple margaritas! But this isn't your typical tropical cocktail – this pineapple margarita is made with muddled habanero peppers for an extra spicy kick, just the way I like it.
I know it's only Monday and you're probably not in the mood for a cocktail just yet, but Cinco de Mayo is this Saturday and I can't wait! It's a big day for Mexican food in the U.S. and I'm taking full advantage of it.
Last week, I put together an extensive list of my favorite Cinco de Mayo recipes sorted by type of dish. Whether you're looking for appetizers, desserts, salsas, tacos, and more, it's all there. Go check out that post in case you missed it!
These spicy pineapple margaritas are definitely on the party menu for the big day.
To make, you'll need the usual margarita ingredients: blanco or silver tequila, triple sec or other orange liqueur and lime juice. Plus, as the name implies, you'll also need pineapple juice and habanero peppers!
If you're not a big spicy foods person, I recommend leaving out the habanero pepper entirely and just making a refreshing pineapple marg. But if you're like me and enjoy a little fiery kick every time you take a sip, then add in that habanero!
I only used 2 thin slices of habanero for the entire recipe and the drink was plenty spicy for me. If you're afraid it may be a little too spicy for your taste, try making it with only one slice of pepper first and then add more if you can handle it.
Also, be careful not to rub your eyes or your face after slicing and touching the habanero. The oils from the pepper can really sting if you get them on your face! That's no bueno.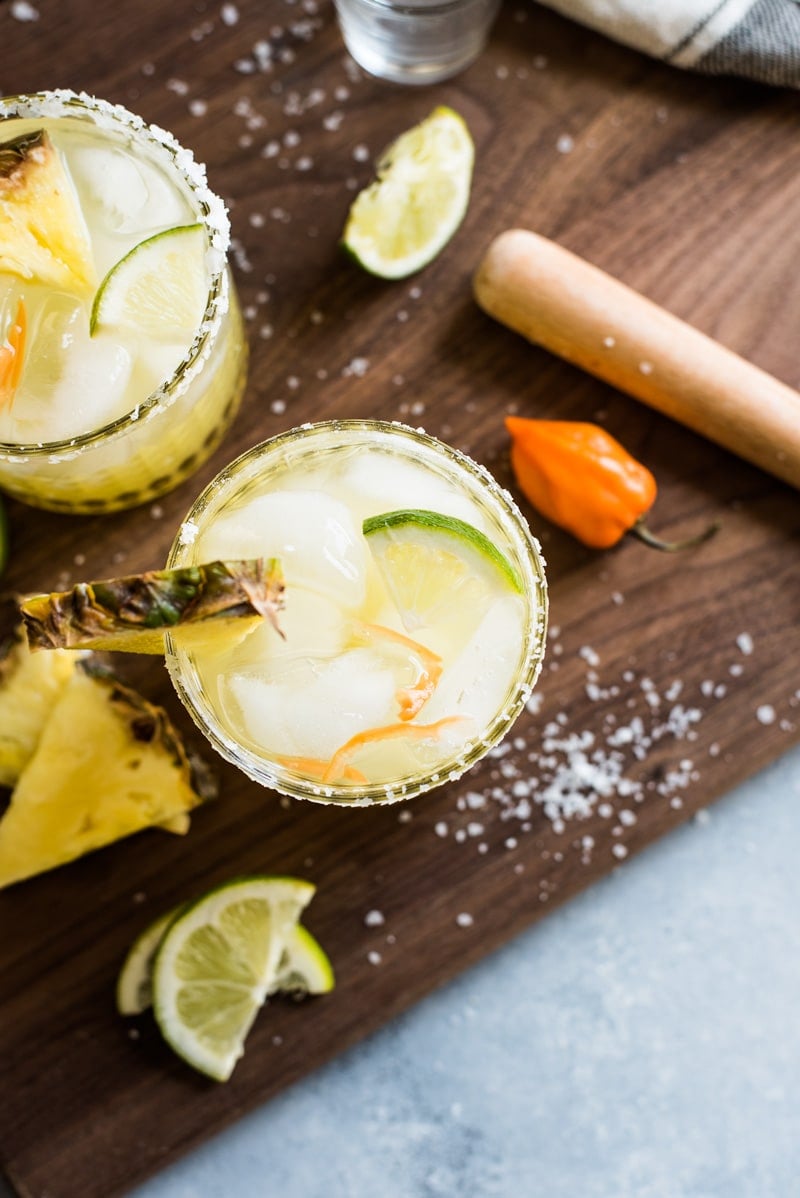 Like this pineapple margarita recipe? Check out my friend Kate's Margarita Week post where she's compiled over 100 of her favorite margarita-inspired drinks and desserts! The post is updated every single day for a week leading up to Cinco de Mayo, just in time to celebrate!
I hope you love this recipe as much as I do. Please rate the recipe and leave me a comment below if you make it!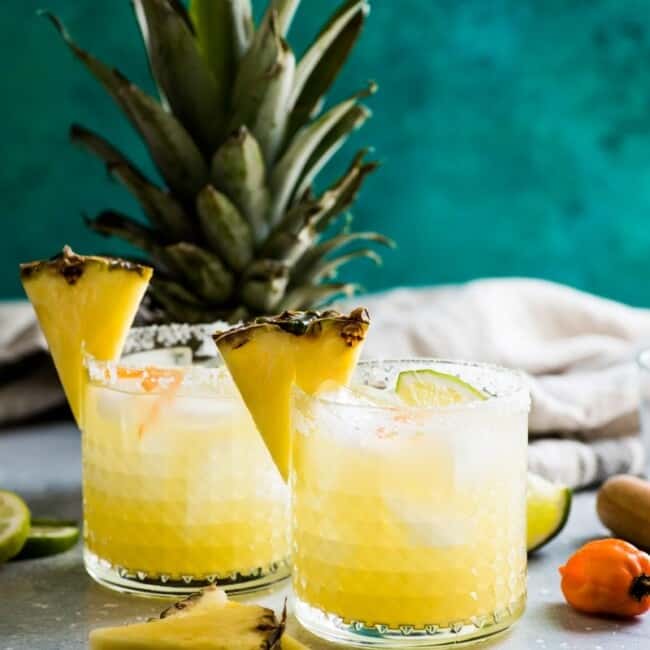 Prep: 5 minutes
Total : 5 minutes
This pineapple margarita is made with sweet pineapple juice and a fresh habanero pepper for a spicy twist on a refreshing cocktail!
Ingredients
3 ounces blanco tequila (two shots from a standard size shot glass)
1 habanero pepper, thinly sliced
1 cup pineapple juice
1 1/2 ounces triple sec (one shot from a standard size shot glass)
2 tablespoons lime juice (or the juice of 1 lime)
margarita salt, for rimming glass
for serving: pineapple slices, lime wedges
Instructions
Run a lime wedge around the rim of a 12-ounce glass and dip in salt. Fill the glass with ice and set aside.

In a cocktail shaker or tall cup, add tequila and 2 thin slices of habanero. Using a cocktail muddler or the back of a spoon, lightly muddle and press on the habaneros to release some of the oils and spice.

Add the pineapple juice, triple sec and lime juice. Cover and shake to combine.


Garnish with a pineapple slice and a lime wedge.
Nutrition Information
Serving: 1drink Calories: 241kcal (12%) Carbohydrates: 16g (5%) Protein: 1g (2%) Fat: 0g Saturated Fat: 0g Polyunsaturated Fat: 0g Monounsaturated Fat: 0g Trans Fat: 0g Cholesterol: 0mg Sodium: 220mg (9%) Potassium: 160mg (5%) Fiber: 0g Sugar: 13g (14%) Vitamin A: 300IU (6%) Vitamin C: 55.3mg (67%) Calcium: 10mg (1%) Iron: 0.4mg (2%)
p.s. John is super excited about celebrating Cinco de Mayo with these pineapple margaritas. 😂