Jump to Recipe
These Honey Balsamic Beer Shrimp Tacos are topped with a sweet and savory honey balsamic glaze that's made with a roasty stout beer. Ready in only 30 minutes!
Fact: beer + tacos = happiness!
Get ready to be really happy, because these shrimp tacos are actually made with beer! It's not just for drinking anymore, friends. Beer is great for cooking and can add so much depth to your food, especially when paired with lighter proteins that have subtle flavor profiles like shrimp and white fish.
When cooking with beer, a little bit can go a long way, especially when using a dark beer like in this recipe. For this dish, I only used a 1/2 cup of stout beer, just enough to compliment the other flavors in the honey balsamic glaze.
If you're not looking to get a buzz from your tacos, good news – a lot of the alcohol cooks off in the boiling process. Exactly how much evaporates varies depending on the alcohol content of the beer and other factors such as how long it boils, but rest assured you won't get tipsy. Unless you pair your tacos with a nice frosty mug of beer, in which case I make no promises. 🙂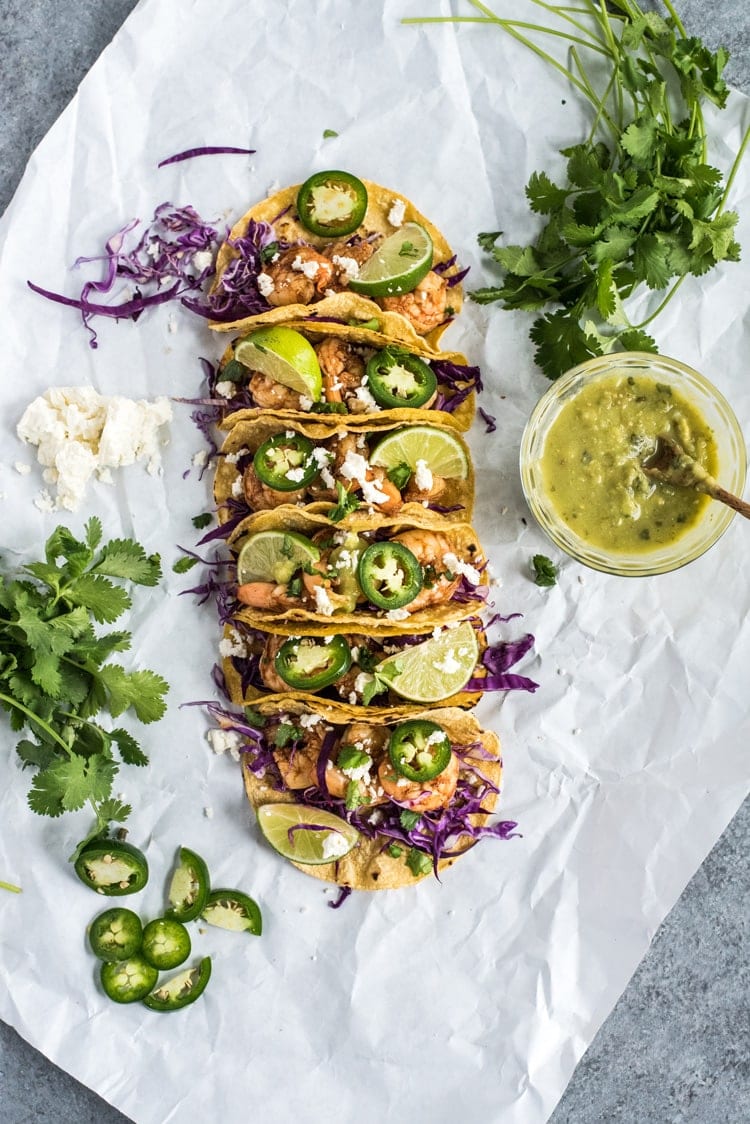 Guess who insisted I make inspired this recipe? The fiance, John, of course. He loves all kinds of beer and even brews his own every couple of weeks, which means we have a ton of bottles in the beer fridge (yep, we even have a fridge just for beer). He also has case or two fermenting in the basement, just waiting to be enjoyed.
So much beer to drink, so little time.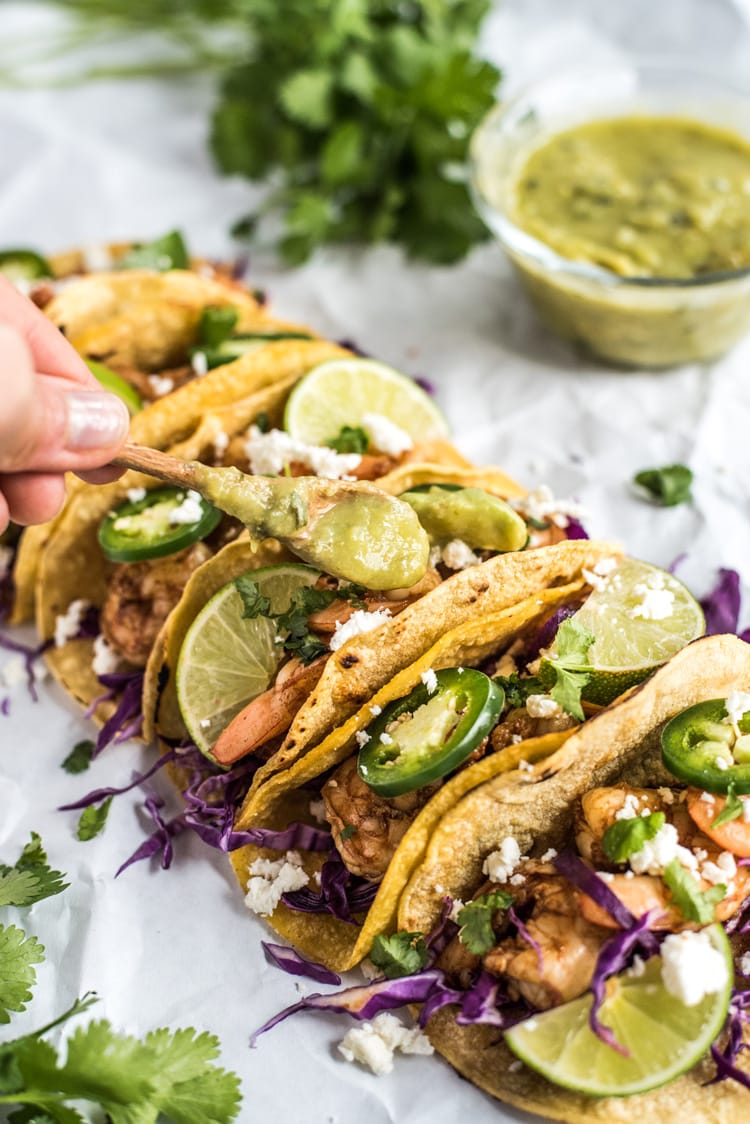 These tacos would be delicious served in my homemade 3-Ingredient Authentic Mexican Corn Tortillas or my Authentic Mexican Flour Tortillas (White & Whole Wheat Versions). Or you could serve the shrimp in a lettuce wrap or over white rice! Whatever floats your boat.
I topped the shrimp with sliced red cabbage, fresh lime wedges, jalapeno slices, cilantro and feta cheese. Super fresh, bright and perfect for the hot summer days.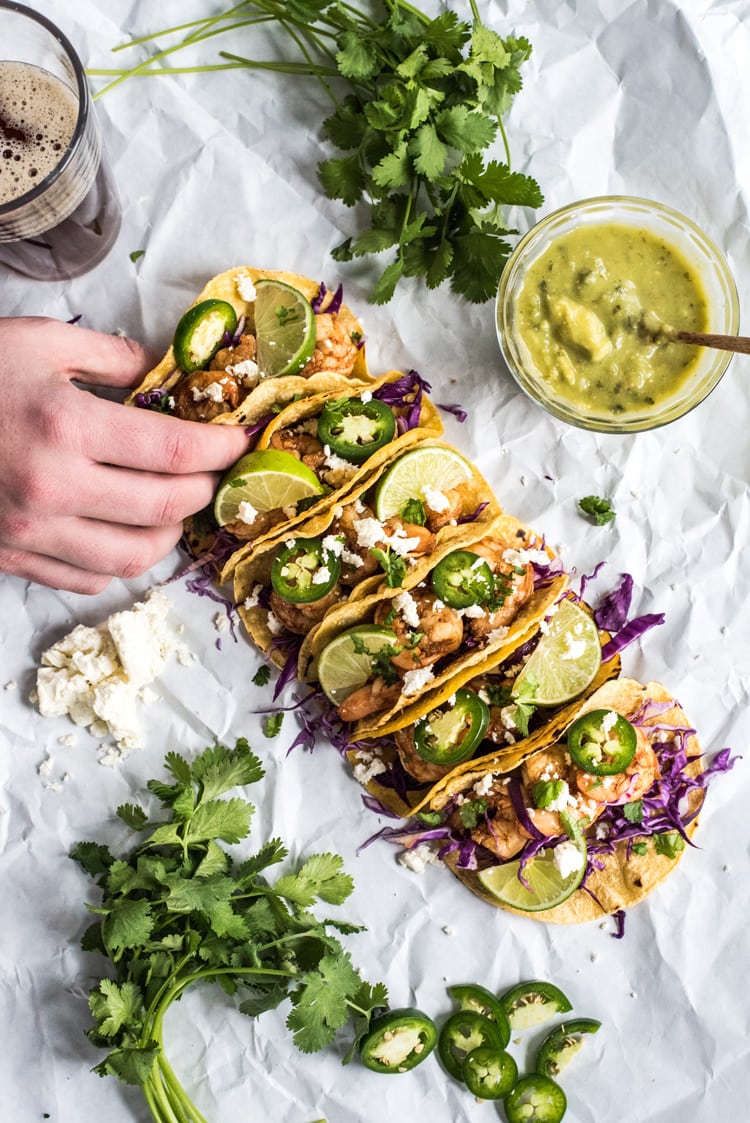 More taco recipes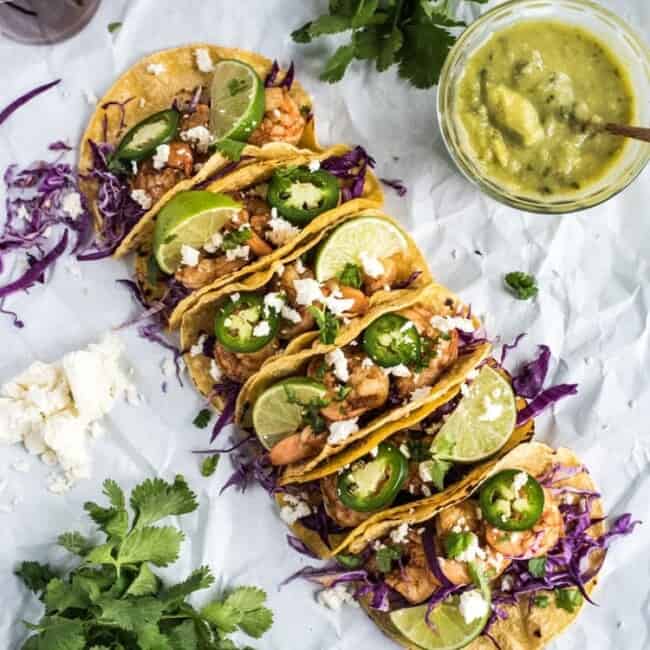 Prep: 15 minutes
Cook: 15 minutes
Total : 30 minutes
These Honey Balsamic Beer Shrimp Tacos are topped with a sweet and savory honey balsamic glaze that's made with a roasty stout beer. Ready in only 30 minutes!
Ingredients
1/2 cup dark beer (a stout or porter are best)
1/4 cup cup honey
1/4 cup balsamic vinegar
1 large jalapeño , sliced
1/2 teaspoon garlic powder
1/4 teaspoon smoked paprika
1 pound raw shrimp , shell and vein removed
1 teaspoon salt
1 teaspoon ancho chili powder
1 tablespoon olive oil
1 tablespoon lime juice (or juice of 1/2 a lime)
salt and pepper , to taste
For serving
cilantro
cabbage, thinly sliced
limes
jalapeño slices
guacamole
Instructions
In a large bowl, combine shrimp, salt, ancho chili powder, olive oil and lime juice. Toss together to coat and set aside.

In a medium pot over high heat, add the beer, honey, balsamic vinegar, jalapeño slices, garlic powder and smoked paprika. Bring to a boil. Stir occasionally until most of the bubbles are gone and the mixture has thickened and turned glossy. This should take about ten minutes. Set aside.

In a large skillet over medium high heat, add marinated shrimp and cook until shrimp turn bright pink, about 2 to 3 minutes.

Remove from heat. Pour the honey balsamic beer glaze onto the shrimp and toss to coat.

Serve coated shrimp in corn or flour tortillas and top with cilantro, sliced cabbage, freshly squeezed lime juice, jalapeño slices and guacamole.
Isabel's Tips:
Nutritional information does not include tortillas or additional toppings. If you don't have any tortillas, this dish would also be great served in a lettuce wrap or over white rice!
Nutrition Information
Calories: 228kcal (11%) Carbohydrates: 26g (9%) Protein: 20g (40%) Fat: 4g (6%)
If you like Honey Balsamic Beer Shrimp Tacos, you might also like my other taco recipes!