Jump to Recipe
These grilled shrimp tacos are seasoned with lime juice, garlic, cumin and a hint of tequila and served in warm corn tortillas with a creamy cabbage slaw, grilled corn and salty cotija cheese. It's an easy and tasty recipe to mix into your weekly taco night routine!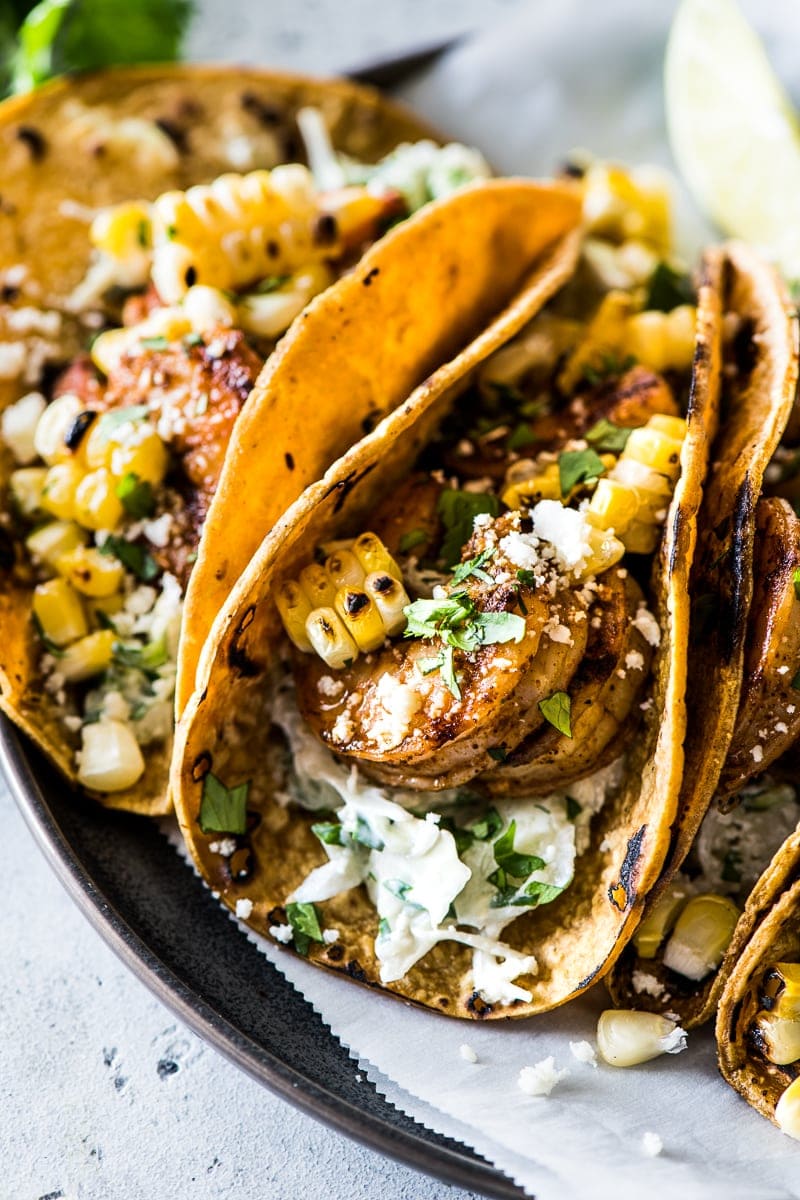 This recipe is sponsored by my friends at Char-Griller.
As long as the sun is shining and the temps are still fairly warm, I'm always in the mood to make some grilled shrimp tacos, especially when the shrimp is made with tequila and lime juice.
Though you only need about a tablespoon of the Mexican spirit, it really imparts a unique flavor on the light shrimp that is so good.
Also mixed into the marinade is olive oil, lime juice, garlic, cumin, ancho chili powder and paprika.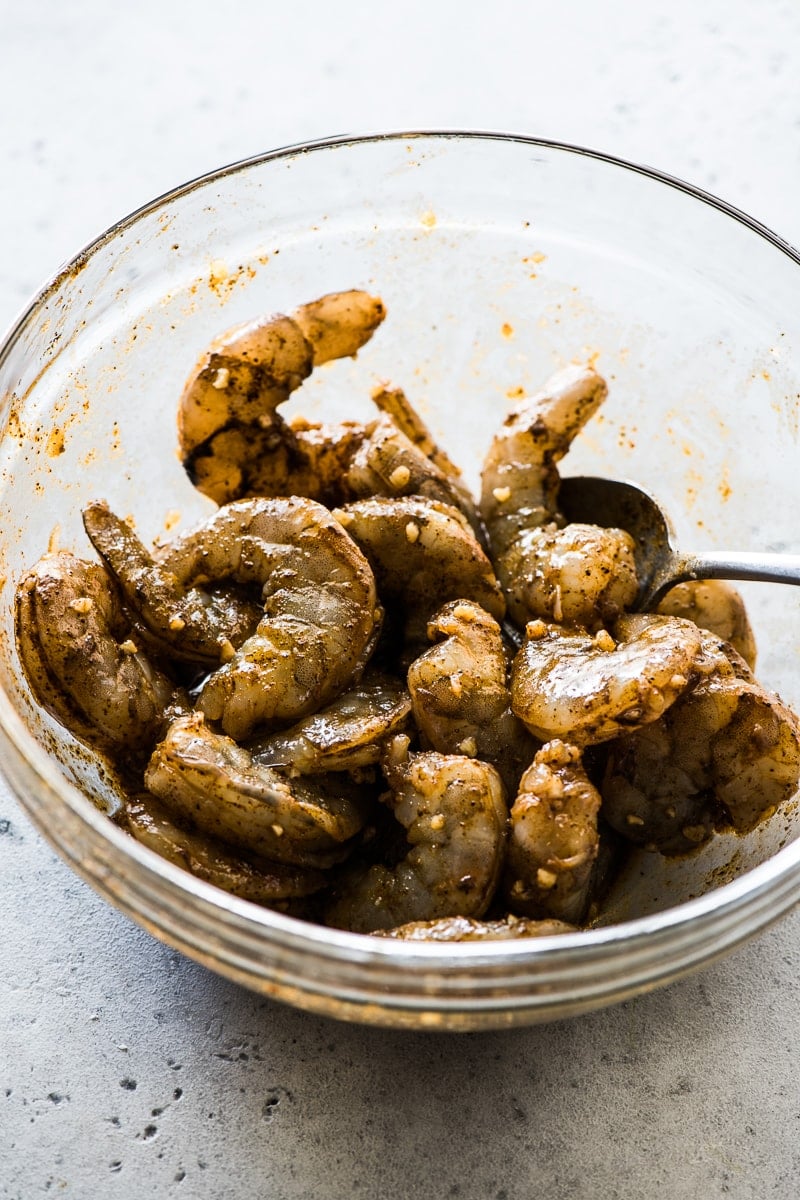 Because shrimp can cook quickly when mixed with a little acid from the lime juice (like ceviche), there's no need to marinate this shrimp for a lengthy period of time.
Simply mix the shrimp with all the seasonings and get them on the grill!
Shrimp grilling tips
I used metal skewers to thread the shrimp. If you're using wooden skewers, be sure to soak them in water for 15 minutes before threading shrimp to help prevent the skewers from burning on the grill.
To give them shrimp even more of that smoky flavor, I grilled it over charcoal on my Char-Griller Texas Trio Gas & Charcoal Grill. However, you can also grill them on a gas grill or even in a grill pan if you prefer.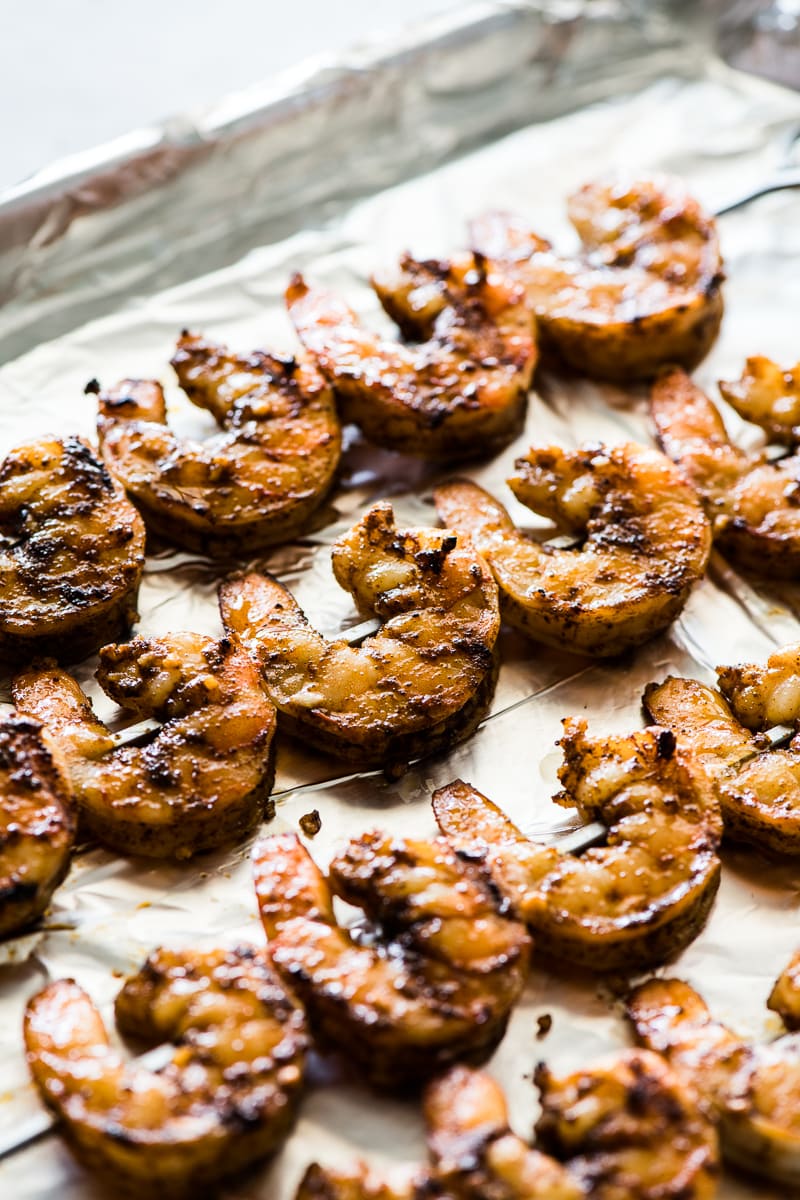 Grilled Shrimp Tacos toppings!
These grilled shrimp tacos aren't complete without some tasty toppings, all of which can be made a day ahead of time.
I paired the smoky grilled shrimp with a creamy slaw made from thinly sliced cabbage, mayonnaise, sour cream, cilantro, lime juice and salt.
I also grilled some corn and sliced it off the cob to add a touch of that beautiful charred corn flavor.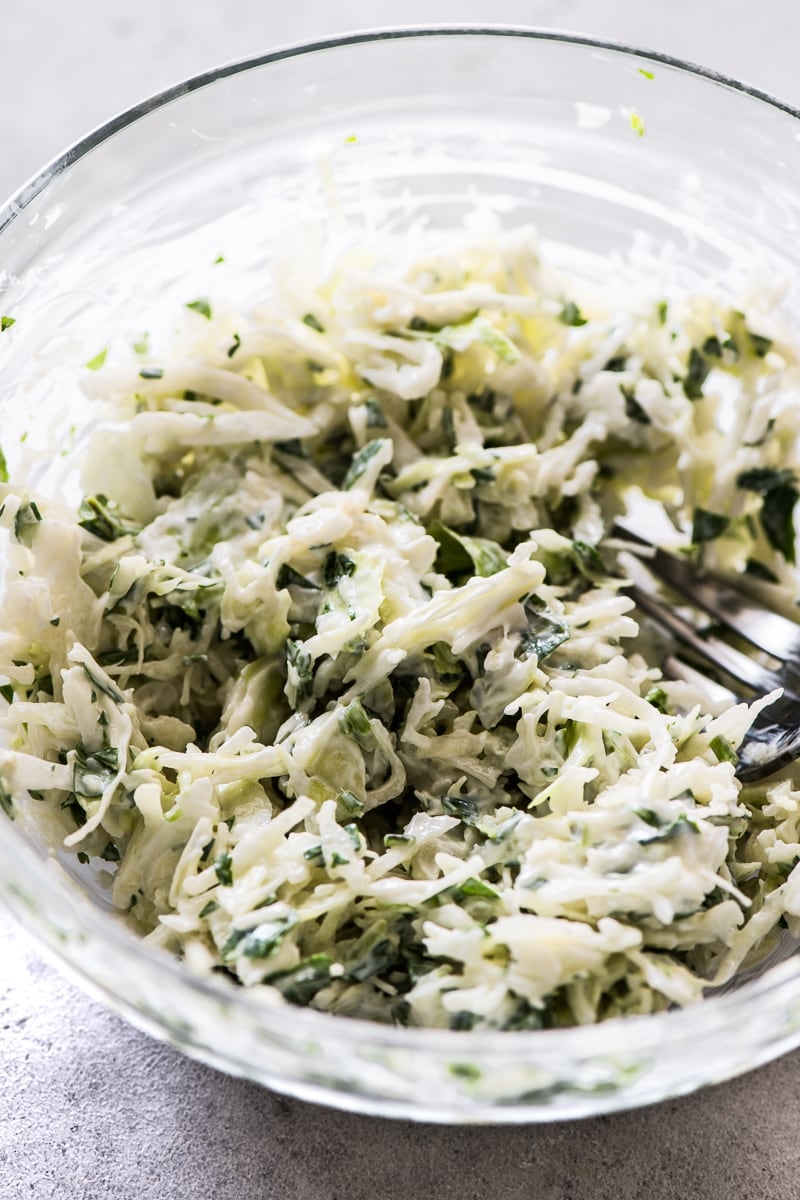 I served everything in warm corn tortillas, but it would also be great served on: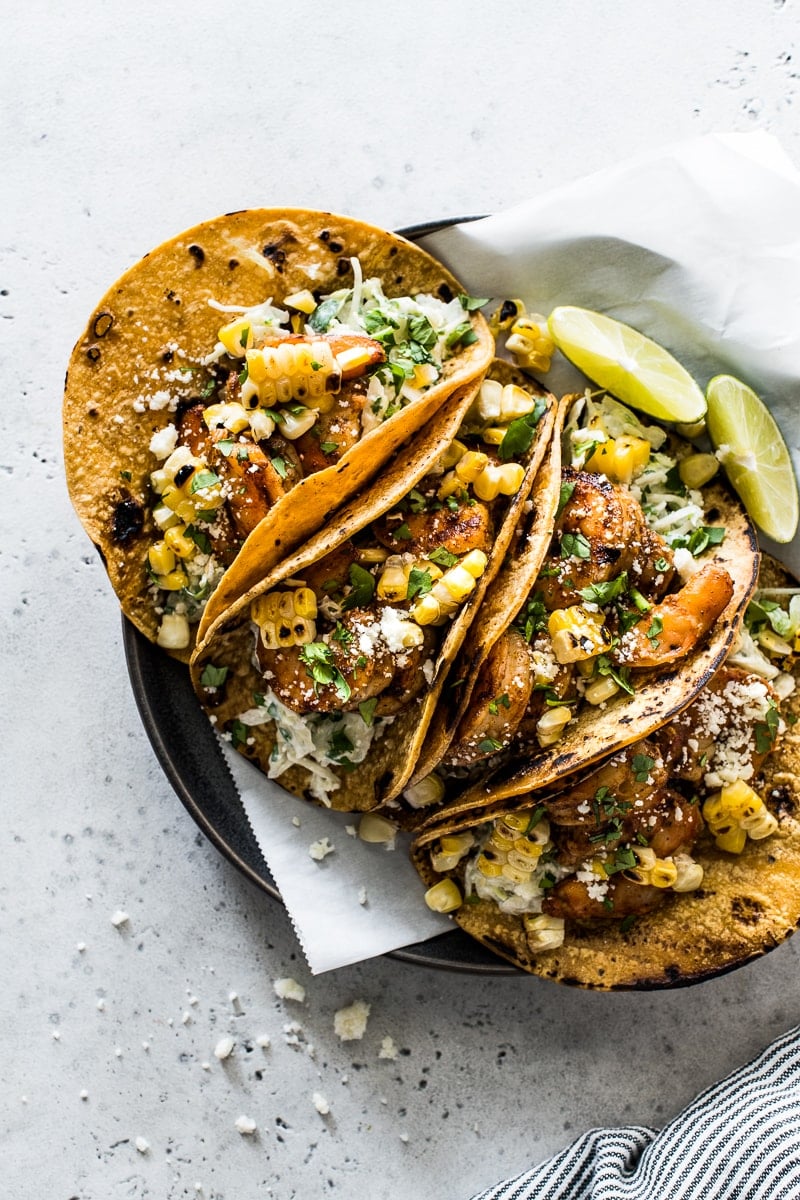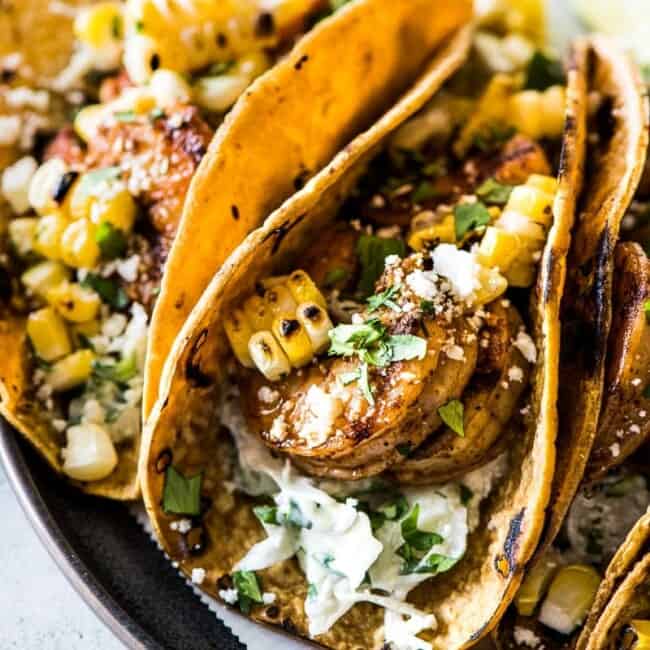 Prep: 25 minutes
Cook: 25 minutes
Total : 50 minutes
These grilled shrimp tacos are seasoned with lime juice, garlic and cumin and served in corn tortillas with a creamy cabbage slaw, corn and cotija cheese.
Ingredients
For the shrimp
1 pound large raw shrimp peeled and deveined
1 tablespoon tequila (I used an aged añejo tequila for a smoky flavor, but any kind will work)
1 tablespoon olive oil
3 cloves garlic, minced (about 1 1/2 teaspoons)
1/2 teaspoon ground cumin
1 tablespoon lime juice (about juice of 1/2 lime)
1 teaspoon coarse kosher salt
1 teaspoon ancho chili powder
1/2 teaspoon paprika
For the slaw
4 cups thinly sliced cabbage (green, red or a combination of both)
1/4 cup chopped cilantro
2 tablespoons mayonnaise
2 tablespoons sour cream
2 tablespoons lime juice (about juice of 1 lime)
1/2 teaspoon salt, plus more to taste
For the tacos and toppings
2 ears corn
chopped cilantro, for garnishing
cotija cheese, for garnishing
lime wedges, for garnishing
warm corn tortillas, as needed
Instructions
Prepare grill: Preheat grill to medium-high heat (about 400°F-450°F) for direct-heat grilling. While grill is heating up, make the slaw.(For gas grilling, simply light all the burners on high, close the lid and let the grill heat up for 5-10 minutes. For charcoal grilling, the process is a bit more involved. Here's a super-quick read showing you step-by-step how to start a charcoal grill.)

Make the slaw: Add all slaw ingredients to a medium bowl and toss to combine. Taste and season with more salt if desired. If you prefer your slaw a little more dressed, add in more mayo and/or sour cream. Refrigerate until ready to use.

Grill the corn: Grill the ears of corn with the lid closed for 10-15 minutes, turning occasionally, until corn is caramelized and dark brown spots appear on the kernels. Transfer to a large plate or baking sheet and set aside to cool for 5 minutes.

Slice corn: When cool enough to handle, slice corn kernels off the cob and into a bowl. Set aside.

Season shrimp: In a medium bowl, combine all the ingredients for the shrimp. Toss together until evenly coated.

Skewer: Thread the shrimp onto 4-6 metal skewers. (If using wooden skewers, be sure to soak them in water for 15 minutes before threading shrimp to help prevent the skewers from burning on the grill.)

Grill: Grill the shrimp for 4-5 minutes, turning halfway through cooking, or until the shrimp are firm to the touch and opaque at the center.

Assemble tacos: Remove the shrimp from the skewers and serve in warm corn tortillas with slaw, grilled corn, cotija cheese and a spritz of fresh lime.
Isabel's Tips:
Nutritional estimate does not include corn tortillas.
Nutrition Information
Serving: 1/4th of recipe Calories: 296kcal (15%) Carbohydrates: 27g (9%) Protein: 27g (54%) Fat: 8g (12%) Saturated Fat: 3g (15%) Polyunsaturated Fat: 2g Monounsaturated Fat: 4g Trans Fat: 0g Cholesterol: 178mg (59%) Sodium: 500mg (21%) Potassium: 410mg (12%) Fiber: 5g (20%) Sugar: 8g (9%) Vitamin A: 1000IU (20%) Vitamin C: 55mg (67%) Calcium: 480mg (48%) Iron: 3mg (17%)