Jump to Recipe
This Mexican Hot Chocolate made with 100% unsweetened cocoa powder, cinnamon and a hint of chili will warm you up from the inside out!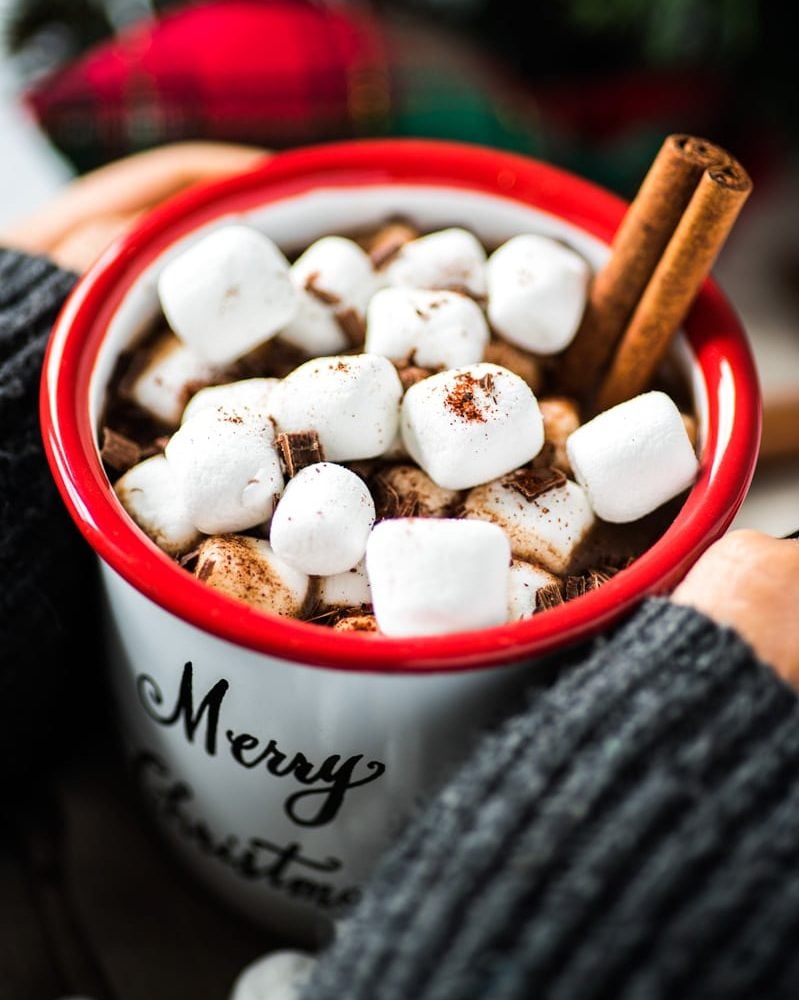 Three words: MEXICAN HOT CHOCOLATE.
If it's cold outside, if it's winter, if it's snowing, if it's between the months of December and February, then there's one thing I know for certain – it's Mexican Hot Chocolate season!
I'm not usually someone who makes hot chocolate at home. I've always preferred to eat my dessert rather than drink it. For example:
milk shakes – no, thank you. unless I can eat it with a spoon, in which case I'd rather just get regular ice cream.
dessert cocktails – nope. except for eggnog. that's stuff is delicious. and totally acceptable without alcohol so it doesn't really count as a cocktail.
even smoothies that taste too much like dessert is a no-go for me.
I'm totally weird about it, I know. But Mexican hot chocolate? That's a different story and it's all thanks to this recipe.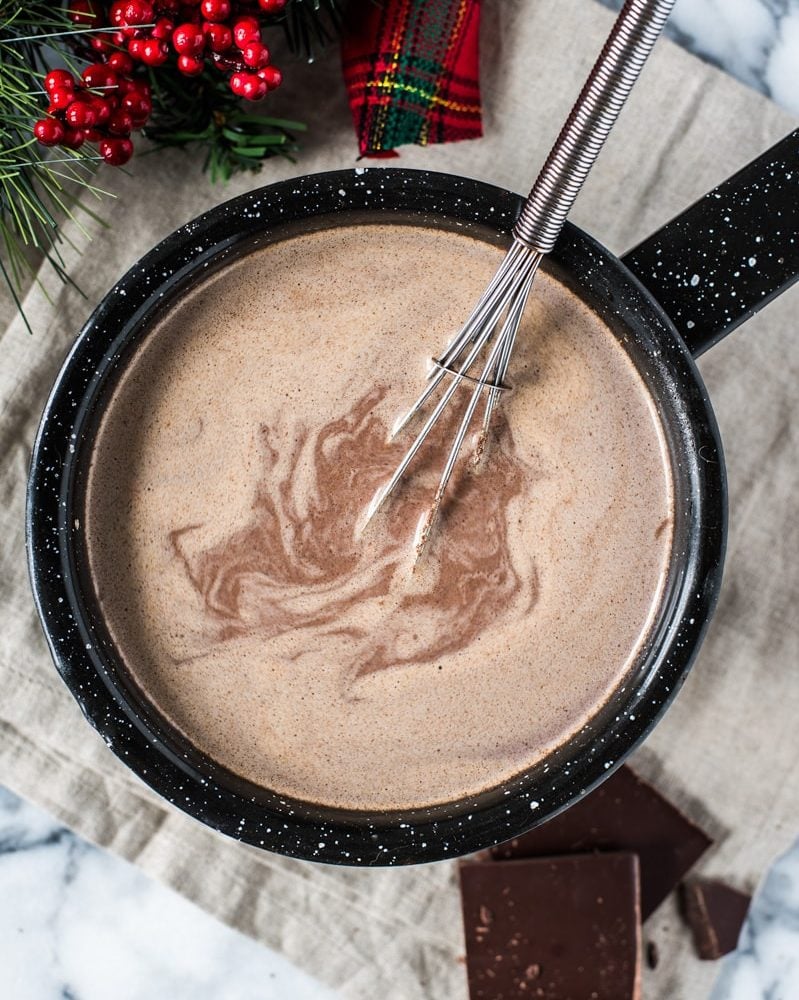 This isn't your regular cup of hot chocolate. The ones made from those packets that you mix with hot water? No. Never again.
Ingredients in Mexican Hot Chocolate
This Mexican hot chocolate is made with real milk, 100% unsweetened cocoa powder, vanilla extract, cinnamon, chili powder, and a little bittersweet chocolate to make the whole thing a bit creamier and smoother. I also added a pinch of cayenne pepper to give it a little spicy end note, but that's totally optional.
And of course, marshmallows. Always marshmallows.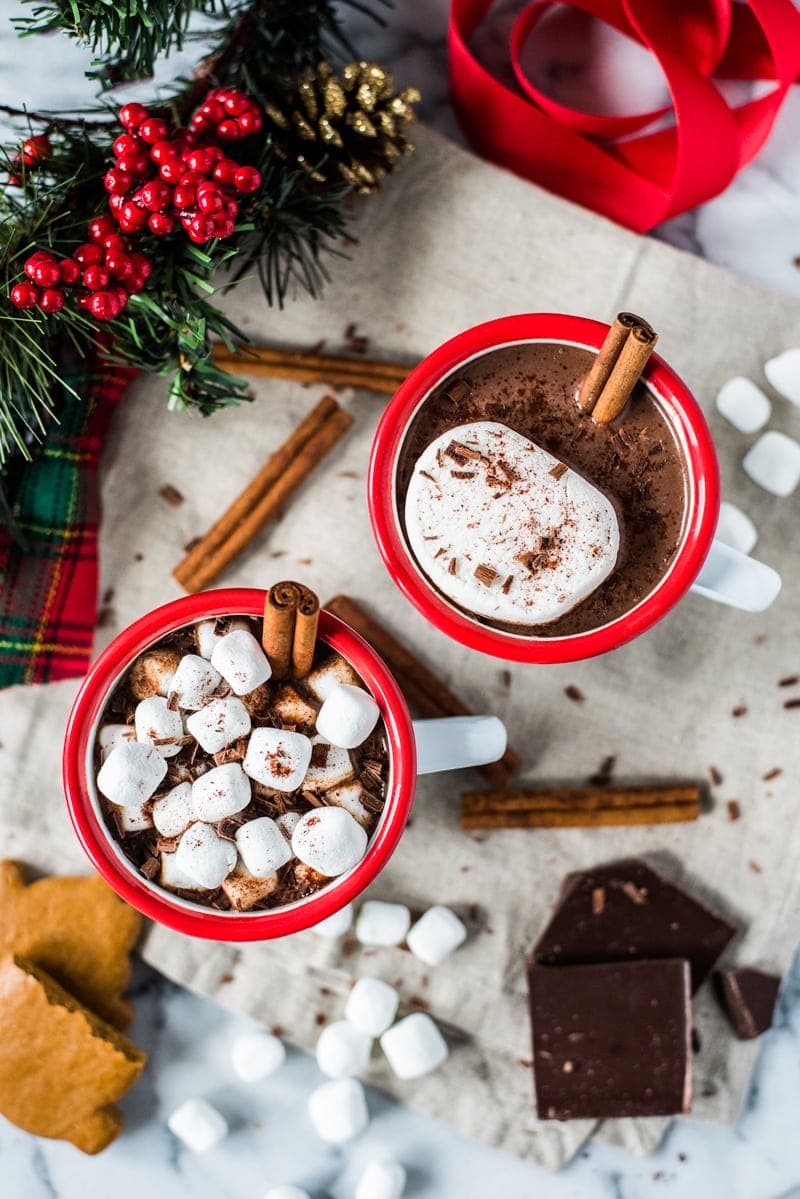 The best toppings for Mexican hot chocolate
marshmallows (my personal favorite!)
chocolate shavings
sea salt
cinnamon sticks
a pinch of cayenne or chili powder
While I enjoy drinking this Mexican hot chocolate on it's own, I've been loving eating it with a little marranito, the Mexican gingerbread pigs recipe I shared last week. The combo of the molasses in the marranitos and the spices in this hot chocolate are absolutely DIVINE.
Just imagine getting all cozy on the couch, your favorite Christmas movie is on TV, the Christmas tree is lit, the fireplace is burning and you've got this Mexican hot chocolate in one hand and a little gingerbread pig in the other.
Life is good.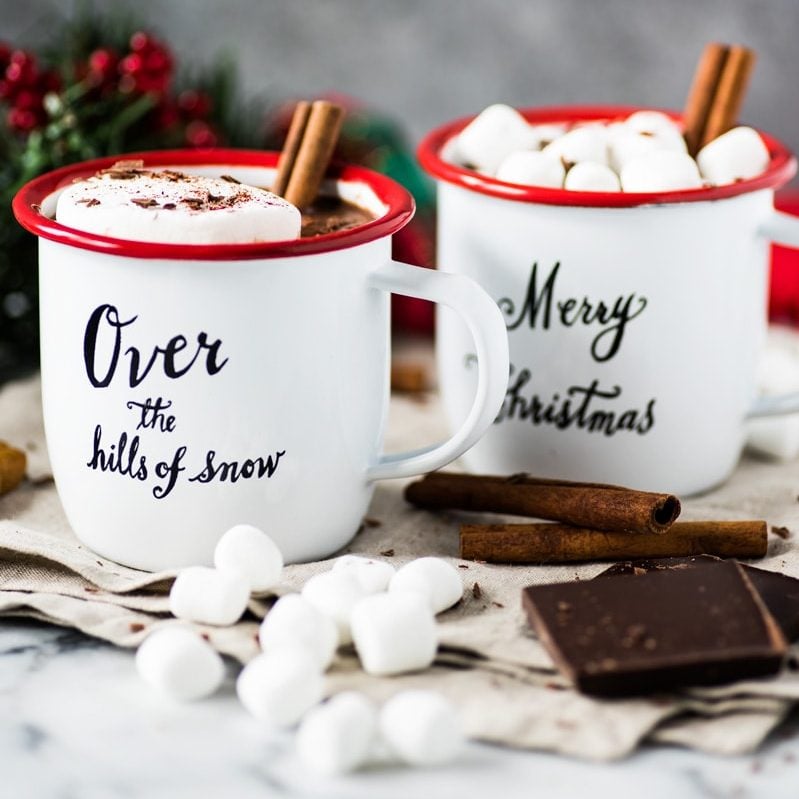 I hope you like this recipe as much as I do! Happy holidays!
For more Mexican Christmas recipes, take a look at 12 Mexican Christmas Food Recipes to Make This Year!
More holiday recipes you'll love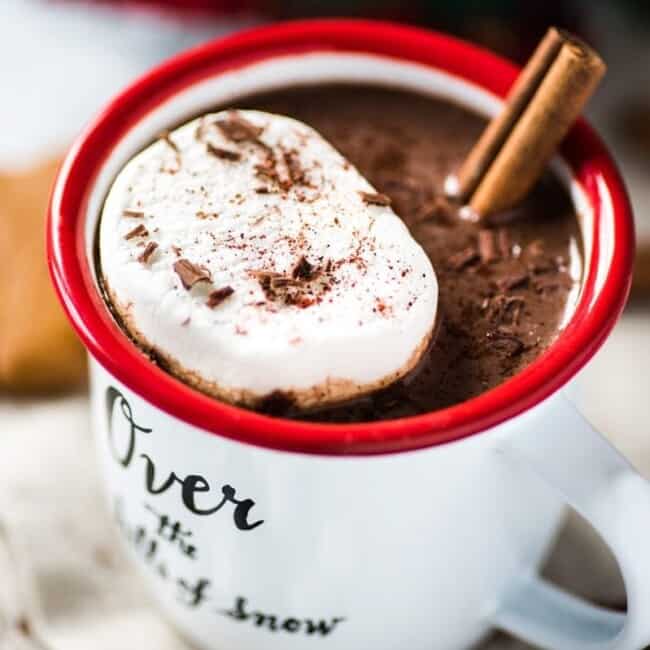 Prep: 2 minutes
Cook: 8 minutes
Total : 10 minutes
This Mexican Hot Chocolate made with 100% unsweetened cocoa powder, cinnamon and a hint of chili will warm you up from the inside out!
Ingredients
For the hot chocolate
2 cups milk (I used 2%)
2 tablespoons unsweetened cocoa powder
2 tablespoons granulated sugar
1/2 teaspoon ground cinnamon
1/4 teaspoon vanilla extract
1/8 teaspoon chili powder
1/8 teaspoon ground cayenne (optional – you can omit this if you don't want it too spicy)
1 ounce bittersweet chocolate
Optional toppings
marshmallows, chocolate shavings, cinnamon stick for stirring
Instructions
In a medium saucepan over medium-high heat, add milk, cocoa powder, sugar, cinnamon, vanilla extract, chili powder, cayenne pepper (if desired).

Mix together with a whisk, add the bittersweet chocolate and heat until the chocolate has completely melted and the mixture is hot, but not boiling.

Divide hot chocolate into 2 mugs and serve with marshmallows, chocolate shavings and a cinnamon stick.
Isabel's Tips:
For a thicker and creamier cup of hot chocolate, use whole milk and 2 to 4 oz of bittersweet chocolate.
Nutrition Information
Serving: 1cup Calories: 252kcal (13%) Carbohydrates: 37g (12%) Protein: 10g (20%) Fat: 11g (17%) Saturated Fat: 7g (35%) Cholesterol: 20mg (7%) Sodium: 125mg (5%) Potassium: 480mg (14%) Fiber: 4g (16%) Sugar: 29g (32%) Vitamin A: 600IU (12%) Vitamin C: 3.3mg (4%) Calcium: 320mg (32%) Iron: 6.3mg (35%)