Jump to Recipe
Ready in only 15 minutes, these Mexican Street Corn Tostadas make for an easy lunch or quick dinner that's also gluten free and vegetarian.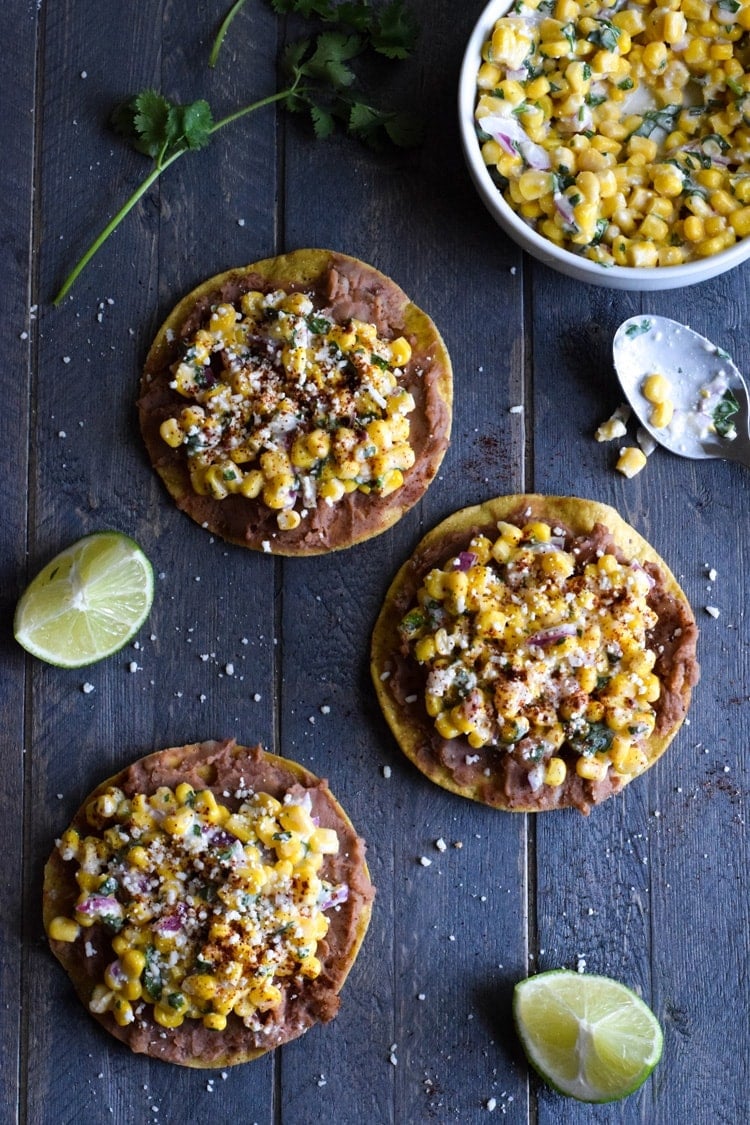 Something pretty amazing happened this past week.
These Mexican Street Corn Tostadas happened. Duh.
I got a new kitty cat!
One of my best friends got engaged.
It's almost Halloween and I'm pretty sure I know what I want my costume to be. (That's if I actually find somewhere to wear my costume, but that's besides the point.)
There is no number five. I'm just getting a little carried away. I love numbered lists!
Okay, let me bring it down a notch and start from the top.
These Mexican Street Corn Tostadas.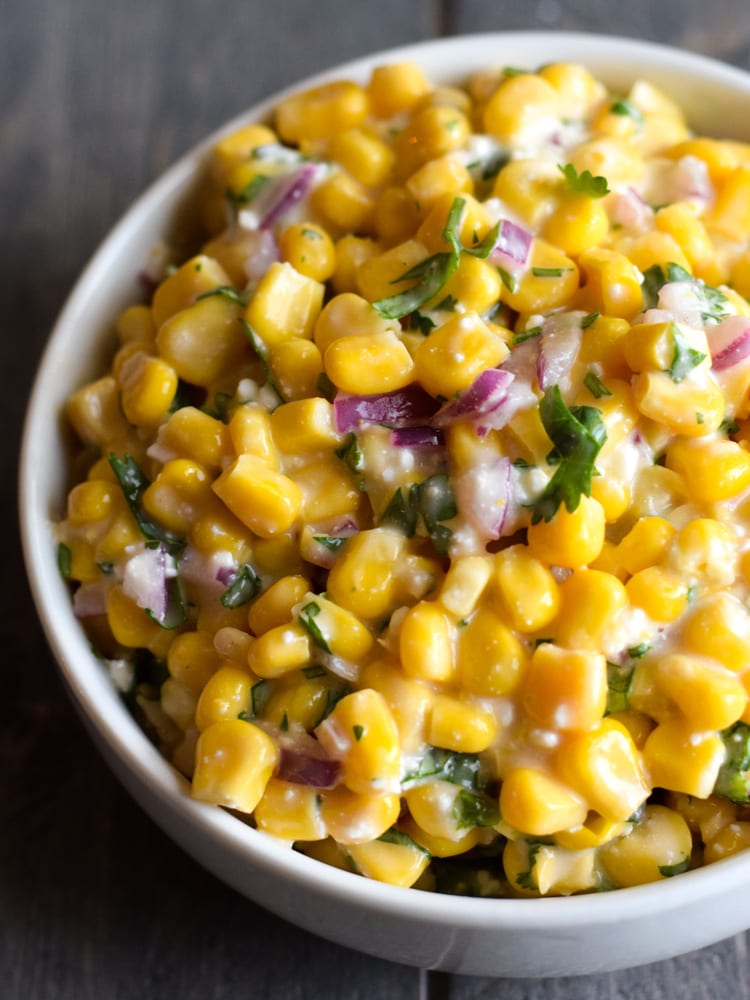 Have you ever heard of or made Mexican Street Corn (Elotes)? Like the name suggests, Mexican street corn is usually sold in little food stands along streets in Mexico where there's lots of tourists and pedestrians walking around.
It's often sold on the cob or in a cup (called Esquites) and is slathered in mayo, cotija cheese, chili powder and herbs and spices. It may sound a little weird if you've never had it before, but trust me, as soon as you try it, you'll get over it. It's dammmmnnnn good.
Mexican street corn + refried beans + one crunchy tostada = heaven in my mouth.
Don't know what a tostada is? I've got you. It's basically a giant, round, thick tortilla chip that you top with whatever your little heart desires and you pick it up and eat it like a pizza. I mean, what doesn't sound good about that? I purchased the tostadas at my local grocery store in the Hispanic foods aisle, but if you can't find them there, you might want to go to an ethnic/Hispanic grocery store near you. OR check out Amazon. Because they've got it all. Here's the brand that I recommend: these or these.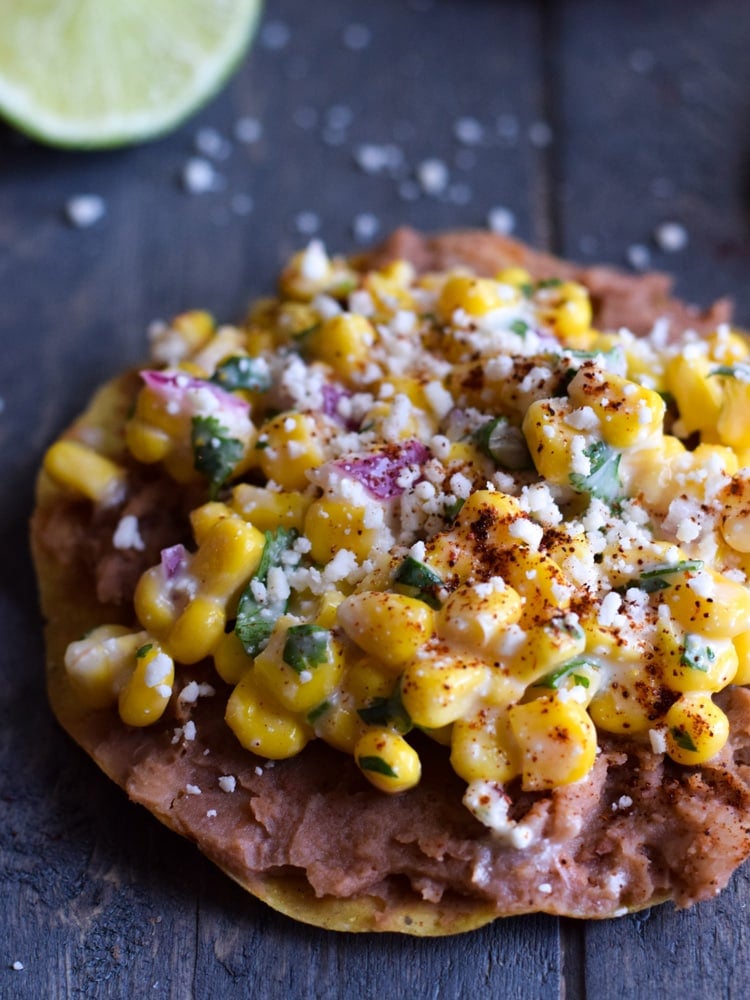 Moving on in my list – I got a new kitten late last week! Her name is Lucy, she's about 5 to 6 months old and she's black with a little white spot on her chest. She has so much energy and is very outgoing. She seems to have handled the transition wayyy better than Charlie did, at least in the beginning. Now, about 6 days in, Charlie and Lucy are becoming better friends every day. Charlie loves to lick Lucy and seems to be taking on a big brother/dad role. Love it.
Here's a little video of all the cuteness.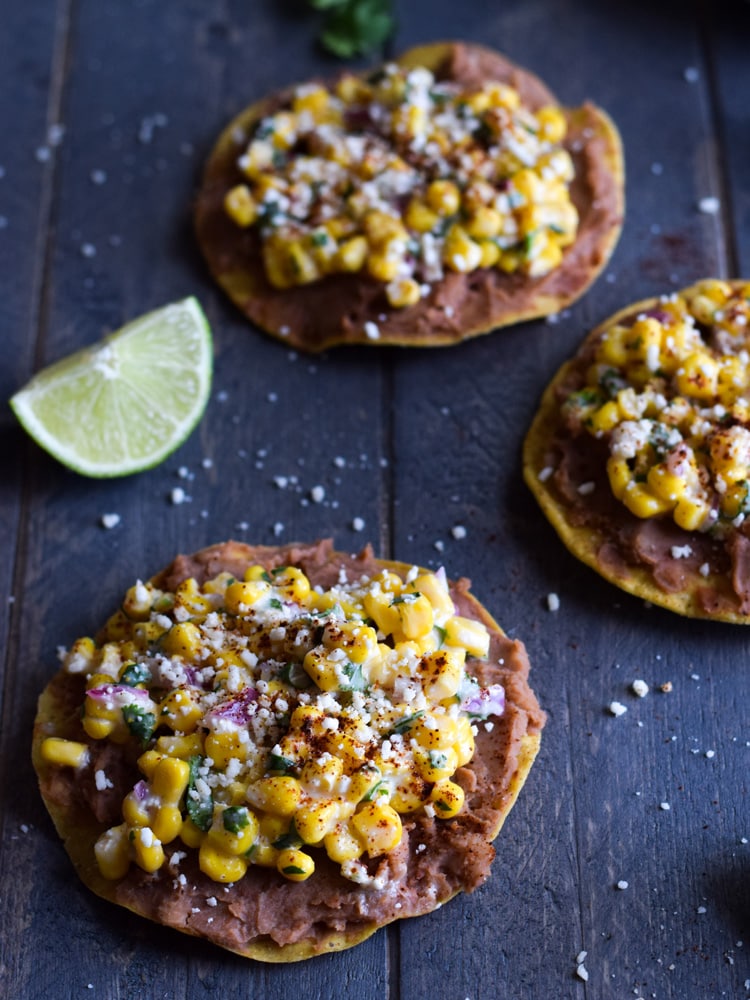 Next, one of my best friends got engaged over the weekend! I'm super excited and happy for her. So nice to see huge smiles on the faces of people you love. 🙂
Lastly, I think I know what I want to be for Halloween. Even if I don't have anywhere to wear my costume. Ready? I want to dress up as Linda from Bob's Burgers! Wait – is that lame? Was that a let down? If you're a fan of the show, you'll know how perfect it is for me. I'm basically Linda. Linda is a cartoon version of me. She sings ALL the time about everything, the way she talks to her kids is how I picture talking to my kids one day and her and Bob's relationship is definitely what me and John are like. Linda and I are seriously twins.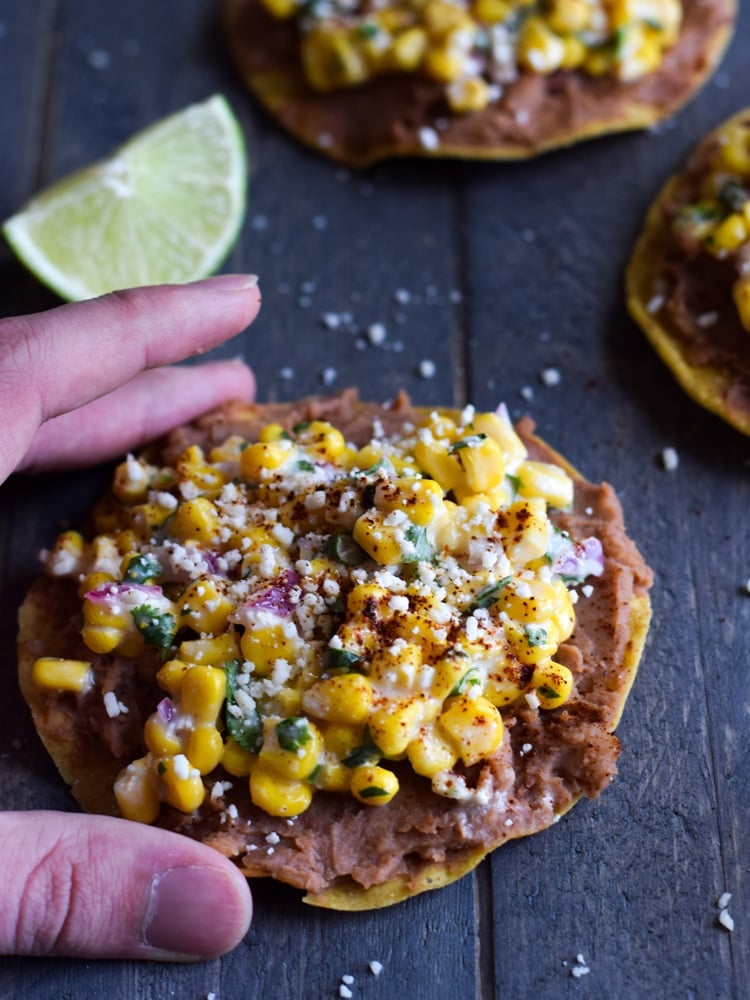 If you make this recipe, let me know in the comments below or snap a photo and tag me @isabeleats on Instagram. I'd love to see what you cook!
More recipes you'll love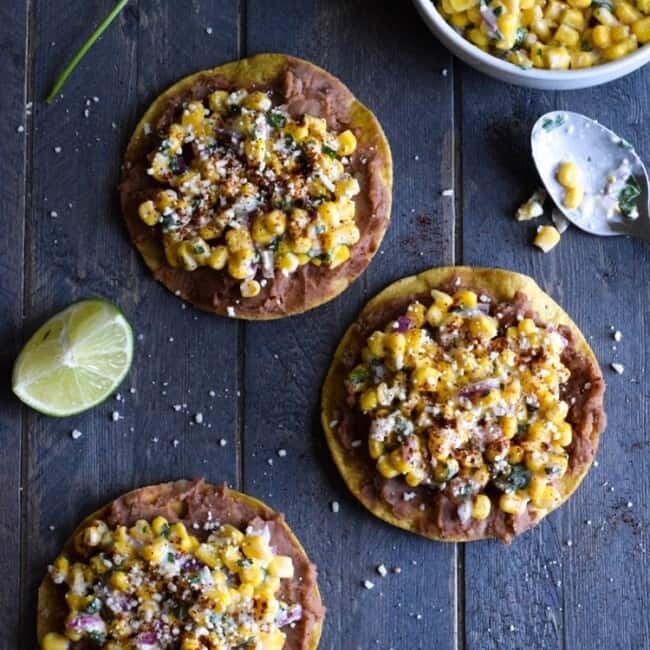 Prep: 15 minutes
Total : 15 minutes
Ready in only 15 minutes, these Mexican Street Corn Tostadas make for an easy lunch or quick dinner that's also gluten free and vegetarian.
Ingredients
1 15-ounce can whole kernel corn, drained
1/4 cup mayonnaise
1/4 cup finely chopped red onion
1/3 cup finely chopped cilantro
Juice of half a lime
1/4 teaspoon salt
2 tablespoons cotija cheese, plus more for topping
1 15-ounce can refried beans
8 tostada shells, store-bought or homemade
chili powder to season for topping, optional
Instructions
In a large bowl, add corn, mayonnaise, red onion, cilantro, lime juice, salt and 2 tablespoons of cotija cheese.

Mix together with a spoon until the corn is evenly coated with all the ingredients. Set aside.

Heat up the refried beans in a glass dish in the microwave for about 2 to 3 minutes, or until fully heated through.

To assemble, spread about 3 to 4 tablespoons of refried beans onto each tostada and top with a scoop or two of the street corn mixture.

Sprinkle with some cotija cheese and a dash of chili powder.

Eat up!
Nutrition Information
Serving: 2tostadas Calories: 420kcal (21%) Carbohydrates: 49g (16%) Protein: 11g (22%) Fat: 20g (31%) Potassium: 145mg (4%) Fiber: 10g (40%) Vitamin A: 350IU (7%) Vitamin C: 4.1mg (5%) Calcium: 90mg (9%) Iron: 3.8mg (21%)