Jump to Recipe
These Black Bean Patties are crispy on the outside, creamy on the inside and served with a cilantro yogurt sauce. Made from black beans, oats, onions and jalapenos. Makes tasty black bean burgers!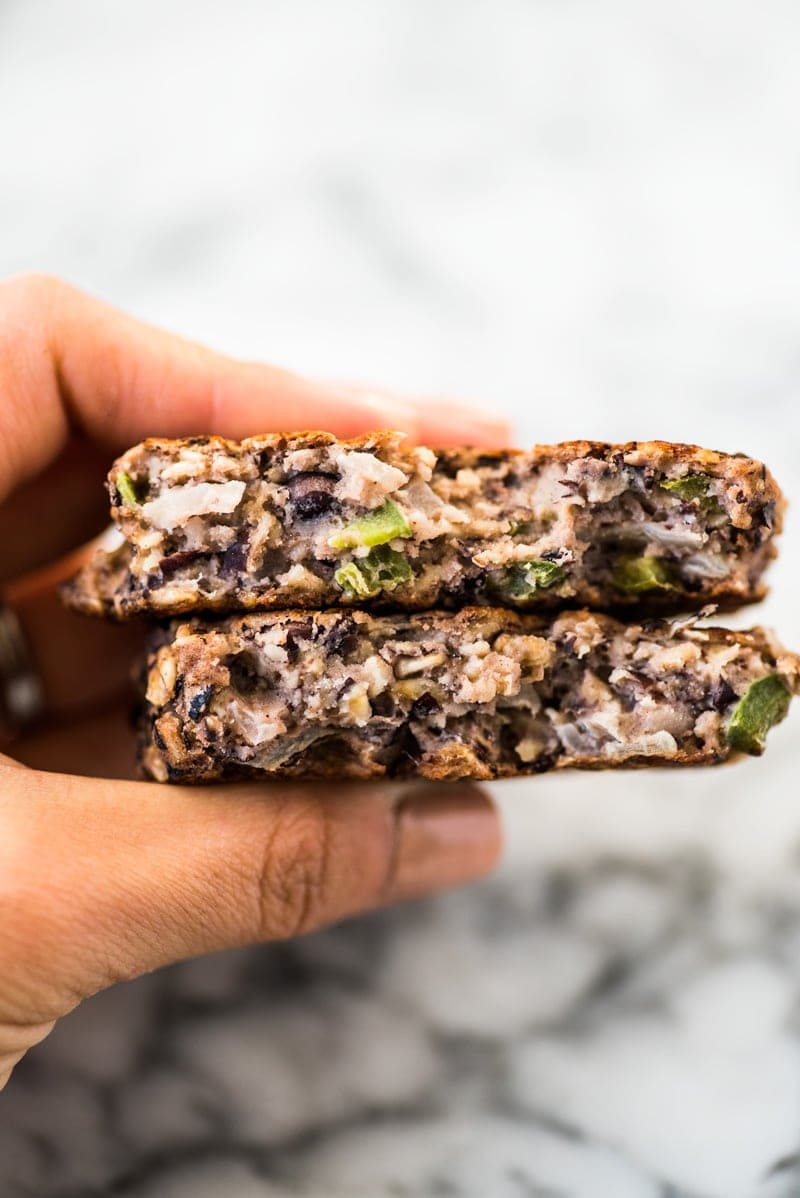 What's crispy on the outside, creamy on the inside and a vegetarian flavor powerhouse that even meat eaters will love? These Black Bean Patties!
Guys, I seriously love beans. I eat them at least 3 times a week plain, refried, in soups and stews or in little patties like this. I get so excited about beans (and all legumes, really), it's kinda weird. There's just so many good things to get excited about!
they're inexpensive. cheap. economical. low-cost.
they provide so many health benefits.
they're versatile. refried, plain, bean cakes, bean burgers, in stews. you can eat them in so many ways.
they're naturally gluten free and vegetarian, meaning more people can enjoy them!
each type of bean is so unique, everyone has a favorite. mine are pinto beans. 🙂
Maybe it's because I grew up in a house where beans were always on the stove or in the fridge. Who knows. Point is, I love them and I want to help you love them too!
Related: Vegan Black Bean Burgers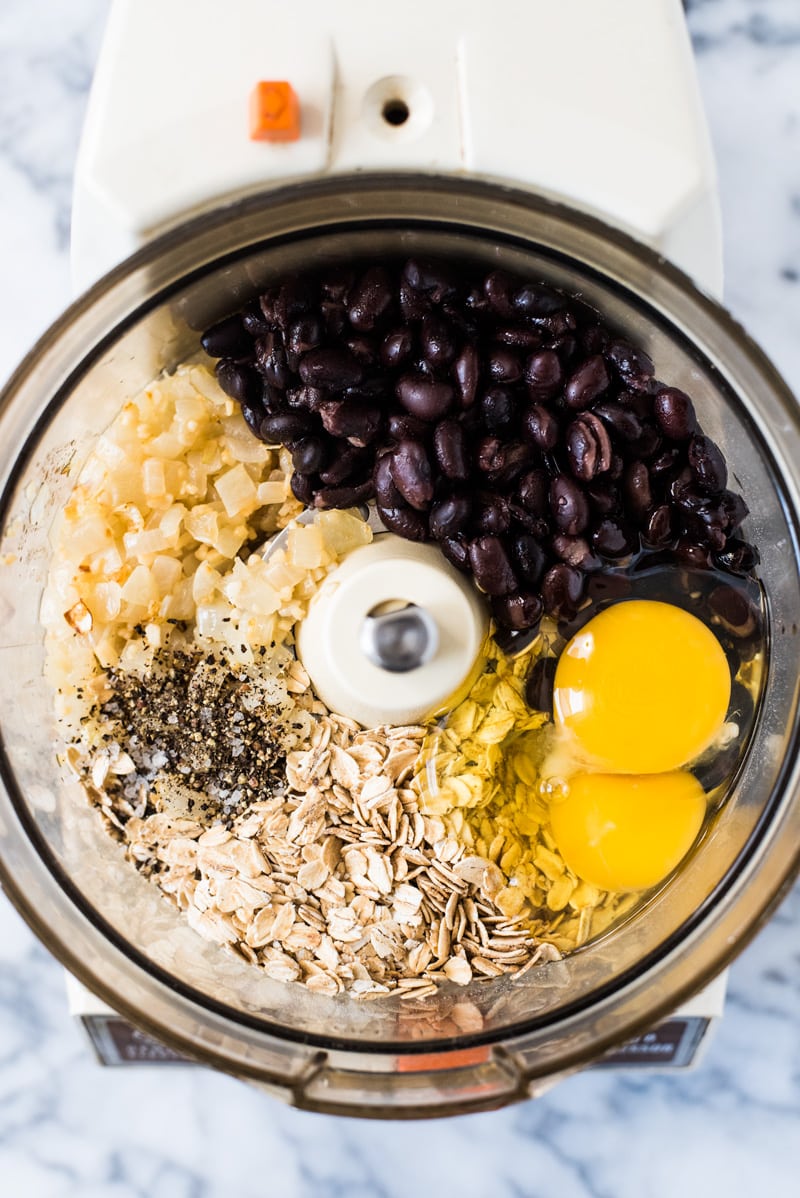 How to make Black Bean Patties
Making these black bean patties is super easy. To start, just saute some onions and garlic in a pan until the onions become translucent and the garlic is fragrant. Throw that along with some black beans, eggs, rolled oats, red wine vinegar and spices in a food processor and pulse until everything is combined.
(If you don't have a food processor, I recommend mashing everything together in a bowl using a masher like this.)
Then fold in some diced jalapenos (totally a must for me, but if you don't like jalapenos, you can leave them out) and some more black beans. I like adding in some whole black beans at the end because I like the texture it creates. Plus, I think seeing little beans interspersed in the patties is really pretty. I gotta make my food look good!
Once the mixture is ready, scoop 1/3 cup of the mixture into a hot skillet with oil and brown on both sides.
From there, you can eat them topped with the cilantro yogurt sauce in the recipe card below (it's literally just mixing Greek yogurt with lime juice, salt and cilantro – hooray for easy recipes!), or you can serve them in buns and make black bean burgers. Totally up to you!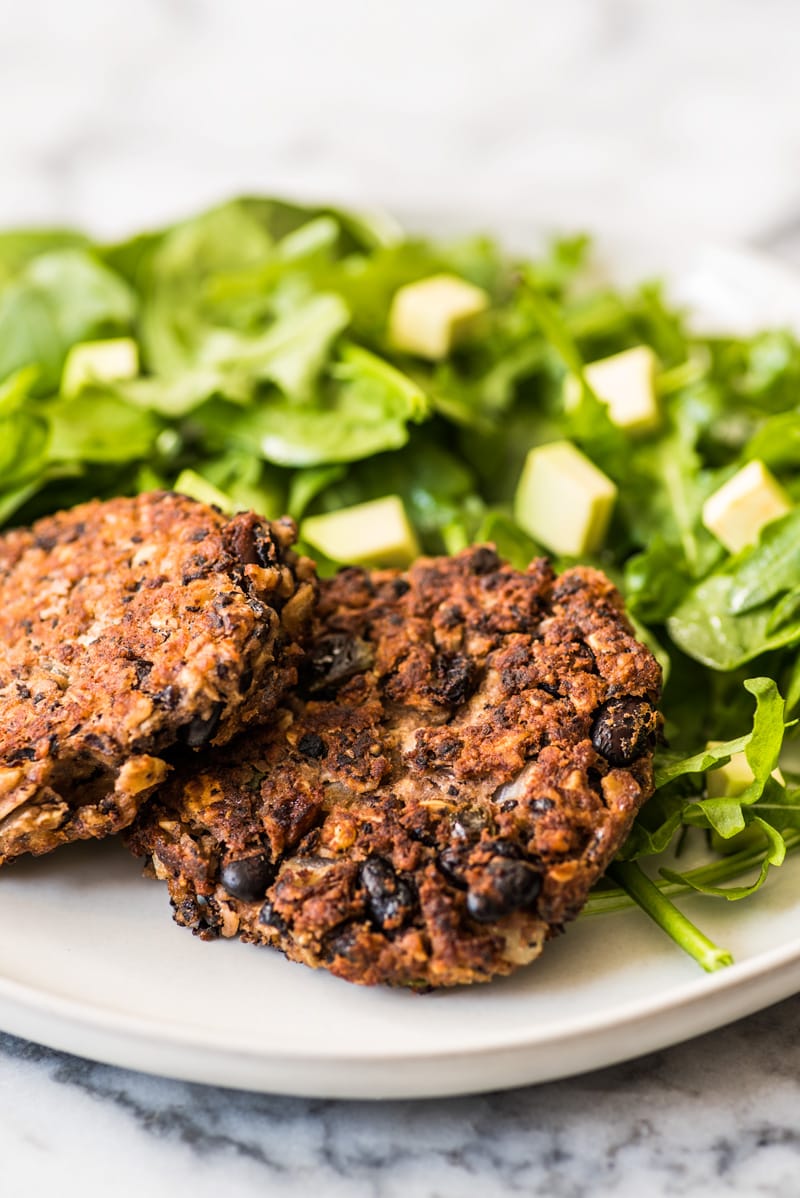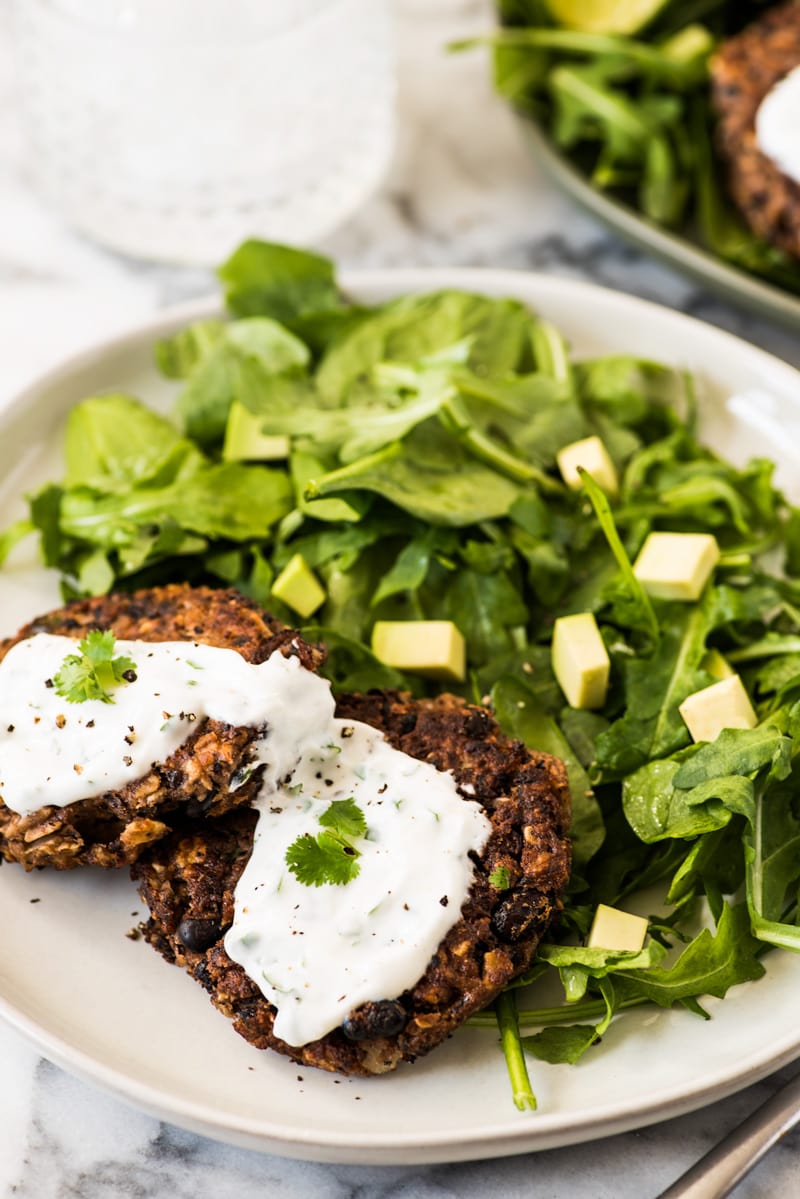 These black bean patties have been a nice little break from all the holiday sweets and treats I've been making for the blog this past week. But not to worry – more holiday recipes are right around the corner. Until then, eat up!
More healthy recipes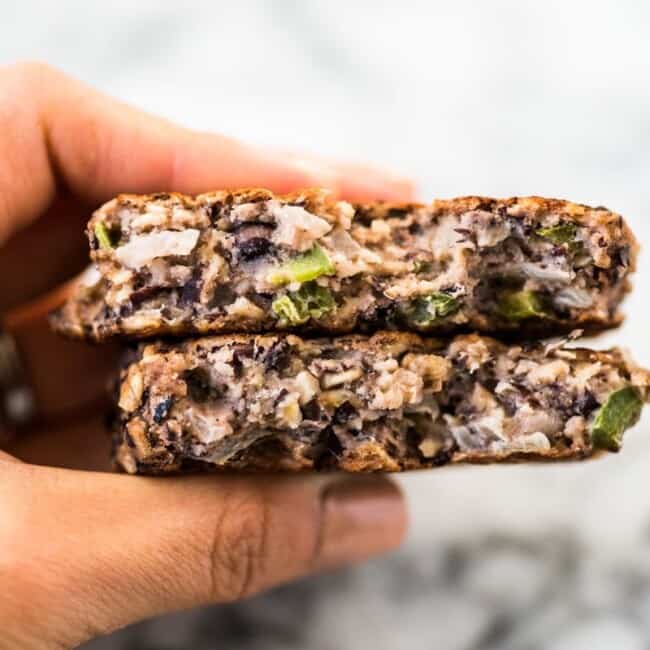 Prep: 8 minutes
Cook: 30 minutes
Total : 38 minutes
These Black Bean Patties are crispy on the outside, creamy on the inside and served with a cilantro yogurt sauce. Makes tasty black bean burgers!
Ingredients
For the black bean patties
3 tablespoons olive oil, divided
1/2 cup chopped onion
1 tablespoon minced garlic
2 large eggs
3/4 cup old-fashioned rolled oats
2 tablespoons red wine vinegar
1 teaspoon salt
1/2 teaspoon freshly ground black pepper
1 large jalapeño seeded, deveined and diced
1 3/4 cups + 1 tablespoon cooked black beans (you'll need 2 15-ounce cans of black beans)
For the cilantro yogurt sauce
3/4 cup plain Greek yogurt
2 tablespoons lime juice
2 tablespoons chopped cilantro
1 pinch salt
Instructions
For the black bean patties
In a large skillet over medium-high heat, add 1 1/2 teaspoons olive oil, onions and garlic. Cook for 3 minutes until onions are translucent and garlic is fragrant. Transfer mixture to a food processor.

Add the eggs, oats, vinegar, salt, black pepper and 1 1/2 cups black beans to the food processor. Pulse until mixture comes together, about 4 to 5 pulses.

Remove blade from food processor and fold in the diced jalapenos and remaining 1/3 cup black beans. Mixture may be slightly loose and wet.


In the same large skillet over medium-high heat, add 1 tablespoon olive oil. Drop in 1/3 cup of mixture into the skillet and press down with a spatula to form a patty. Fit in as many patties as possible in the skillet – I cooked 4 at a time.

Cook each patty about 5 minutes per side, or until patty is golden brown and a nice crust has formed. Remove from pan and repeat instructions to cook the remaining patties. Enjoy with a dollop of cilantro yogurt sauce or eat on a bun as a black bean burger!
For the cilantro yogurt sauce
In a small bowl, add the yogurt, lime juice, cilantro and salt. Mix together and serve with black bean cakes.
Isabel's Tips:
To reheat, place patties in a skillet over medium-high heat and warm for 1 to 2 minutes per side, until hot.
Nutrition Information
Serving: 2patties Calories: 248kcal (12%) Carbohydrates: 29g (10%) Protein: 13g (26%) Fat: 9g (14%) Saturated Fat: 2g (10%) Polyunsaturated Fat: 1g Monounsaturated Fat: 6g Cholesterol: 76mg (25%) Potassium: 462mg (13%) Fiber: 6g (24%) Sugar: 3g (3%) Vitamin A: 150IU (3%) Vitamin C: 5mg (6%) Calcium: 60mg (6%) Iron: 3.1mg (17%)