Jump to Recipe
Enfrijoladas – Mexican enchiladas covered in a black bean sauce stuffed with cheese and ready in only 15 minutes! (vegetarian, gluten free)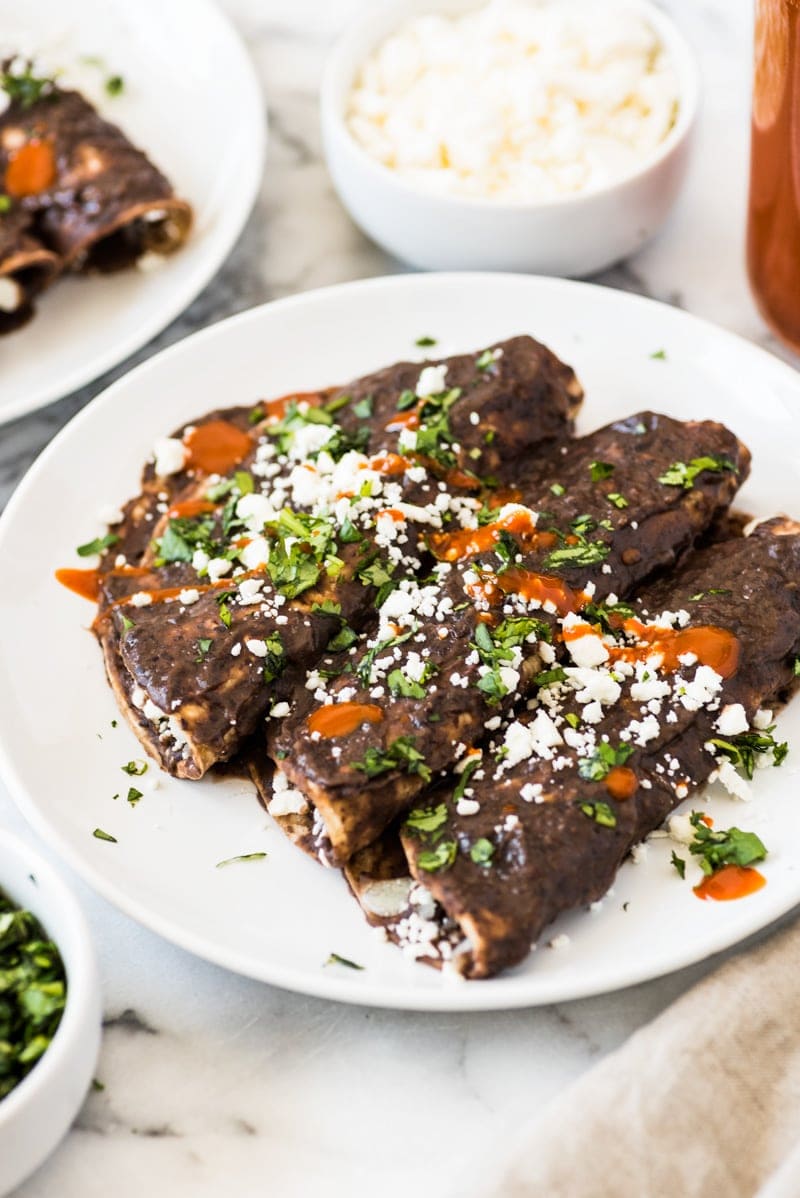 Enfrijoladas – corn tortillas dipped in a silky smooth black bean sauce, filled with fresh crumbly cheese and ready in only 15 minutes. Pretty much one of the best Mexican vegetarian meals I've ever made! Move over red and green enchiladas, there's a new dish in town.
The last time I was in Oklahoma City visiting family, my sister was was giving me lots of ideas for Mexican recipes I could share on the blog. These enfrijoladas were 100% her idea so I've got her to thank! As soon as she made me a batch to try, I knew I had to share the recipe.
The most important part of the dish is the black bean sauce. To make, just blend together some canned black beans, chipotle peppers in adobo sauce, onions, garlic and oregano – that's it!
The result is a rich, smoky and smooth sauce that I would totally eat as a soup. It's so addicting and keeps you coming back for more.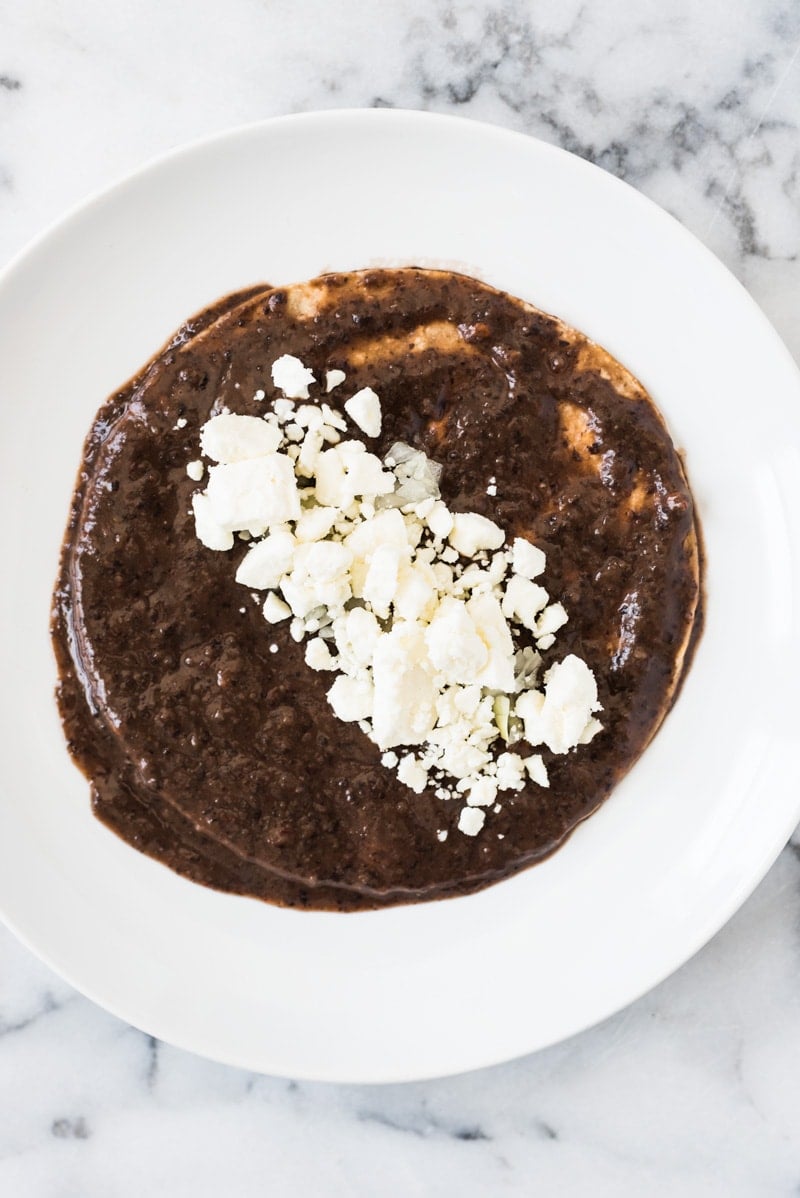 The next step is heating and slightly cooking the sauce in a pot with a tablespoon of olive oil until it's hot and bubbly. This step adds another layer of flavor and slightly cooks out some of the strong raw onion flavor, making the sauce richer and well balanced.
Once the sauce is bubbling, remove it from the heat and set it aside. Next step is to heat up the corn tortillas. You can do this on the stove on a tortilla griddle like this or in the microwave for about 60 seconds, until they're warm and pliable. Then carefully dip the tortillas in the black bean sauce, transfer to a plate and fill with cheese.
You can then roll them up like an enchilada or simply fold them in half like a taco.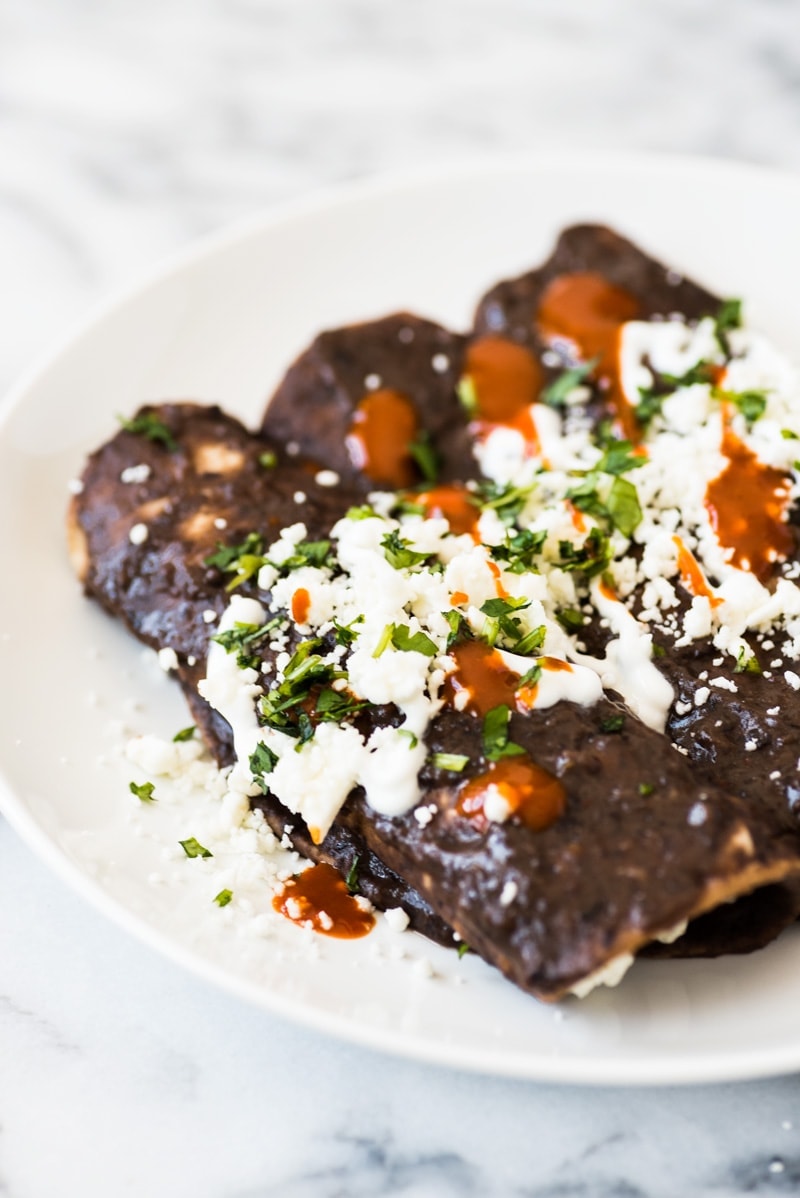 I topped mine with more cheese, sour cream, cilantro and my favorite red salsa. I ate two of these babies and I was stuffed! But of course I ate a third one. 🙂 I couldn't help myself.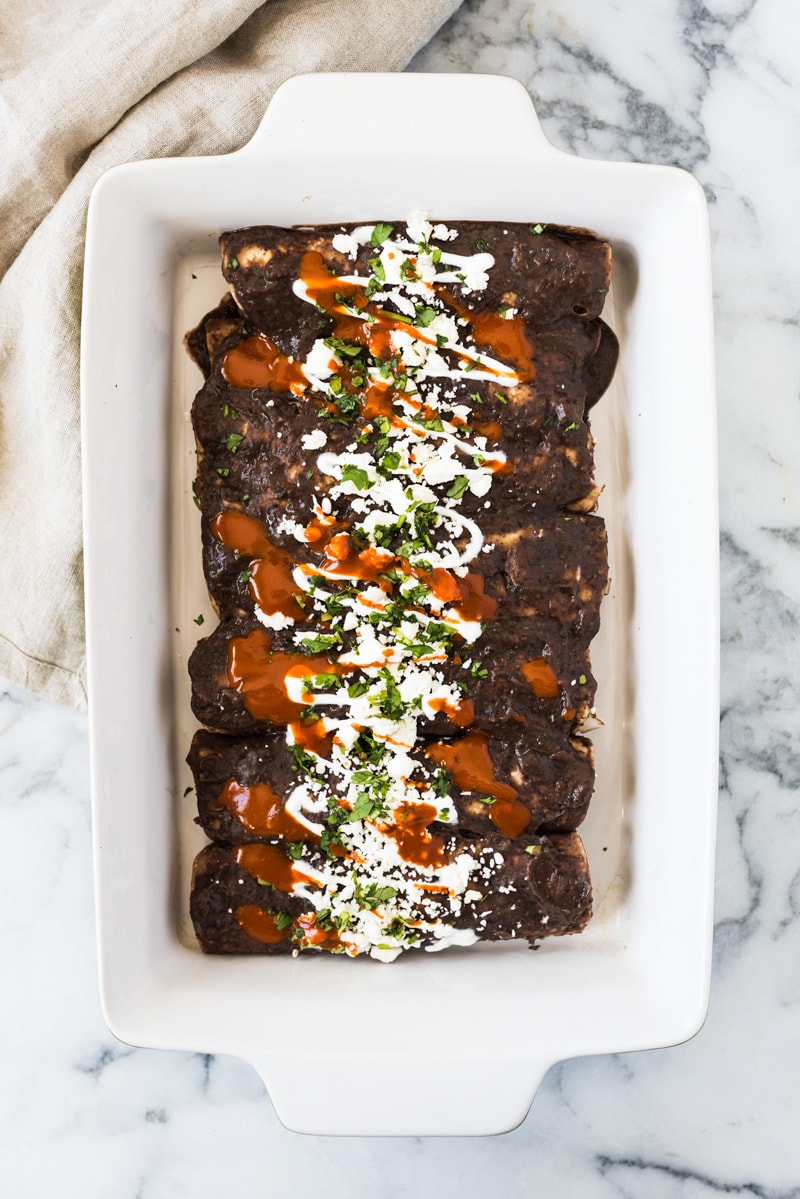 Looking for more Mexican vegetarian recipes? Try these!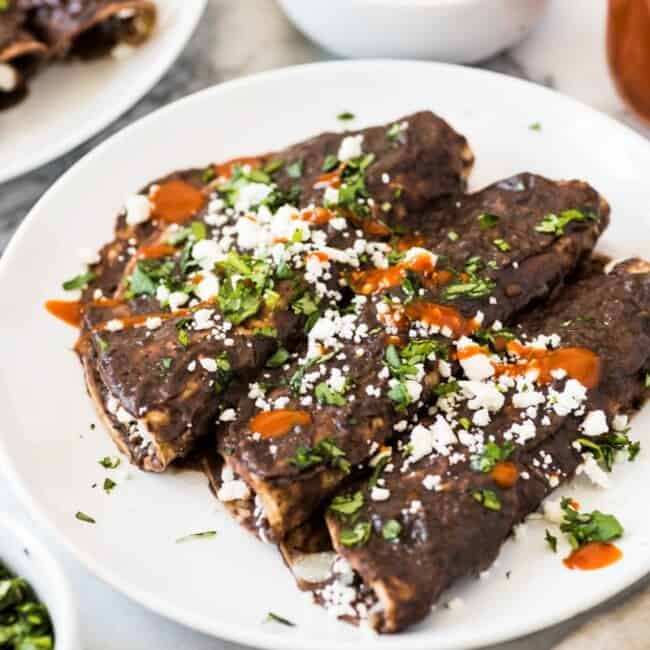 Prep: 10 minutes
Cook: 5 minutes
Total : 15 minutes
Enfrijoladas - Mexican enchiladas covered in a black bean sauce stuffed with cheese and ready in only 15 minutes! (vegetarian, gluten free)
Ingredients
2 15-ounce cans black beans
1 chipotle peppers in adobo sauce (add more or less depending on how spicy you like it - I used 3 peppers with sauce)
1/2 cup chopped onions
1 1/2 teaspoon minced garlic (about 3 cloves)
1/4 teaspoon oregano
1 tablespoon olive oil
12 corn tortillas
8 ounces queso fresco (feta, cotija or monterey jack cheese would also work)
for topping: chopped cilantro, sour cream, red salsa
Instructions
In a large blender, add the black beans (undrained), chipotle peppers, onions, garlic and oregano. Blend until the black bean sauce is silky smooth.

Heat a medium pot or skillet over medium-high heat. Add the olive oil and pour in the black bean sauce. Cook, stirring frequently, until the mixture is hot and bubbly. (If the sauce ever gets too thick, simply add some water or broth and mix it in.)

Heat up the corn tortillas on a skillet or in the microwave for 1 minute, until warm and pliable.

To assemble the enfrijoladas, dip each tortilla into the black bean sauce. Transfer tortilla to a plate and fill with cheese. Roll it up like an enchilada or fold it over like a taco.

Serve immediately with fresh cilantro, sour cream and red salsa.
Nutrition Information
Serving: 1enchilada Calories: 182kcal (9%) Carbohydrates: 23g (8%) Protein: 9g (18%) Fat: 6g (9%) Saturated Fat: 3g (15%) Polyunsaturated Fat: 1g Monounsaturated Fat: 1g Cholesterol: 13mg (4%) Sodium: 330mg (14%) Potassium: 11mg Fiber: 5g (20%) Sugar: 3g (3%) Vitamin A: 200IU (4%) Vitamin C: 5.8mg (7%) Calcium: 170mg (17%) Iron: 1.4mg (8%)
This page contains affiliate links. If you make a purchase on Amazon after clicking one of my links, I may receive a small commission. The price of the item stays the same and any money I make goes to supporting this blog. I only endorse products and services that I fully believe in.