Jump to Recipe
Agua de Pepino (also called Cucumber Agua Fresca) is made with refreshing cucumber, a spritz of lime juice, a touch of sugar and ice cold water. (gluten free, vegetarian, paleo, vegan)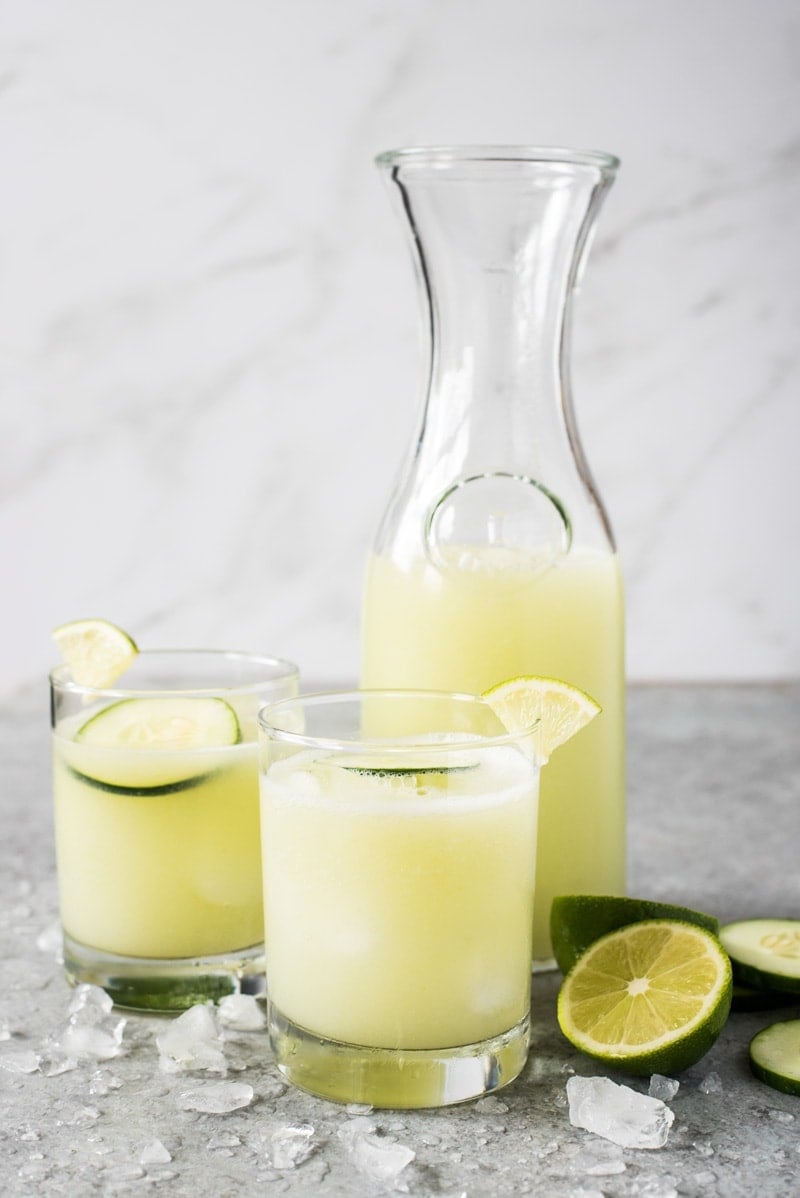 Summer is right around the corner, which means it's time to enjoy some agua de pepino!! Made with refreshing cucumber, a spritz of lime juice, a touch of sugar and ice cold water, this cucumber agua fresca (also known as agua de pepino) is the perfect drink on a hot summer day.
I have fond memories of drinking agua frescas as a kid at my church's annual carnival. They had all sorts of flavors – melon (cantelope), sandia (watermelon), tamarindo (tamarind), horchata (almond and rice). One of my favorites has and always will be this cucumber flavor.
What is agua fresca?
Agua fresca, or "fresh water" in English, is a refreshing Mexican drink made from water and blended fruit, tea leaves, vegetables and sometimes rice. It's lightly sweetened with sugar and often served over ice.
I like to think of agua fresca as a mix between flavored water and the fruit juice you would find at your local grocery store – it's made with real fruit and vegetables, but it's very lightly sweetened and doesn't give you that sugar rush that you often get from fruit juices. It's literally the best of both worlds.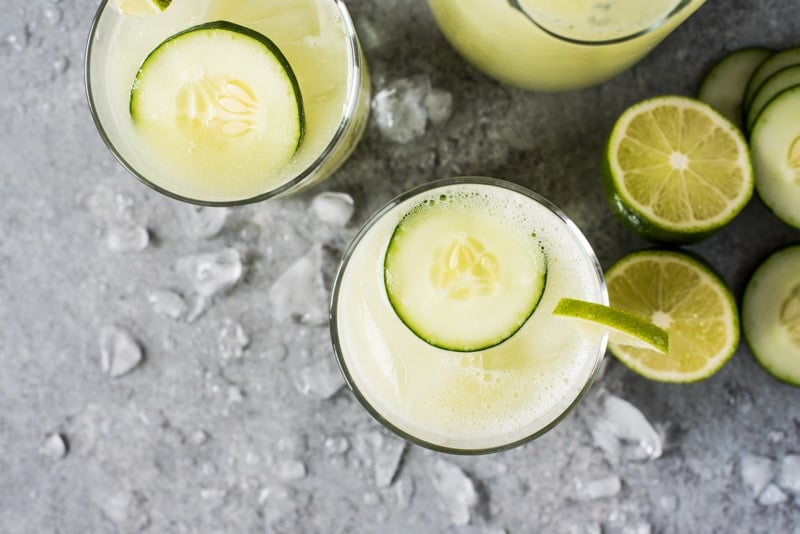 Making agua fresca at home, especially this cucumber flavor, is insanely easy. I'm almost embarrassed to call it a recipe! But if you've never made it before and are looking for a satisfyingly cool sip of lightly sweetened cucumber water, here's how to make it.
How to make agua de pepino
Add 4 cups of water, 3 peeled cucumbers, 1/4 cup of lime juice and 1/4 cup of sugar to a large blender.
Blend until smooth.
Serve over ice and enjoy!
That's all there is to it! Simple, easy and delicious.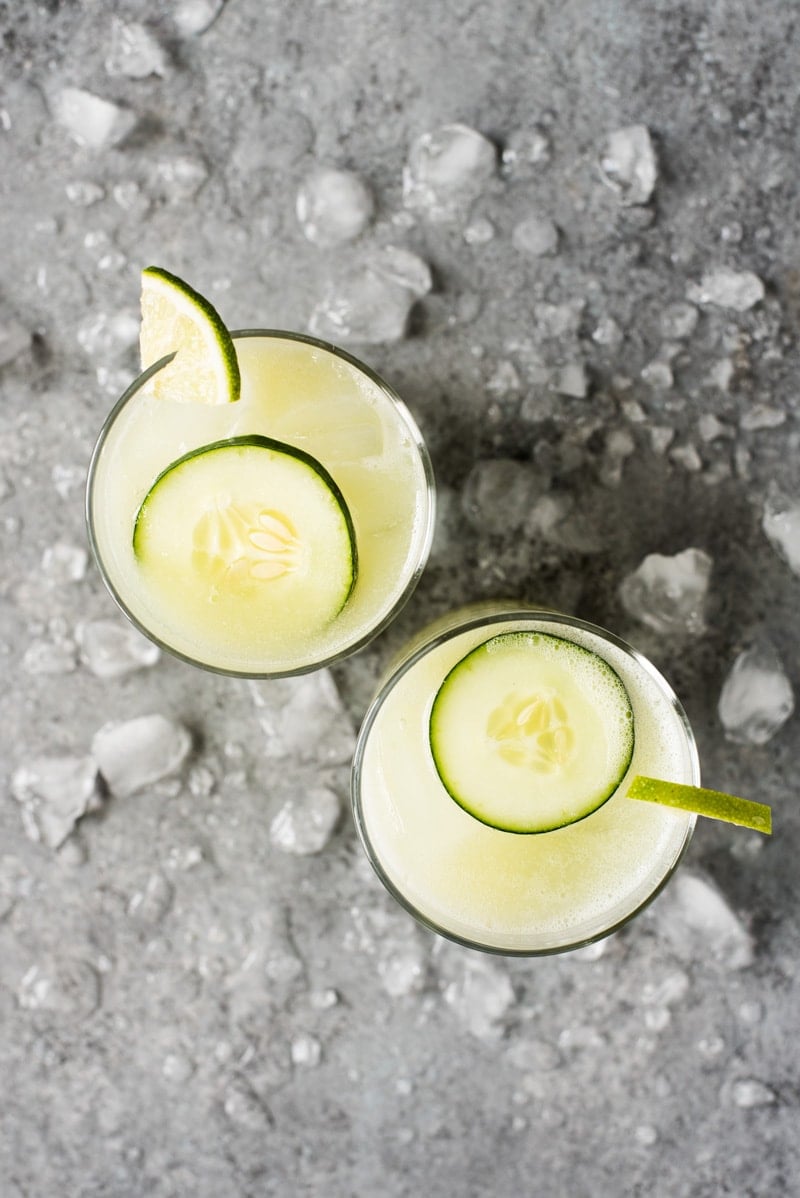 More Aguas Frescas
There are many flavors of aguas frescas made from different ingredients, including fruits, teas, and even rice! Here are some different aguas frescas to enjoy: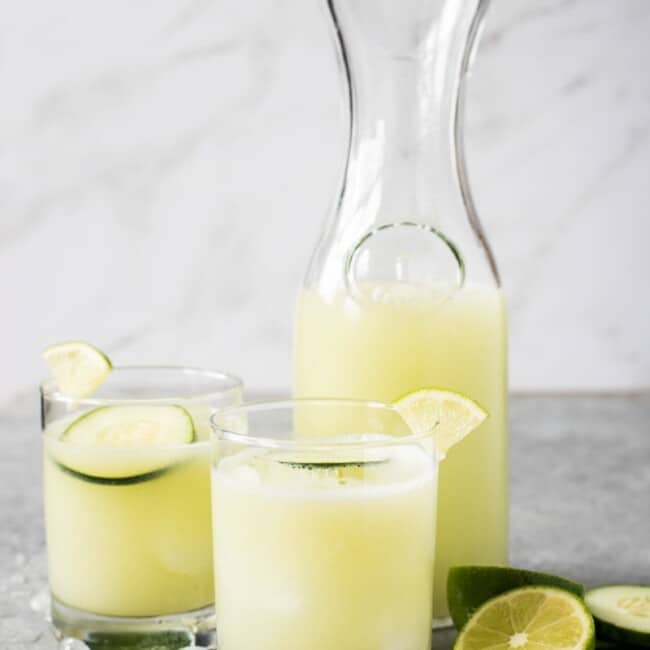 Prep: 10 minutes
Total : 10 minutes
Cucumber Agua Fresca (also called Agua de Pepino) is made with refreshing cucumber, a spritz of lime juice, a touch of sugar and ice cold water. Perfect on a hot summer day!
Ingredients
4 cups water
3 large cucumbers, peeled
1/4 cup lime juice
1/4 cup granulated sugar (or more, to taste)
Instructions
Add all ingredients to a blender and blend until smooth.

Serve agua fresca over ice.
Nutrition Information
Serving: 1cup Calories: 42kcal (2%) Carbohydrates: 10g (3%) Protein: 1g (2%) Fat: 0g Saturated Fat: 0g Polyunsaturated Fat: 0g Monounsaturated Fat: 0g Trans Fat: 0g Cholesterol: 0mg Sodium: 5mg Potassium: 174mg (5%) Fiber: 1g (4%) Sugar: 9g (10%) Vitamin A: 100IU (2%) Vitamin C: 9.1mg (11%) Calcium: 20mg (2%) Iron: 0.4mg (2%)