This Watermelon Agua Fresca (also known as Agua de Sandia) is a light and refreshing summer drink made with only 3 ingredients – watermelon, water and a touch of sugar!
Watermelon Agua Fresca (also known as agua de sandia or watermelon water), and other flavors of agua frescas have been a part of my childhood for as long as I can remember.
Growing up, the church my family and I went to held an annual outdoor carnival in the summer to help raise money for different church projects. The carnival lasted an entire weekend and it was full of booths and tents that had games for kids (duck pond, anyone?!), games for adults (like La Lotería), a dunk tank where you could get a chance at dunking the priest (I never could), live music and dancing and of course good food!
While I personally liked to end my church carnival experience with a snow cone, I liked to start it by buying a big cup of Watermelon Agua Fresca.
Why is it called agua fresca?
Because it's literally made out of 3 ingredients – fresh watermelon, water and some sugar. Serve it over ice and you've got a super refreshing summer drink!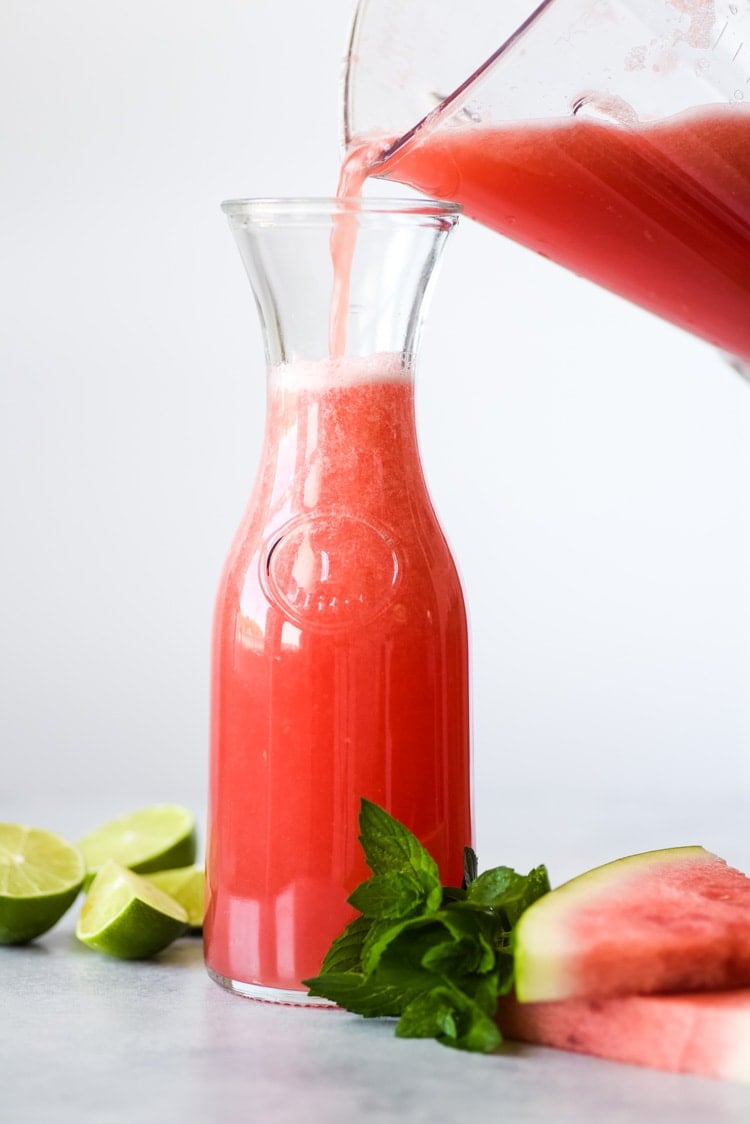 I garnished my watermelon water with some mint leaves and lime wedges for a little pizzazz, but it's traditionally served without it.
You know what else you could add to this drink to kick it up a notch? Some vodka or tequila. It would make a light and refreshing summer cocktail!
Not that I've tried it or anything. Just sayin'. 😉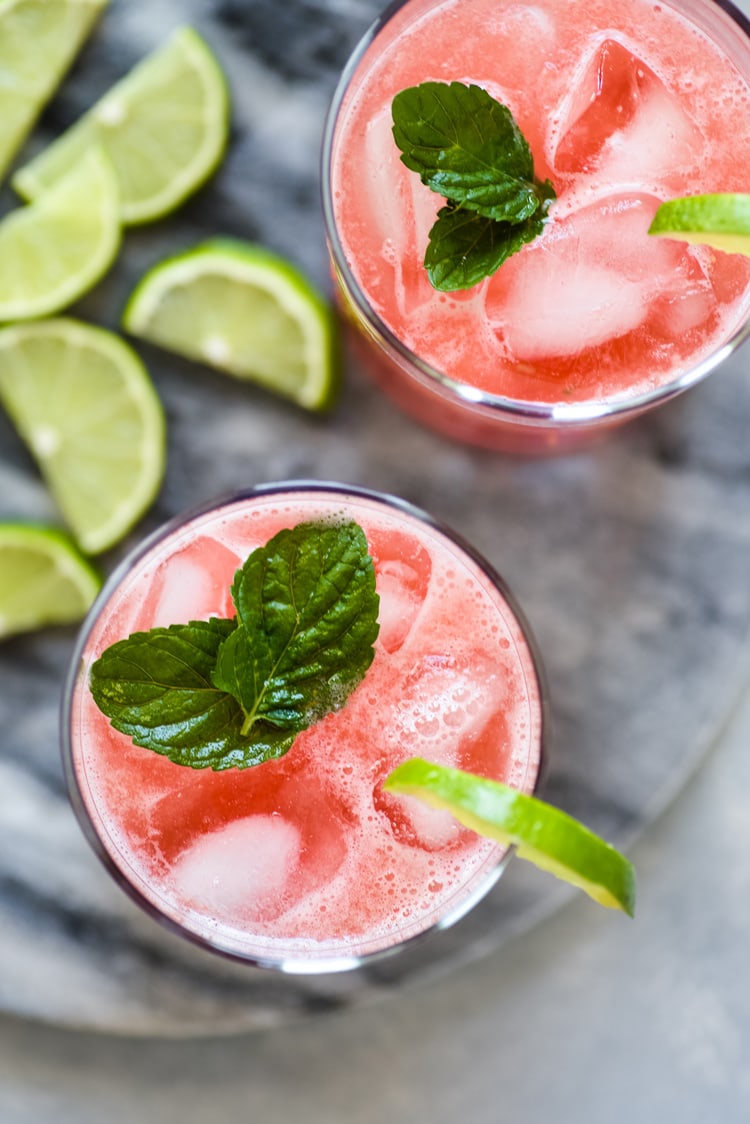 This is one of those recipes that really brings me back to my family, so I'm going to get a little personal right now.
Some days I need an extra ray of sunshine to get me out of bed in the morning. My life is far from perfect and I experience sadness and stress and anger like everyone else does. But while it's easy for me to share all the happy and beautiful moments in my life with you on the blog and on social media, opening up and sharing the struggles can be really difficult.
I'm a bit of an introvert and really like to reflect on my own thoughts before talking about them. I like to sit, think about and really feel my emotions before sharing them, because to be honest, I usually don't know why I'm feeling a certain way to begin with. Sometimes I'll cry or feel angry and have no idea why. (Tell me I'm not the only one!)
I've always envisioned this blog as an inspirational and fun place where you and I can interact and get to know each other in a real, authentic way, but unfortunately, reality isn't always light-hearted and happy.
So I'm going to be honest right now and tell you what I'm struggling with today.
Friends, I really, really miss my family.
All the things I do for the blog like cooking and photographing, all my work at my full-time job at the university and even my little to-dos in my daily planner just don't seem as important right now as my family. Even though I was just there two weeks ago for my wedding (update: we're married! read more about our wedding day here.), I still miss them terribly.
It's days like these that I try to remind myself why I moved to Pittsburgh in the first place. College, grad school, the lifelong friends I made along the way. Oh, and I can't forget that other little part of my life, John, my now husband.
Nevertheless, being homesick sucks and being far away from my family when they need me and I need them is just freaking hard.
John and I have talked about moving to Oklahoma in the future to be closer to my family, whether it be for a handful of years or longer. It's something that we could see happening as early as a year or two from now. But until then, thank God for air travel.
And honestly, thank God for this blog. Isabel Eats has become such an amazing outlet for me where I get to share not only all the amazing food and flavors that remind me of my family, but also a space where I get to share stories and memories with all of you.
So with my family in mind, let's bring it back to the food. Always the food.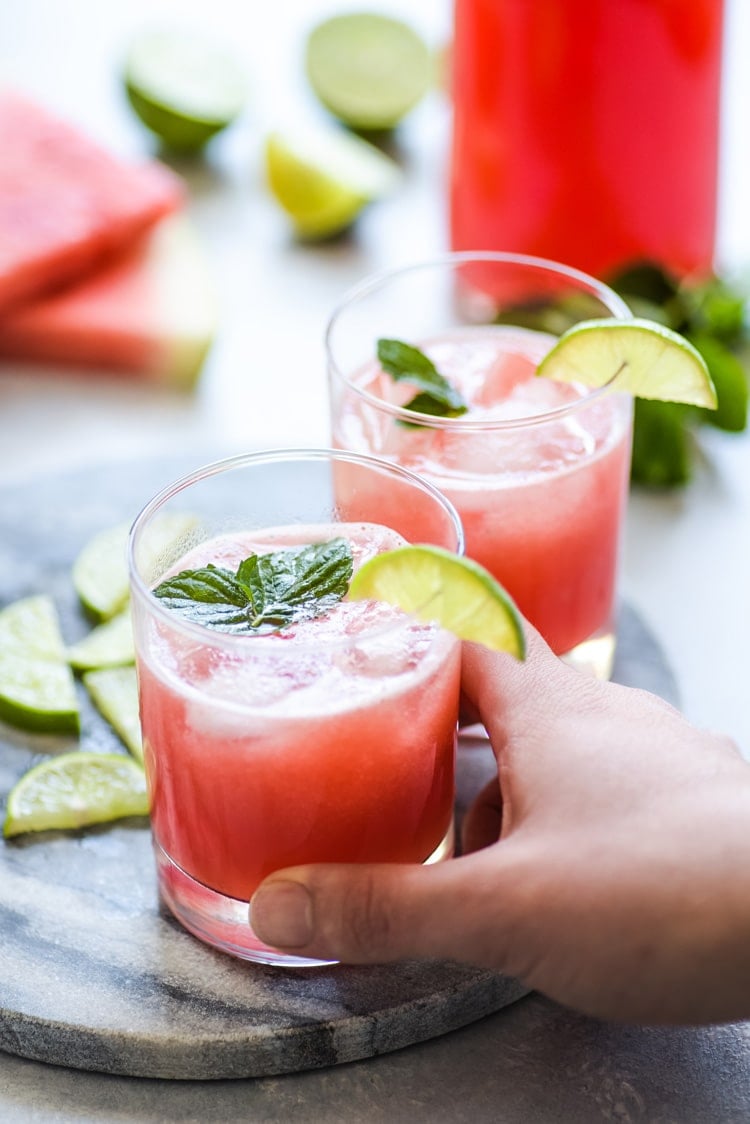 Special thanks to John for being the hand model in the photo above. He's the best.
More Mexican Agua Frescas you'll love
INGREDIENTS
6

cups

diced watermelon

(about 1/4 medium watermelon)

4

cups

cold water

1/4

cup

sugar

(start with 2 tablespoons and add more to taste)

limes wedges and mint leaves,

for garnishing
INSTRUCTIONS
Combine diced watermelon and cold water in a large blender. Pulse on high until watermelon is 95 percent pureed.

Add in sugar, pulse on high to mix and taste. Add more sugar if necessary.

Serve chilled over ice. Garnish with limes and mint.
ISABEL'S TIPS
---
Nutrition Facts
Watermelon Agua Fresca
Amount Per Serving (1 cup)
Calories 56
% Daily Value*
Fat 0g0%
Cholesterol 0mg0%
Sodium 1mg0%
Potassium 128mg4%
Carbohydrates 15g5%
Protein 1g2%
Vitamin A 650IU13%
Vitamin C 12.4mg15%
Calcium 10mg1%
Iron 0.4mg2%
* Percent Daily Values are based on a 2000 calorie diet.
Did you make this recipe?
Leave a comment below and tag @isabeleats on social media!