Jump to Recipe
Chicken Pozole Verde is a comforting Mexican stew filled with shredded chicken and hominy in a warm green chile broth. It's easy to make, filling and healthy! (gluten free, freezer friendly)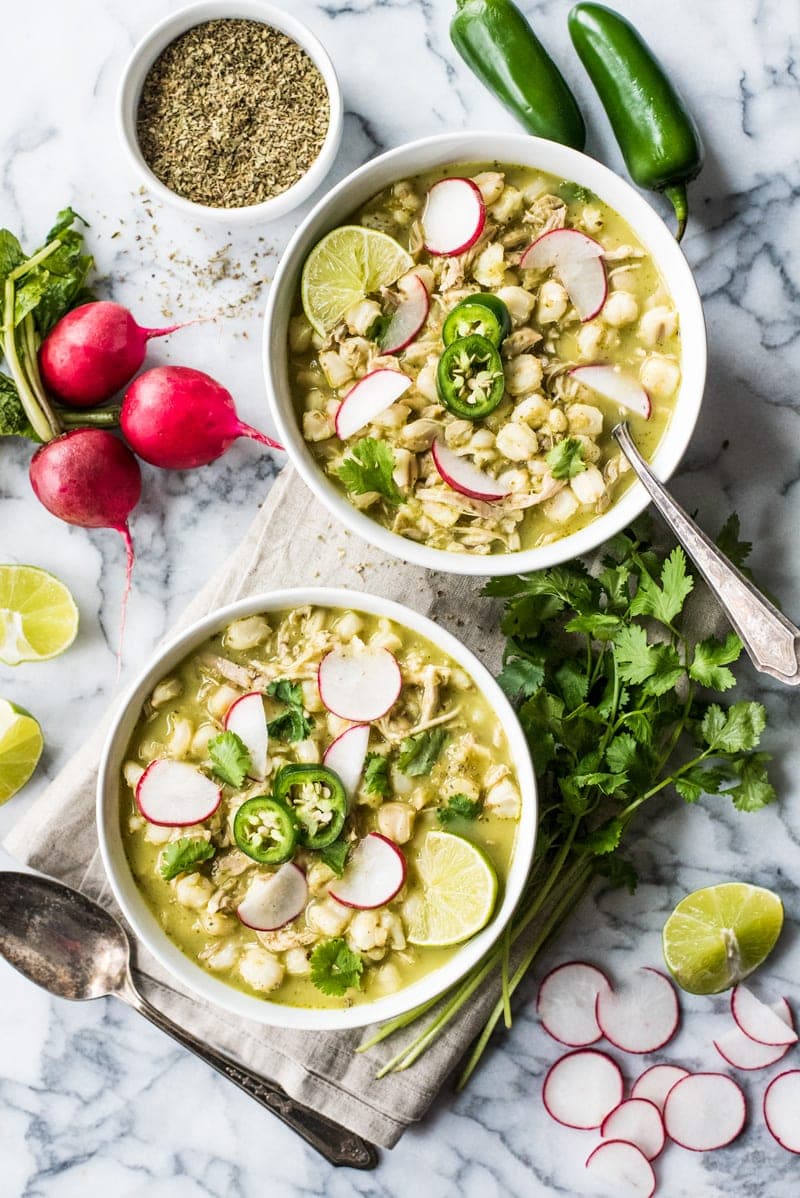 Making pozole verde has been on my to-do list since I started the blog back in 2015. That's quite a long time for me to put something off, but no more – the day has finally come!
Today I'm excited to share a delicious and easy Chicken Pozole Verde recipe!
If you don't know what pozole is, you're probably wondering what the heck I'm talking about.
What is pozole?
Pozole (also spelled posole) is a Mexican stew traditionally made with pork and hominy covered in a flavorful chile broth. While there are countless variations, there is one essential ingredient in every recipe:
Hominy – it's a type of maize that's been soaked and treated with lime. They look like big puffy corn kernels and can usually be found in the Hispanic foods section of your local grocery store. Simply put, without hominy, pozole isn't pozole.
(Learn more about hominy here.)
Other than hominy, you can pretty much add or substitute whatever you'd like! In this recipe, I used chicken instead of pork and made a green chile broth with tomatillos, jalapenos, onions and cilantro.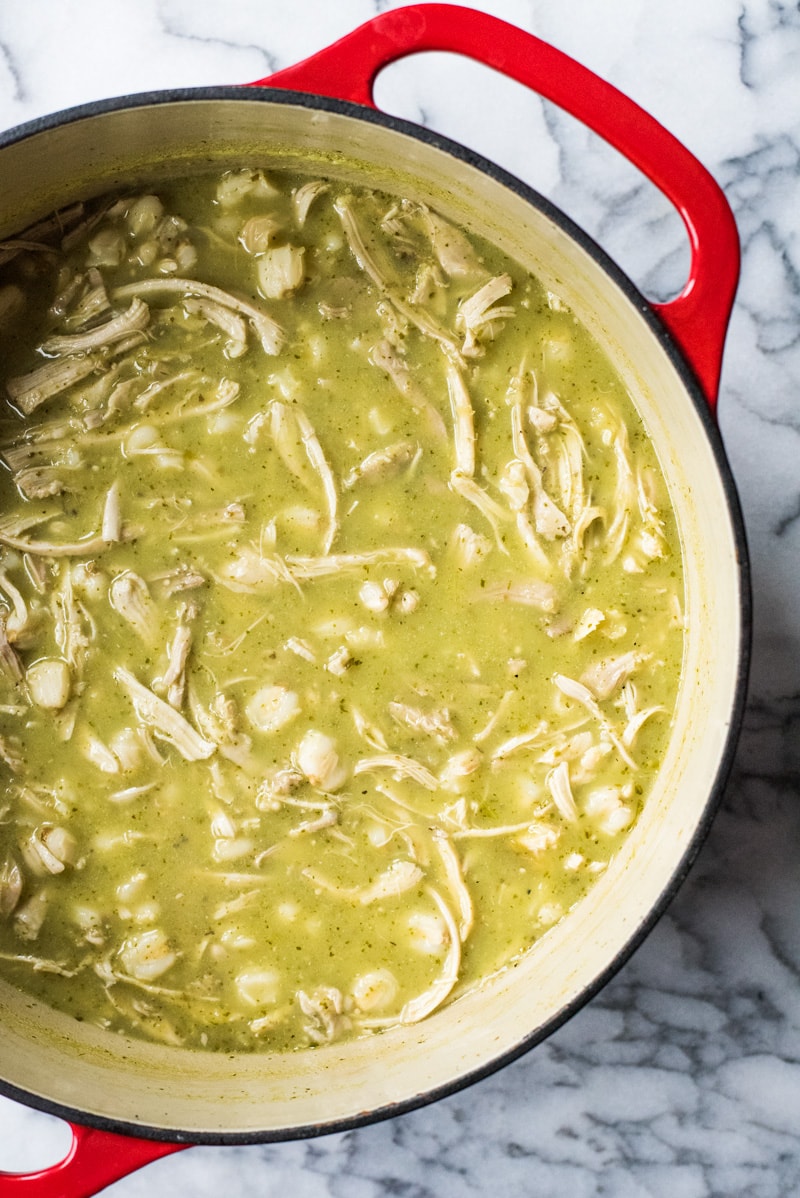 Growing up, my parents only ever made red posole so I didn't really ask them for tips on making pozole verde. I was completely on my own with this one. Luckily I'm very familiar with all of the flavors, so I just worked with what I knew and went from there.
How to make pozole verde
I treated the green chile broth almost like a Easy Salsa Verde, but not as concentrated. To make, I placed boneless skinless chicken thighs, tomatillos, an onion, jalapenos, chicken broth, oregano and salt in a large dutch oven. I covered it partially and brought it to a boil over high heat. Once boiling, reduce heat to a simmer and cook for 40 minutes.
At this point, the chicken will be cooked through and tender. Remove it with a slotted spoon, place it on a plate or cutting board and shred with a fork. Then, remove the cooked tomatillos, onions and jalapenos with a slotted spoon and transfer to a blender. Then add a large handful of fresh cilantro, a cup of the broth and blend until completely smooth.
Add the shredded chicken, blended broth and canned hominy. Cook for another 15 minutes on medium-high heat and that's it!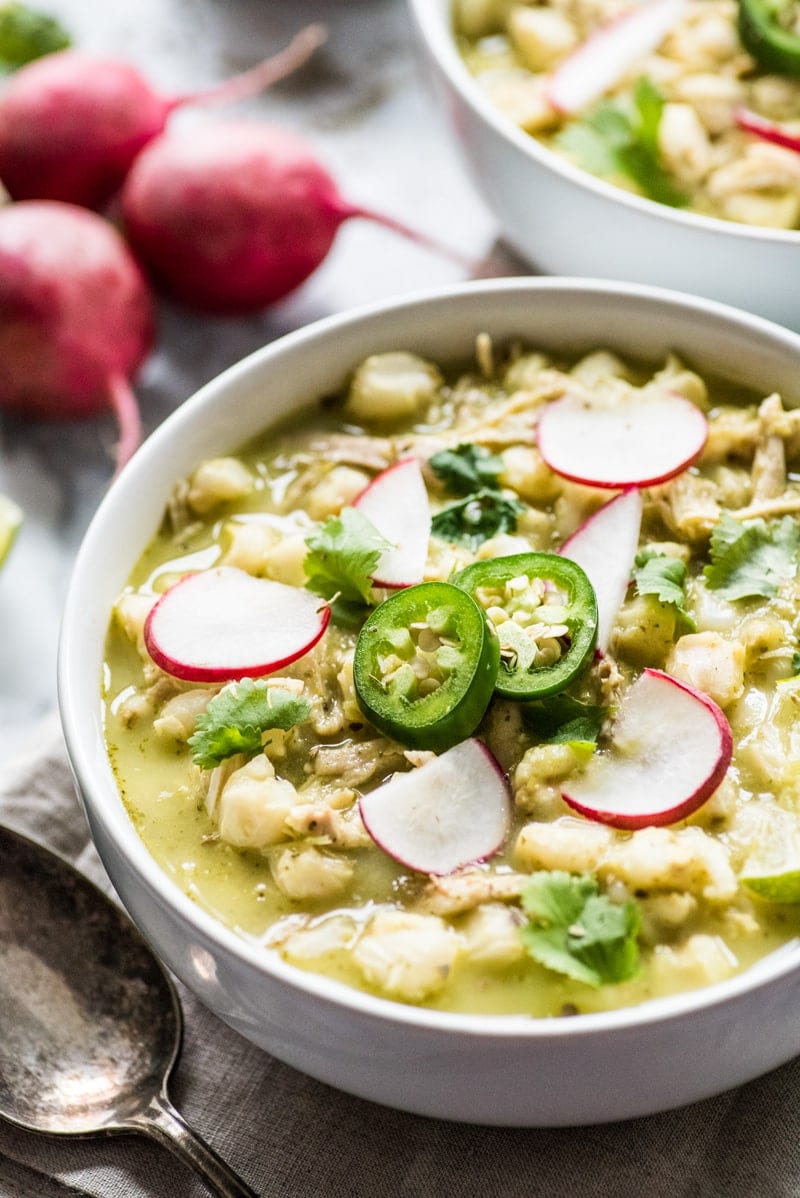 A big bowl of warm pozole verde is seriously the best this time of year. That, a bag of tortilla chips and I'm one happy camper.
I served my pozole verde with some fresh jalapenos (because I like it spicy), lime wedges, sliced radishes, cilantro and more oregano. I also like to mix in a handful of thinly sliced cabbage for a little crunch sometimes, but I completely forgot to do that when I took the photos. #oops If you've got cabbage in the house, I highly recommend it!
More authentic Mexican recipes you'll love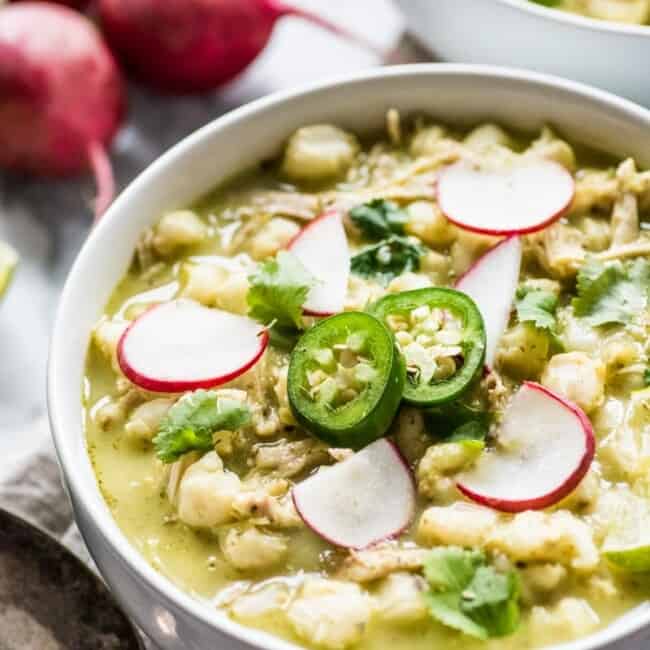 Prep: 10 minutes
Cook: 1 hour
Total : 1 hour 10 minutes
Chicken Pozole Verde is a comforting Mexican soup filled with shredded chicken and hominy in a comforting green chile broth. (gluten free, freezer friendly)
Ingredients
2 pounds boneless chicken thighs, skin removed
1 pound tomatillos, husked and washed
1 large onion, chopped
3 jalapeño peppers, seeded and chopped (or keep the seeds if you like it spicy)
6 cups chicken broth
1 tablespoon dried oregano
1 teaspoon coarse sea salt
1 large handful fresh cilantro, stems and leaves
1 28-ounce can white hominy, drained and rinsed
to serve: limes, radishes, jalapeños, cilantro, oregano
Instructions
In a large pot or dutch oven, add chicken thighs, tomatillos, onion, jalapeños, chicken broth, oregano and sea salt. Place over high heat and bring to a boil. Reduce heat to simmer and cover partially. Cook for 40 minutes, until chicken is fall-apart tender.

Transfer chicken to cutting board and shred with a fork. Set aside.

Using a large slotted spoon, place the cooked tomatillos, onions and jalapenos in a large blender. Add a large handful of fresh cilantro, a cup or so of the cooking liquid and puree until completely smooth.

Add the shredded chicken, pureed veggies and hominy into the large pot. Stir and cook over medium-high heat for 15 minutes uncovered. Taste and season with salt as necessary.

Serve with fresh lime juice, radishes, jalapenos, cilantro and oregano.
Isabel's Tips:
To make in the slow cooker, place all ingredients except cilantro and hominy in the slow cooker. Cover and cook for 4 hours on high or 6 hours on low. 30 minutes before it's ready, transfer the chicken to a plate and shred with a fork. Remove the cooked veggies from the broth with a slotted spoon and transfer to a large blender. Add cilantro to blender and blend contents until completely smooth. Add the shredded chicken, blended veggies and hominy to the slow cooker. Stir, cover and cook for 30 more minutes. To freeze, cool the pozole in the fridge. Once chilled, scoop into freezer-safe zip-top bags or containers and freeze. When ready to eat, let frozen container thaw completely in the fridge or defrost in the microwave. Reheat on the stove or in the microwave until completely warm.
Nutrition Information
Serving: 2heaping cups Calories: 409kcal (20%) Carbohydrates: 26g (9%) Protein: 39g (78%) Fat: 16g (25%) Saturated Fat: 4g (20%) Polyunsaturated Fat: 3g Monounsaturated Fat: 5g Cholesterol: 123mg (41%) Potassium: 742mg (21%) Fiber: 7g (28%) Sugar: 5g (6%) Vitamin A: 350IU (7%) Vitamin C: 29.7mg (36%) Calcium: 60mg (6%) Iron: 2.2mg (12%)