Popular in Mexican cooking, cilantro is a fragrant herb that has bright and citrusy flavors and pairs well with so many foods! Keep reading to learn more about what it is and how to use it.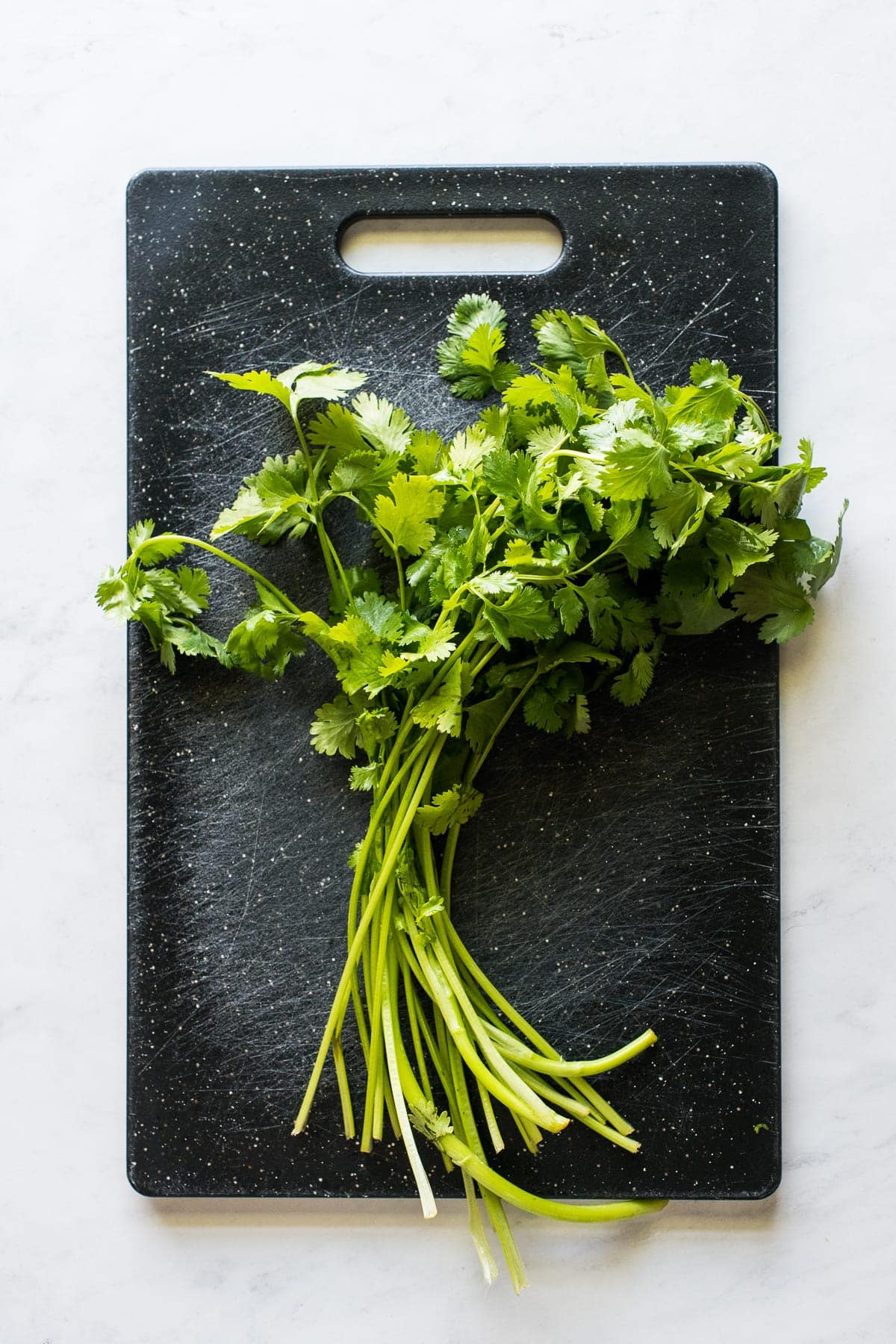 What is cilantro?
Cilantro is a green leafy herb grows from the coriander plant. The name cilantro is the Spanish word for coriander leaves.

Even though they come from the same plant, these leaves have a very different flavor than the spice coriander, which is made from the plant's seeds. 

To make things more confusing, the coriander plant is also a member of the parsley family. In fact, cilantro is also known as Mexican or Chinese parsley.
Nevertheless, cilantro is very different from what is typically sold as parsley in US grocery stores, so it's important to know the difference.
What does cilantro taste like?
Cilantro has a bright, citrusy flavor with a hint of pepper. Or, depending on your genetics, it might taste like soap!

This is because the leaves have a natural aldehyde chemical that is also produced when making soap. Scientists found that some people carry a receptor gene in their DNA that detects this chemical, which is why all they taste is soap when eating anything made with cilantro.
Differences between cilantro and parsley
Curly parsley comes in a dense bunch and has very little flavor. This is what is used to garnish a plate, so it should be easy to rule this one out on sight alone. Italian parsley, however, looks very similar to cilantro. The only visible difference is that cilantro leaves have lots of rounded edges, while parsley leaves have more pointed edges.The easiest way to tell the difference is to smell the herbs themselves:
Cilantro has a very strong, bright scent; it may even smell a bit metallic.
Parsley's scent is very mild and is a bit like cut grass.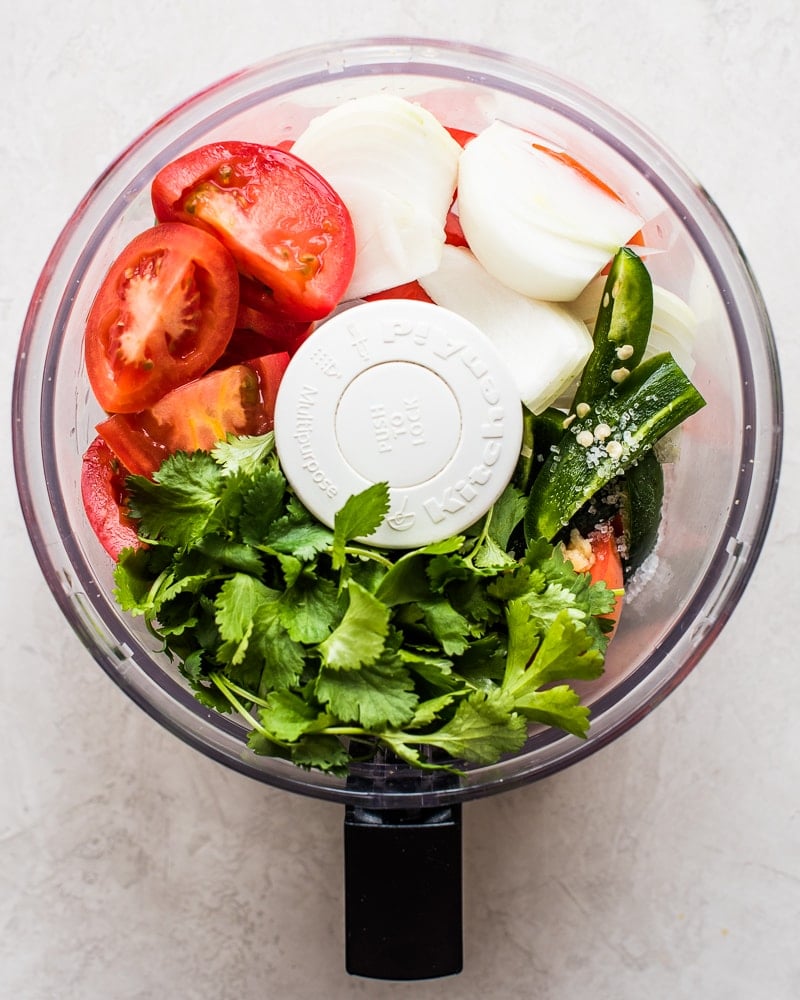 How to use cilantro
This herb is popular around the world and can be found in Mexican, Indian, Middle Eastern, and Asian cuisine. The most important step when working with cilantro is cleaning it.

Often there is dirt and grime trapped among the leaves, so be sure to rinse it well. 

To wash it, simply fill a bowl or sink with clean, cool water and swish the leaves around until all of the silt is removed. 

Pat dry with a paper towel or use a salad spinner. Then remove any leaves that have yellowed or wilted.
Which parts to use
Every part of the Cilantro can be used in cooking. Which parts of the plant to use will depend on what you're making.
Leaves: These are the most commonly used part, especially as a topping or in dishes that are prepared raw. That's because the leaves lose most of their flavor when cooked with heat.
Stems: Use the stems to add a crunchy texture to a dish or when blending in sauces. The stems have a similar flavor to the leaves, but it's much more potent and can withstand the heat of cooking.
Roots: These are best when they will be cooked long and slow like in stocks and broths. You may need to look for these at Asian markets, as they are typically removed for most American grocery stores.
Chopping cilantro
For best results, follow these tips when preparing your herbs. You can also find step-by-step instructions here.
Use a sharp knife – Dull edges will cause bruising, which makes the leaves wilt faster and affects overall flavor and presentation.
No moisture – Wet leaves will stick to the knife when they are cut. This dulls the blade, leading to bruising, and makes the overall cutting process take much longer.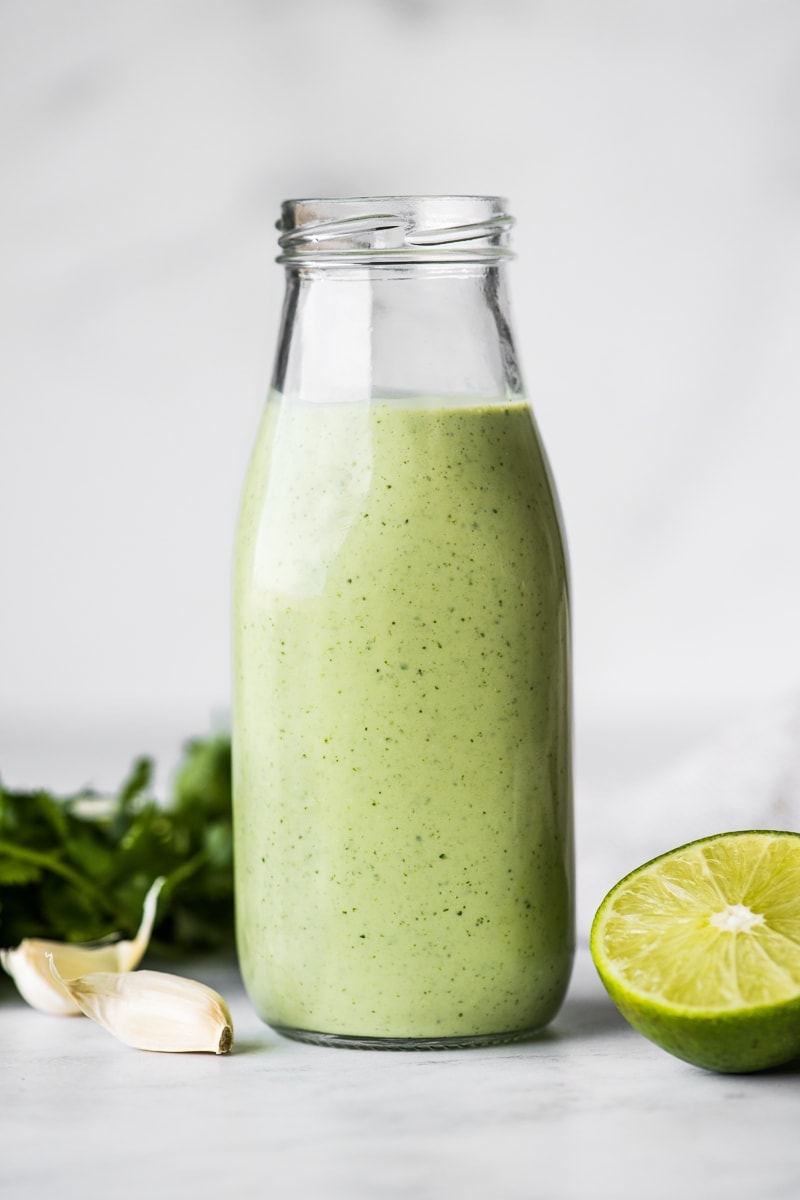 Storage
Cilantro doesn't last very long and can wilt quickly if not stored correctly in the fridge.
My favorite way of storing this herb is to place the stems in a glass of water (just like a bouquet of flowers) and then cover the whole thing loosely with a plastic bag. I usually use the same plastic bag from the grocery store. This will keep the herbs fresh for at least a week, or even up to two weeks if you're lucky!
Recipes made with cilantro
Because of the citrus notes, this herb pairs well with dishes containing lime, garlic, and ginger. It also compliments other herbs like mint and basil. 
In Mexican cooking, cilantro is often used as a garnish on dishes like enchiladas, tacos, and soups and stews.
If you have a large amount of cilantro that you need to use before it goes bad, here are some recipes that will put it to good use!