Jump to Recipe
These crispy, colorful, bite-size roasted radishes are great as a snack or side! Bonus, they're super simple to make and a great way to incorporate veggies into your meals.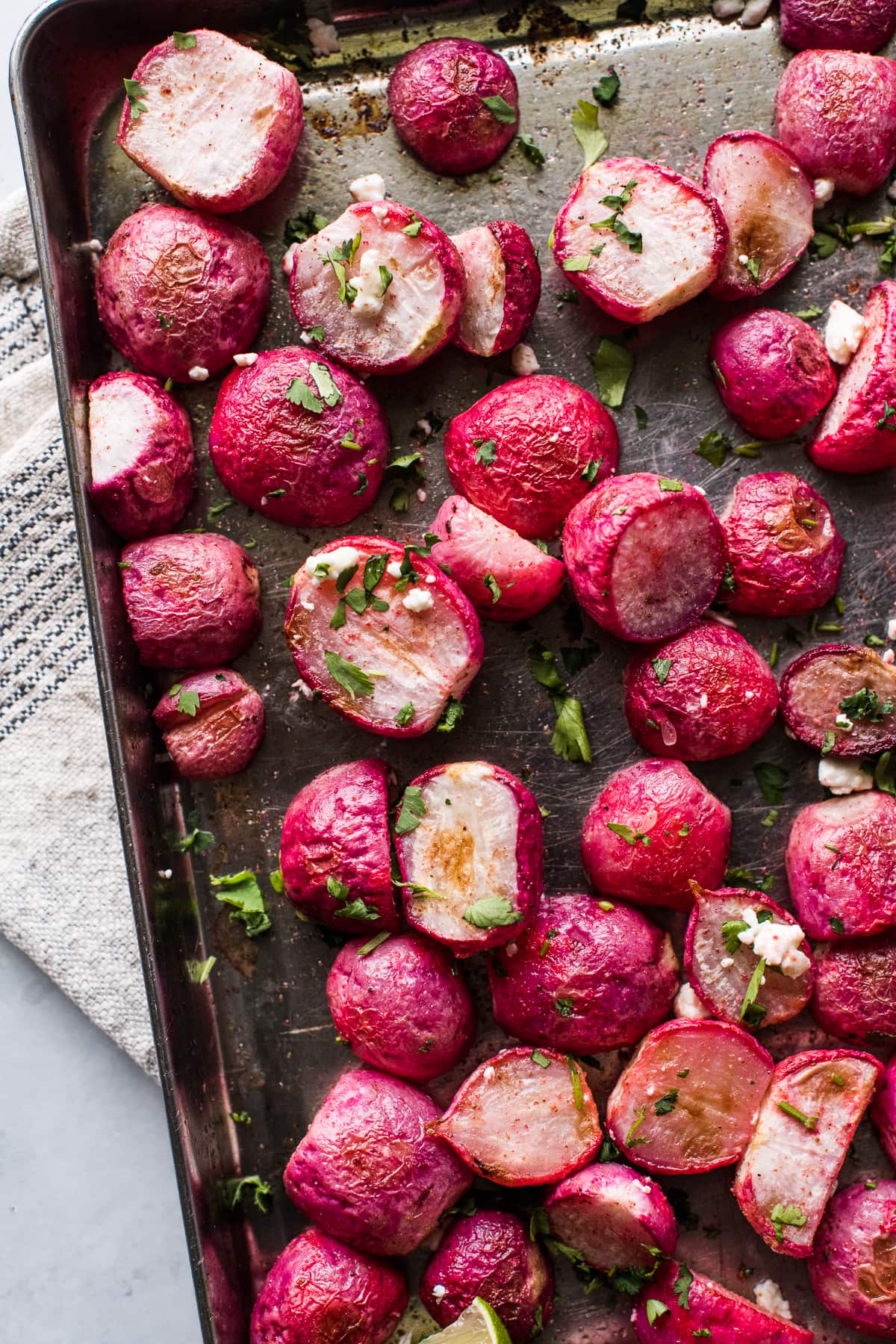 What Are Radishes?
Radishes are root vegetables that definitely pack a punch in flavor when you eat them raw. They're peppery and almost spicy, but mellow out into a sweet and toned-down heat when cooked or roasted. Plus they come in a variety of beautiful colors ranging from bright red, purple, and white.
In Mexican food, you'll most likely see radishes as a garnish for different meals like pozole verde, pozole rojo, sopes, or even pickled with jalapenos and carrots. You can easily add radishes to my pickled jalapeno recipe.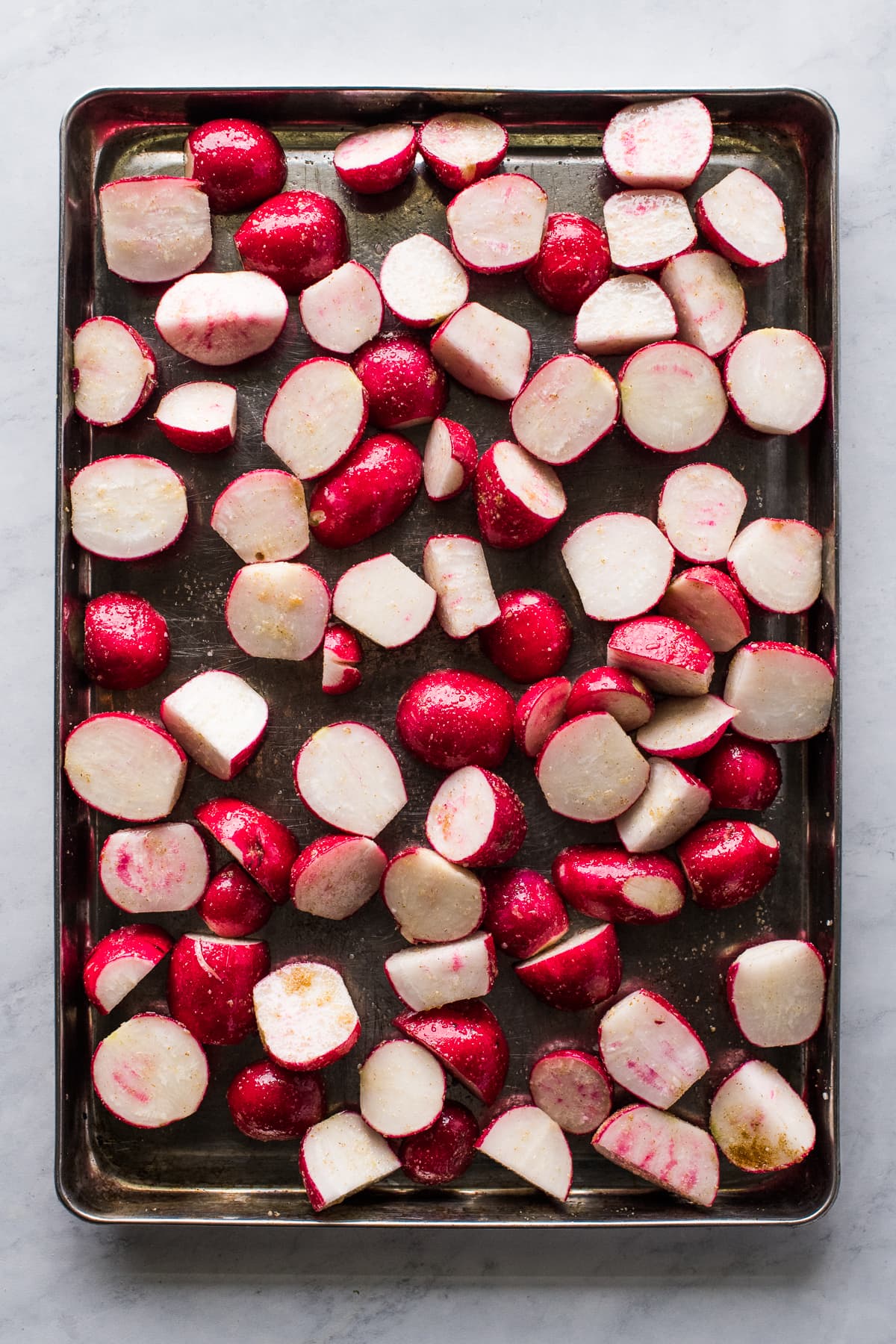 How To Roast Radishes
I'm a huge fan of easy oven recipes, and this one is definitely no exception.
To make these roasted radishes, you toss them in a large bowl with olive oil, salt, cumin, and garlic until they're fully coated.
Place them on a lined baking sheet cut side down and not overlapping. This helps each individual radish get nice and crispy and helps them cook evenly.
Place them in the oven for 40 minutes at 425℉, flipping halfway through.
When they're finished, toss them in a bowl with lime juice, chopped cilantro, and cotija cheese for even more great flavor!
Are Roasted Radishes Healthy?
Yes! When roasted, radishes actually have a texture very similar to roasted potatoes making them a great low-carb substitution.
Radishes are also naturally low carb, gluten-free, and paleo friendly!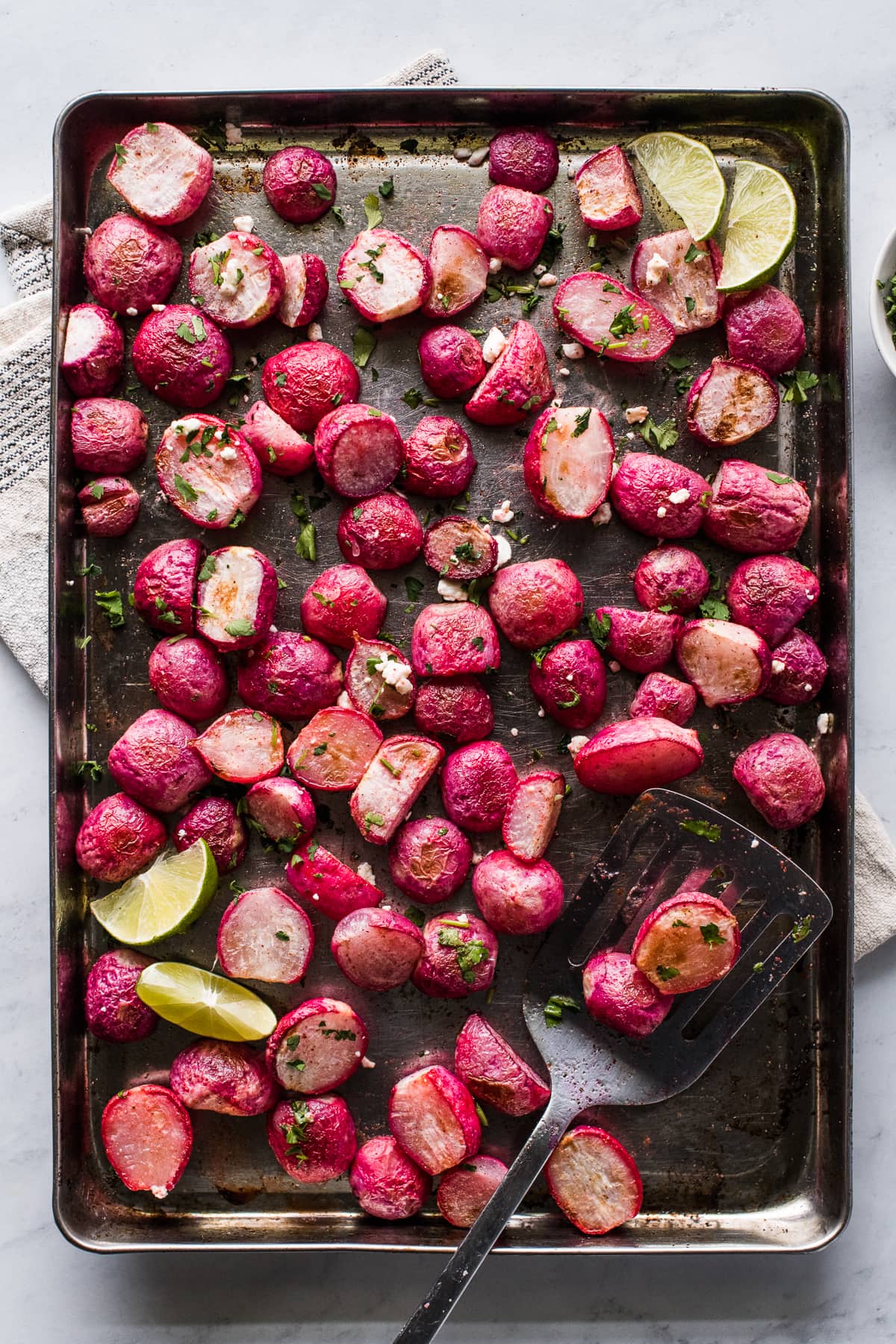 Recipe Tips and variations
To help each individual radish get nice and crispy on the outside, yet tender on the inside, I recommend arranging them on baking sheet cut side down and not overlapping. This will also help them cook evenly.
This recipe uses lime juice, cilantro, and cotija cheese as a topping, but you could use lemon juice, parsley, and some feta cheese instead for a different flavor twist.
Storing Roasted Radishes
To store, refrigerate them in an airtight container for 3-5 days.
To freeze, freeze them in a freezer bag or container for up to 3 months.
To reheat, heat them in a pan or skillet over medium-high heat with a drizzle of oil to help keep some of the crispness.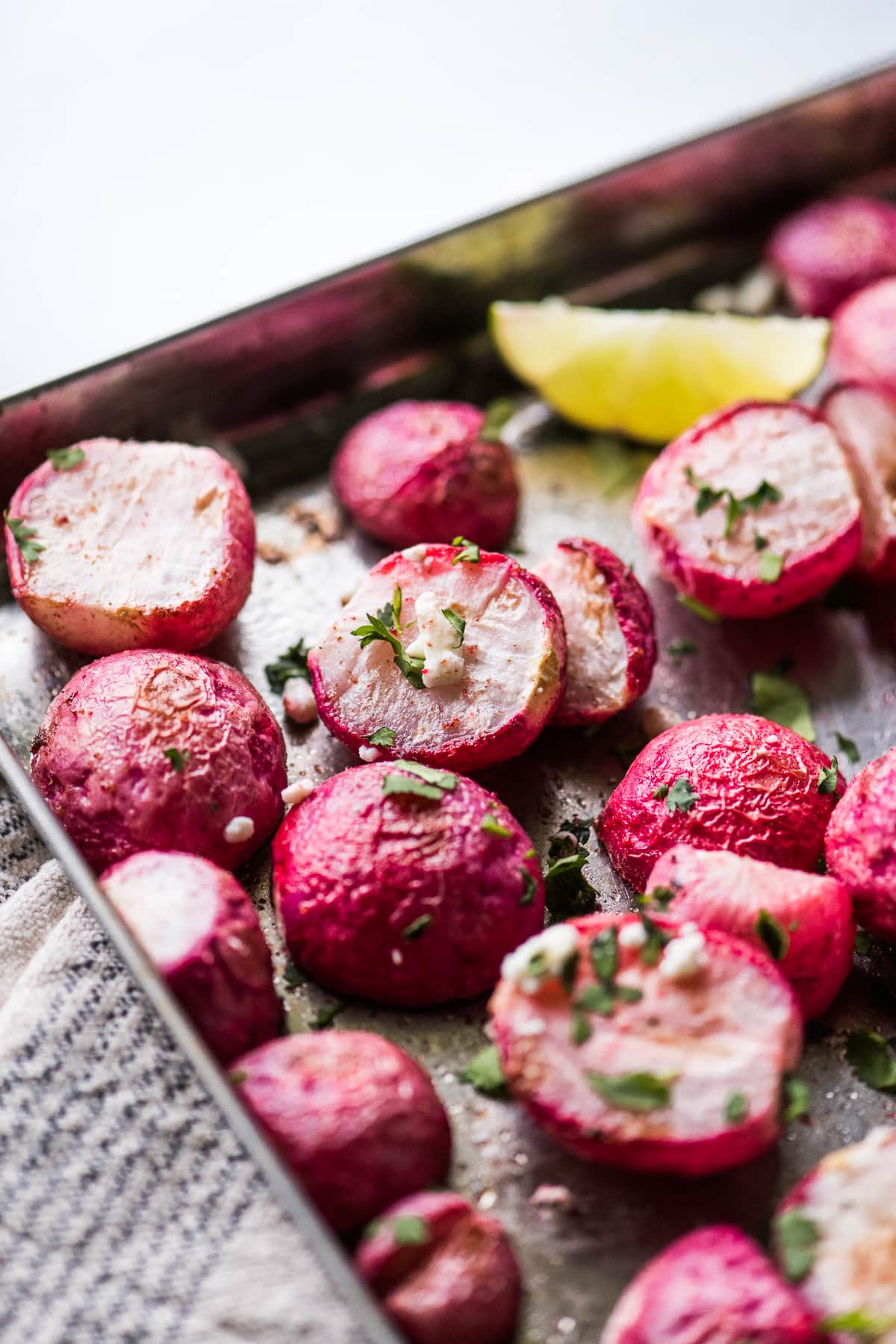 What To Serve With Roasted Radishes
They also get a tender pillowy center and crispy edges, perfect for snacking or sides. Pair them with these recipes for easy and healthy meals: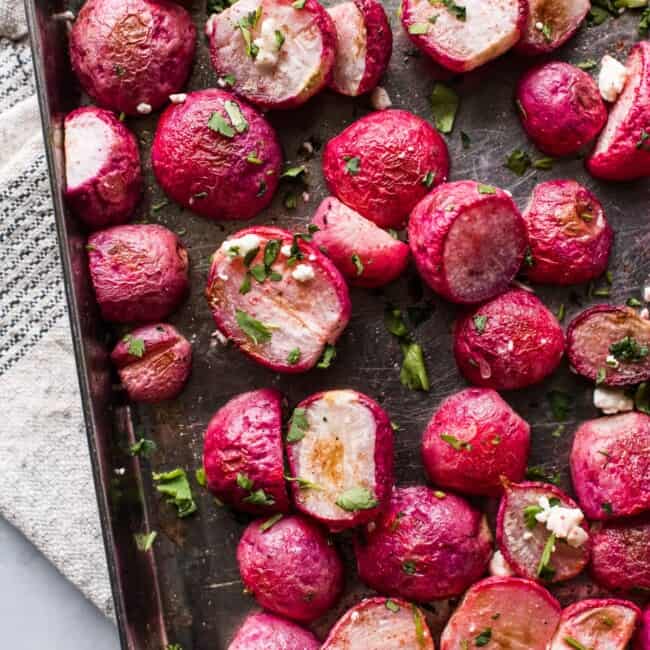 Prep: 10 minutes
Cook: 40 minutes
Total : 50 minutes
These easy roasted radishes are great as a snack or side! Roasted with olive oil and spices, then tossed with lime juice and cilantro!
Ingredients
2 pounds radishes, rinsed, stems removed, and halved
1.5 tablespoons olive oil
1/2 teaspoon kosher salt, plus more to taste
1/2 teaspoon ground cumin
1 teaspoon garlic powder
1 lime, juiced
1 tablespoon chopped cilantro
1 tablespoon Cotija cheese (or Feta cheese)
Instructions
Preheat the oven to 425°F. Line a large baking sheet with parchment paper and set aside.

Add the radishes, olive oil, salt, cumin, and garlic to a medium bowl. Toss together to fully coat.

Transfer the radishes to the prepared baking sheet and place the radishes cut side down and not touching one another.

Bake for 40 minutes, flipping halfway through.

Remove them from the oven and toss with lime juice. Sprinkle with cilantro and cotija cheese. Serve.
Video
Isabel's Tips:
Don't have cotija cheese? You can use crumbled feta instead.
Don't have lime juice? You can use lemon juice instead.
Don't have cilantro? You can use parsley instead.
Nutrition Information
Serving: 1serving Calories: 68kcal (3%) Carbohydrates: 7g (2%) Protein: 2g (4%) Fat: 4g (6%) Saturated Fat: 1g (5%) Polyunsaturated Fat: 1g Monounsaturated Fat: 3g Cholesterol: 3mg (1%) Sodium: 286mg (12%) Potassium: 375mg (11%) Fiber: 3g (12%) Sugar: 3g (3%) Vitamin A: 35IU (1%) Vitamin C: 26mg (32%) Calcium: 58mg (6%) Iron: 1mg (6%)