Jump to Recipe
Chicken tamales made from an easy masa tamale dough and stuffed with tender pieces of chicken and green chile verde sauce. Great for serving a crowd or freezing and reheating for later!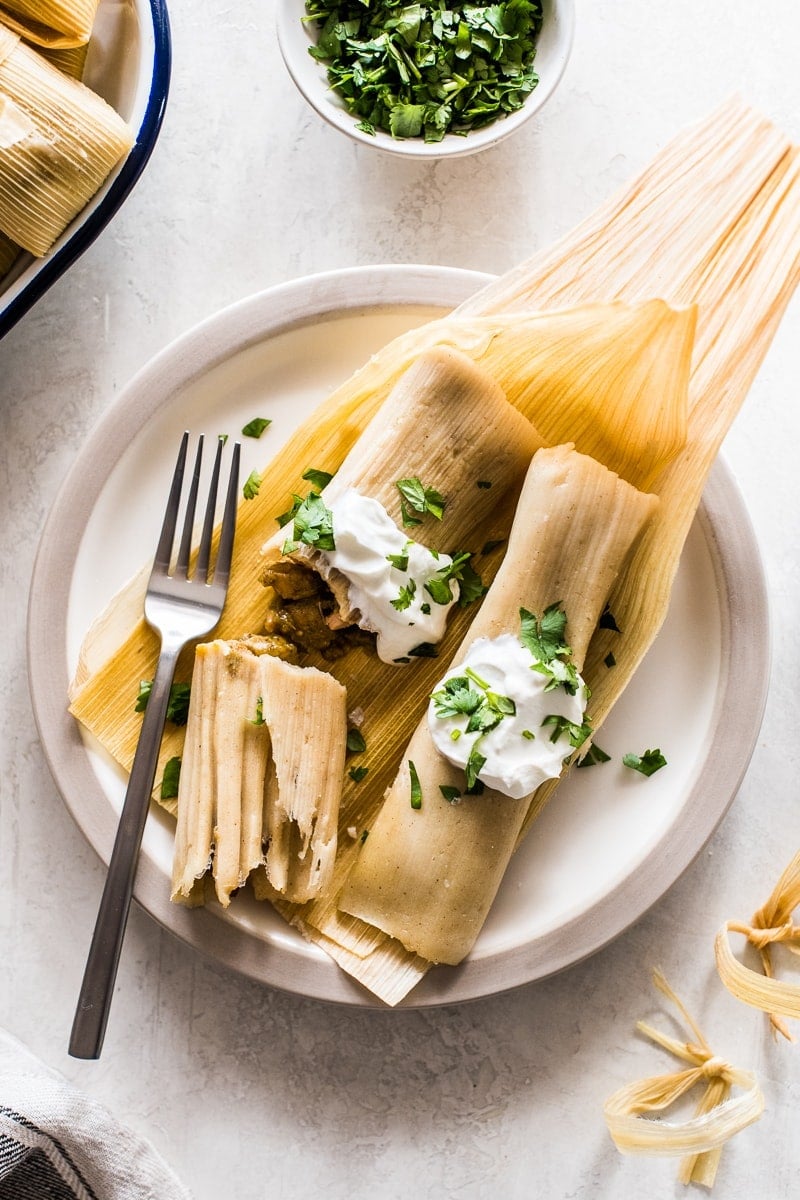 I am all about the tamales lately! I've shared my family's recipe for masa for tamales, Mexican pork tamales, tamales de rajas (vegetarian tamales), tamales de elote, and sweet tamales. Now it's time to dig into some chicken tamales made with a flavorful roasted green chile and tomatillo sauce.
The process of making chicken tamales is very similar to other kinds of Mexican tamales, except the filling is different. If you've made them before, that's amazing! Feel free to skim through some of this information and jump to the recipe.
However, if you've never made tamales before or need a refresher, here's everything you need to know to make them perfectly on the first try!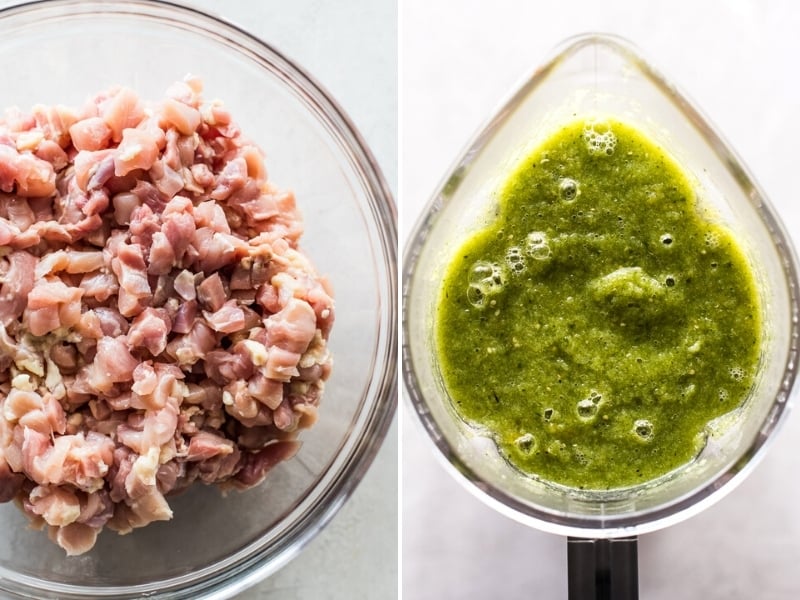 Ingredients You'll Need
Chicken Filling: For the filling, you'll need some boneless skinless chicken thighs and salt. I prefer using chicken thighs instead of chicken breasts because they're a little juicier and fattier. Breasts are easily overcooked and run the risk of being too dry.
Green Chile Sauce (Chile Verde): For the green chile sauce, you'll need some tomatillos, jalapeno peppers, poblano peppers, a serrano pepper, an onion, a garlic clove and some salt.
Masa Tamale Dough: To make the tamale dough, you'll need some masa harina (I used Maseca), canola oil (or other neutral-tasting oil like corn oil or even avocado oil), chicken broth, baking powder and salt. Most traditional tamale recipes use lard or shortening like Crisco, but my family has always made it using canola oil and it tastes great! The masa isn't overly greasy and it's still very flavorful and fluffy.
Corn Husks: For this recipe, you'll need about 50 corn husks (about 1/2-3/4 of a pound) to spread out your masa and then fill it with the chicken filling. You can find dried corn husks at most Mexican grocery stores or you can order them online.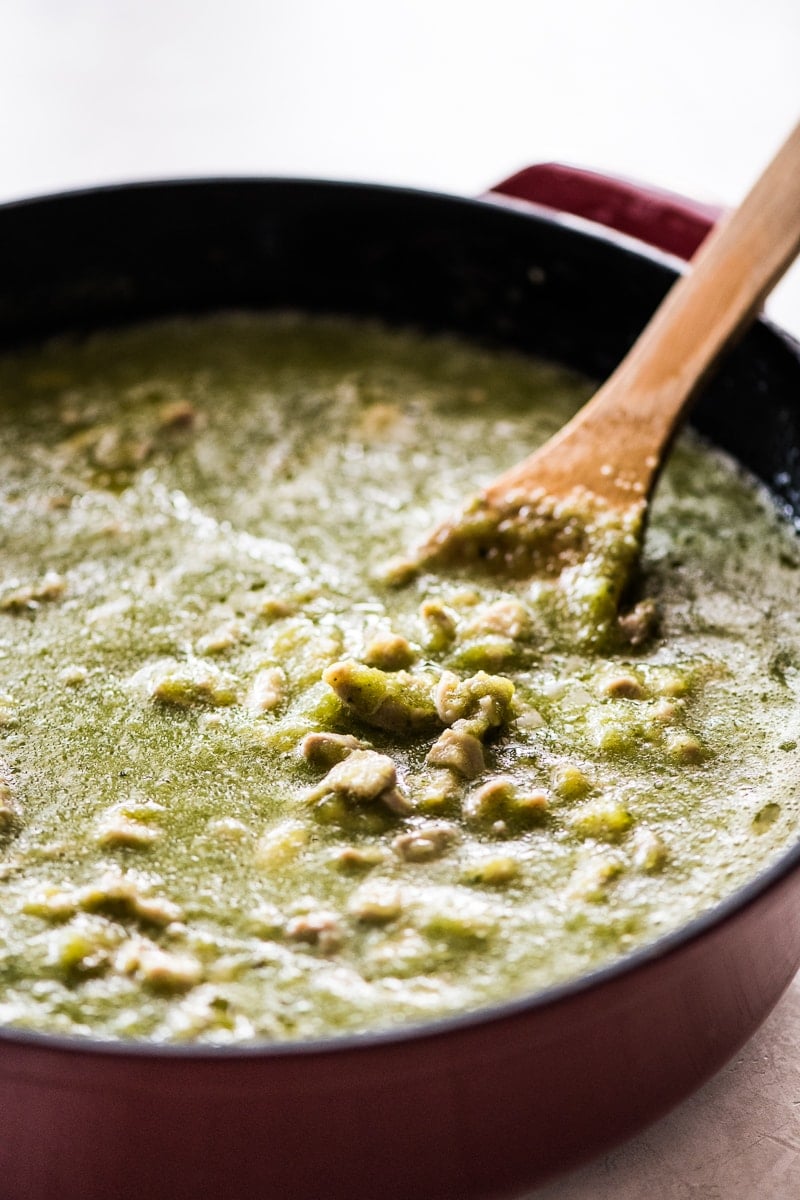 How to Make Chicken Tamales
Prep the corn husks. First you'll need to soak the corn husks in hot water since they're sold dried. Soaking them for an hour or so before using them will help soften them up and make them very pliable, which is what you want when it's time to assemble the tamales.
Make the green chile sauce (chile verde). Before blending all the ingredients together, you'll need to roast the tomatillos and peppers to soften them up and bring out some of their sweet and roasted flavors. If you don't want the sauce to be spicy, remove and discard the seeds and veins after roasting them. I would also recommend leaving out the serrano pepper completely since that is meant to add some spice to the dish. (This sauce mixture is very similar to my Chile Verde.)
Cook the chicken. Cut the chicken into very small pieces like shown in the photos above. The chicken is almost minced. This helps the chicken cook and get tender very quickly, cutting down on the cooking time.
Make the masa dough. For the dough, you need to mix masa harina with some oil and other ingredients. I like using my hands so I can feel the texture of the dough, but you can also use a stand mixer if you prefer.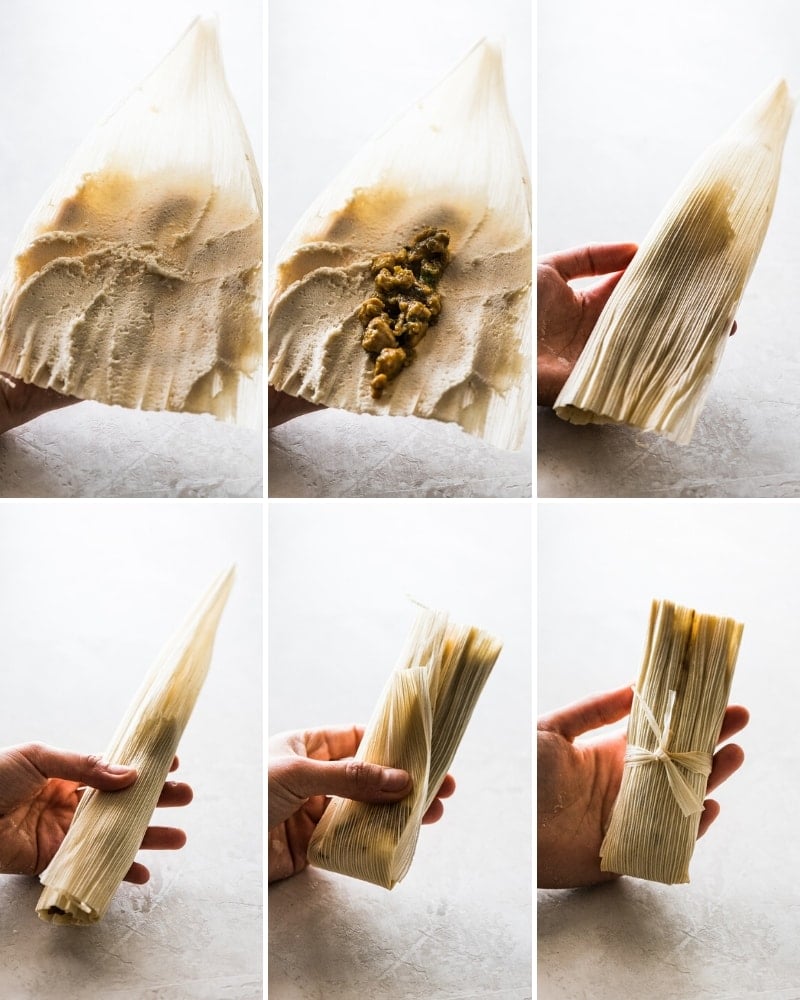 How to Assemble Chicken Tamales
Assembling tamales is a simple and easy process, but it's also very time-consuming. Invite your family and friends over to help if possible and make it fun activity!
Dry the corn husks. Once you're ready to start assembling, remove the corn husks from the soaking water and pat them dry with paper towels. Grab a husk that's a fairly good size and sits comfortably in the palm of your hand. Each corn husk has a smooth-ish side and a rigid side. Make sure the side that is the smoothest is the one facing up.
Spread the masa on the corn husks. Grab a large spoonful of masa and place it in the middle of the corn husk. As best you can, spread the masa onto the bottom half and a little bit of the top half using the back of your spoon (see photos above). You want to have a thin layer of masa but not thin enough that it's transparent and rips. If spreading the masa is too difficult when holding the corn husk in your palm, try placing it on a flat surface like the table or a plate. Don't get discouraged if spreading the masa is difficult at first – believe me, I get it! Just keep trying and you'll get the hang of it.
Fill with green chile chicken. Place a spoonful of chicken filling and spread it vertically in the middle of the corn husk. You only need a little (probably less than you think) so try not to overstuff it or the filling will ooze out when you fold it.
Fold. Fold the long edges of the corn husk together like a book, then again once more. Fold in the pointy edge so that only one side of the corn husk is open. Secure the folded edge with a tie made from a thin strip of corn husk. (Doing this is totally optional and isn't necessary. Since the tamales are cooked standing up with the open side facing up, the filling doesn't fall out.) I personally like tying them because the presentation is nice (especially for photos), but my family never ties them so feel free to leave them untied and save some time!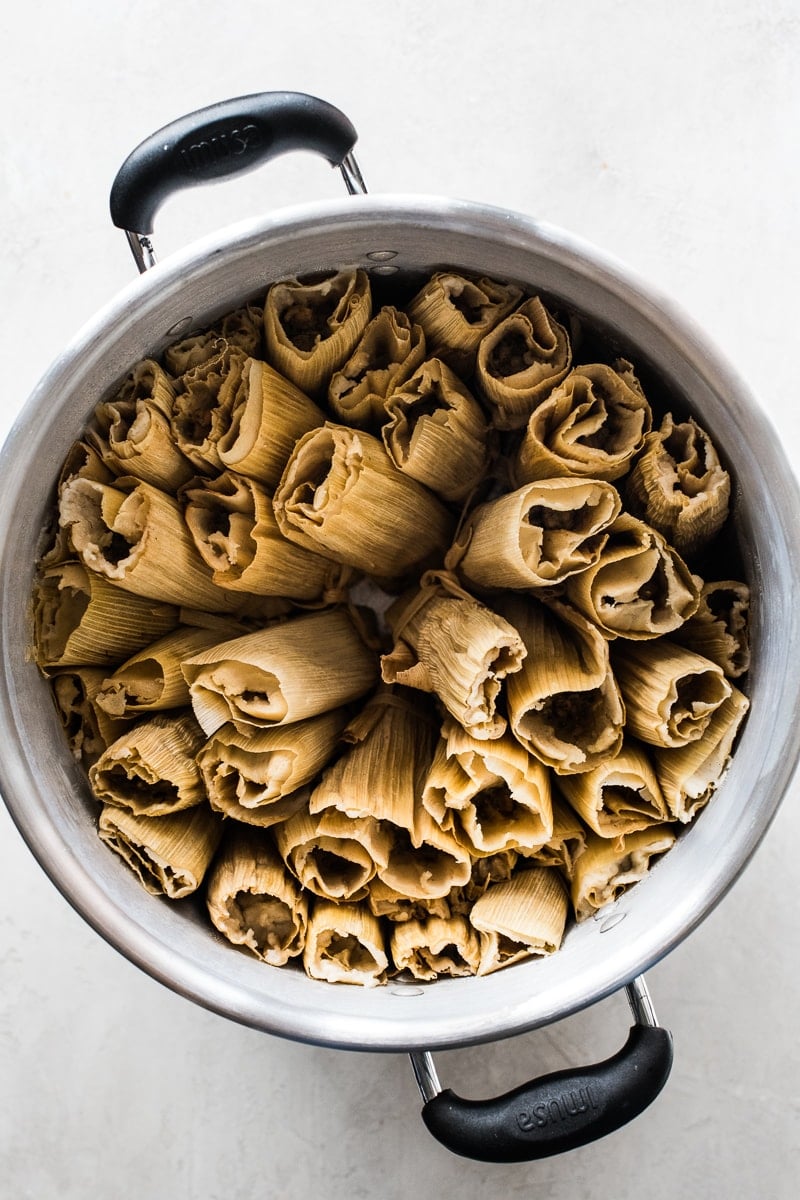 How to Cook Chicken Tamales
To cook the chicken tamales, you'll need a steamer pot. Here's the exact steamer pot that I have. It's the perfect size to fit the amount made in this recipe (about 45-50). I actually have two steamer pots since my family always makes large batches!
To steam, simply fill the bottom of the pot with water, insert the strainer and then stand the tamales in the pot with the open side facing up.
It can be tough to stand them up at first because they tend to fall over. I find that leaning a few against the side of the pot while holding them in place with one hand and adding more tamales with other hand usually gets the job done. The last 10 or so tamales can be a tight fit. Just squeeze them in as best as you can and they'll be just fine!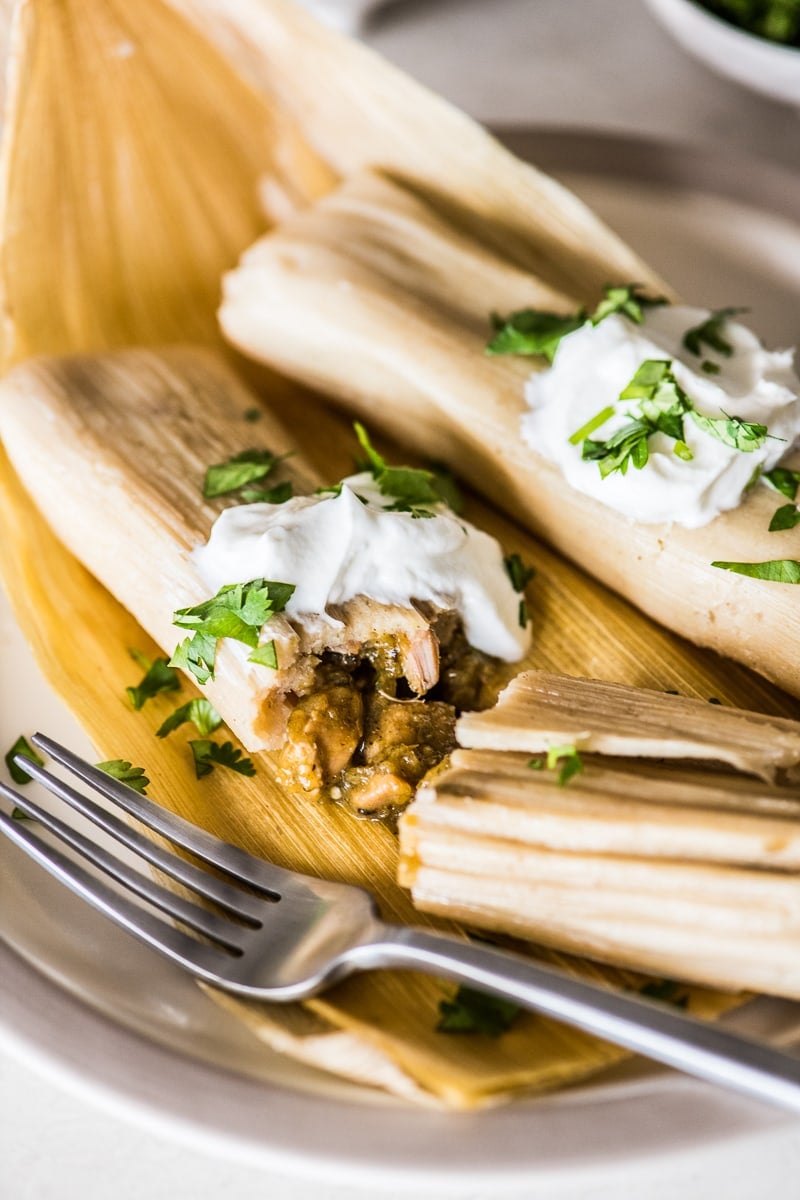 Tips for the Best Chicken Tamales
Prep ingredients ahead of time. The chicken, green chile sauce and masa can all be made ahead of time up to 3 days in advance. I recommend doing this (especially if you're making them by yourself) so the process isn't overwhelming. Store the prepped ingredients in an airtight container in the fridge until ready to use!
Ask for help and make it a party! Believe it or not, there's actually a word for throwing a tamale-making party – tamalada! Making tamales from start to finish in one day can be a lot, so invite some friends and family over to help!
Make a large batch and freeze them for later. Tamales can be a lot of work, so why not make a big batch and freeze the leftovers for later? To freeze, place the cooked tamales in an airtight container or zip-lock bag and freeze them for up to 6 months. To reheat, you can re-steam them for 15 minutes in the steamer pot, heat them in the oven for 10 minutes at 350°F or in the microwave for 1-2 minutes.
Serving Suggestions
Tamales are often a meal by themselves, but they're commonly accompanied by some delicious drinks! Here are a few serving suggestions: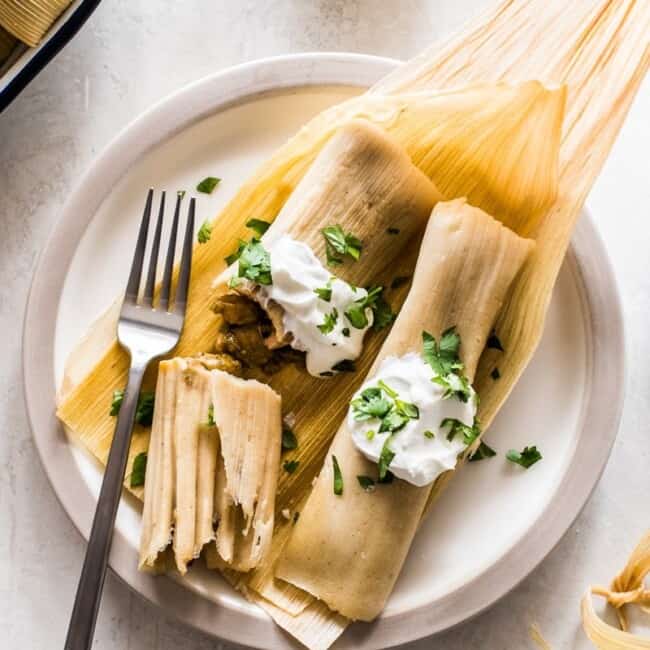 Prep: 2 hours 55 minutes
Cook: 4 hours 15 minutes
Total : 7 hours 10 minutes
Chicken tamales made from tender pieces of chicken, green chile verde sauce and an easy masa tamale dough. Great for a crowd and freezing for later!
Ingredients
Instructions
Prep the corn husks: Add the corn husks to a large bowl or pot. Pour enough hot water over the corn husks to cover them completely. Cover the bowl with aluminum foil and let them soak for 1 hour to soften them up.

Roast the chiles: Spray a large baking sheet with nonstick cooking spray or grease with oil. Place the tomatillos, jalapenos, poblanos and serrano peppers on the baking sheet and place under broiler. Broil on high for 10 minutes, turning the tomatillos and peppers over halfway through.

Remove the skin: Remove the baking sheet from the broiler and cover with aluminum foil or plastic wrap. Let it sit for 10 minutes. Uncover and remove as much of the skin from the peppers and tomatillos as you can. At this point, you can also remove the seeds from any of the peppers if you don't want it too spicy. 

Make the green chile sauce: Add the roasted tomatillos, all the peppers, onions, garlic, salt and water to a large blender. Blend until smooth. Set aside until ready to use.

Cook the chicken: Heat oil in a Dutch oven or large pot over medium-high heat. Add chicken, season with salt and cook for 15 minutes, stirring occasionally, until chicken is no longer pink.

Simmer the chicken: Add green chile sauce and bring to a boil. Once boiling, reduce to a simmer and cook uncovered for 15 more minutes. Taste and season with more salt if necessary. The chicken should be tender and cooked through. If it's still a little tough, cook for another 15 minutes. Remove from heat and mix in the lime juice. Set aside.

Mix the masa harina: In a very large mixing bowl or pot, add masa harina, salt and baking powder. Combine and mix with your hands.

Add the oil: Add canola oil and mix together, working the dough through your fingers until everything is well combined and incorporated. The dough should feel a little crumbly, almost like wet sand, and should lightly hold it's shape when pressed together.

Add the broth: Add broth and mix for about 3-5 minutes until the dough is fairly wet and well saturated. The dough should be soft and spreadable like thick hummus. If the dough is too dry, add more broth. If it's too wet, add more masa harina.

Finish prepping the corn husks: Drain the water from the corn husks and pat them dry. Lay them flat onto a baking sheet for easy access.

Spread the masa onto corn husks: Grab a corn husk and identify which is the smooth side and which is the side with ridges. Place the smooth side face up into your palm or on a plate. Using a large spoon, grab a heaping spoonful of masa and place it in the middle of the corn husk. Using the back of the spoon, spread the masa in a thin layer to create a rectangle shape, leaving the top 1/3 of the corn husk empty. (see post above for step-by-step photos)

Add the filling: Using a different spoon, place about one tablespoon or so of the green chile chicken into the center of the corn husk. Don't put too much filling or it will overflow when you close it.

Fold: Fold together the long edges of the corn husk like a book, and then fold it once more. Fold the pointy edge over so that only one side of the corn husk is open and exposed, and secure the folded edge with thin strip of corn husk by tied a knot around the tamale. If you don't want to go to the trouble of tying a knot around each tamale, you don't have to.

Prepare the steamer pot: Fill the bottom of the steamer pot with water and cover with the steamer insert. Place the tamales in the steamer with the open end facing up, making sure to lean them against the side of the pot so they don't fall down.

Steam: Cover tightly with the lid and place steamer over medium-high heat. Cook for 3 1/2 hours, or until the masa is fully cooked. To check and see if it's cooked, carefully remove a tamale and open it up. The masa should easily separate from the corn husks and it should be fairly firm. When ready to eat, remove tamales from steamer, let sit for 3 minutes to cool, then serve.
Isabel's Tips:
*The recipe makes 45-50 tamales and fits in a 28-quart steamer pot or larger. Make ahead – The green chile chicken and masa can be made up to 3 days in advance. Store it in an airtight container in the fridge until ready to use. To freeze – Place cooked and cooled tamales in an airtight container or zip-lock bag and freeze for up to 6 months. To reheat – Re-steam them for 15 minutes in a steamer pot, heat them in the oven for 10 minutes at 350°F or in the microwave for 1-2 minutes on high.
Nutrition Information
Serving: 1chicken tamale Calories: 201kcal (10%) Carbohydrates: 18g (6%) Protein: 6g (12%) Fat: 12g (18%) Saturated Fat: 1g (5%) Polyunsaturated Fat: 3g Monounsaturated Fat: 6g Trans Fat: 0g Cholesterol: 20mg (7%) Sodium: 183mg (8%) Potassium: 27mg (1%) Fiber: 2g (8%) Sugar: 1g (1%) Vitamin A: 1IU Vitamin C: 10mg (12%) Calcium: 20mg (2%) Iron: 3mg (17%)
Make a Large Batch!
Tamales are typically made in large batches for celebrations, holidays and special occasions in Mexican culture. When my family and I make tamales, we usually double the above recipe. Here are those ingredient amounts for your convenience:
Amount for double the recipe (about 100 tamales)
For the green chile (chile verde)
1 pound tomatillos
3 jalapenos
3 poblanos
1 serrano
2 medium onions
2 cloves garlic
1 tablespoon coarse kosher salt
2 cups water
For the chicken
5 pounds boneless skinless chicken thighs
2 tablespoons cooking oil
1 teaspoon coarse kosher salt
2 tablespoons lime juice
For the tamale dough
16 1/2 cups masa harina (a whole 4.4 lb bag Maseca)
3 1/2 tablespoons table salt
2 tablespoon baking powder
3 1/2 cups canola oil
13 cups broth