Jump to Recipe
A homemade chorizo recipe that's easy to make and more flavorful than store bought! This highly-seasoned Mexican sausage is made from ground pork, spices and seasonings, and other kitchen staples like garlic and vinegar.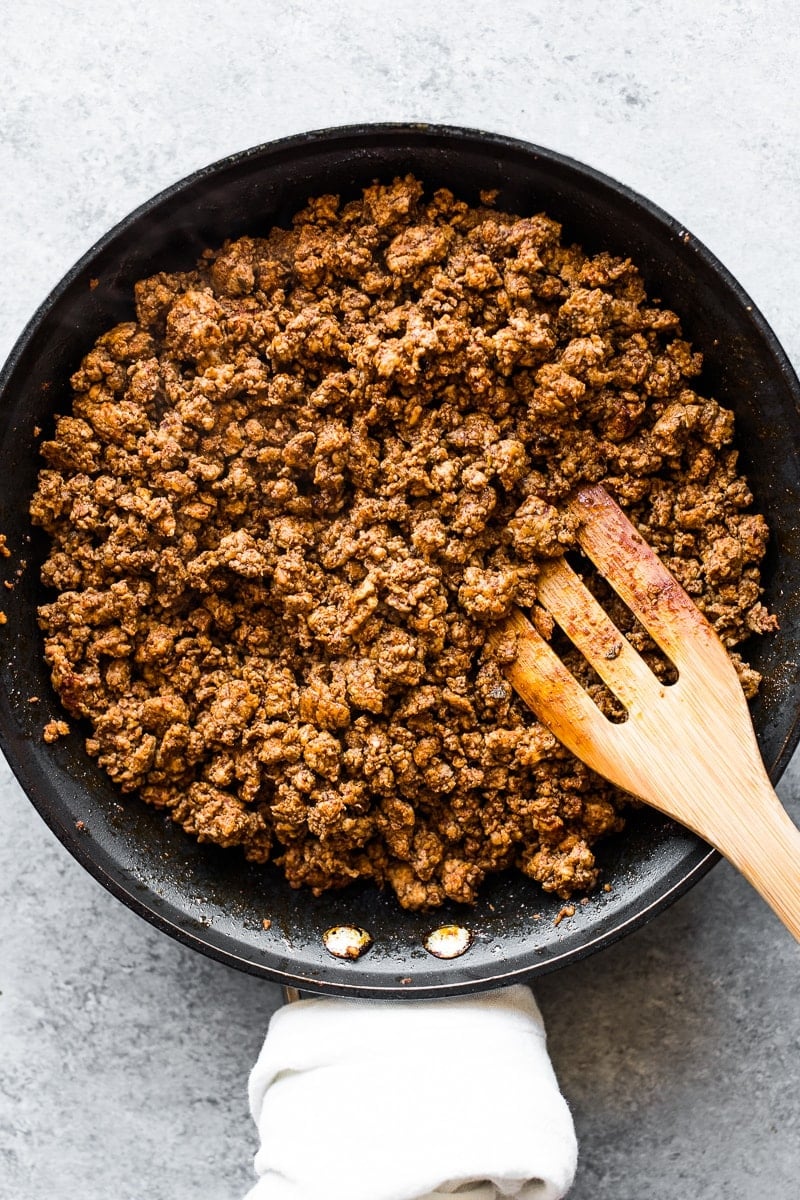 Mexican chorizo is one of the most flavorful sausages you can buy. Typically made from ground pork or a mixture of pork and beef, it's used in many Mexican recipes to add a punch of flavor since it's so highly seasoned!
Unlike Spanish chorizo, Mexican chorizo is uncured and must be cooked first. It can be found in many grocery stores either in the meat section or in the refrigerated aisles with the link sausages.
Depending on where you live, Mexican chorizo may not be easy to find.
Luckily, this chorizo recipe is easy to make, way more flavorful than store-bought, and also healthier!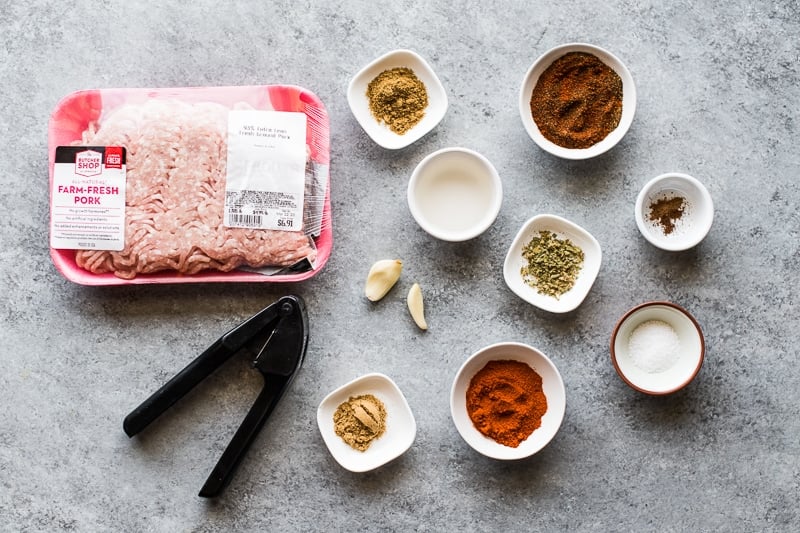 Ingredients
Ground Pork: You can use regular, lean or extra-lean ground pork. I used extra-lean and the end results were delicious! If you want your chorizo very fatty (which is typically what store-bought chorizo is like), you can use regular.
Chili Powders: Traditionally, chorizo is made from rehydrating dried chiles like ancho and guajillo and then pureeing them into a paste. However, I wanted to keep things extra simple, so I used a mix of ancho chili powder and regular chili powder instead. Both are widely available in most grocery stores nowadays in the spice aisle.
Paprika: In addition to chili powder, I used a good amount of paprika to give the chorizo that signature red color.
Mexican Spices: You'll also need some ground cumin, dried oregano (I recommend using Mexican oregano if you have it), and ground coriander.
Garlic: 2 cloves of freshly minced garlic is all you need. You can mince it by hand or use a garlic press if you have one.
Cinnamon and Cloves: Just a pinch of these ground spices goes a long way. They pair beautifully with the chili powders and Mexican spices and round out all the flavors.
Salt: Store-bought chorizo is often on the salty side, which is why I love it so much! I cut down on the salt a little bit since saltiness if often personal preference. Be sure to taste and add more salt if you need to once it's cooked.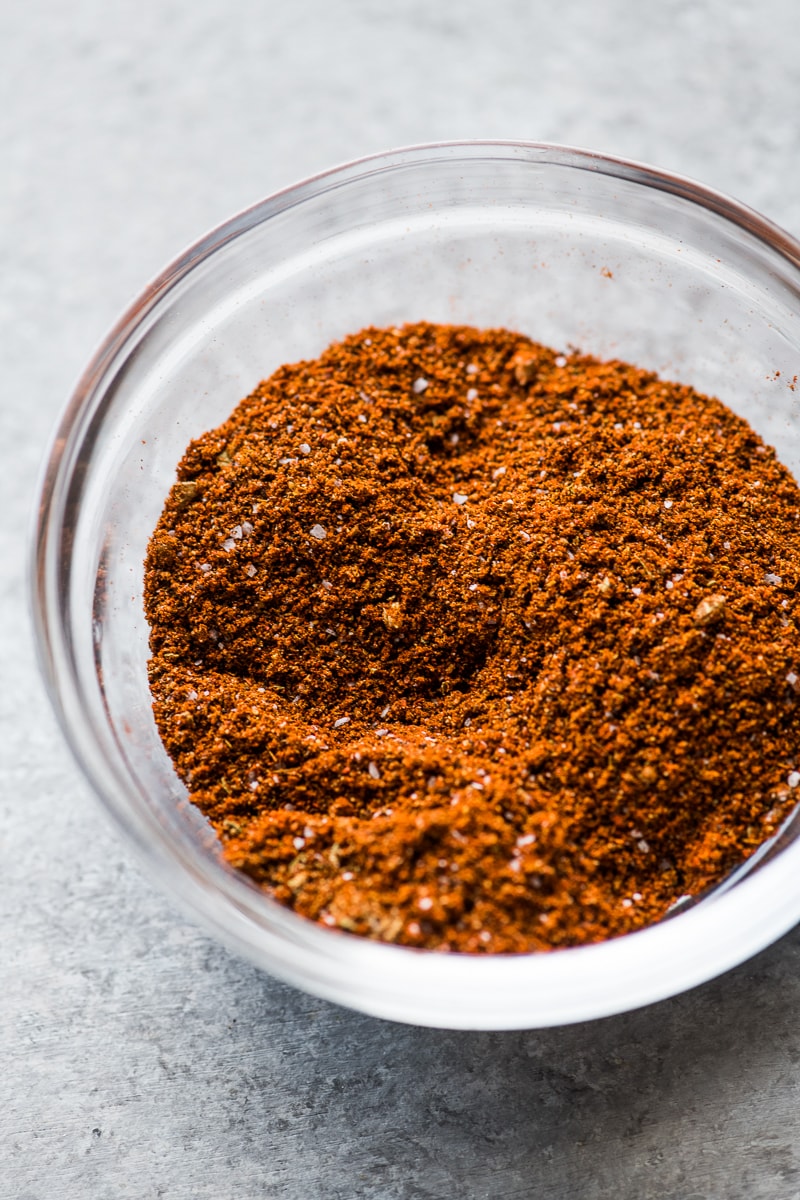 How to make homemade chorizo
First, mix together all the dried spices in a small bowl.
This will help make sure all the spices are evenly distributed so that you get the same flavor with each bite of chorizo.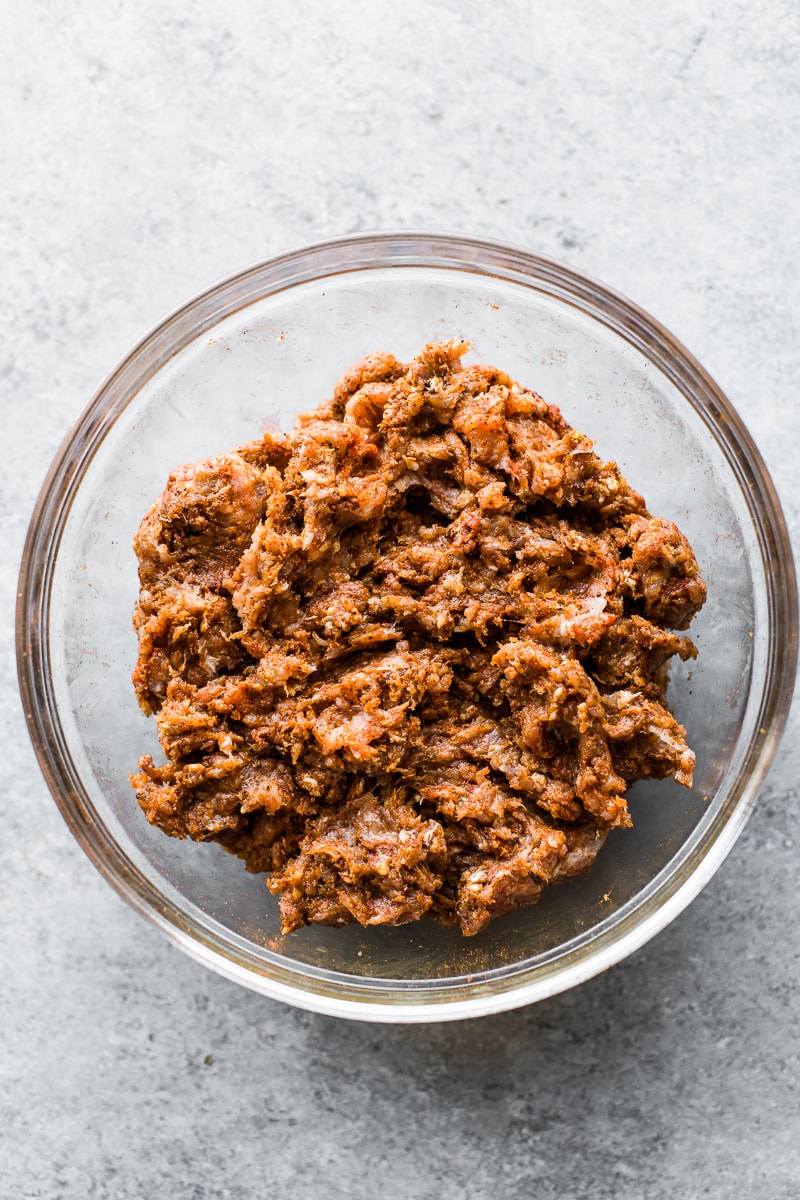 Next, combine the ground pork, minced garlic, vinegar, and chorizo spices in a large mixing bowl.
Use your hands to really mix everything together. Every inch of ground pork should be seasoned.
That's it! You can use it immediately, just like you would any store-bought Mexican chorizo.
Cooking and storage
To cook chorizo, saute it in a large skillet over medium-high heat for about 8-10 minutes until it's fully cooked through. You can break it up into small pieces with your spatula while it's cooking like other ground meat recipes, or you can form little chorizo patties instead.
If you don't want to use it right away, it can be stored in an airtight container like a zip-top bag for up to 2 days in the refrigerator or 3 months in the freezer.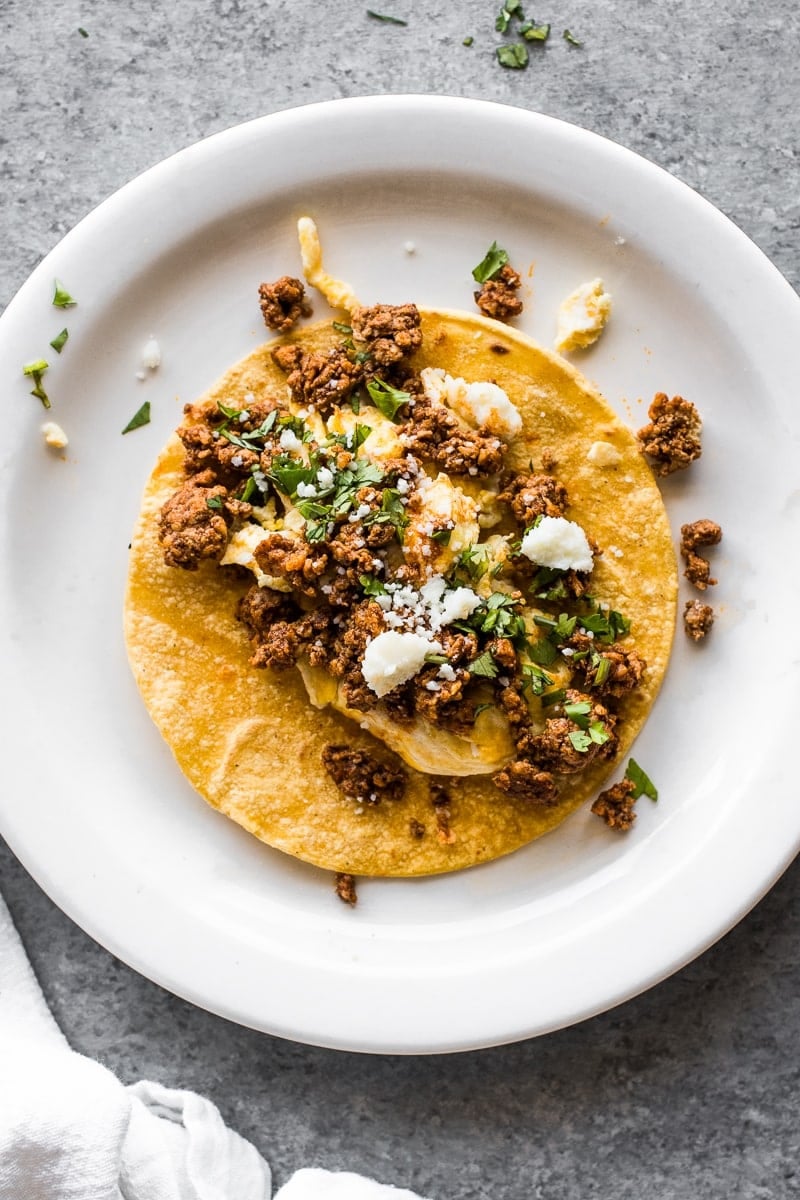 Ways to use chorizo
Chorizo can be used in so many Mexican recipes and is a beloved ingredient in my house. Here are a few of my favorite ways to use it:
Cooked with eggs: A classic Mexican breakfast is chorizo and eggs in which the chorizo is cooked, then whisked eggs are added and scrambled together with the sausage.
Tacos: Use it as a filling in classic hard shell tacos or in these breakfast tacos alongside potatoes and eggs.
Breakfast Hash: Combine with breakfast potatoes and fried eggs for an easy breakfast hash.
Appetizers and party food: Chorizo makes the perfect topping for nachos, pizza, queso fundido, or mixed into frijoles puercos and queso dip!
Soups and stews: Use it in chilis, stews, and hearty soups to add a boost of flavor.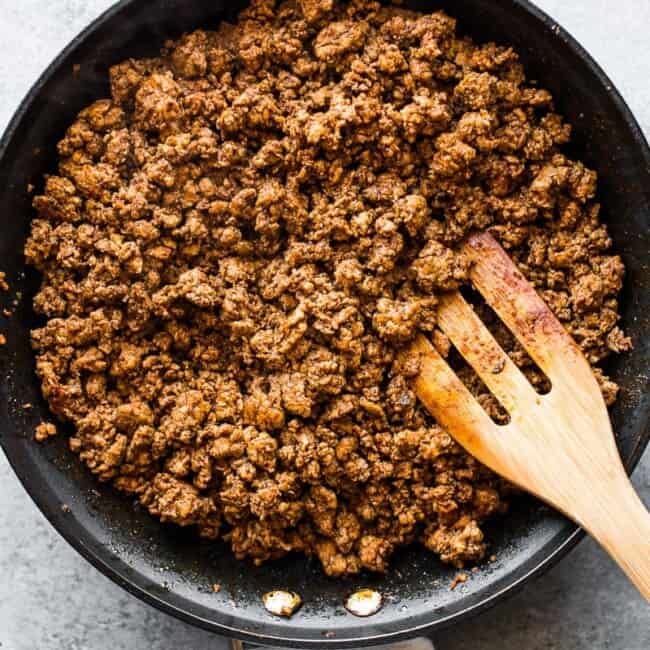 Prep: 5 minutes
Cook: 10 minutes
Total : 15 minutes
A homemade chorizo recipe that's easy to make and more flavorful than store-bought chorizo! This highly-seasoned Mexican sausage is made from ground pork.
Instructions
In a small bowl, add paprika, ground cumin, ancho chili powder, regular chili powder, dried oregano, dried coriander, coarse kosher salt, ground cinnamon and ground cloves. Mix together to combine.

In a large bowl, add ground pork, the combined chorizo seasonings, white vinegar and minced garlic. Mix everything together with your hands until well combined.

Use immediately in your favorite recipe or store for later.
Video
Isabel's Tips:
To store: Transfer chorizo sausage to an airtight container or storage bag. Refrigerate for up to 2 days or freeze for up to 3 months until ready to cook. To cook: Add chorizo to a large nonstick skillet over medium-high heat. Saute for 8-10 minutes, breaking up the meat with your spatula, until fully cooked through. Nutritional estimate based on extra lean ground pork.
Nutrition Information
Serving: 1/6th of recipe Calories: 135kcal (7%) Carbohydrates: 4g (1%) Protein: 14g (28%) Fat: 8g (12%) Saturated Fat: 15g (75%) Cholesterol: 40mg (13%) Sodium: 401mg (17%) Potassium: 141mg (4%) Fiber: 2g (8%) Sugar: 1g (1%) Vitamin A: 2515IU (50%) Vitamin C: 1mg (1%) Calcium: 23mg (2%) Iron: 2mg (11%)