Have a pile of dried and canned beans in your pantry that need some love? Try these 25 bean recipes featuring pinto beans, black beans, great northern beans, cannellini beans, red kidney beans and more!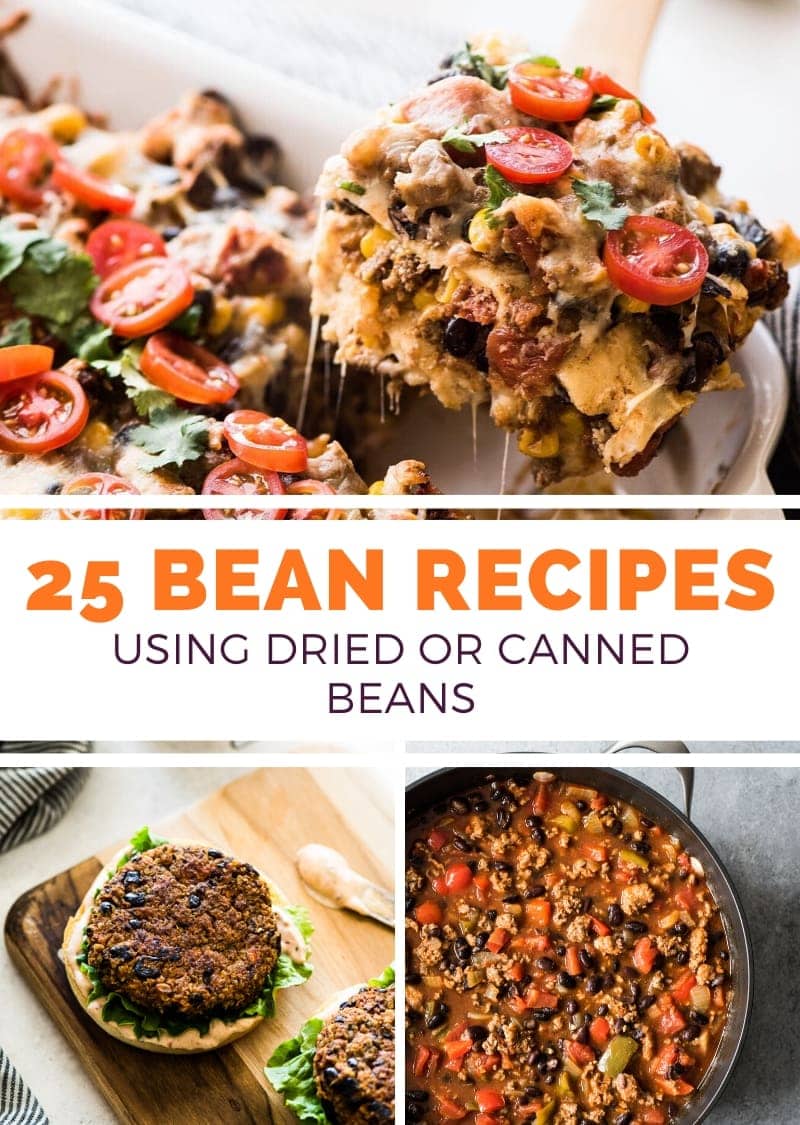 We love beans here on Isabel Eats! I grew up eating them as a kid every single day and I'm still not tired of them. Not only are they inexpensive and affordable, but they're also healthy, full of fiber and a great source of protein.
They're great non-perishable food items that last a really long time in your pantry and can be cooked a million different ways. They can easily be incorporated into salads, soups, chilis, dips, salsas, tacos, sides, burgers and more.
Bean Measurements and Conversions
2 cups of dried beans = 1 pound of dried beans
1 pound dried beans = 6 to 7 cups cooked beans
1 cup dried beans = 3 cups of cooked beans
1/2 cup dried beans = one 15-ounce can of beans
1 1/2 cups cooked beans = one 15-ounce can of beans
One thing to remember is that the above measurements and conversions are a great starting point. They are approximate amounts and some beans are larger than others and can yield slightly different amounts when cooked.
25 Bean Recipes To Make Today!
Need a little bean recipe inspiration? I've got you covered. Without further ado, here are the some of my favorite recipes to make using dried and canned beans!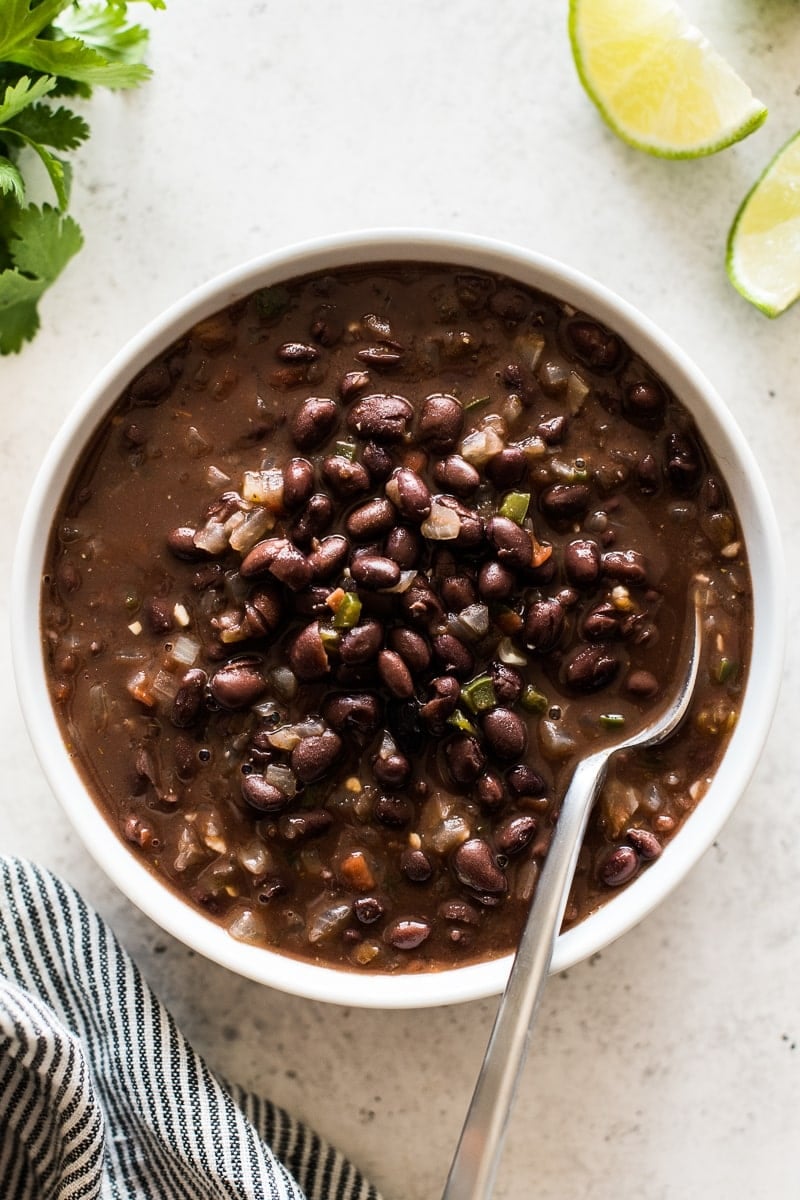 An easy way to cook and season canned black beans to make a delicious and healthy side dish in no time! Serve with Mexican and Tex-Mex favorites like tacos, enchiladas and burritos.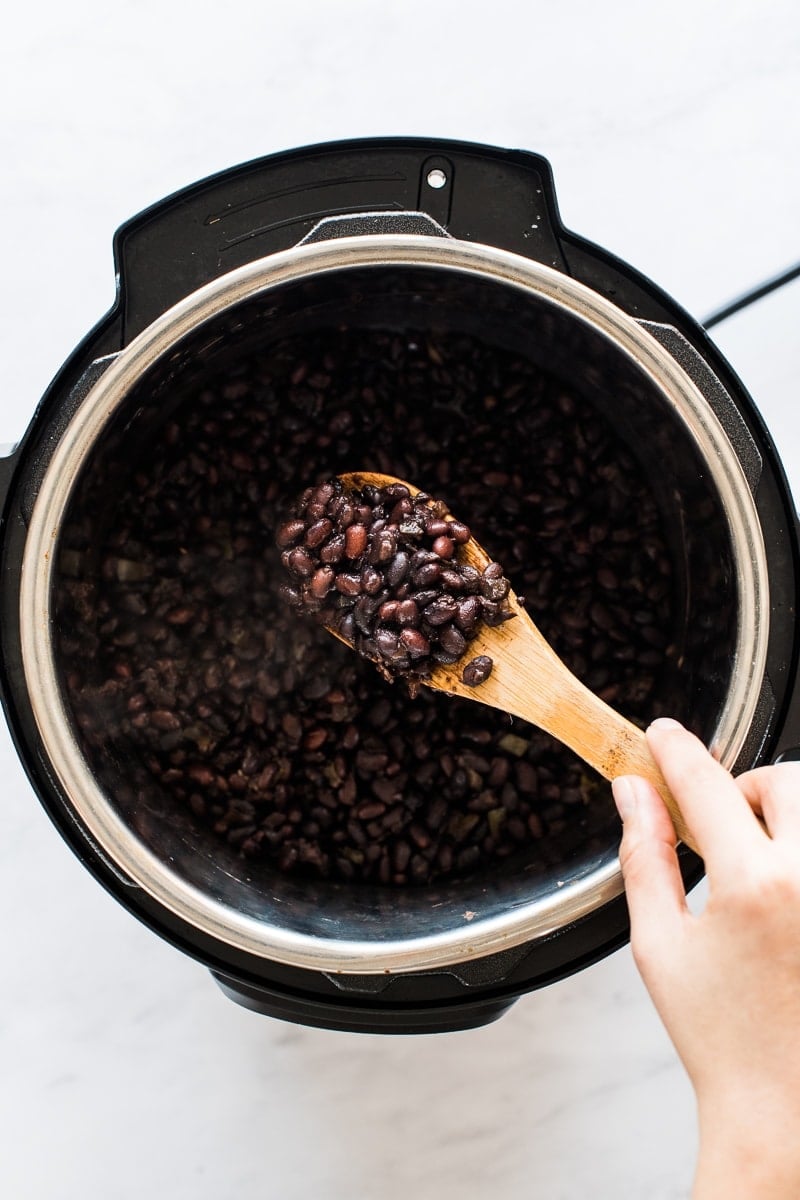 The easiest way to make black beans in the Instant Pot! No soaking required and cooks dried black beans with the best texture and flavor. This pressure cooker method is way better than the canned version and is an inexpensive way to feed the whole family!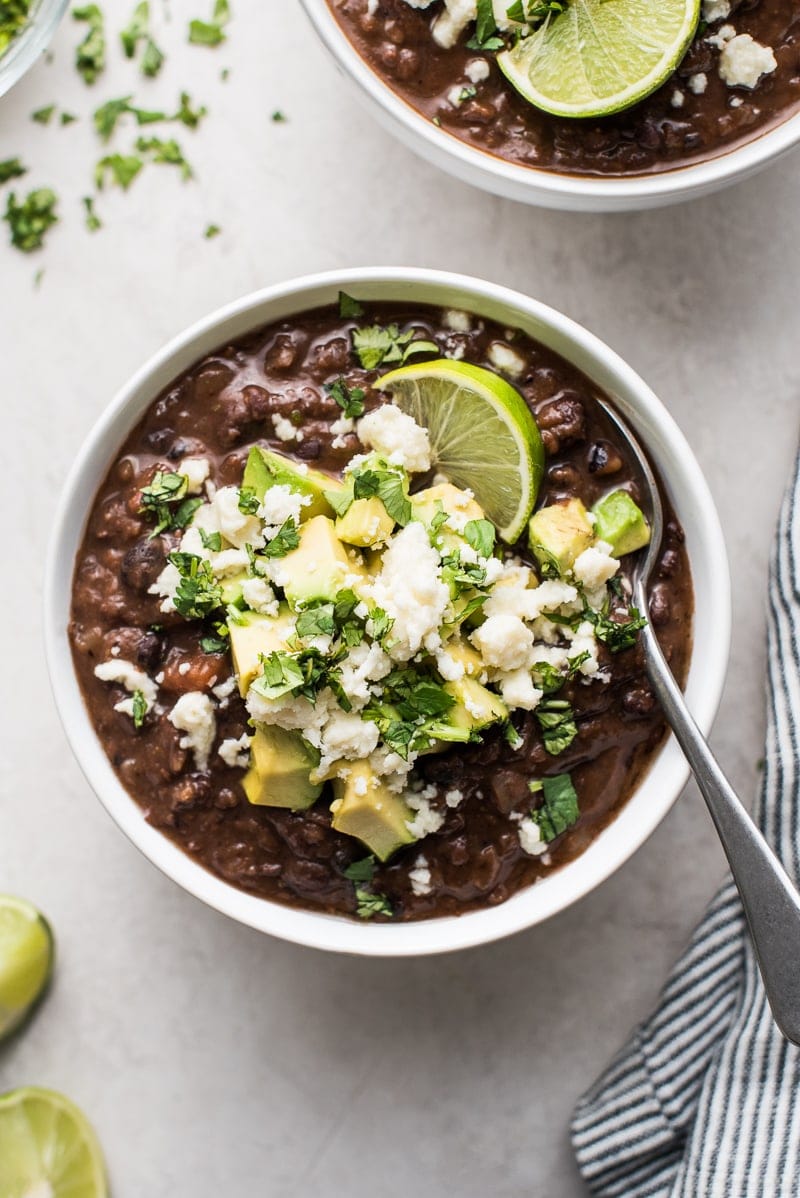 This Easy Black Bean Soup Recipe is made with canned black beans, veggies and a blend of spices. It's a healthy vegetarian and vegan meal that will satisfy everyone!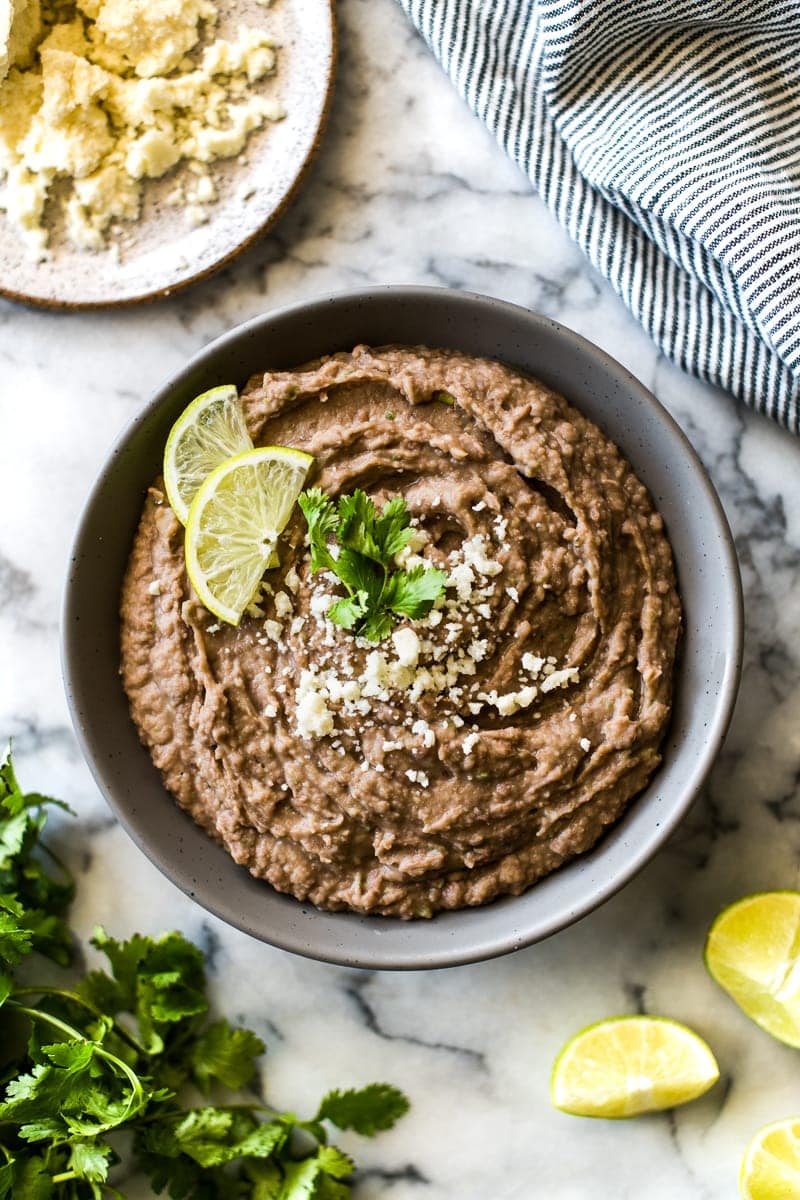 How to make Easy Refried Beans just like your favorite Mexican restaurant, but even better! Includes stovetop, slow cooker and canned beans instructions.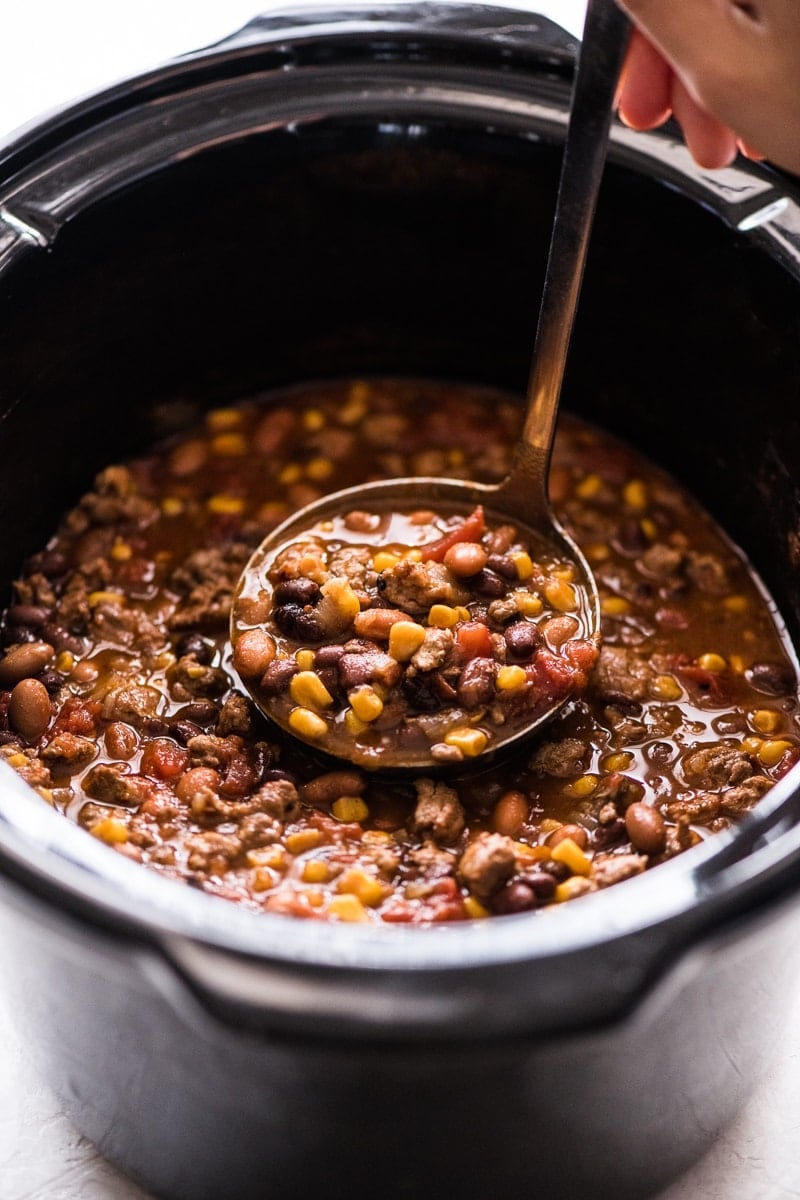 This easy and comforting Slow Cooker Taco Soup is perfect for busy weeknights and makes great leftover lunches. Made with beans, corn and the best Tex-Mex ingredients!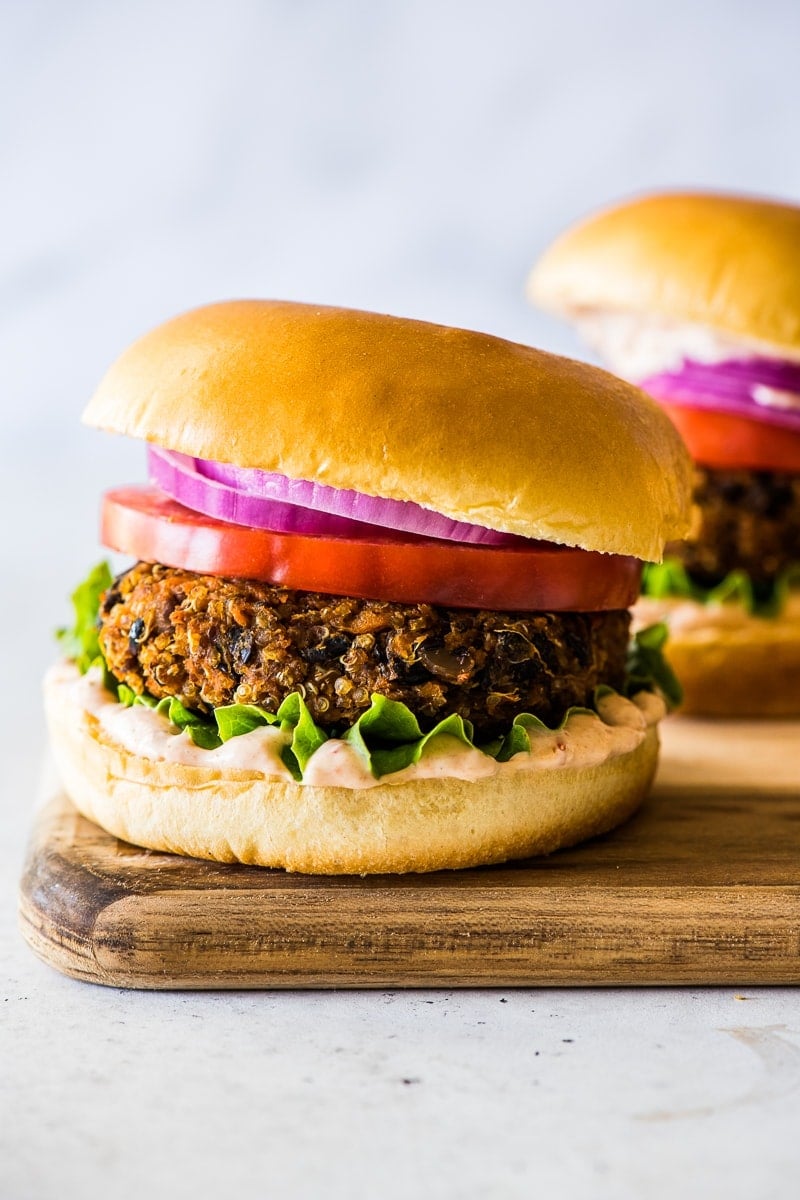 This sweet potato black bean burger recipe is gluten free, vegan, vegetarian and easy to make! Made from cooked sweet potatoes, black beans, quinoa, flax seeds and flavorful tex-mex seasonings.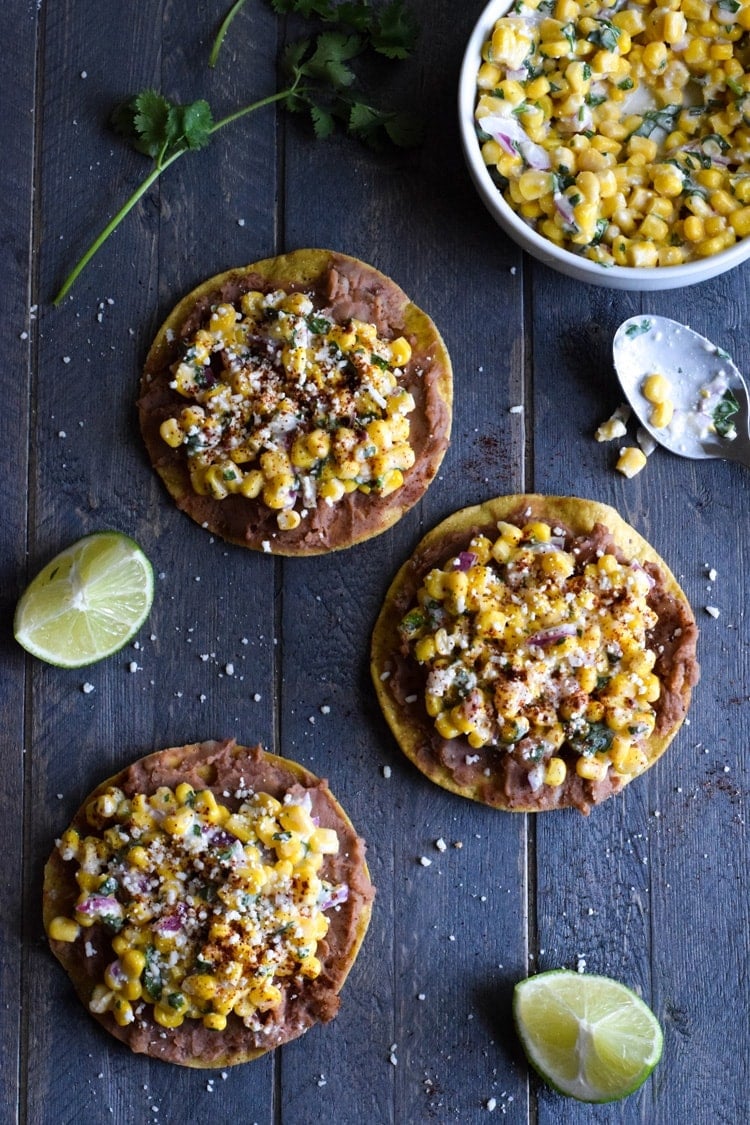 Ready in only 15 minutes, these Mexican Street Corn Tostadas make for an easy lunch or quick dinner that's also gluten free and vegetarian.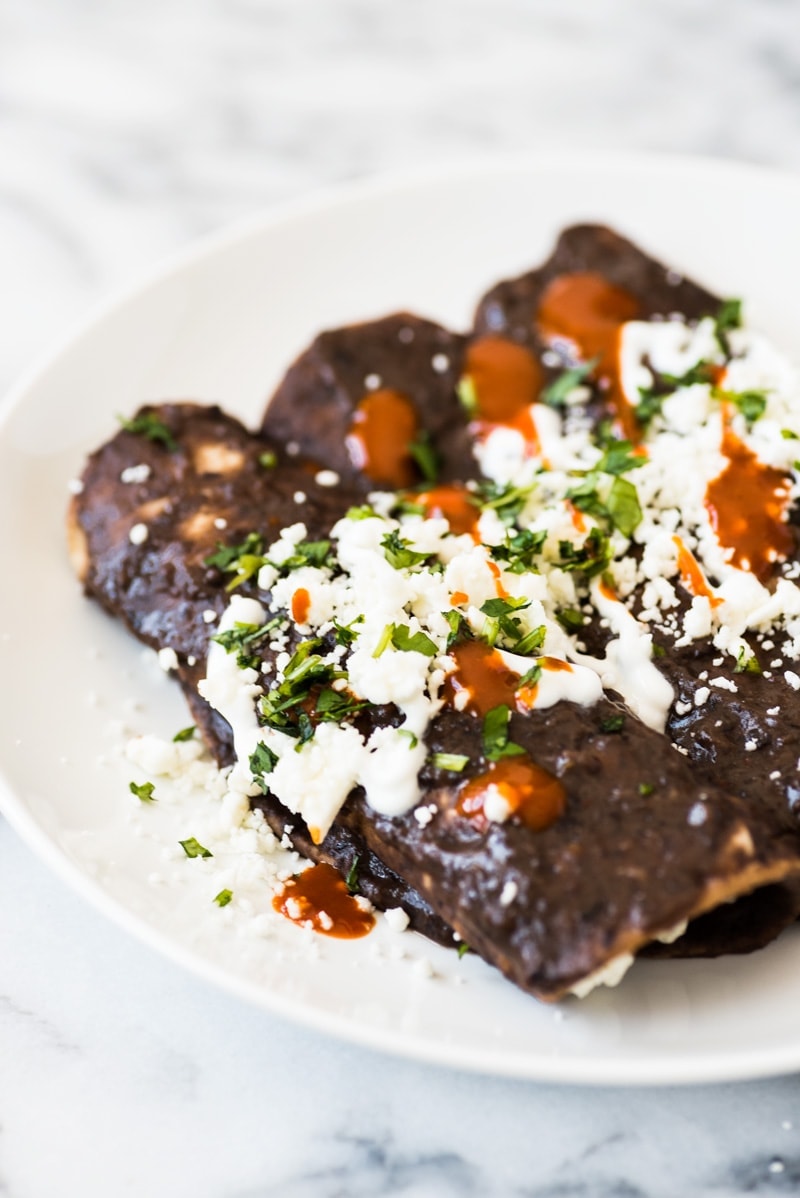 Enfrijoladas are Mexican enchiladas covered in a black bean sauce! Stuffed with cheese, they're ready in only 15 minutes and are vegetarian and gluten free.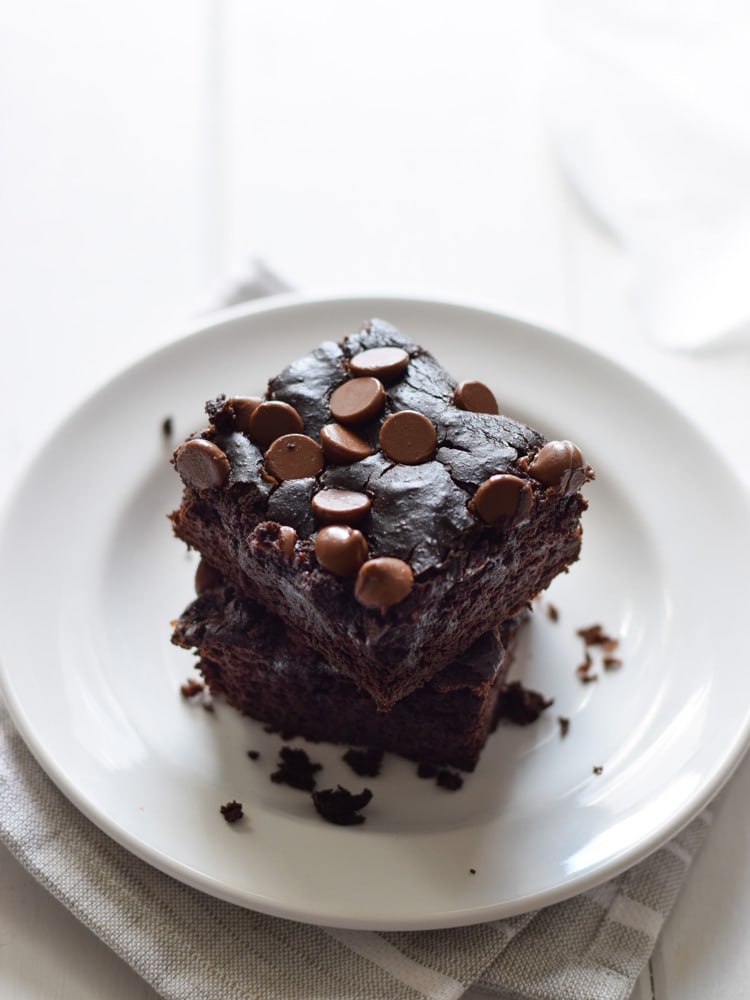 These Black Bean Brownies are easy to make, fudgy, healthy and completely flourless. All you need is a can of black beans and a blender! They're also gluten free.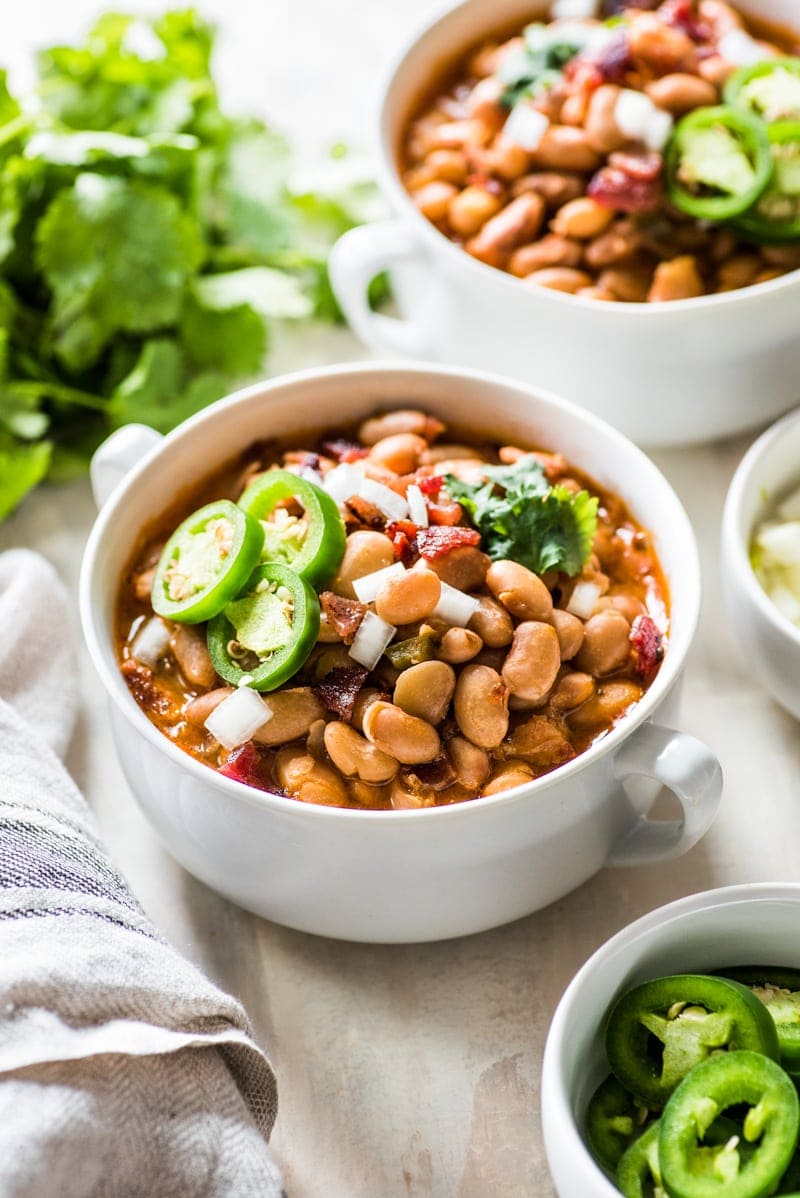 Charro Beans (or 'frijoles charros' in Spanish) are Mexican-style beans cooked in a broth made from bacon, onions, garlic, chiles, tomatoes and other delicious spices. Great as a side dish or as a full meal served with some flour tortillas or cornbread!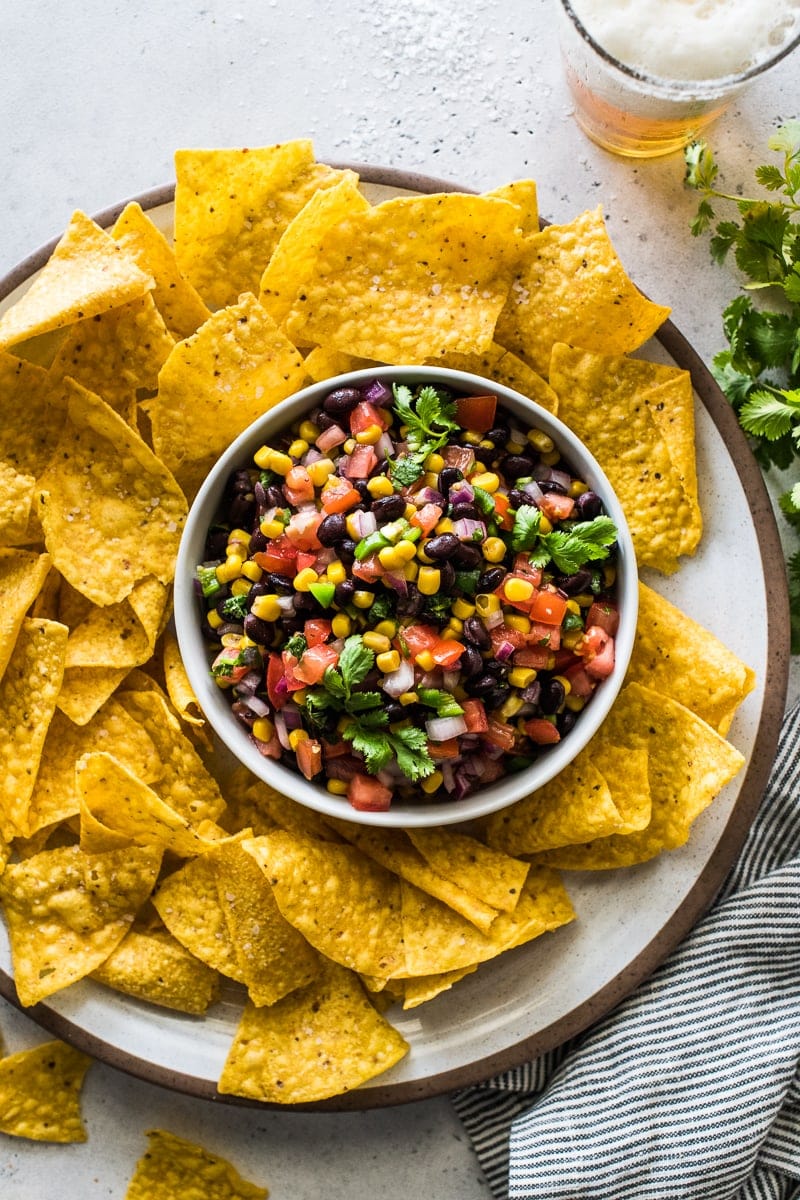 An easy, bright and fresh Black Bean and Corn Salsa recipe that takes only 15 minutes to make! It's the perfect appetizer for that upcoming party and makes a great side dish. (gluten free, vegetarian, vegan)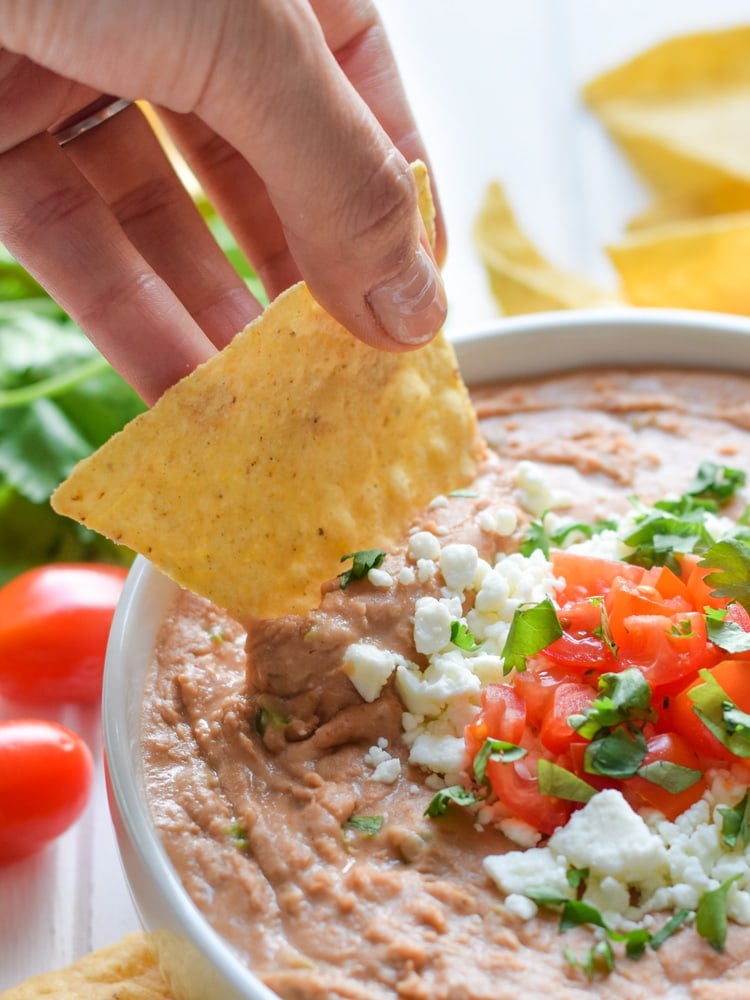 Mixed with cream cheese, Mexican spices and diced jalapenos, this creamy bean dip recipe is easy to make and is the perfect appetizer or snack.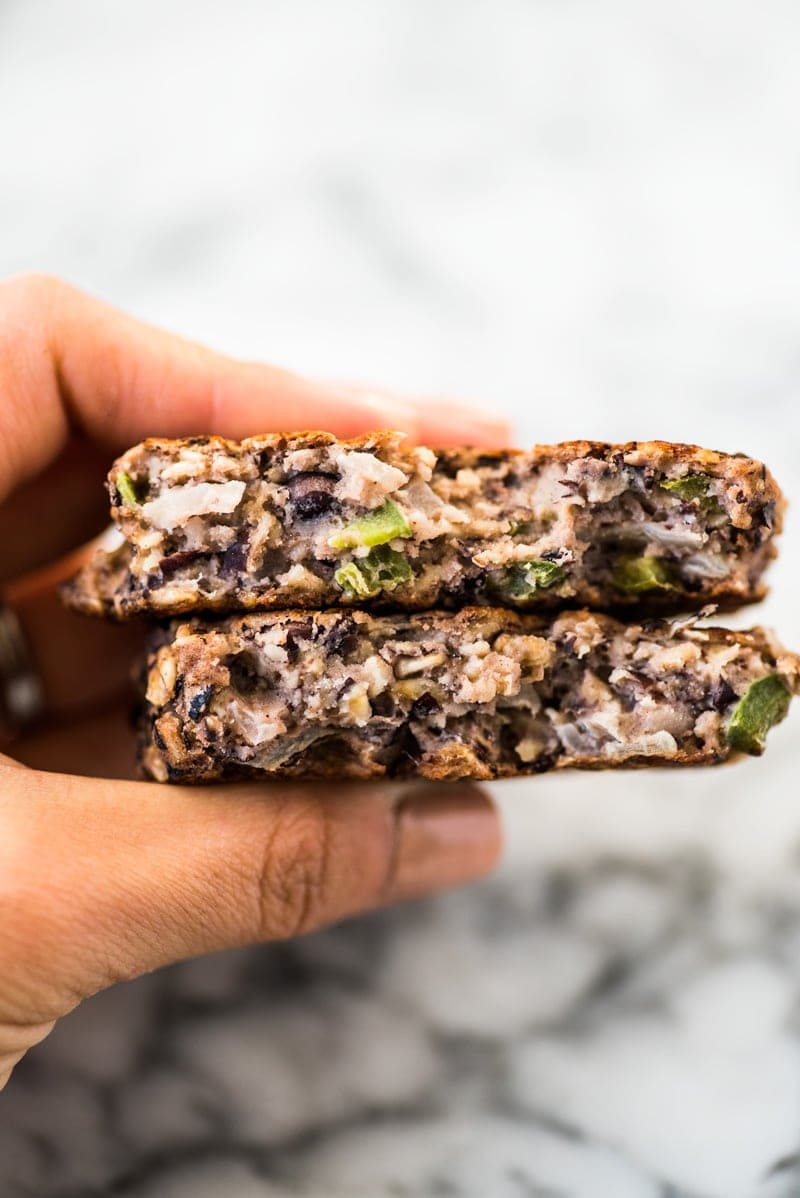 These Black Bean Patties are crispy on the outside, creamy on the inside and served with a cilantro yogurt sauce. Made from black beans, oats, onions and jalapenos. Makes tasty black bean burgers!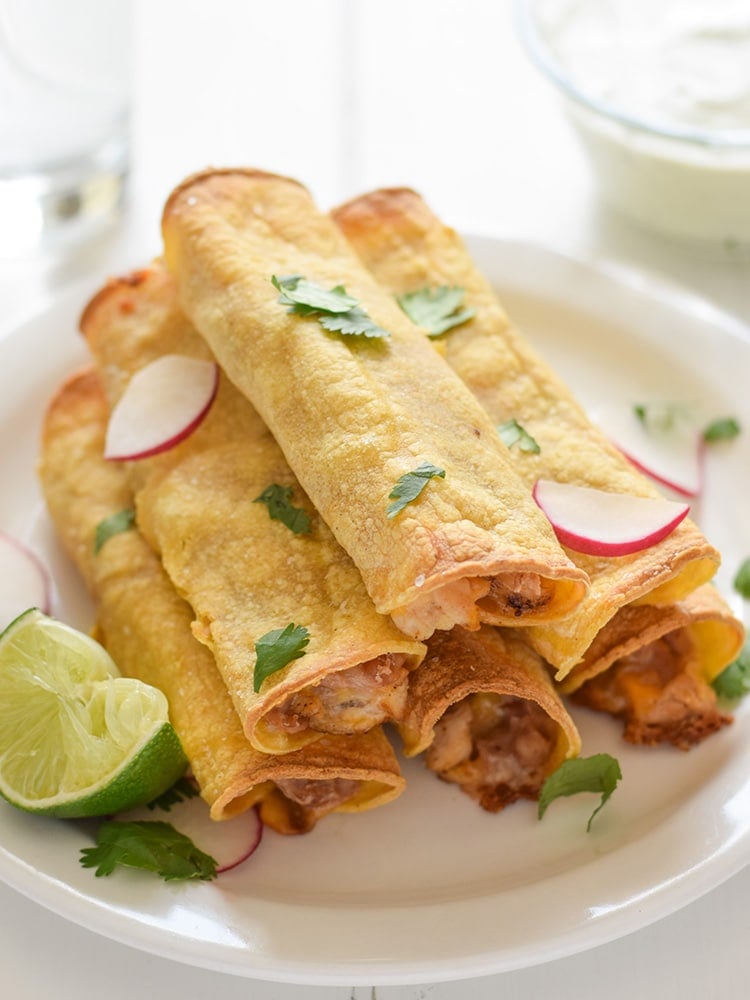 Loaded with mashed pinto beans, shredded Mexican cheese and chili-spiced baked chicken, these Baked Chicken, Bean & Cheese Taquitos are just like your favorite tacos, but even more fun to eat!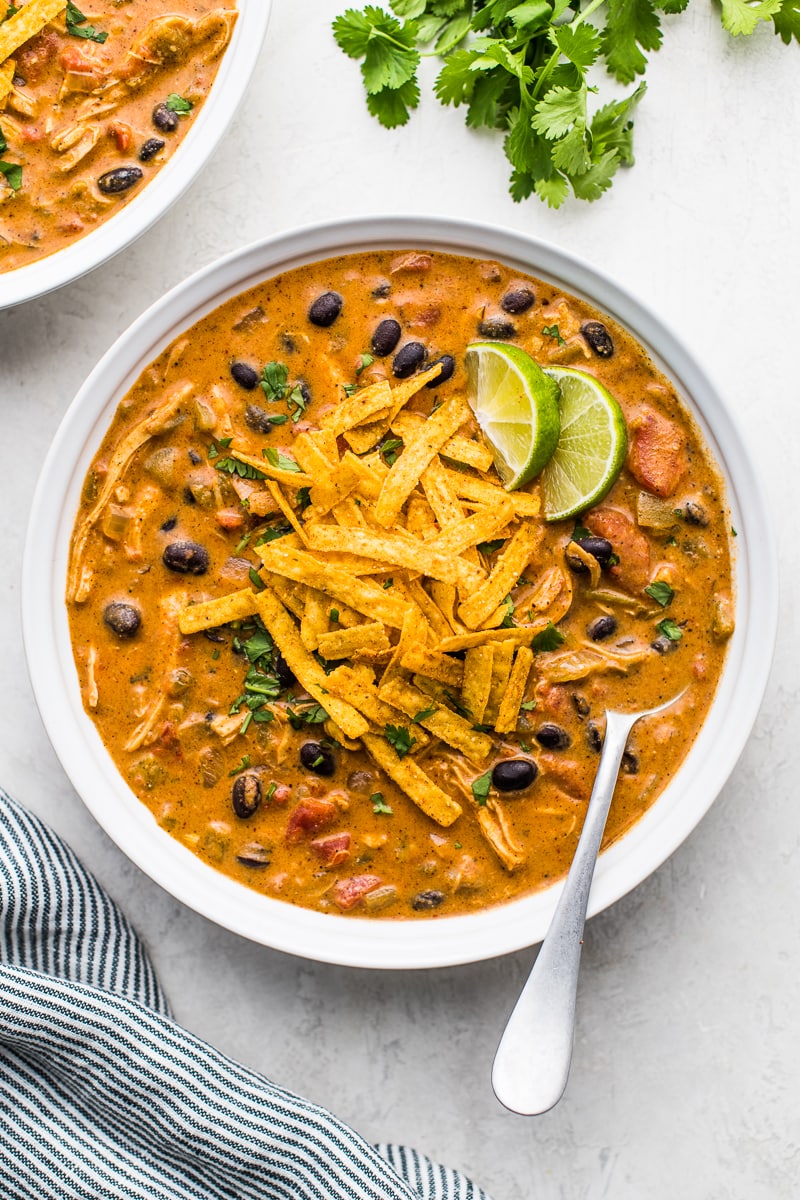 This Chicken Enchilada Soup recipe comes together in only 30 minutes and makes for one of the easiest and most flavorful soups you'll ever make! Full of shredded chicken, black beans, fire-roasted tomatoes, green chiles and enchilada sauce, this creamy soup will keep you full and satisfied.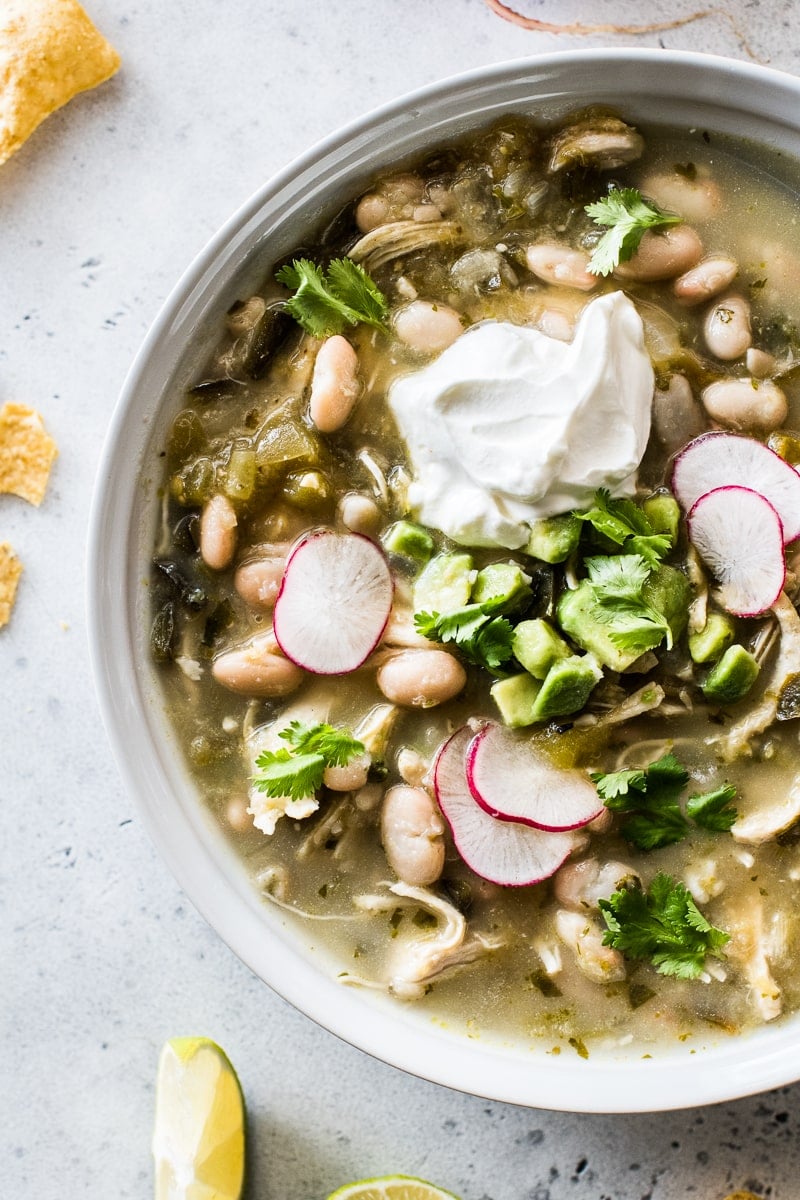 This Easy Green Chicken Chili is a healthy and comforting one pot soup made with salsa verde and white beans. Naturally gluten free, it's a perfect weeknight meal for the whole family!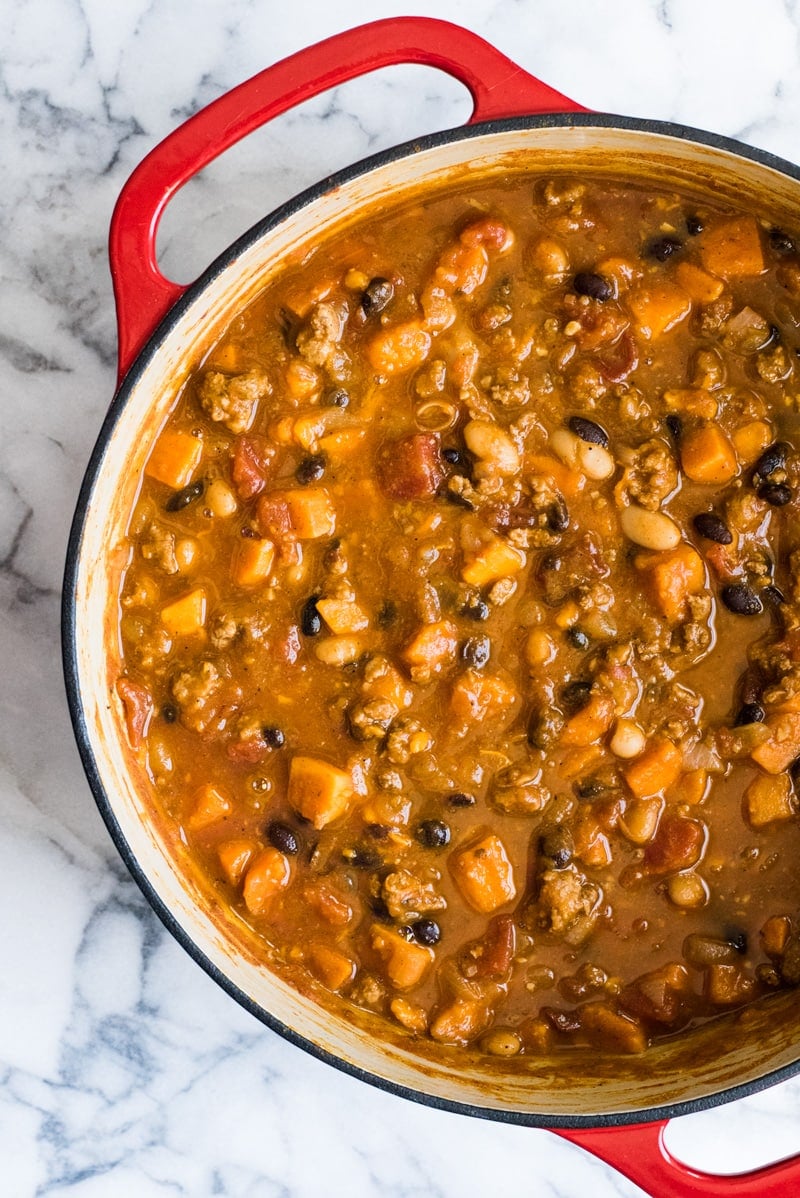 This Easy Turkey Pumpkin Chili recipe is made with pumpkin, sweet potatoes, beans and chipotle peppers for a quick and comforting healthy fall meal! (freezer friendly, gluten free)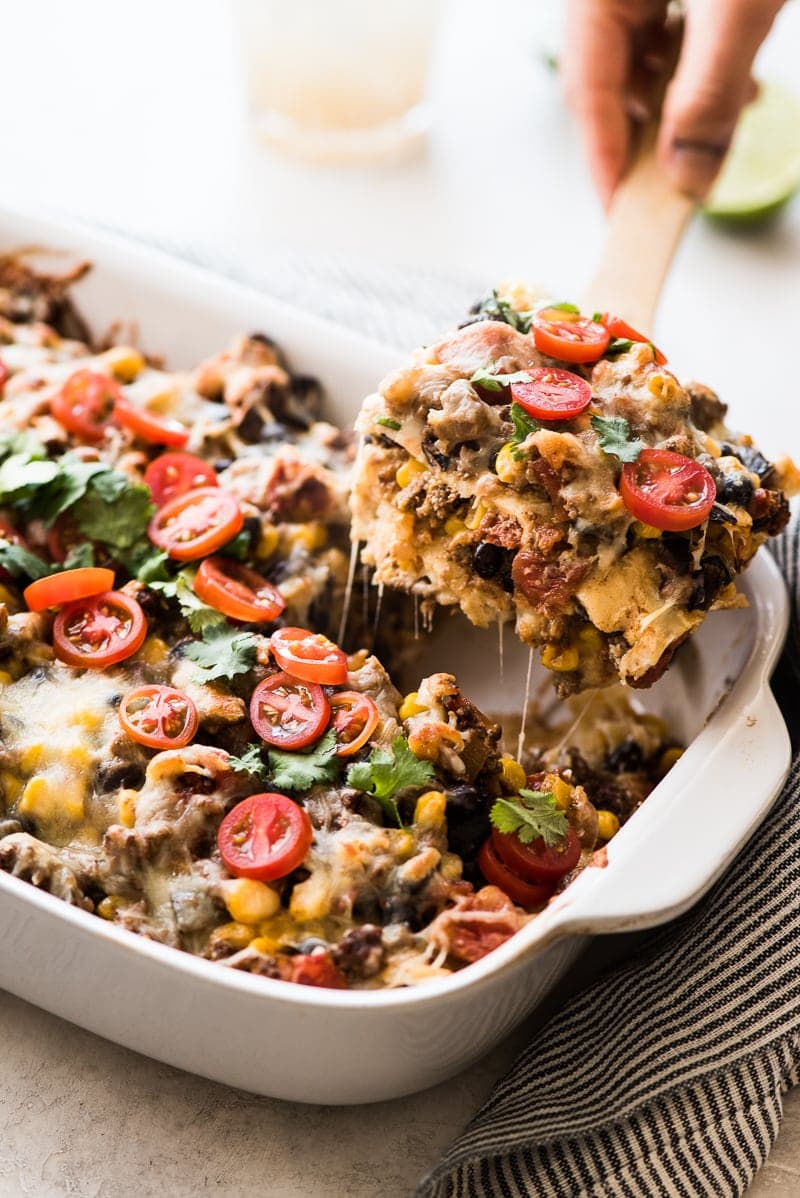 This Easy Taco Casserole recipe is made with 3 layers of corn tortillas, ground beef, corn, black beans, the best taco seasoning and lots of melted cheese!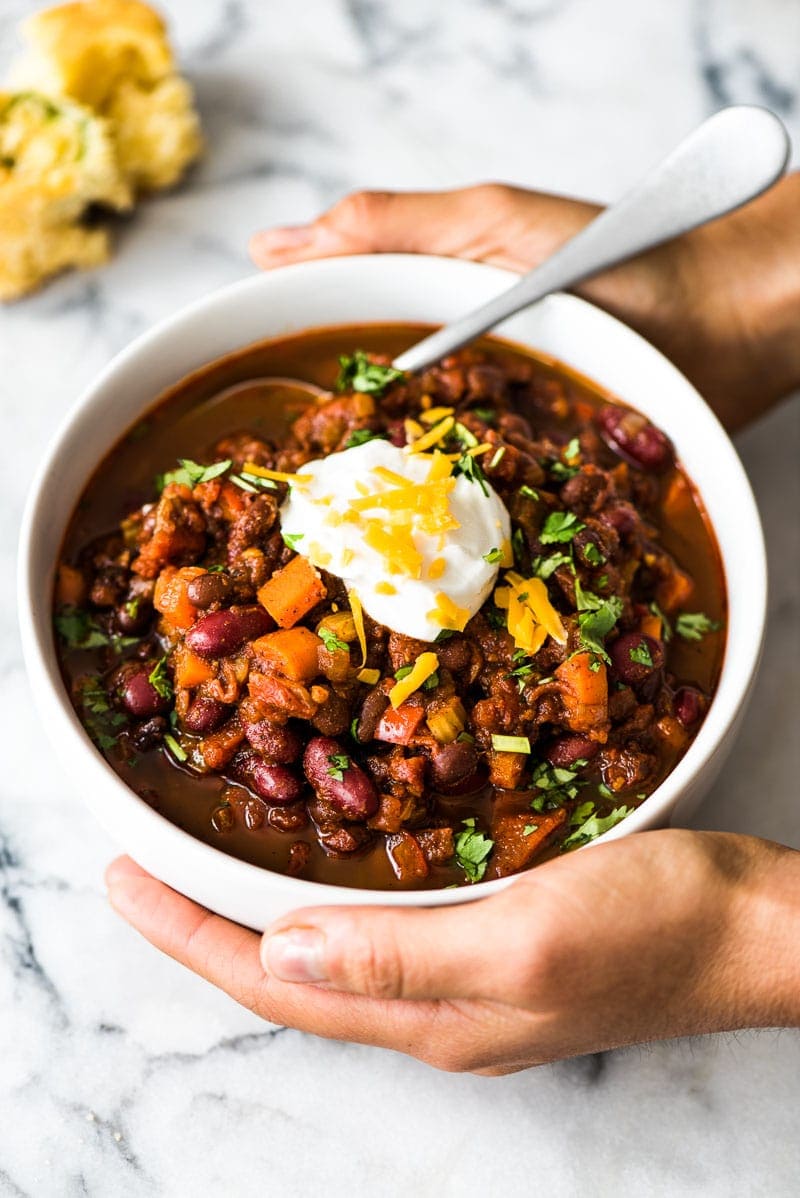 This Spicy Vegetarian Chili is thick, satisfying and super filling! Serve it with your favorite toppings for an easy and healthy meatless meal. (gluten free, vegetarian, vegan)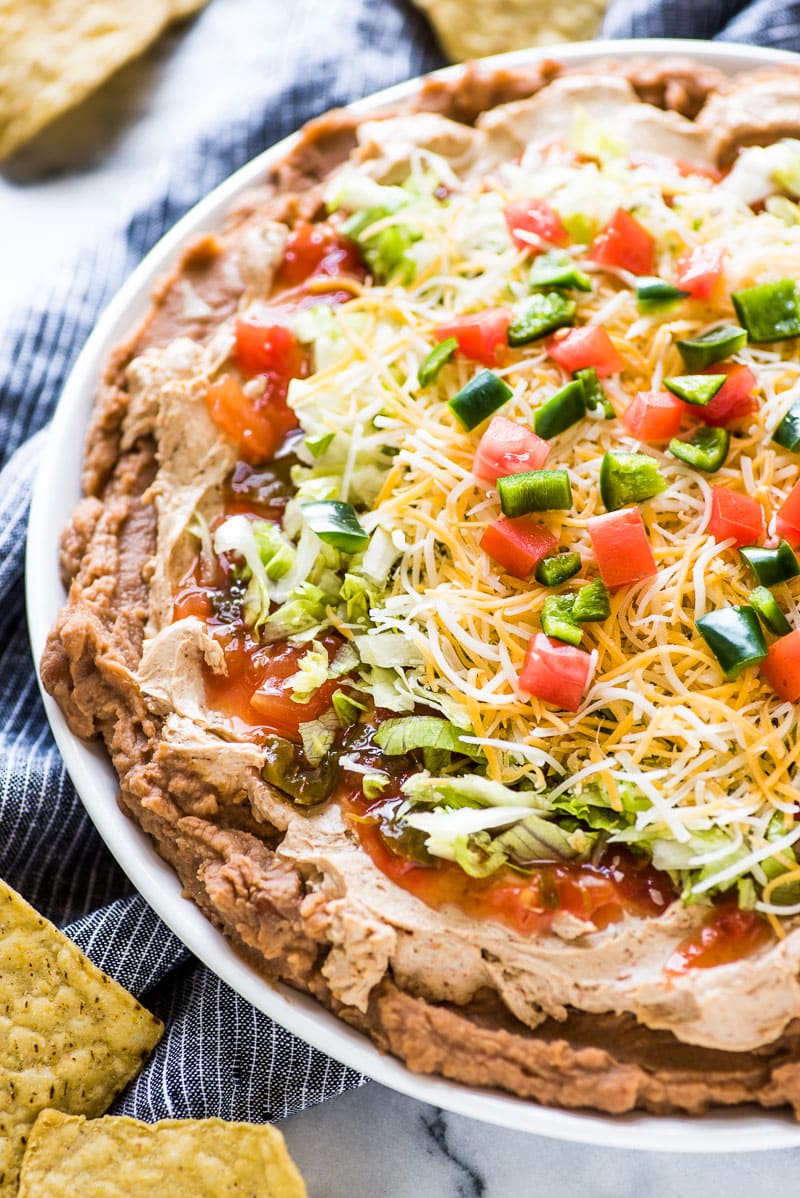 This Healthy Taco Dip made with 5 layers of delicious ingredients is ready in under 10 minutes and is the perfect appetizer for any occasion! (gluten free, vegetarian)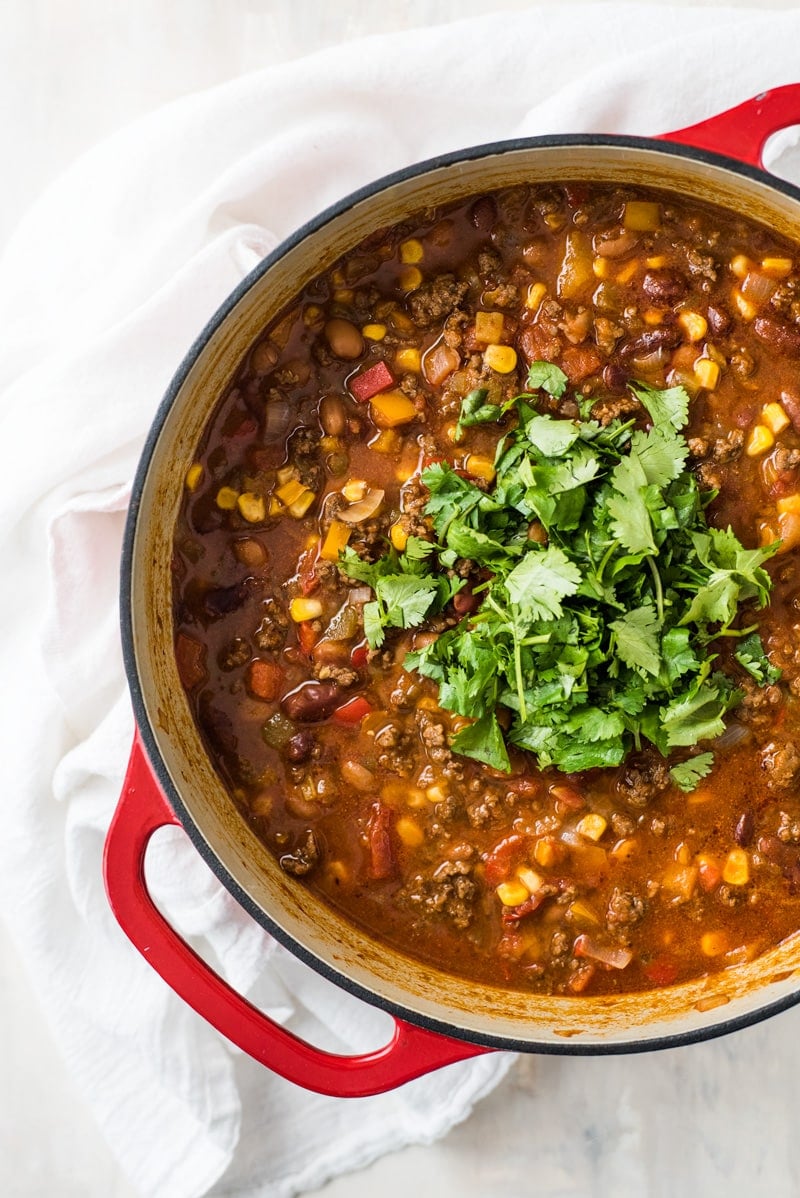 This taco soup recipe is hearty, healthy and ready in only 1 hour! Made with ground beef, taco seasoning, canned beans, corn and other veggies, it's perfect served with your favorite taco toppings and tortilla chips for a little crunch! (gluten free, freezer friendly)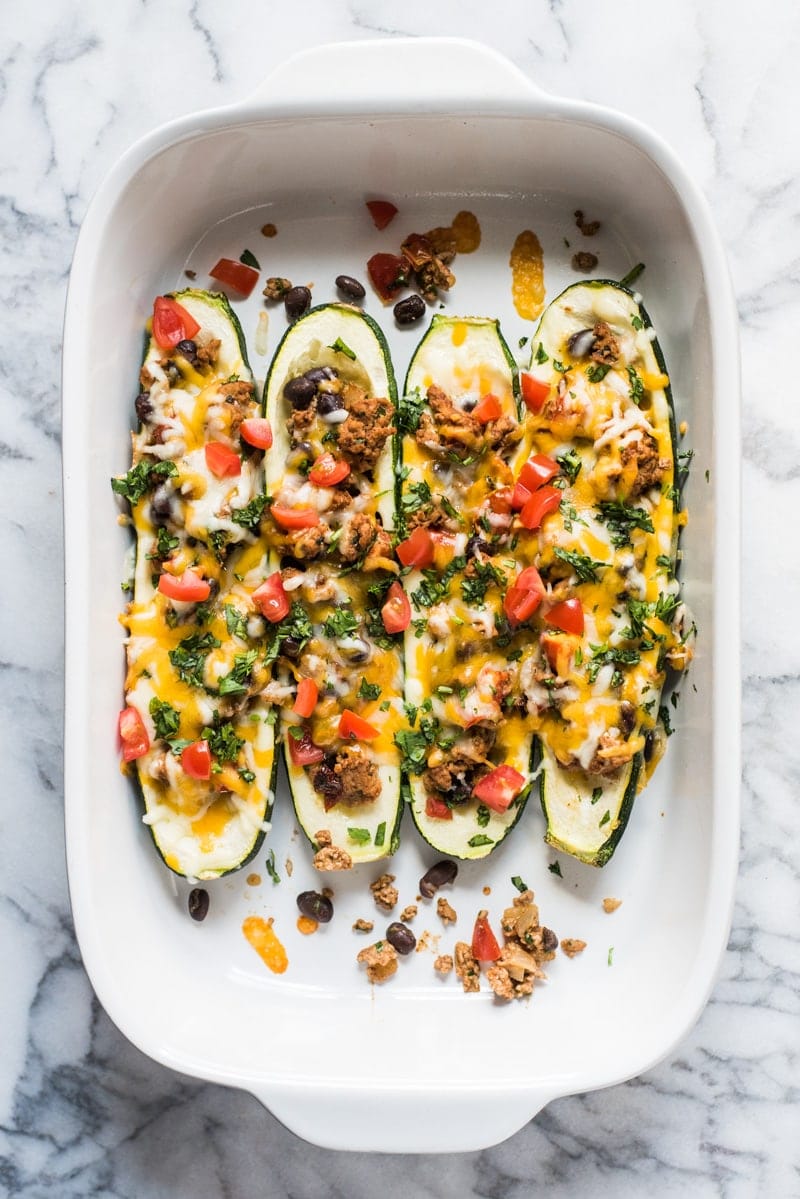 Ground Turkey Zucchini Boats stuffed with chipotle seasoned ground turkey, black beans, cheese and all your favorite toppings. It's the perfect healthy, gluten free and low carb meal for any night of the week!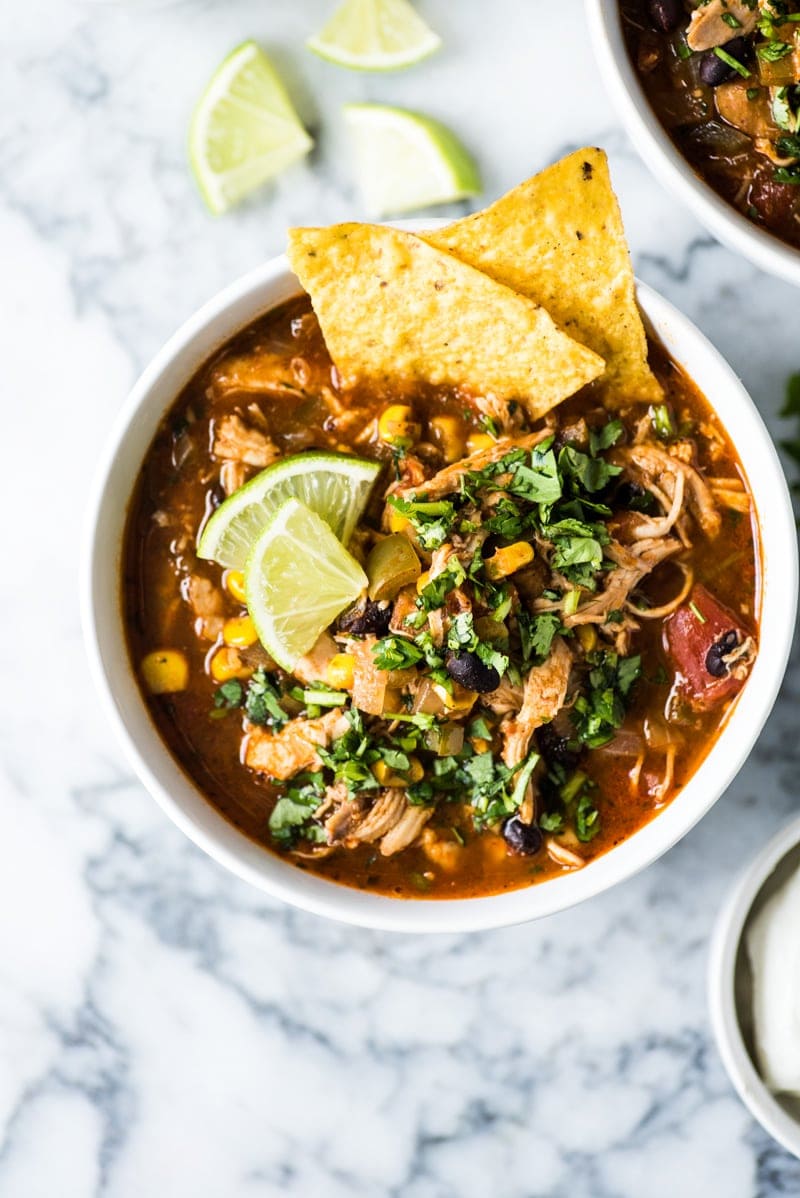 This Chicken Tortilla Soup has the perfect amount of spice alongside a healthy serving of vegetables, all in a warm, comforting broth. (gluten free, low carb, freezer friendly)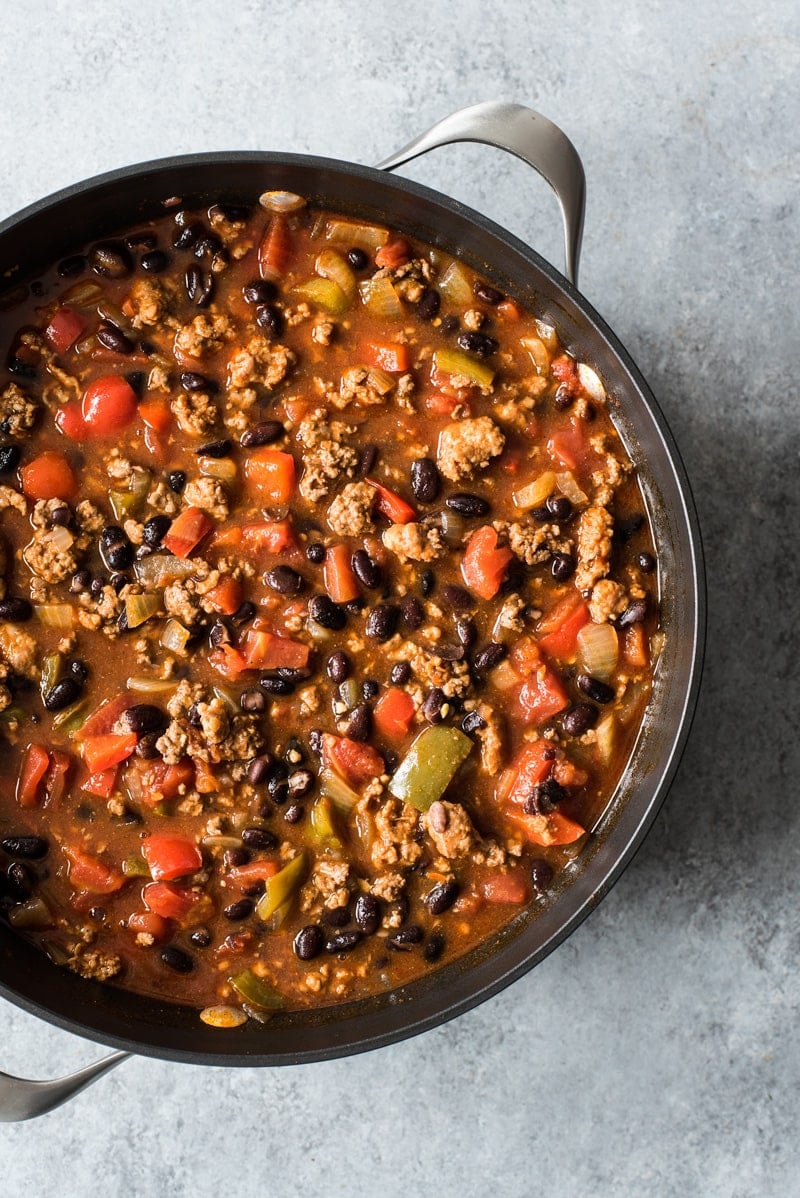 This Mexican chorizo chili is a warm and comforting one-pot meal perfect for the fall and winter months! (freezer friendly, gluten free)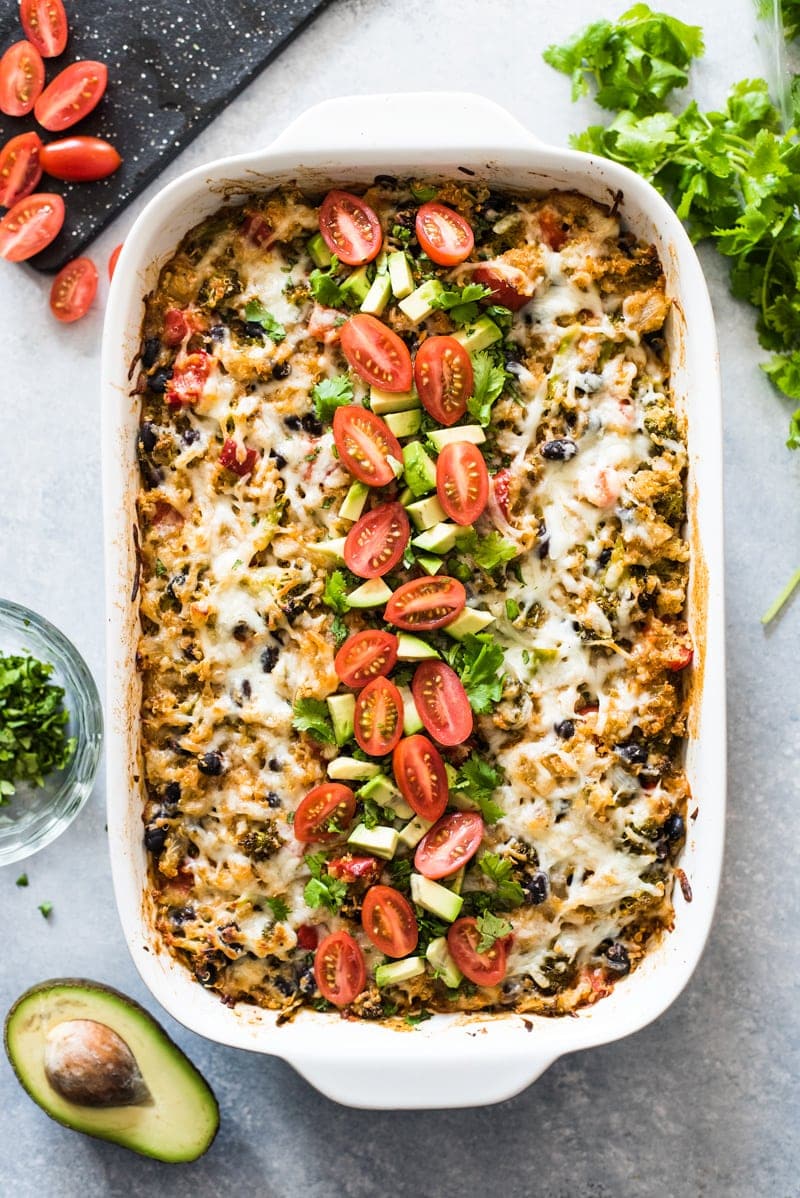 This Quinoa Enchilada Bake is a healthy Tex-Mex casserole that's easy to make and filled with lots of veggies! Made with quinoa, black beans, broccoli, enchilada sauce and more! (vegetarian, gluten free)