Jump to Recipe
Seasoned with honey, garlic, lime juice and jalapeños, this Jalapeño Chicken Quesadilla topped with Honey Guacamole takes lunchtime to a whole new level.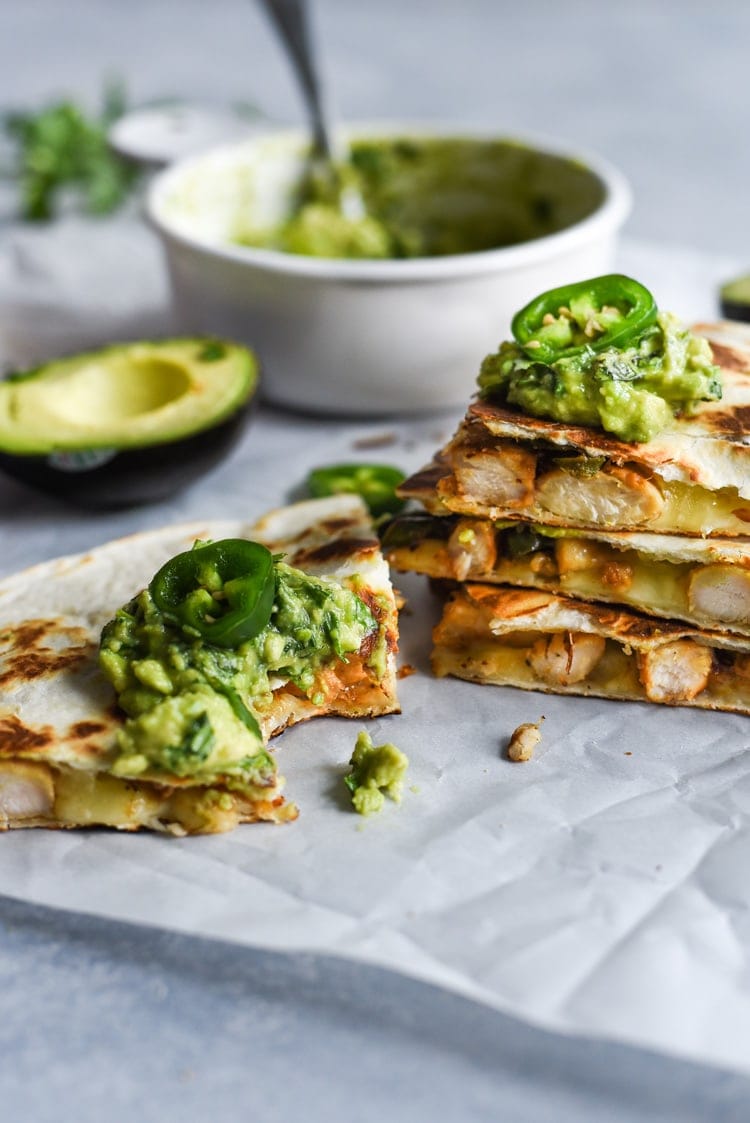 If you love cheese quesadillas, then you're going to love this Jalapeno Chicken Quesadilla! Because let's face it – is there anything better than the combination of cheese and carbs?
No. The answer is no. Especially when said carbs come in the form of flour tortillas. And they're filled with slightly sweet and savory pieces of jalapeno chicken. And topped with a generous helping of honey guacamole. ?
Absolutely nothing better.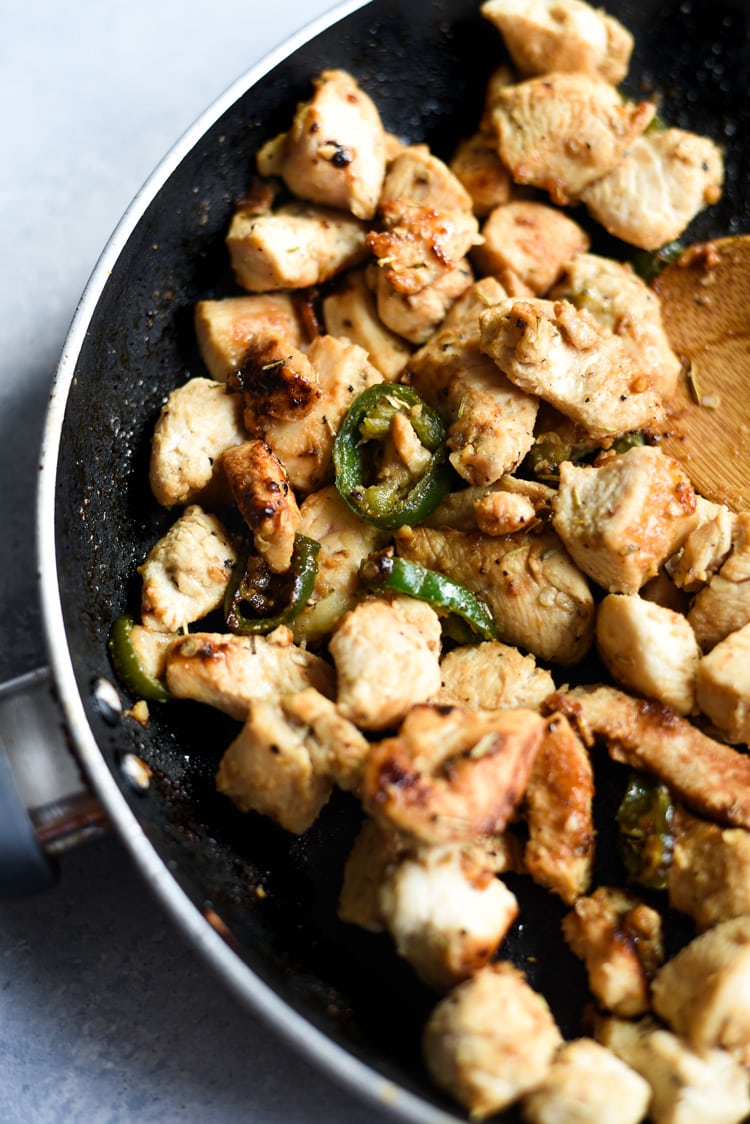 Chicken quesadillas have been my life blood at different points in my life. When I was younger, I remember my brothers and I asking my mom to make us quesadillas for dinner all the time.
"Is that all you want? I can make you some soup or something else on the side."
"No thanks. Just quesadillas." <– plural
We usually just wanted tortillas and cheese. No meat, no veggies. A sprinkle of salt is all we needed.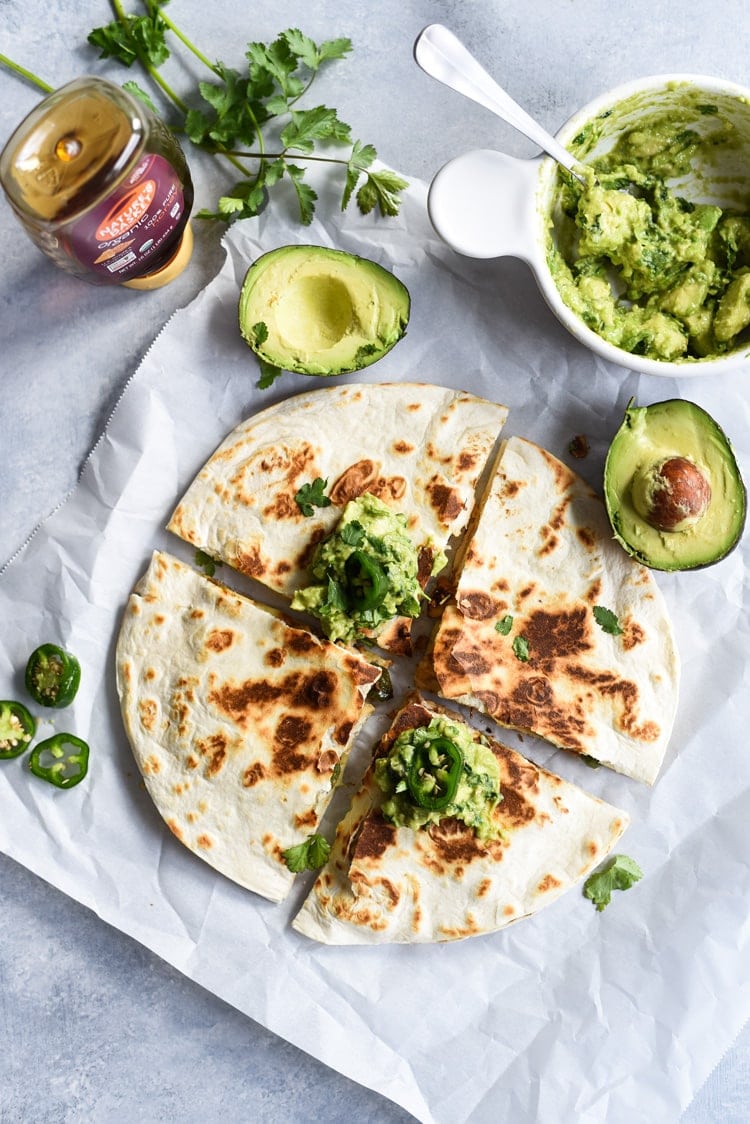 Today, I'm getting a little fancy pants in the kitchen and putting a spin on my usual "just cheese" quesadilla. In addition to lots of cheese (which is a MUST when making any quesadilla), I added some chicken that I marinated in lime juice, honey, garlic, jalapeños and a few other flavors.
The honey in the marinade isn't overtly strong, but nicely compliments the spiciness of the jalapeños. If you're not a fan of spicy food, you can simply omit the peppers and it'll still be just as good.
For this recipe, I used store bought burrito-sized flour tortillas, but you can use any tortillas you want. Corn tortillas like my 3-Ingredient Authentic Mexican Corn Tortillas or smaller flour tortillas like my Authentic Mexican Flour Tortillas (White & Whole Wheat Versions) work just as well, though because they're smaller in size, you may have some chicken leftover.
I also made a super quick and easy Honey Guacamole that may sound a little weird, but is absolutely addicting. It's perfect for the spring and summer months and the touch of honey in every bite just puts a smile on my face.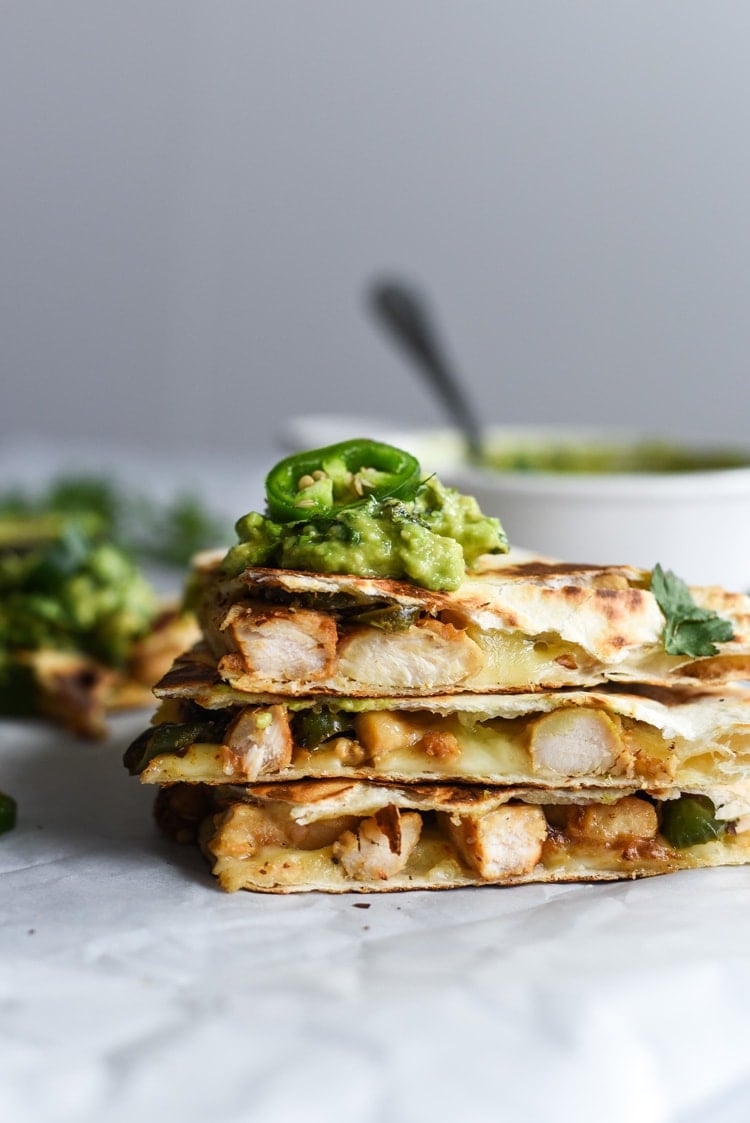 Serving Suggestions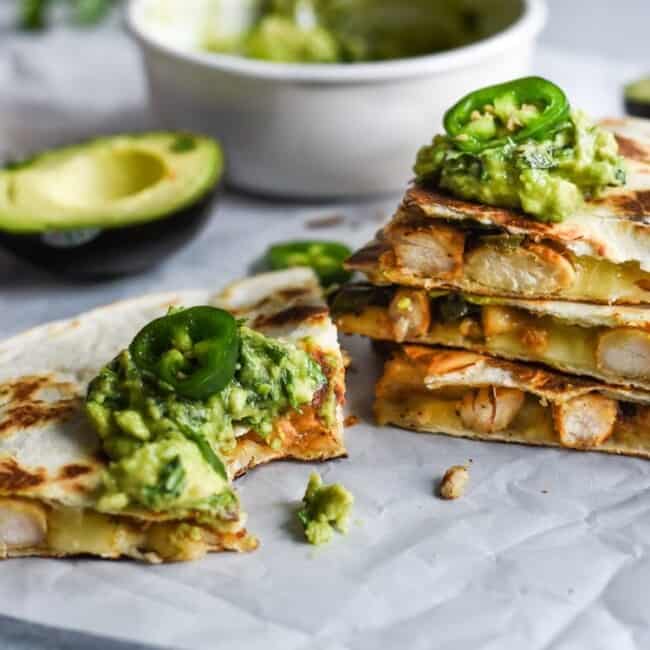 Prep: 30 minutes
Cook: 10 minutes
Total : 40 minutes
Seasoned with honey, garlic, lime juice and jalapeños, this Jalapeño Chicken Quesadilla topped with Honey Guacamole takes lunchtime to a whole new level.

Ingredients
For the jalapeño chicken quesadillas
1 tablespoon olive oil
1 tablespoon honey
1 teaspoon minced garlic
1 tablespoon lime juice
2 teaspoons kosher salt
1/2 teaspoon freshly ground black pepper
1/2 teaspoon dried rosemary
1 teaspoon onion powder
1 pound boneless skinless chicken breast, cut into small chunks
1 medium jalapeño cut into thin slices
4 large burrito-sized flour tortillas
1 1/3 cup shredded mozzarella cheese, divided
1 1/3 cup shredded gruyere cheese, divided
For the honey guacamole
2 ripe avocados, halved and pitted
2 tablespoon honey
1 tablespoon lemon juice
1/4 cup chopped cilantro
salt to taste
Instructions
For the jalapeño chicken quesadillas
In a large bowl (or ziplock bag), add olive oil, honey, garlic, lime juice, salt, black pepper, rosemary, and onion powder. Stir to combine. Add cut chicken, jalapeños and toss to coat. Cover and let marinate in the fridge for 20 minutes (or overnight).

Heat a large skillet over medium-high heat. Add the marinaded chicken and all the marinating juices and cook for 10 to 15 minutes, until chicken is cooked through and begins to turn golden brown on the outside. Remove from heat and set aside.

Heat large tortilla griddle (or skillet) over medium heat. Place one tortilla on griddle and layer with the following: 1/3 cup mozzarella cheese, 1/3 cup gruyere cheese, 1/2 the cooked chicken, 1/3 cup mozzarella cheese, 1/3 cup gruyere cheese.

Top layers with another tortilla and cook for 3 to 5 minutes, smashing the quesadilla down with a spatula to help the cheese melt. Make sure the tortilla browns, but doesn't burn. Quickly flip over quesadilla with spatula and cook for another 3 to 5 minutes.

Repeat steps 3 and 4 to make the remaining quesadilla. Cut quesadillas into fourths and serve with honey guacamole.
For the honey guacamole
In a medium bowl, scoop out the flesh of the avocados. Add honey, lemon juice, chopped cilantro and a pinch of salt. Mash mixture with a fork until slightly chunky. Taste and season with more salt if necessary.
Isabel's Tips:
Nutrition information for quesadilla only.