The Scoville scale is a spicy food lover's guide to hot peppers. Learn what Scoville units are, and how the the hottest peppers in the world measure up! Plus, learn where your favorite Mexican chili peppers fall on the scale.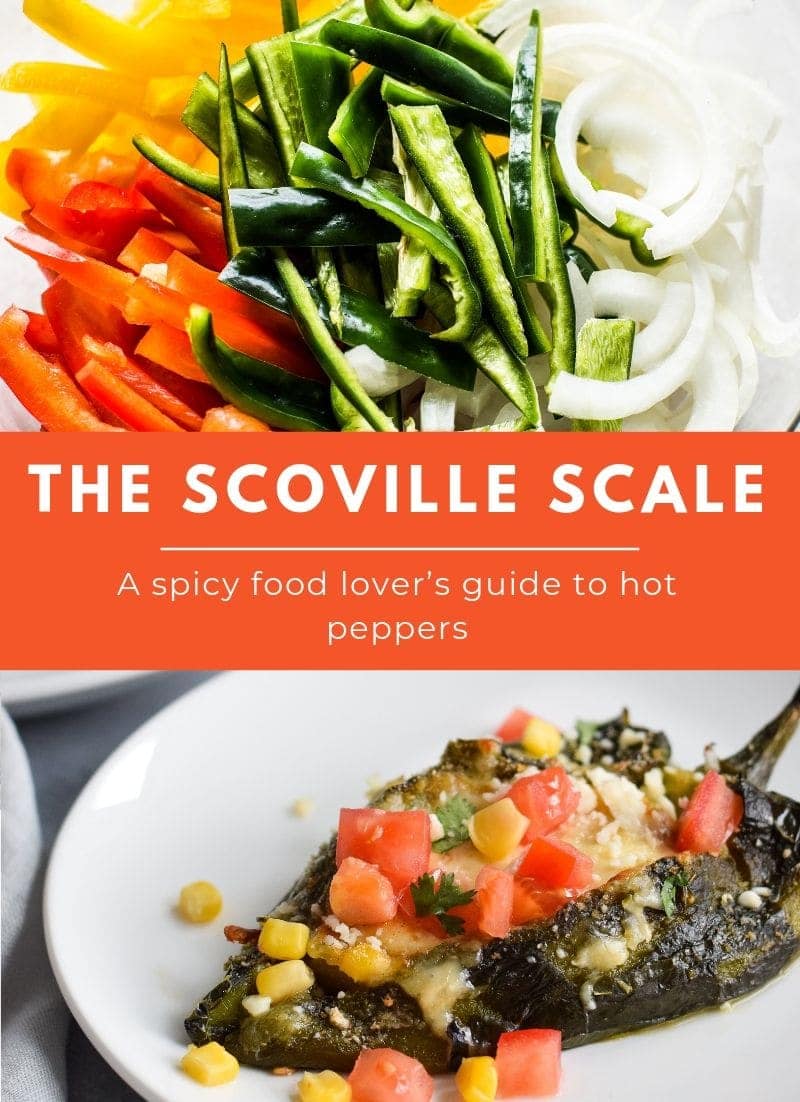 What is the Scoville Scale?
The Scoville Scale and its form of measurement, Scoville Heat Units (SHU), are the creation of a pharmacologist by the name of Wilbur Scoville. He created them in 1912 as a way to measure the heat or spiciness of peppers.
Pure capsaicin is a natural component in spicy peppers and things made from the peppers, such as hot sauce. A chemical reaction in capsaicin is what causes peppers to be spicy.
The Scoville Scale has evolved with time. Originally, dried peppers were dissolved in water, then given to a panel of five trained taste testers. Their job was to determine how much the pepper had to be diluted before they could no longer sense the heat.
In the 1980s, a more scientifically accurate method of measuring capsaicin concentration was developed. As a result, peppers are now given a number to represent their Scoville Heat Units (SHU).
The Scoville Scale rates peppers from zero SHU (no heat at all) to SHU's in the millions.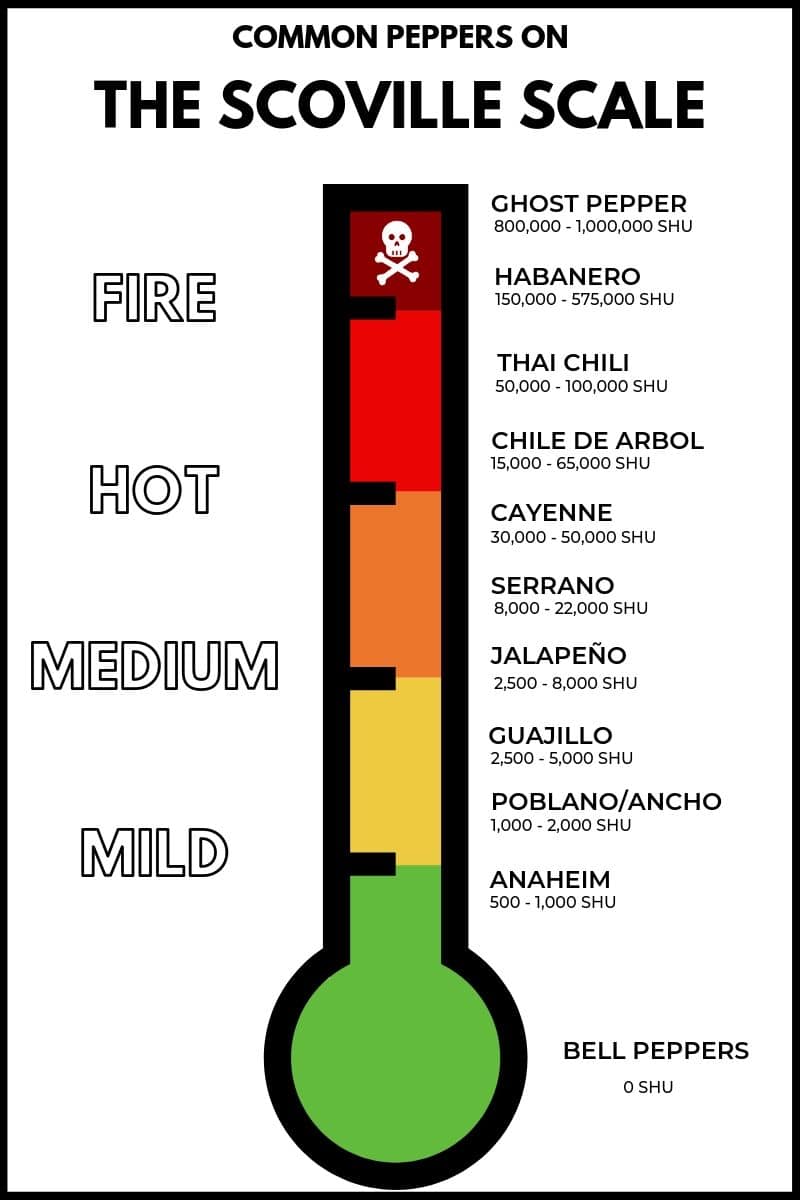 Scoville Scale peppers and their Scoville Units
To make it visually easier to read, the Scoville Scale is usually shown in a chart form. Read the scale starting at the bottom of the chart. The peppers with the smallest Scoville units are bell peppers. The peppers increase in intensity from there.
All varieties of hot peppers are measured on the Scoville Scale, but here are a few of the more common ones:
Ghost pepper scoville units are 800,000 to 1,001,300 SHU
Habanero Scoville units are a whopping 150,000 to 575,000 SHU
Thai chili peppers measure 50,000 to 100,000 SHU
Chile de Arbol Scoville units are 15,000 to 65,000 SHU
Cayenne pepper measures 30,000 to 50,000 SHU
Serrano Scoville units are 8,000 to 22,000 SHU
Jalapeno Scoville units are 2,500 to 8,000 SHU
Poblano Scoville units are 1,000 to 2,000 SHU
Anaheim Scoville units are 500 to 1,000 SHU
Bell peppers have a 0 SHU because they are sweet peppers, not spicy.
What peppers are used in Mexican cooking?
The hot peppers listed below are found in many different Mexican dishes.
Jalapenos are the most common pepper used in Mexican cooking. The heat of the pepper is toned down when the membrane and seeds are removed.  These cheesy jalapeno poppers feature the pepper with a cheesy filling that balances the heat. 
Habanero peppers are on the upper end of the Scoville Scale. That means you want to wear gloves when cutting them and remember that a little bit goes a long way. Hot sauce made with habaneros is popular but very spicy. Just two thin slices of habanero is enough for to make a habanero pineapple margarita. 
Anaheim peppers are very mild. The taste leans more sweet than spicy. They are just slightly more spicy than bell peppers. Substituting anaheim peppers for bell peppers is an easy way to make Mexican stuffed peppers with just a little more heat. 
Which are the hottest peppers in the world?
According to the Guiness Book of World Records, the Carolina Reaper, a small red pepper with a signature stinger tail ranks on the top of the Scoville Scale, at 2.2 million SHU. 
However, the Brits disagree. According to this article, Dragon's Breath peppers are even hotter than the Reaper, with an eye-popping 2.5 million Scoville Heat Units!

Apparently, Dragon's Breath is NOT meant to be eaten. Because of its ability to numb human skin, the pepper is for medical use, as an alternative to anesthesia.
Ghost peppers used to be the hottest peppers in the world but over the past decade, much spicier peppers have been grown. As a result, ghost peppers currently rank 5th on the Scoville Scale. 
Using the Scale to Improve Your Cooking
Understanding the Scoville Scale and being familiar with the Scoville Units will give you confidence in preparing spicy dishes.
It can also help you create spicier or milder versions of your family's favorite meals!
So, remember to return here and access the Scoville Scale when you have questions about the heat level of peppers.