Masa harina is a staple of Mexican cooking and a required ingredient when making authentic tortillas. The process of making this corn flour is fascinating, and so many delicious things can be made with it!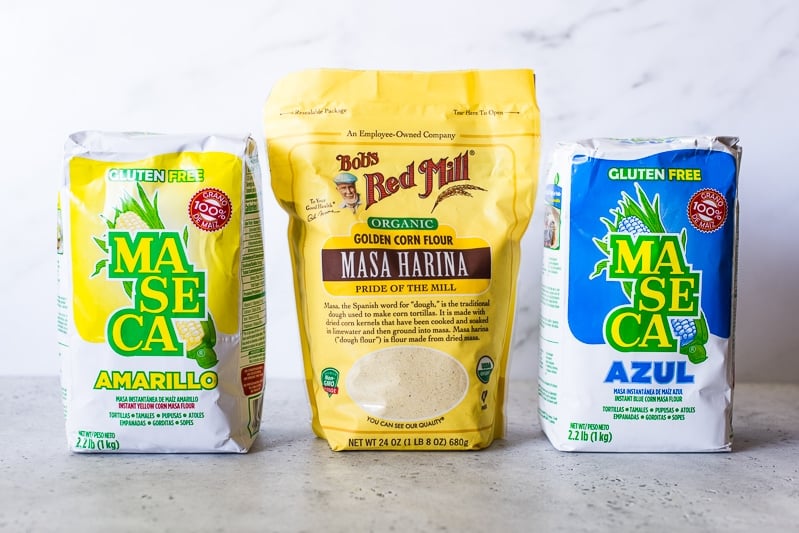 What is masa harina?
Masa harina is dried corn dough or corn flour. Directly translated, the words mean "dough flour."
Masa harina starts its life as dried maize corn. The corn is soaked in food-grade calcium hydroxide to make hominy. These puffed-up kernels are then finely grated into corn dough. If you dehydrate the dough, you'll have a corn-based flour, which is known as masa harina.
You can find both white, yellow and blue masa harina. The difference is that the white masa is made with white corn, the yellow is made with yellow corn and the blue is made with – you guessed it – blue corn. The white and yellow are slightly sweeter and easier to find, but either can be used in recipes calling for it.
Nearly all grocery stores carry at least one brand of masa harina. However, if you have trouble finding it, Hispanic grocery stores will have plenty of choices.
If you can't find any local to you, here are some links of where to buy some online: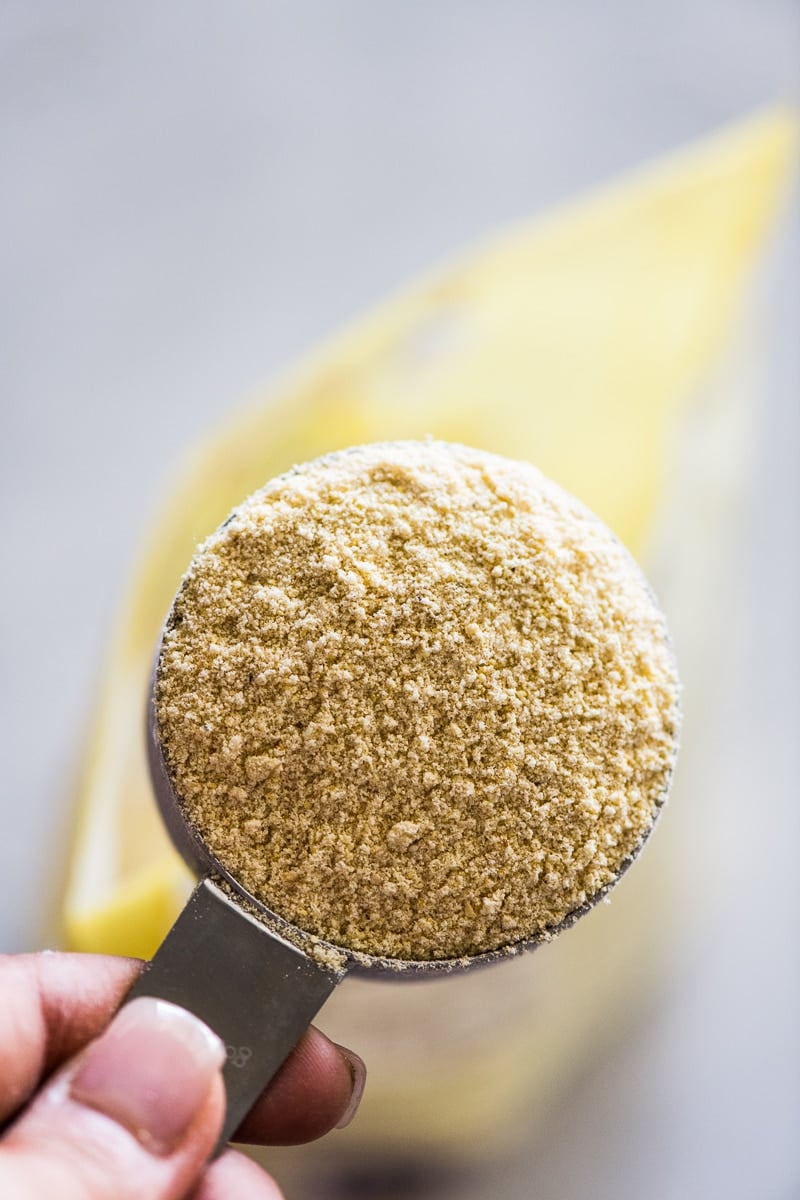 Is cornmeal the same thing as masa?
There are a number of differences between cornmeal and masa. Most importantly, they are not interchangeable in recipes.
Masa is ground maize corn while cornmeal is from yellow corn. Cornmeal is never treated with the soaking solution necessary to make masa.
Because of these differences, the two products end up having different uses. Cornmeal is great for making bread, but it will not stick together to make tortillas. The lime bath the masa is prepared in provides that characteristic. There really is no substitute for the main ingredient for tortillas.
The flavor will also be different if you substitute cornmeal for masa harina in a recipe. If you are using it to thicken soups, it will serve the same purpose, just with a changed flavor. Masa is just sour enough to have a distinctive taste.
What is masa harina used for?
Corn tortillas. The most popular use for it is to make tortillas. Just by adding water and salt, like I do in my recipe for Homemade Corn Tortillas, you will have the most delicious and authentic Mexican tortillas. I have a tortilla press that makes the process super easy, but you can use a rolling pin as well.
Gorditas. With your batch of corn tortillas, you can make nearly anything! This Gorditas Recipe is a great place to start. By slicing the tortillas in half, you have lots of space to fill with combinations of meat, veggies, beans and more!
Sopes are another Mexican staple that always needs the perfect tortilla. After cooking the tortilla, but while it's still hot, roll the sides up slightly to make a lip. Then you can stack your delicious toppings on it without worrying about wearing any of the salsa. Follow my direction here for Mexican Sopes.
Tamale recipes like my Green Chile and Cheese Vegetarian Tamales, need a layer of masa dough spread inside the corn husks before filling.
Soups! The dough made of masa harina can also be used to thicken soups and stews like in this Chicken Enchilada Soup.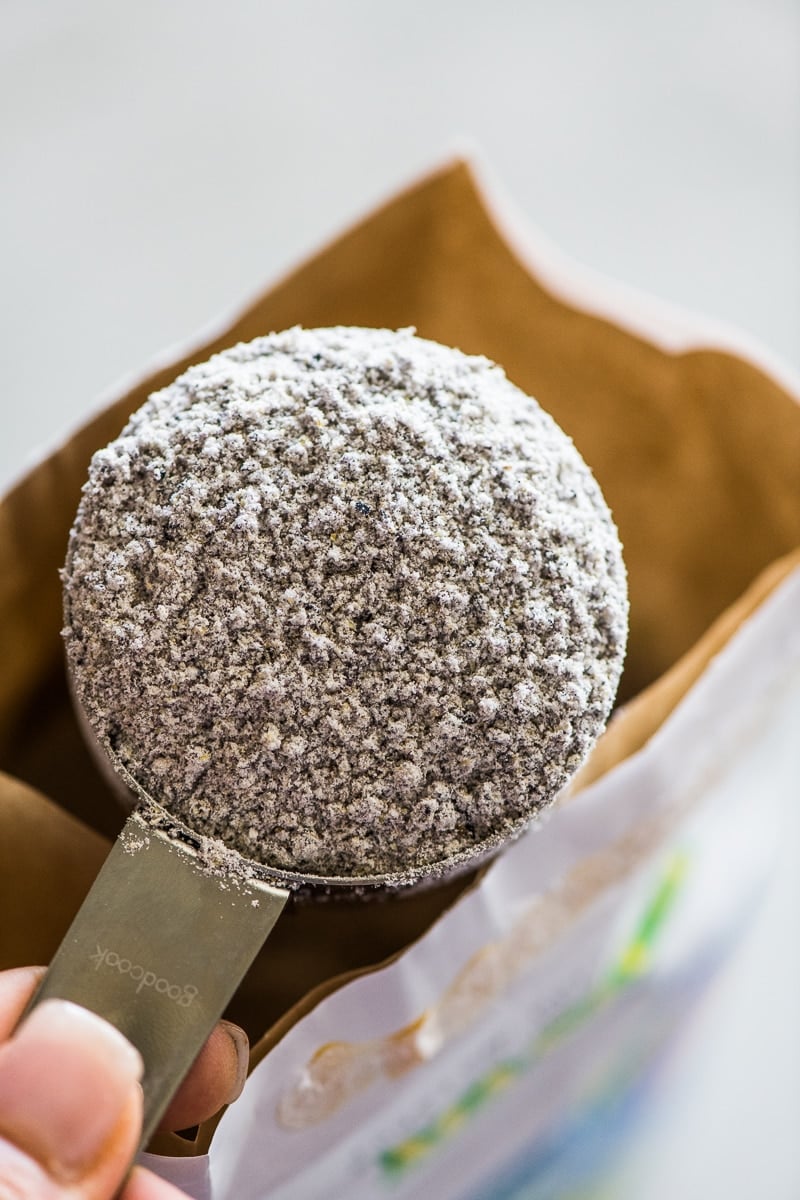 Is masa harina healthy?
This corn flour has many health benefits, including the fact that it's naturally gluten free.
Flour made from corn is also higher in fiber, vitamin A, zinc and iron that wheat flour. The combination of fiber and carbohydrates makes it a bit more filling as well. As a result, it will leave you sated for a longer period of time.
Also, it's easier to digest and can prevent stomach issues, thanks to the extra fiber.