Jump to Recipe
A Mexican classic, these Green Chile and Cheese Vegetarian Tamales are filled with roasted poblano peppers and spicy pepper jack cheese. Also gluten free!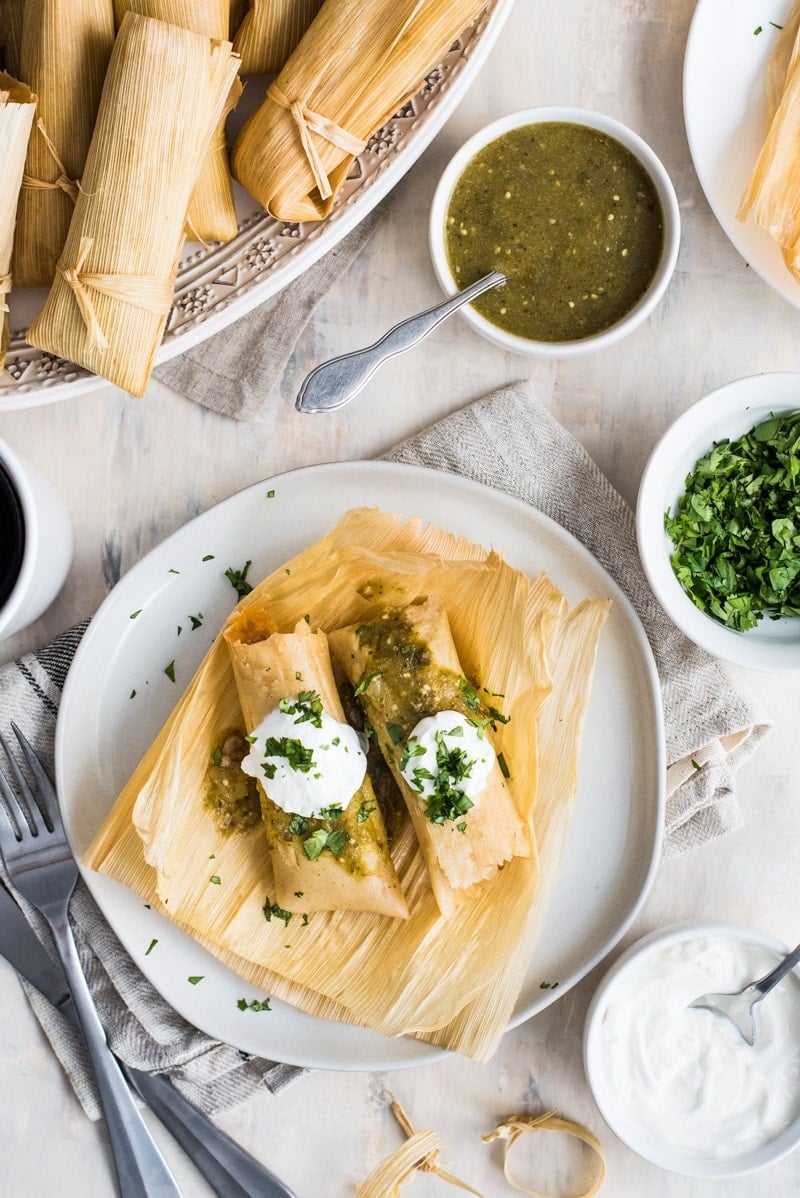 Tamales are finally here! After two years of convincing myself that I could actually make tamales on my own, I finally did it!
And they're freaking delicious.
Tamales are a big deal in my house, not because they're hard to make, but because they're traditionally only made for special occasions  – Christmas, New Years, Easter or whenever there's a big family gathering. Since my family only makes them a couple of times a year, they usually make a lot when they do. As in hundreds. Somehow they all get eaten within a week.
With Christmas right around the corner, there's no better time to jump right in and share the easiest and least complicated tamale recipe I know – green chile and cheese tamales (or tamales de rajas con queso).
But first things first.
What are tamales?
Tamales are a Mexican dish made from a corn dough (similar to the kind used to make corn tortillas) that's shaped like a skinny burrito and filled with meat, cheese, roasted peppers or other various savory or sweet fillings. The dough and fillings are usually wrapped in corn husks or banana leaves and steamed or boiled until cooked.
The way tamales are made vary from region to region, but the basic concept is the same – a corn masa dough filled with delicious goodness.
Once you've got the dough and filling prepared, here's the step by step process of how my family puts it all together.
How to make tamales
On a large corn husk with the pointy side facing away from you, spread a heaping spoonful of the prepared masa onto the bottom half of the husk using the back of your spoon. You want to have a thin layer of masa on the corn husk, but not thin enough that it's transparent and rips. If spreading the masa with the back of a spoon is too hard, you can spread and flatten the dough onto the corn husk using your fingers. Believe me, spreading the masa is an art that I haven't mastered yet. My parents are experts at it! Just do whatever works.
Fill with desired fillings – in this case, roasted green chiles and cheese.
Fold the long edges together like a book.
Fold over the remaining edge once more.
Fold in the pointy edge and secure the whole thing with a tie made from a thin strip of corn husk.
Place the filled tamales with the open end facing up in a large steamer pot. Fill steamer chamber with water and steam for 60 to 90 minutes, until the dough is cooked through and the tamale easily pulls away from the corn husk.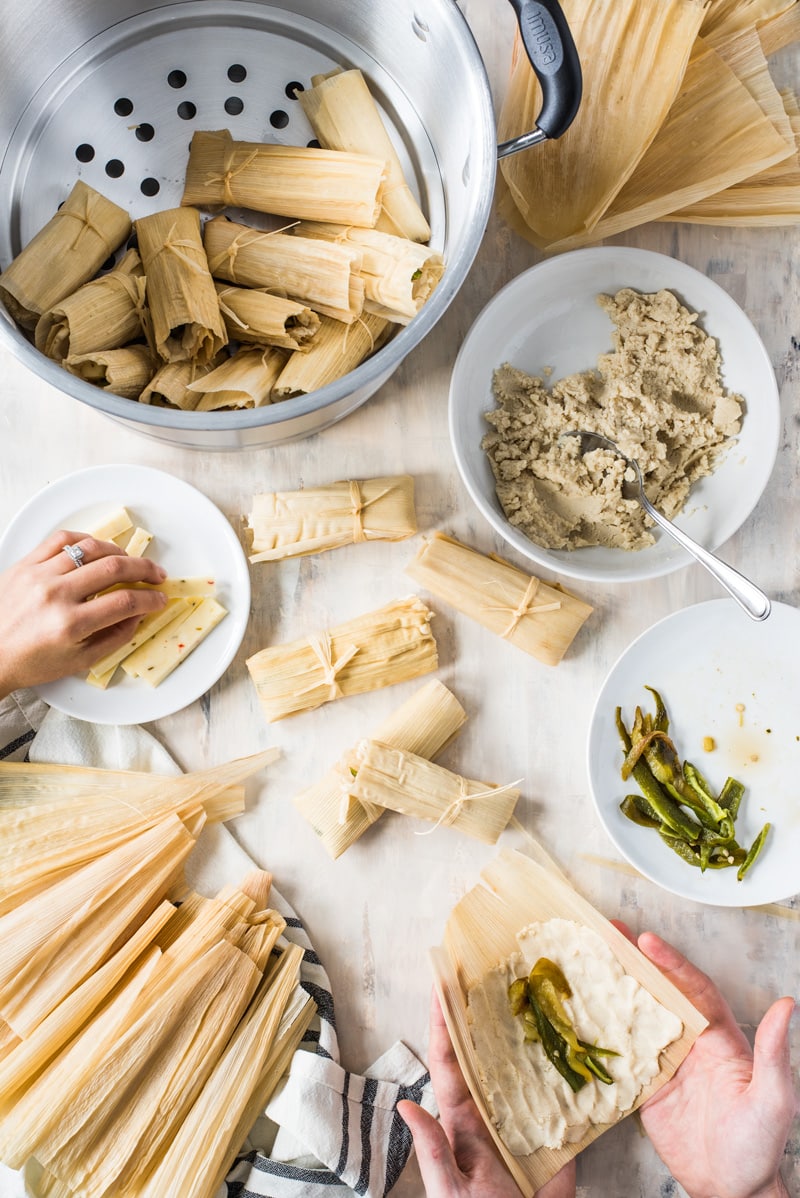 Making tamales with the family usually goes by quickly since there's always a lot of people helping. We usually end up forming a little assembly line – some people spread the dough on the corn husks, some people fill the tamales and other people close and secure the tamales.
Since my family lives a few states away, I had to make these on my own. But luckily considering this recipe makes a small batch of 24 tamales (and not the hundreds that my family usually makes), it wasn't so bad. 🙂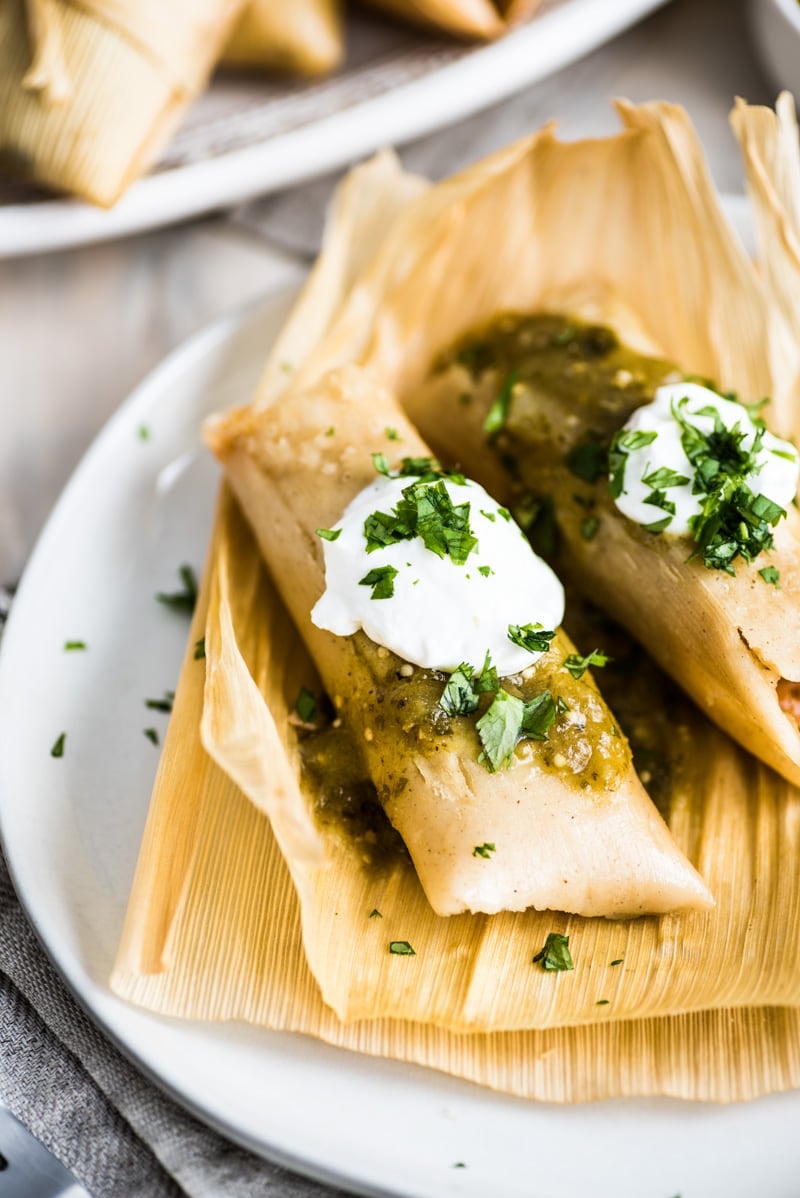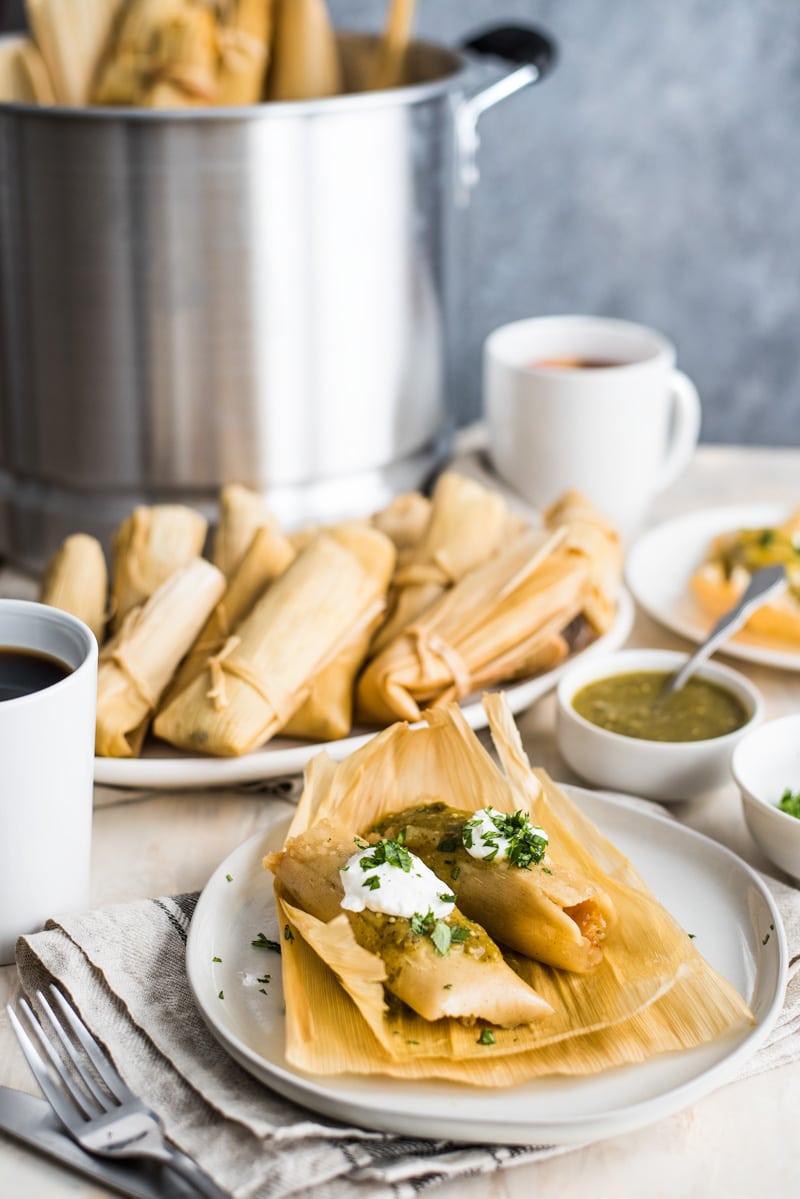 Traditionally, tamales are made with lard, which makes them not suitable for vegetarians. However, as long as I can remember, my family has always made them with vegetable oil – typically canola oil – making them vegetarian friendly. And since the masa is made of corn, it's also naturally gluten free!
Which means tamales for everyone. (Learn more about masa for tamales.)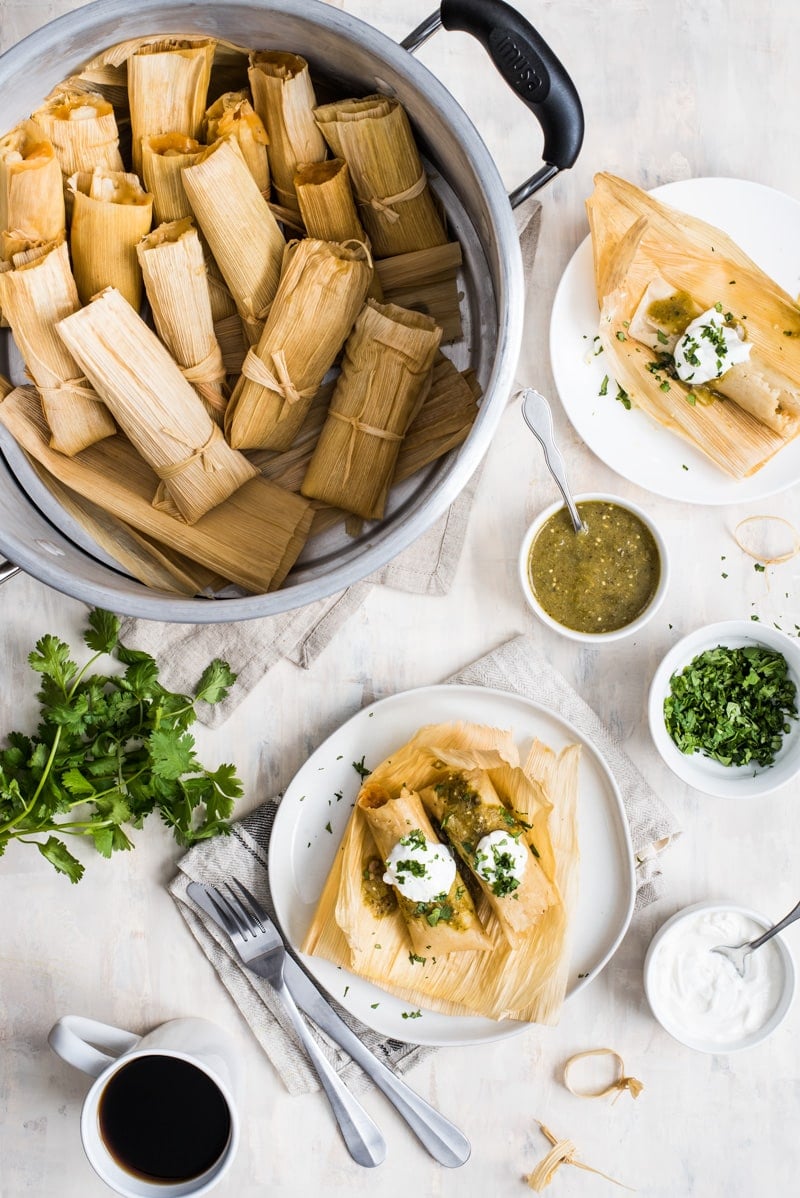 I served these vegetarian tamales with a dollop of sour cream, some salsa verde and freshly chopped cilantro. Give me a cup of hot coffee and I'll gladly eat these for breakfast. Some water and they're lunch. A cold beer and they're dinner.
I'll eat them pretty much any time!
More recipes you'll love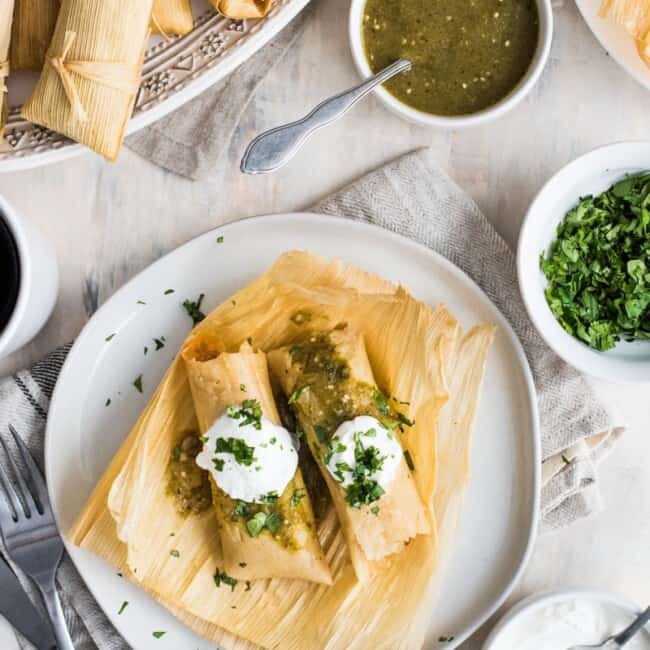 Prep: 30 minutes
Cook: 1 hour 30 minutes
Total : 2 hours
A Mexican classic, these Green Chile and Cheese Vegetarian Tamales are filled with roasted poblano peppers and spicy pepper jack cheese. Also gluten free!
Ingredients
For the dough
4 cups + 2 tablespoons masa harina
2 teaspoons fine salt
½ tablespoon baking powder
1 cup canola oil (or other neutral-tasting vegetable oil)
3 ¼ cups broth (vegetable, chicken, or beef)
For the filling
1 pound Monterey Jack cheese*, sliced into 25 strips
Instructions
Prepare the corn husks: Add the corn husks to a large bowl or pot. Pour enough hot water over the corn husks to cover them completely. Cover the bowl with aluminum foil and let them soak for 1 hour to soften them up. Meanwhile, make the tamale dough and prepare the filling.

Make the dough: In a large mixing bowl or pot, add the masa harina, salt and baking powder. Mix with your hands to combine. Add the canola oil and mix together, working the dough through your fingers until everything is well combined and incorporated. The dough should feel a little crumbly, almost like wet sand, and should lightly hold it's shape when pressed together.

Add the broth and mix for about 3-5 minutes until the dough is fairly wet and well saturated. The dough should be soft and spreadable like thick hummus. If the dough is too dry, add more broth. If it's too wet, add more masa harina. Cover and set aside.

Roast the peppers: Place the poblano peppers on a baking sheet under the broiler or directly under an open flame. Roast until all the sides are blackened and blistered. Transfer them to a large bowl and cover with plastic wrap. Let them sit for 10 minutes.

Using your fingers, rub off the blackened skins. Slice the peppers open, remove the stems, seeds, and large veins, then slice into strips and set aside.

Finish prepping the corn husks: Drain the water from the corn husks and pat them dry. Remove and discard any corn silk that may be on the husks. Lay the husks flat onto a baking sheet for easy access.

Spread the masa: Grab a corn husk and identify which is the smooth side and which is the side with ridges. Place the smooth side face up into your palm or on a plate. Using a large spoon, grab a heaping spoonful of masa and place it in the middle of the corn husk. Using the back of the spoon, spread the masa in a thin layer to create rectangle shape, leaving the top 1/3 of the corn husk empty. (see post above for step-by-step photos)

Add the filling: Place one stick of cheese and a few strips of roasted poblano peppers into the center of the corn husk.

Fold: Fold together the long edges of the corn husk like a book, and then fold it once more. Fold the pointy edge over so that only one side of the corn husk is open and exposed. Place in a bowl with the open end facing up, making sure to lean them against the side so it doesn't fall down. Repeat until all the tamales have been filled and assembled.

Prepare the steamer pot: Fill the bottom of the steamer pot with water and cover with the steamer insert. Place the tamales in the steamer with the open end facing up, making sure to lean them against the side of the pot so they don't fall down.

Steam: Cover tightly with the lid and place the steamer over high heat. Bring the water in the steamer pot to a boil (you should be able to hear it bubbling), then reduce the heat to low, and cook for 1 hour and 15 minutes.

Rest and serve: Carefully transfer the tamales to a baking sheet or serving platter and let them sit and cool slightly for 10 minutes. They may be a little squishy when you first take them out of the steamer, but will quickly firm up once they have time to cool. Serve and enjoy!
Isabel's Tips:
Cheese: Other cheese that work great include pepper jack, Chihuahua, Oaxaca, or your favorite melting cheese.
Storage: Leftover tamales can be stored in the fridge for up to 1 week.
Freezing:  To freeze, place cooked and cooled tamales in an airtight container or zip-lock bag and freeze for up to 6 months.
Reheating:  To reheat, steam tamales for 15 minutes in a steamer pot, heat them in a 350°F oven for 10 minutes, or in heat in the microwave for 1-2 minutes on high.
Nutrition Information
Serving: 1tamale Calories: 297kcal (15%) Carbohydrates: 32g (11%) Protein: 8g (16%) Fat: 16g (25%) Saturated Fat: 4g (20%) Polyunsaturated Fat: 3g Monounsaturated Fat: 8g Trans Fat: 0.04g Cholesterol: 16mg (5%) Sodium: 445mg (19%) Potassium: 167mg (5%) Fiber: 3g (12%) Sugar: 1g (1%) Vitamin A: 394IU (8%) Vitamin C: 23mg (28%) Calcium: 206mg (21%) Iron: 3mg (17%)