Covered in an easy Homemade Tomatillo Salsa Verde, these baked Mexican Salsa Verde Chicken Enchiladas are great for dinner and make tasty leftovers that everyone will be excited to eat. It's one of my favorite recipes and is also gluten free!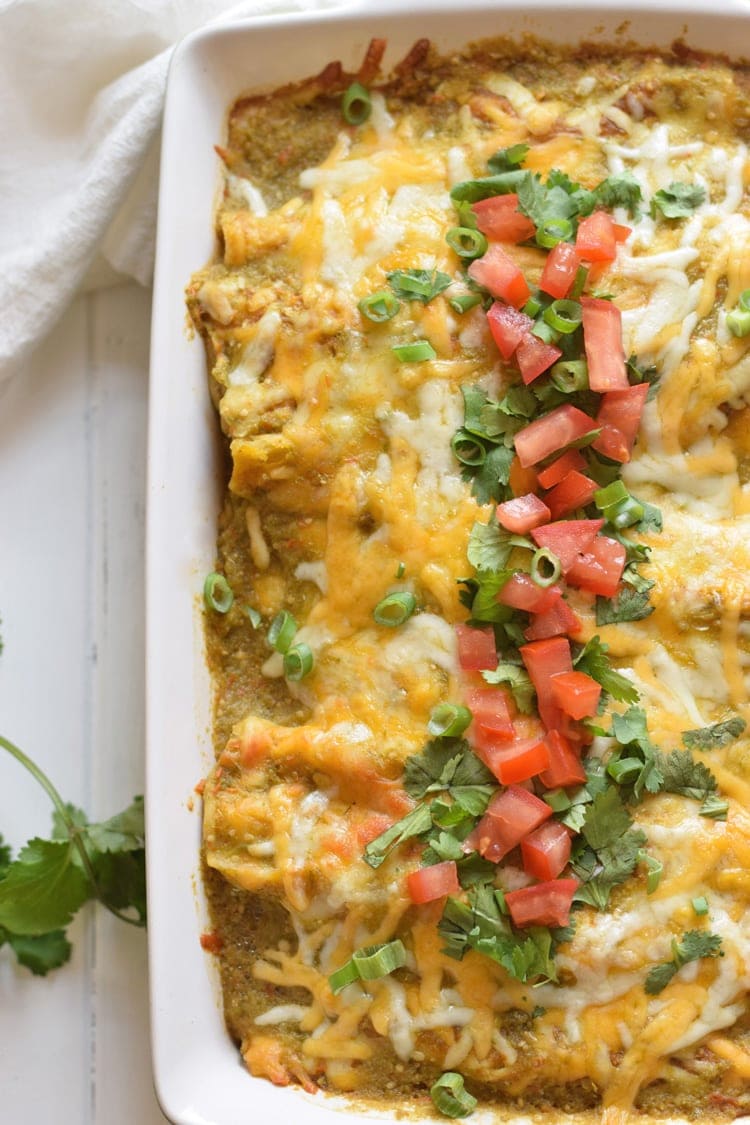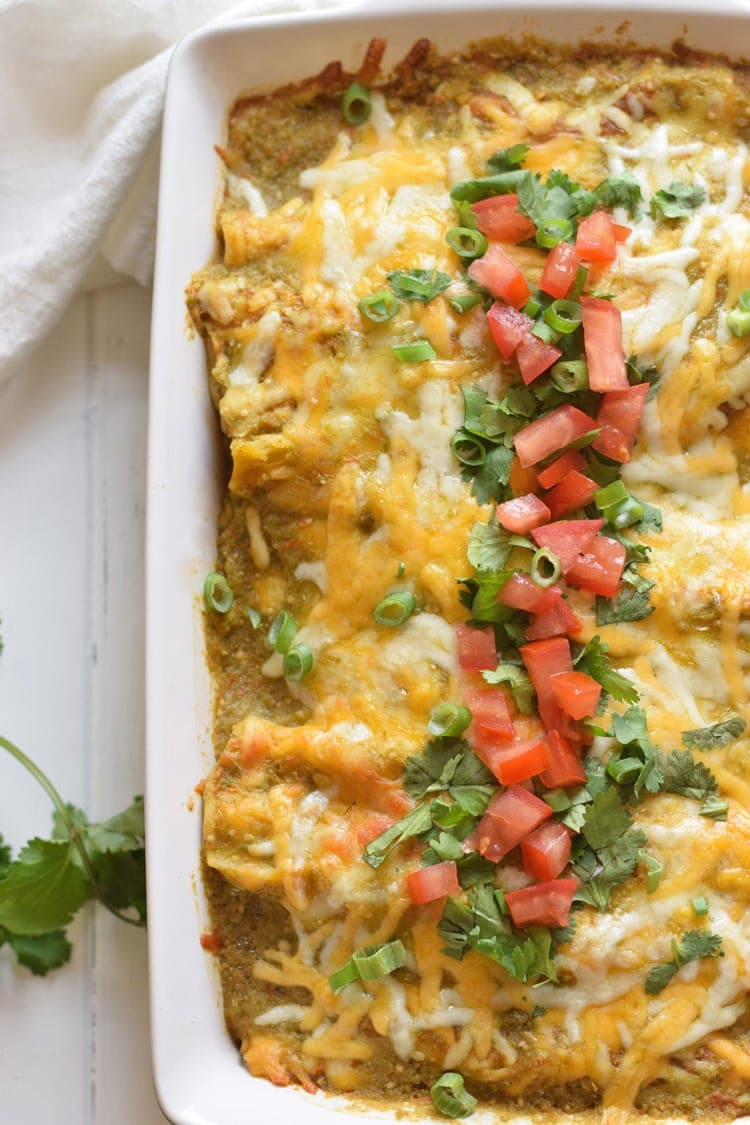 Enchiladas are easily one of the most popular Mexican dishes in my house. Granted, my house consists of only the fiancé and I (and Charlie the Cat), but that's besides the point. Though there are many variations involving the filling, the cheese, the tortillas, the toppings and the spice/heat level, the one thing that sets enchiladas apart from your regular old taco or burrito is that it's covered, or in my case, smothered in a chili pepper sauce. If you like enchiladas with lots of sauce, these Salsa Verde Chicken Enchilada won't disappoint. Covered in an easy Homemade Tomatillo Salsa Verde, these Mexican baked enchiladas are great for dinner and make tasty leftovers that everyone will be excited to eat.
That is if you end up with any leftovers.
If you've never made your own enchiladas before, here's what you'll need.
Tortillas – I used store-bought Mission yellow corn tortillas, but if you're up for it, you can make your own using my easy 3-Ingredient Authentic Mexican Corn Tortillas recipe. You can also use store-bought flour tortillas or make your own using my Authentic Mexican Flour Tortillas (White & Whole Wheat Versions) recipe. I've got you covered.
Salsa Verde – I highly recommend making your own salsa verde. It's just so easy and versatile, once you make it, you'll wonder where it's been your whole life. This recipe uses my easy Easy Salsa Verde recipe but if you're not up for it, store-bought salsa verde works as well.
Cheese – Lots of it! This recipe uses a Mexican shredded cheese blend that includes Monterrey Jack, Cheddar and other cheeses. But if you've only got cheddar or mozzarella in your fridge, that works, too.
Once you've got all your ingredients ready to go, just spoon some chicken into the each tortilla, roll them up into little tacos and place them a baking dish seam side down. Cover the tortillas with the salsa verde, top with cheese and bake!




I like to top my enchiladas with some chopped cilantro, green onions and tomatoes. Not only does it look pretty, but I'm obsessed with cilantro. 😉
I normally eat my enchiladas with a side salad and a dollop of sour cream but if it's a special occasion, I'll usually serve it with some refried beans and rice. Just like mom makes it.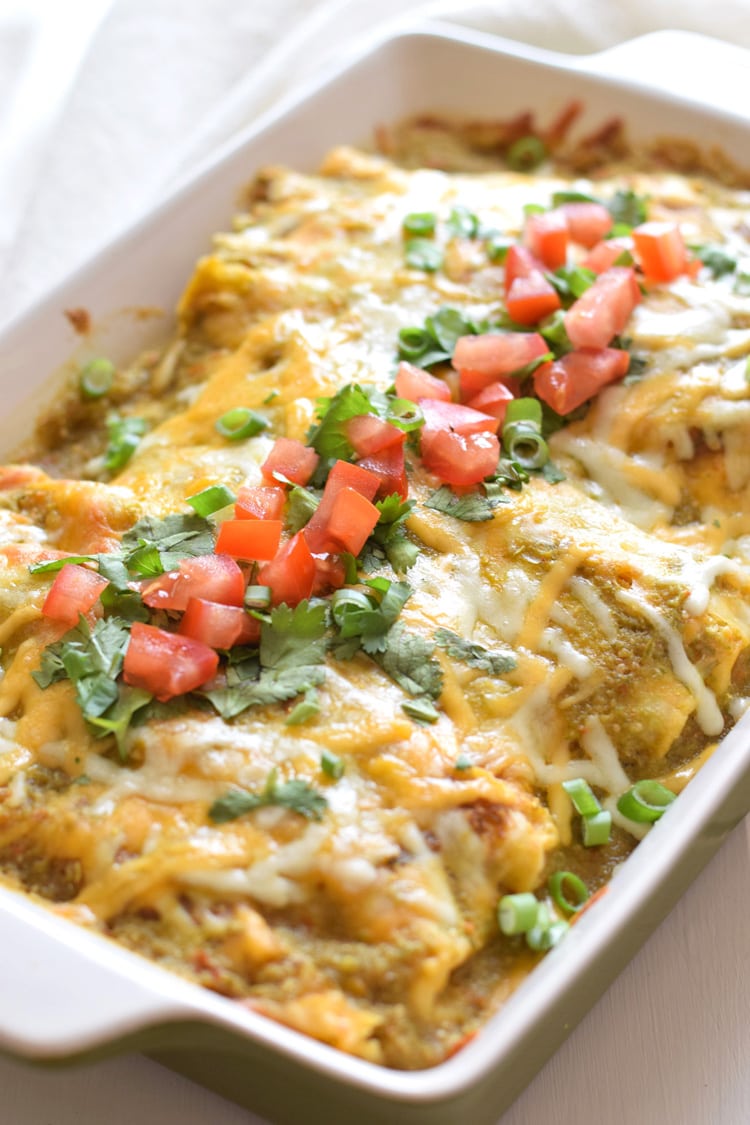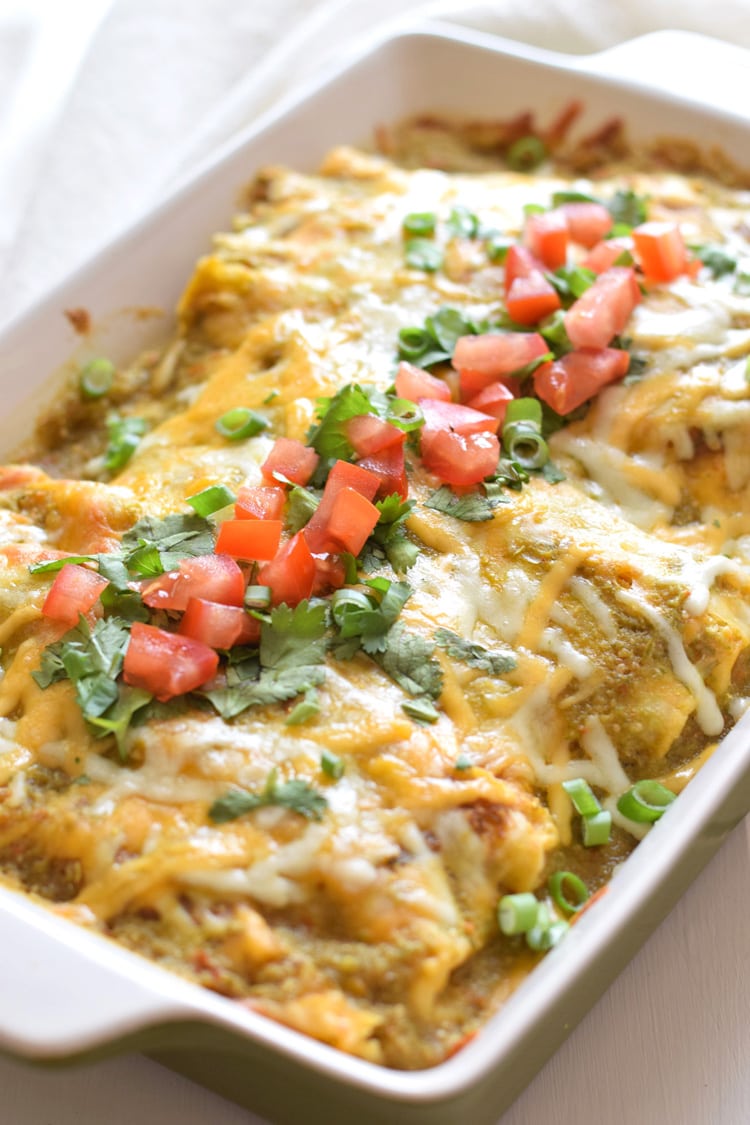 If you're interested in making a vegetarian version, I recommend stuffing the enchiladas with pinto or black beans, cheese and some chopped spinach. I promise you won't even miss the meat. In fact, I grew up eating enchiladas stuffed with only cheese. That's just how my mom made them. It wasn't until I was older that I realized there were so many other variations that I'd never tried.
Though believe me, I'm DEFINITELY not complaining. I love cheese! It's one of those ingredients that I can't help but eat when I'm preparing a recipe that uses it. Shredded cheese straight from the bag. It's amazing.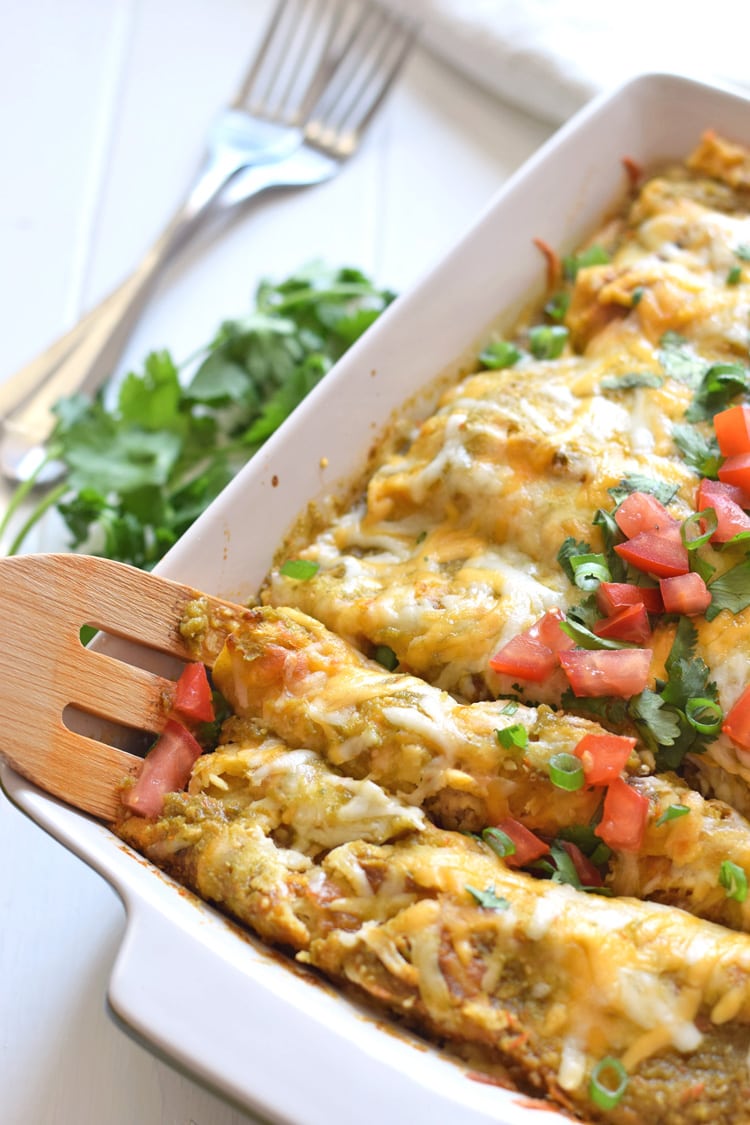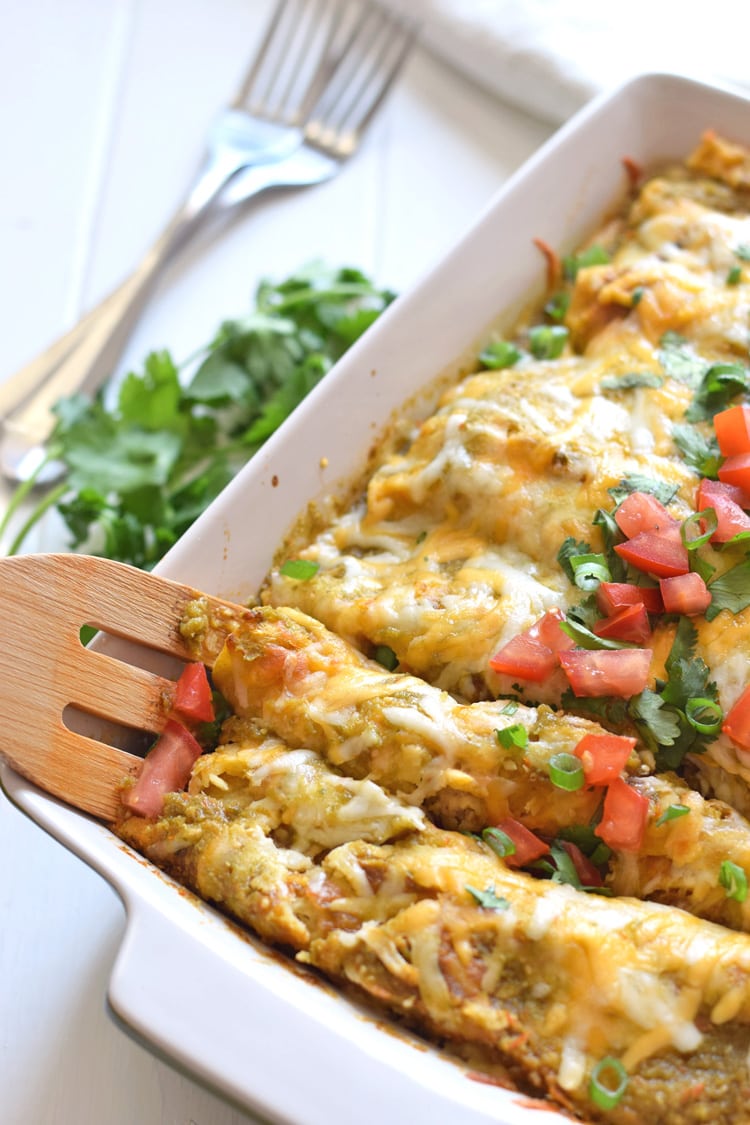 I hope you enjoy this recipe as much as I do!
INGREDIENTS
For the chicken
1

pound

boneless skinless chicken breasts or thighs

(or pre-cooked shredded chicken)

1

tablespoon

olive oil

2

teaspoons

ground cumin

1

teaspoon

dried oregano

1

teaspoon

onion powder

1/2

teaspoon

coarse kosher salt

juice of

1/2 lime
For the enchiladas
2

cups

Easy Salsa Verde recipe

(or store bought salsa verde)

10

corn tortillas

(soft flour tortillas can also be used)

2

cups

shredded Mexican cheese

optional toppings: diced tomatoes, chopped cilantro, chopped green onions

for topping (optional)
INSTRUCTIONS
Preheat oven to 350 degrees.

Slice chicken breast or thighs into thin strips.

In a medium bowl, combine chicken, olive oil, cumin, oregano, onion powder, sea salt and lime juice.

Place seasoned chicken onto a large baking sheet and bake in oven for 10 to 12 minutes.

Warm corn tortillas in the microwave for 30 seconds to soften them.

In a 2-quart baking dish, begin to assemble the enchiladas. Spoon some of the baked chicken into a warm tortilla. Roll up like a taquito and place in baking dish, seam side down. Continue until all tortillas have been filled.

Pour the salsa verde evenly on top of the enchiladas. Top with shredded cheese.

Bake for 20 minutes or until cheese starts to bubble.

Serve with diced tomatoes, cilantro and green onions.
NOTES
To save time: use any leftover shredded chicken you have in the fridge or use a store-bought rotisserie chicken and shred it at home instead of baking your own. Season the shredded chicken as instructed in the recipe.
---
Nutrition Facts
Weeknight Enchiladas Verdes Recipe
Amount Per Serving (2 enchiladas)
Calories 388
Calories from Fat 189
% Daily Value*
Fat 21g32%
Potassium 29mg1%
Carbohydrates 23g8%
Protein 30g60%
Vitamin A 350IU7%
Vitamin C 3.3mg4%
Calcium 350mg35%
Iron 2.9mg16%
* Percent Daily Values are based on a 2000 calorie diet.
Did you make this recipe?
Leave a comment below and tag @isabeleats on social media!