Jump to Recipe
These Spinach Enchiladas are covered in a red enchilada sauce and stuffed with spinach, mushrooms and onions for a tasty Mexican dinner!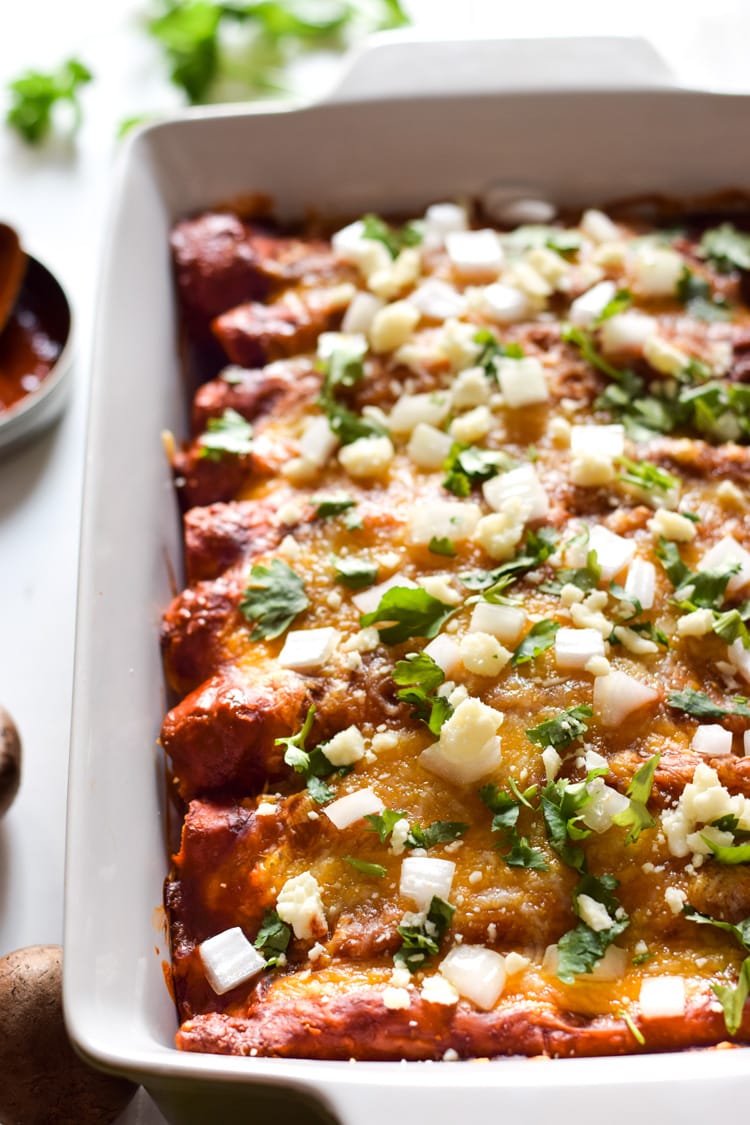 Say hello to these spinach enchiladas – your new favorite Mexican dinner!
Remember that Authentic Enchilada Sauce recipe I posted earlier this week? Well it's time we put it to good use! Say hello to these super easy vegetarian and gluten free enchiladas filled with spinach, mushrooms and caramelized onions. Because the filling is pretty healthy, I topped it with a TON of cheese.
They say it's all about balance, right?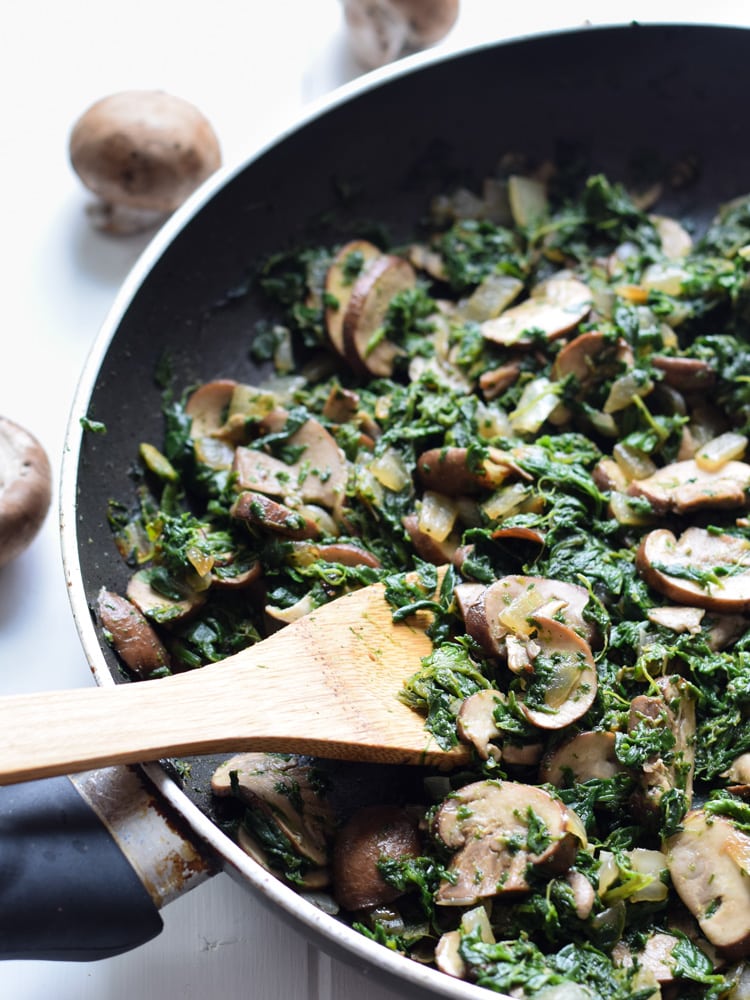 Seriously though. How amazing does this filling look?! It's one of my favorites. However, in case you don't like mushrooms, there's plenty of other things you can fill the enchiladas with. Here are few ideas.
diced sweet potatoes
diced eggplant
So many possibilites!
Once you've got your filling, you'll need tortillas. I used store-bought corn tortillas I got at my local grocery store, but you could also use flour tortillas if you prefer.
If you want to go homemade all the way, here are all the tortilla options you could use:
Then just fill 'er up!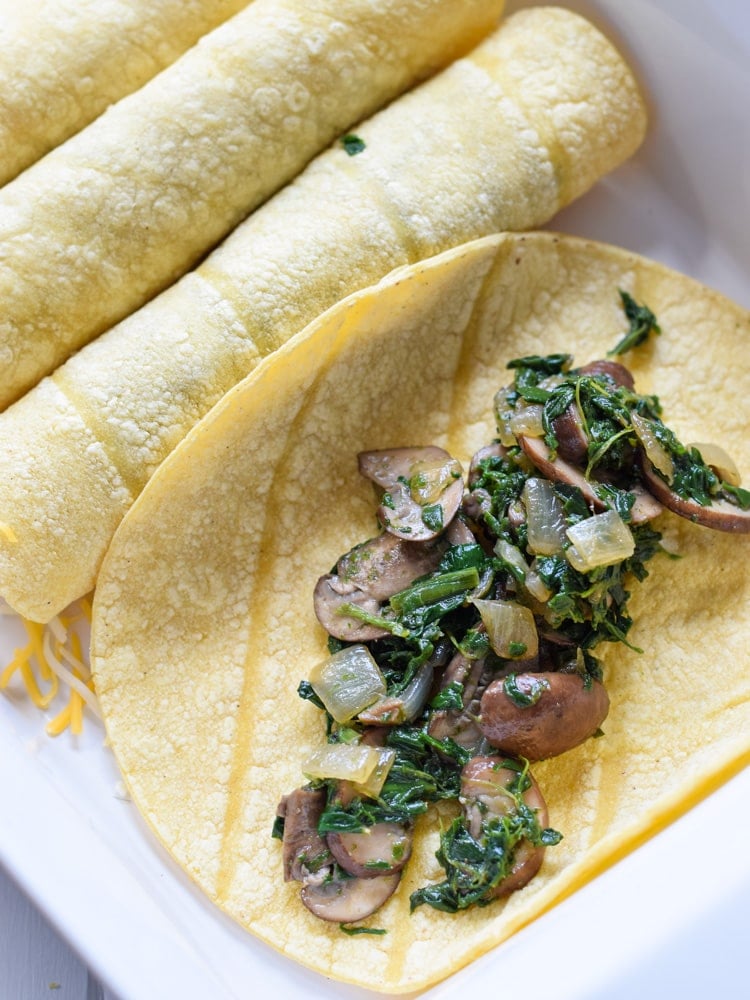 Next, you'll need to top them with some red enchilada sauce.
I highly recommend making your own. It's super easy and the complex flavors you get don't even compare to any store-bought enchilada sauce I've ever tried.
Here are all the homemade enchilada sauce options that you can use: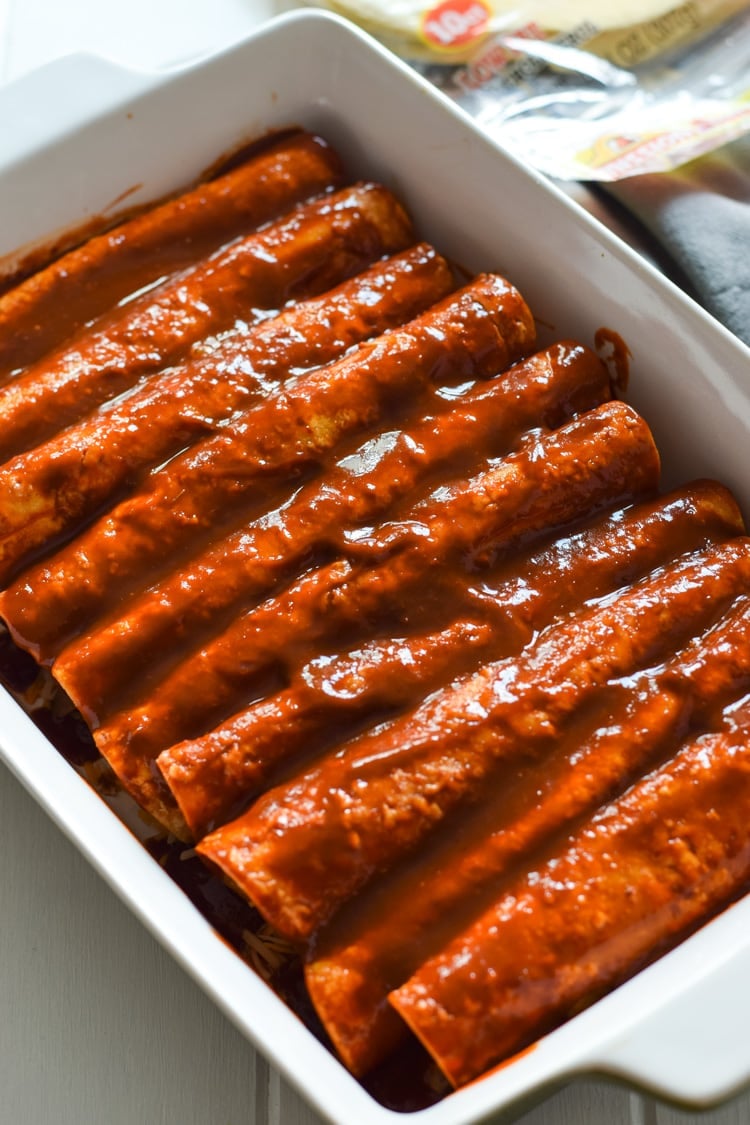 Finally, you'll need some shredded cheese! I used a Colby and Monterey Jack blend, but you could use Mozzarella, Chihuahua or whatever you have on hand.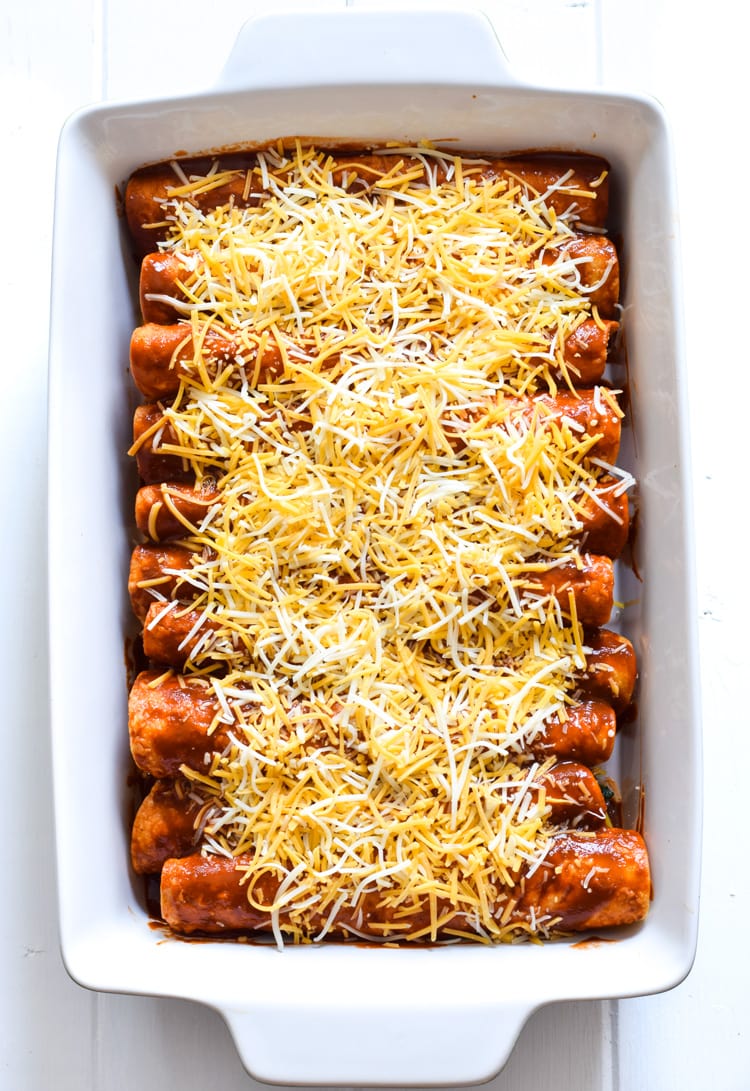 Then just bake in the oven for 20 minutes, top with some diced onions, cilantro and cotija cheese and go to town!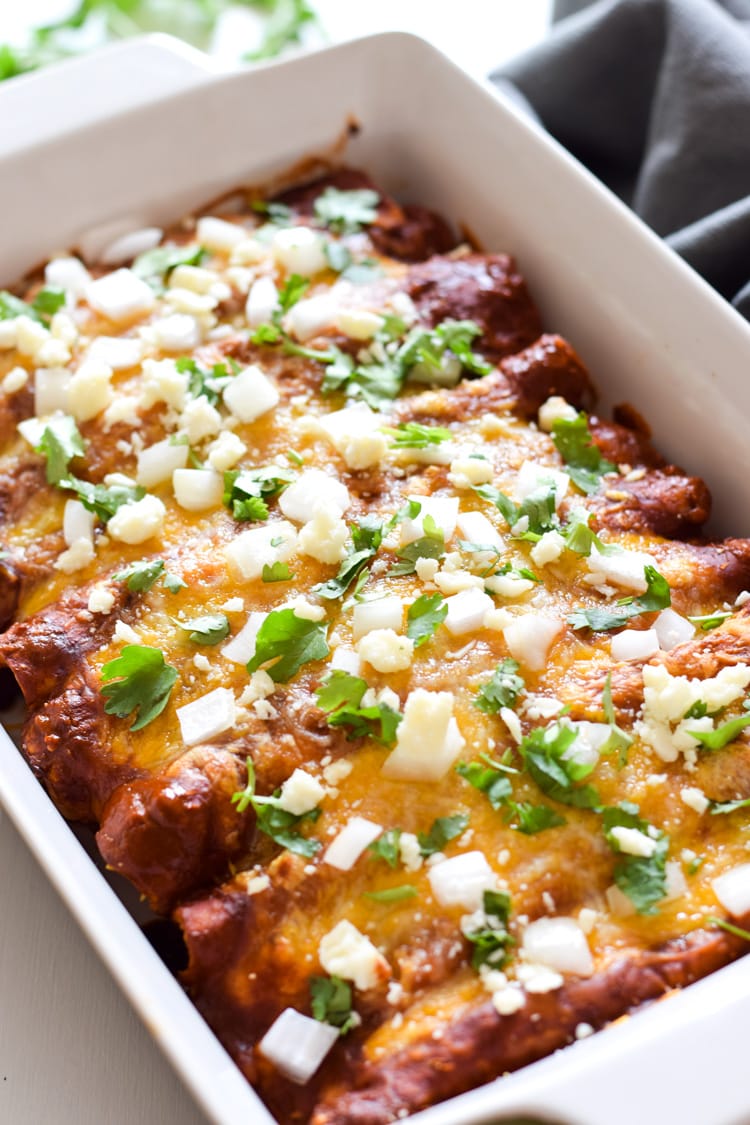 I really hope you love these Spinach Enchiladas as much as I do!
More Enchilada recipes to try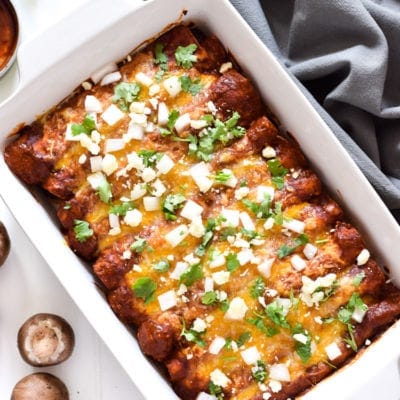 Prep: 10 minutes
Cook: 35 minutes
Total : 45 minutes
These Spinach Enchiladas are covered in a red enchilada sauce and stuffed with spinach, mushrooms and onions for a tasty Mexican dinner!
Instructions
Preheat oven to 350°F.

Thaw frozen spinach in microwave by heating for 2 to 3 minutes. Ring out as much water as possible.

Heat large skillet with olive oil over medium-high heat.

Add in diced onions and cook for 7 minutes or until the onions soften and the edges begin to caramelize.

Lower heat to medium and add in sliced mushrooms, spinach, salt, garlic powder and cumin powder. Cook for about 8 more minutes, until mixture has cooked down.

Warm corn tortillas in the microwave in 30 seconds until soft and pliable.

In a 2-quart baking dish, begin to assemble the enchiladas. Spoon some of the spinach mixture into a warm tortilla. Top mixture with a sprinkle of shredded cheese and roll up like a taquito and place in baking dish, seam side down. Continue until all tortillas have been filled.

Pour the red enchilada sauce evenly on top of the enchiladas. Top with remaining shredded cheese.

Bake for 20 minutes or until cheese starts to bubble.

Serve with chopped cilantro, onions and cotija cheese.
Nutrition Information
Serving: 2enchiladas Calories: 413kcal (21%) Carbohydrates: 37g (12%) Protein: 17g (34%) Fat: 19g (29%) Monounsaturated Fat: 3g Cholesterol: 40mg (13%) Potassium: 864mg (25%) Fiber: 8g (32%) Sugar: 8g (9%) Vitamin A: 3850IU (77%) Vitamin C: 5mg (6%) Calcium: 400mg (40%) Iron: 2.7mg (15%)