Jump to Recipe
This zucchini enchiladas recipe uses thinly sliced zucchini instead of traditional tortillas! Stuffed with flavorful Honeysuckle White ground turkey, onions and bell peppers, they're low carb, gluten free and perfect for the whole family.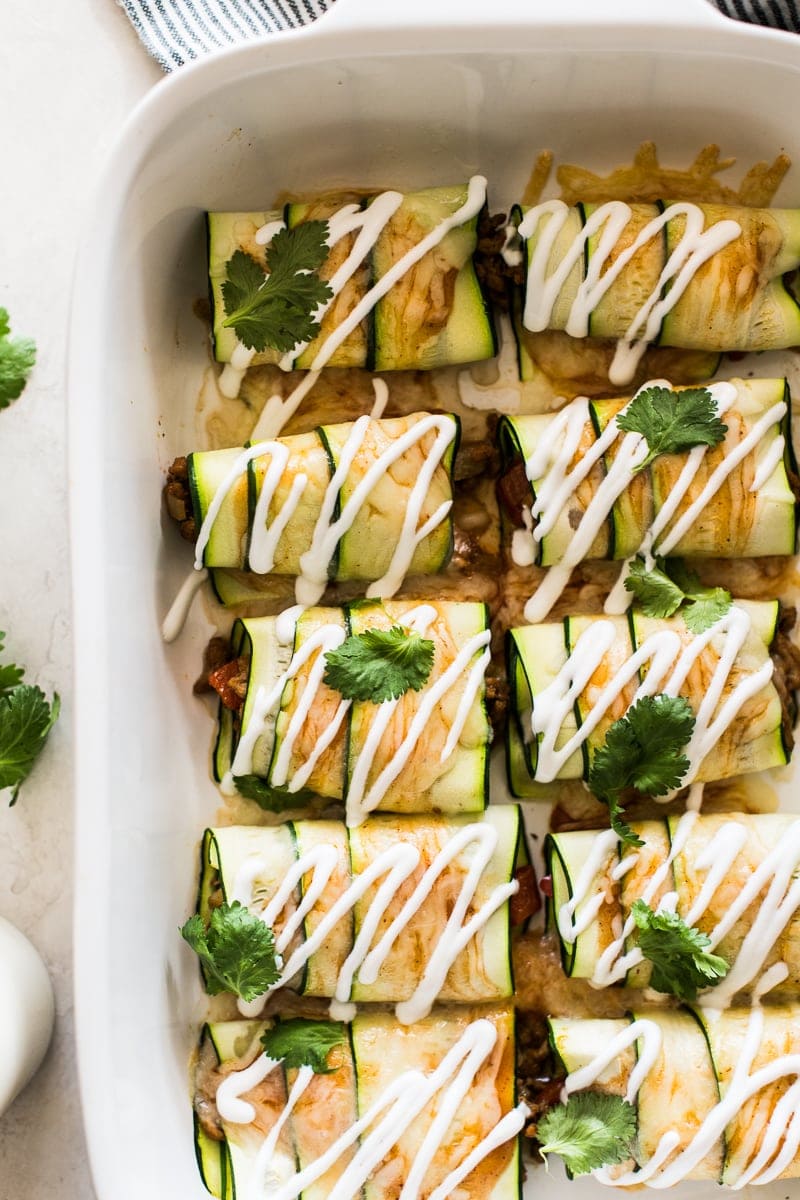 This post is sponsored by my friends at Honeysuckle White. All opinions expressed here are my own.
Aren't these zucchini enchiladas the cutest things ever? In an effort to eat more vegetables and shake things up a bit in the kitchen, I'm swapping out the tortillas and making these enchiladas with thinly sliced zucchini ribbons!
Not only are they fun and easy to make (kids would love rolling up the zucchini), but they're also made with minimal ingredients and are packed with lots of protein.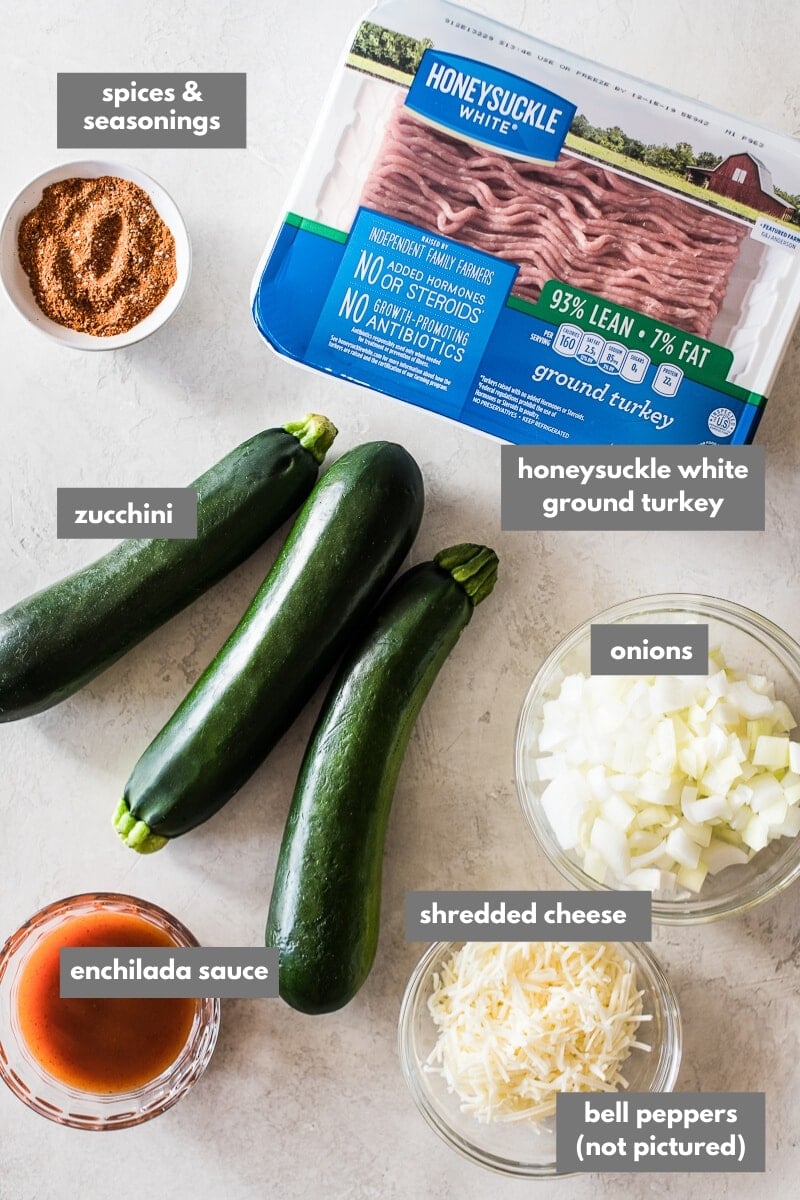 Zucchini Enchilada Ingredients
Zucchini – You'll need 3 to 4 large zucchini, the bigger the better. If all you can find are small zucchinis, that's okay. Just buy a few more since you'll need more to use up all the filling.
Ground Turkey – I'm a big fan of Honeysuckle White turkey and have been for years! Not only is their turkey delicious, but their products don't contain any growth-promoting antibiotics, added hormones or steroids. I recommend using their 93% lean ground turkey to reduce the amount of excess moisture in the filling which can cause the zucchini to get soggy while cooking.
Onions and Bell Peppers – My go-to veggies to add to any ground meat! Feel free to swap out the bell peppers for something spicier like a jalapeno or serrano if you'd like.
Taco Seasonings – I used a mixture of pantry spices like ground cumin, chili powder, garlic powder, onion powder, dried oregano and smoked paprika.
Enchilada Sauce – I topped mine with my homemade easy enchilada sauce, but you can also use this authentic enchilada sauce, this green enchilada sauce or your favorite store-bought brand.
Shredded Cheese – I used Monterey Jack cheese, but you can use any melting cheese you'd like. Mozzarella or cheddar also work!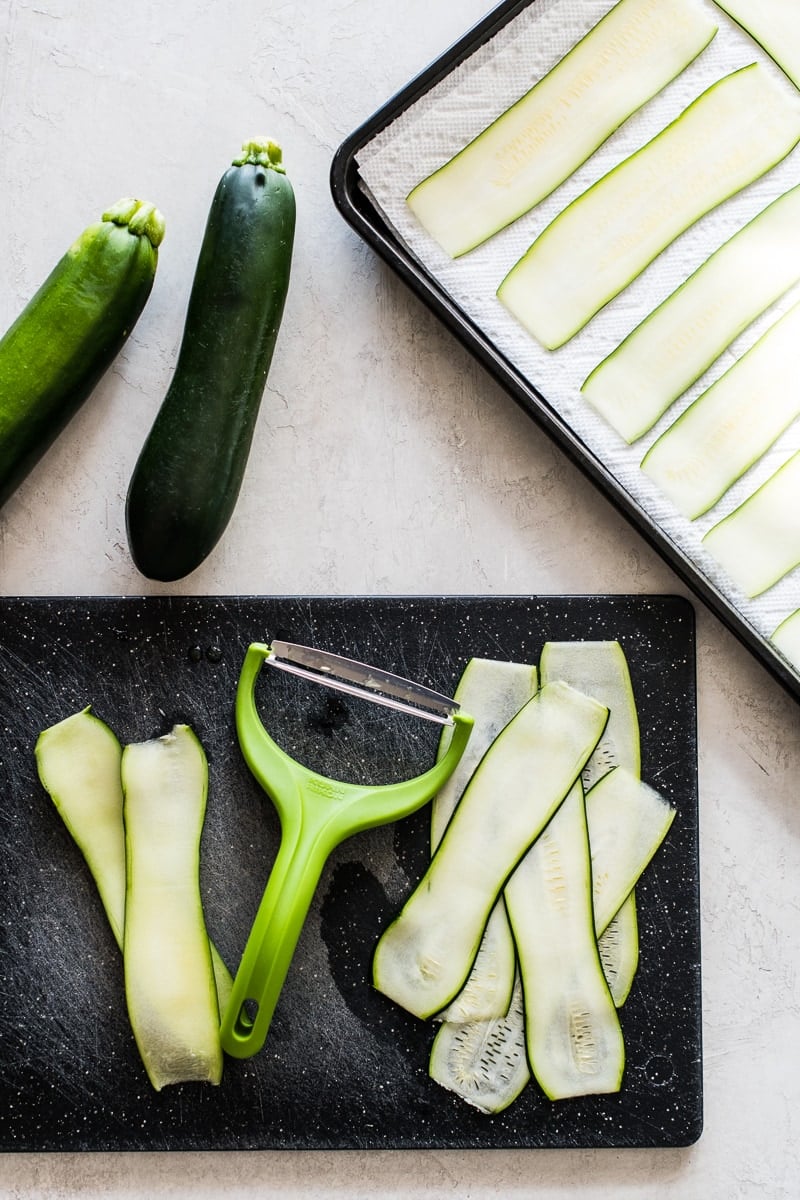 How to Make Zucchini Enchiladas
Prepare the filling by sauteing the peppers and onions in a little olive oil. Once they're softened, add in the ground turkey and seasonings and cook until the meat has browned and cooked through.
Slice the zucchini into ribbons using a wide vegetable peeler.
Pat the zucchini ribbons dry in between paper towels to remove as much excess moisture as possible. This will help prevent the zucchini from getting soggy when it's time to cook it. I like to lay out paper towels on a large baking sheet to make the drying process easier.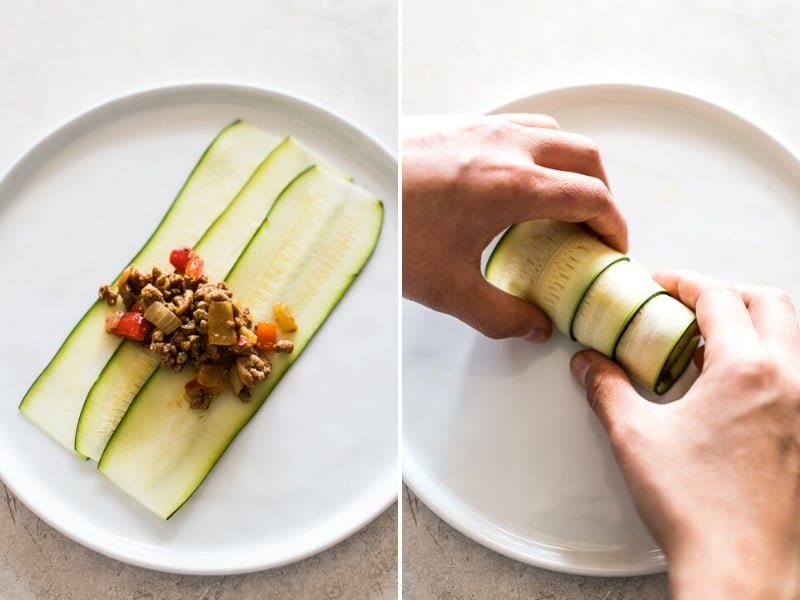 Now it's time to fill and roll! Lay three zucchini ribbons halfway on top of each other like the photo above. Then scoop about one or two tablespoons of filling into the middle and roll up the zucchini around the filling to make an enchilada. Some filling may fall out – that's okay! Just push it back in there and all is well.
Place the enchiladas in two large baking dishes with the seam side down so they don't unravel while cooking.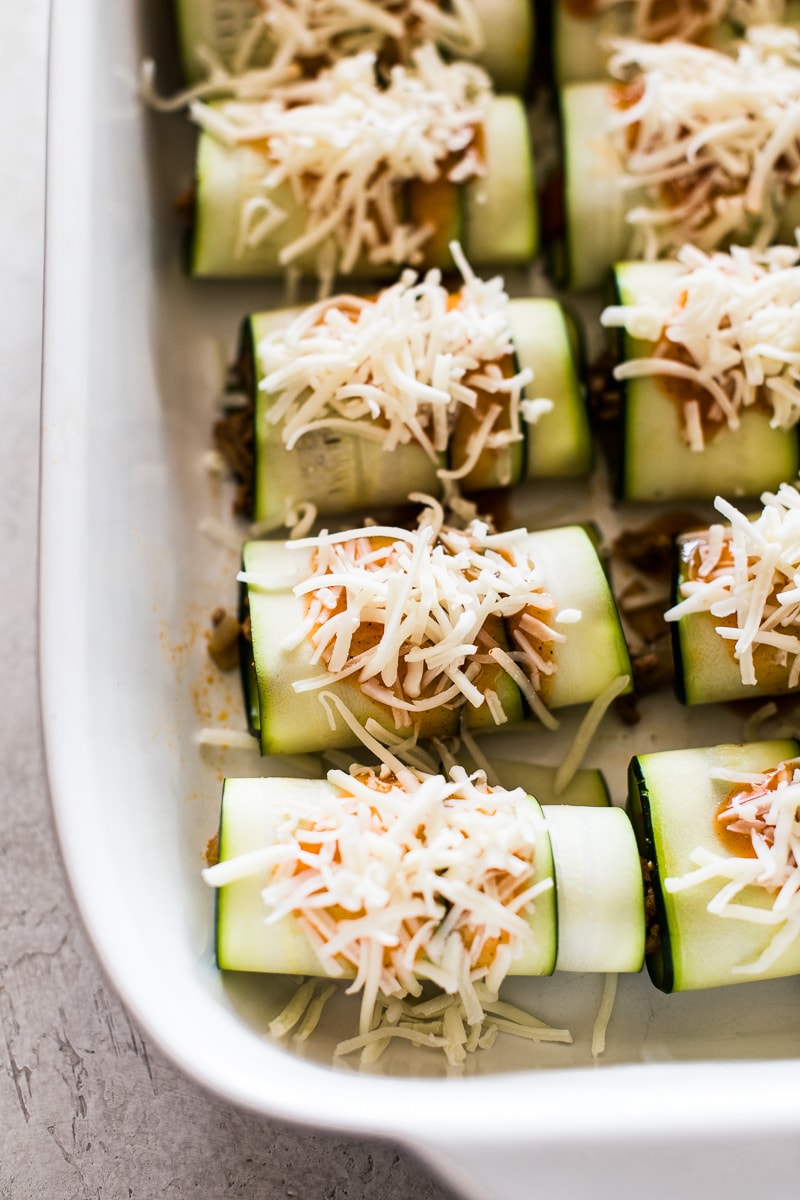 Top each zucchini enchilada with a spoonful of enchilada sauce and some shredded cheese. You only need a little enchilada sauce. If you cover them too much, they may turn out a little soggy when cooked.
Bake in a 375°F oven for 10 minutes until the cheese has melted.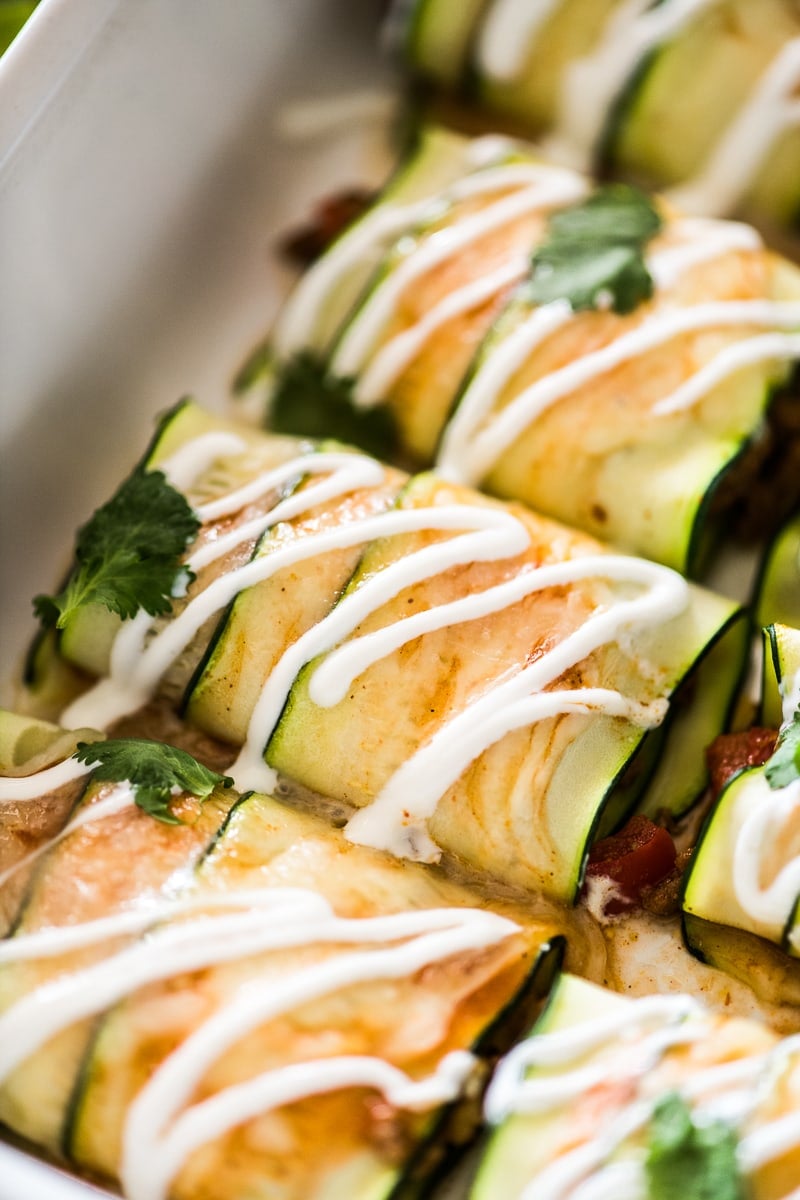 That's it! I topped mine with a little sour cream and some cilantro and it was the perfect low-carb high-protein recipe. To round out the meal, here are a few side dishes to serve along these babies!
What to Serve with Zucchini Enchiladas
I hope you love this recipe as much as I do! Be sure to give it a review below or leave a comment if you have any questions!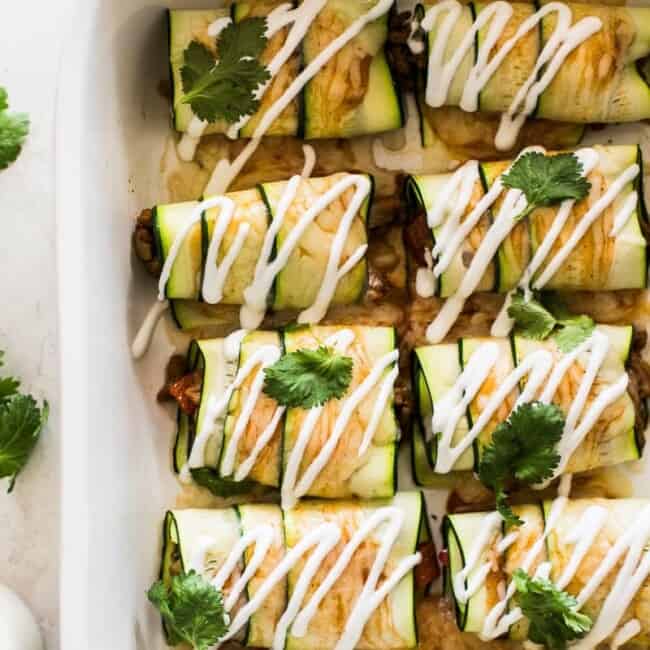 Prep: 25 minutes
Cook: 25 minutes
Total : 50 minutes
This zucchini enchiladas recipe uses thinly sliced zucchini instead of traditional tortillas! They're low carb, gluten free and fun to make!
Ingredients
2 tablespoons olive oil
1/2 medium onion, diced
1/2 large bell pepper, diced
1 teaspoon minced garlic
4 teaspoons chili powder
1 teaspoon ground cumin
1 teaspoons kosher salt
1/2 teaspoon garlic powder
1/2 teaspoon onion powder
1/2 teaspoon smoked paprika
1/4 teaspoon dried oregano
3-4 large zucchini, ends removed and thinly sliced into long strips using a wide vegetable peeler
1/3 cup red enchilada sauce
3/4 cup shredded monterey jack cheese
optional toppings: chopped cilantro and sour cream
Instructions
Heat olive oil in a large nonstick skillet over medium-high heat. Add onions, bell peppers and garlic. Saute for 5 minutes, until vegetables have softened.

Add the ground turkey, chili powder, ground cumin, salt, garlic powder, onion powder, paprika and oregano. Mix together and break up the meat using a spatula. Cook for 8-10 minutes, until the meat has browned and fully cooked through. Remove from heat.

Place zucchini slices in between two sheets of paper towels and pat down to remove any excess moisture.

Preheat oven to 375°F. Lay out two large rectangular baking dishes.

Lay out 3 slices of zucchini and overlap each of them lengthwise about halfway to create one long zucchini base.

Place about 1-2 tablespoons of ground turkey mixture in the middle of the zucchini and roll up like an enchilada.

Place the zucchini roll in the baking dish and repeat until all the ground turkey has been used.

Top enchiladas with a small spoonful of enchilada sauce and a pinch of shredded cheese.

Bake for 10 minutes until the cheese has melted. Top with sour cream and cilantro if desired. Serve immediately.
Isabel's Tips:
Nutritional data is an estimate and does not include optional toppings.
Nutrition Information
Serving: 1/6th of recipe Calories: 232kcal (12%) Carbohydrates: 10g (3%) Protein: 18g (36%) Fat: 14g (22%) Saturated Fat: 4g (20%) Polyunsaturated Fat: 1g Monounsaturated Fat: 3g Trans Fat: 0g Cholesterol: 68mg (23%) Sodium: 490mg (20%) Potassium: 534mg (15%) Fiber: 3g (12%) Sugar: 6g (7%) Vitamin A: 13IU Vitamin C: 46mg (56%) Calcium: 39mg (4%) Iron: 68mg (378%)