Jump to Recipe
Easy carne asada tacos made from juicy and tender marinated flank steak or skirt steak and topped with diced onions, crumbled cotija cheese and fresh cilantro. These authentic Mexican street tacos are super flavorful and will quickly become a family favorite!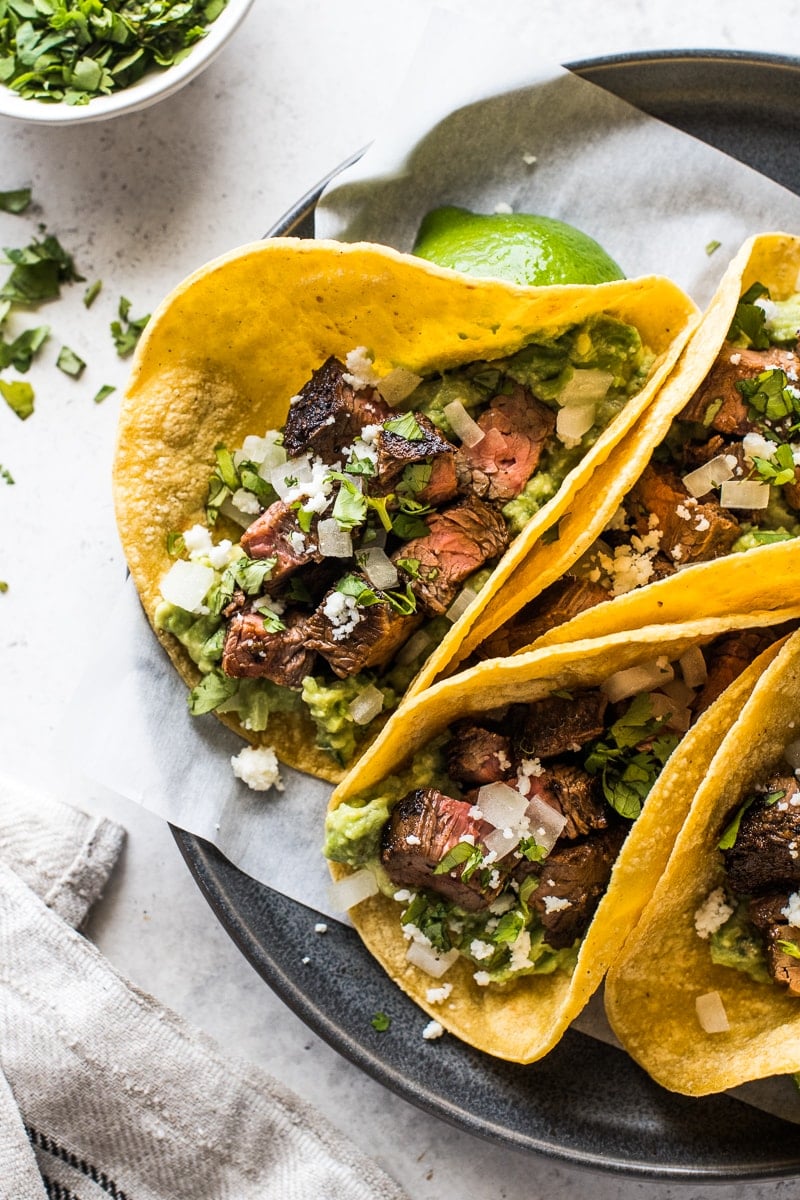 I've eaten a lot of tacos in my life, and without a doubt carne asada tacos are in my top 3 tacos of all time. (The other two in no particular order are carnitas tacos and chicken tacos.)
Made with fresh and simple ingredients like marinated steak, onions, cilantro and lime juice, these tacos are the perfect example of Mexican street food – casual, flavor-packed and extremely satisfying.
They're perfect for weeknight dinners and taco nights, as well as preparing in large batches for outdoor grilling parties and backyard barbecues with friends.
The right cut of meat for carne asada
To make carne asada, you'll need flank steak or skirt steak. Flank steak is a thicker and leaner cut of beef whereas skirt steak is thinner and a little more fatty. As long as you slice both of them thinly and into bite-sized chunks for tacos, both are great options!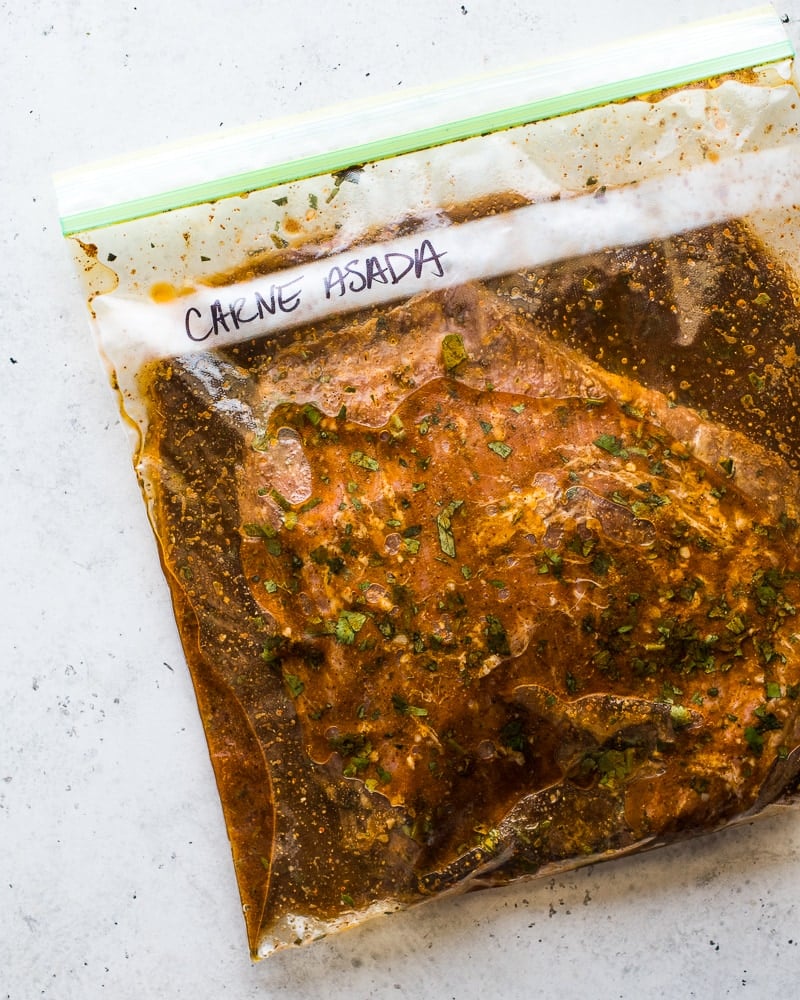 Marinating and Grilling Carne Asada Tacos
The main ingredient in these tacos is carne asada (aka marinated and grilled meat). For the marinade, I used a combination of chopped cilantro, olive oil, orange juice, lime juice, white wine vinegar, chili powder, cumin, oregano, garlic, a finely chopped jalapeno and salt and pepper to get the meat as tender and juicy as possible.
I recommend marinating the meat for at least 2 hours, but no more than 8 hours. If it sits longer, the citrus and acid in the marinade will start to break down the meat and begin to change its texture.
When you're ready to cook the meat, remove the steak from the marinade and pat it dry with a paper towel. Then drizzle it with a little olive oil, sprinkle it with some salt and black pepper and cook it on the grill, on a grill pan or in a skillet if that's your only option.
Be sure to check out my carne asada post where I go into greater detail on how I recommend grilling and cooking the meat.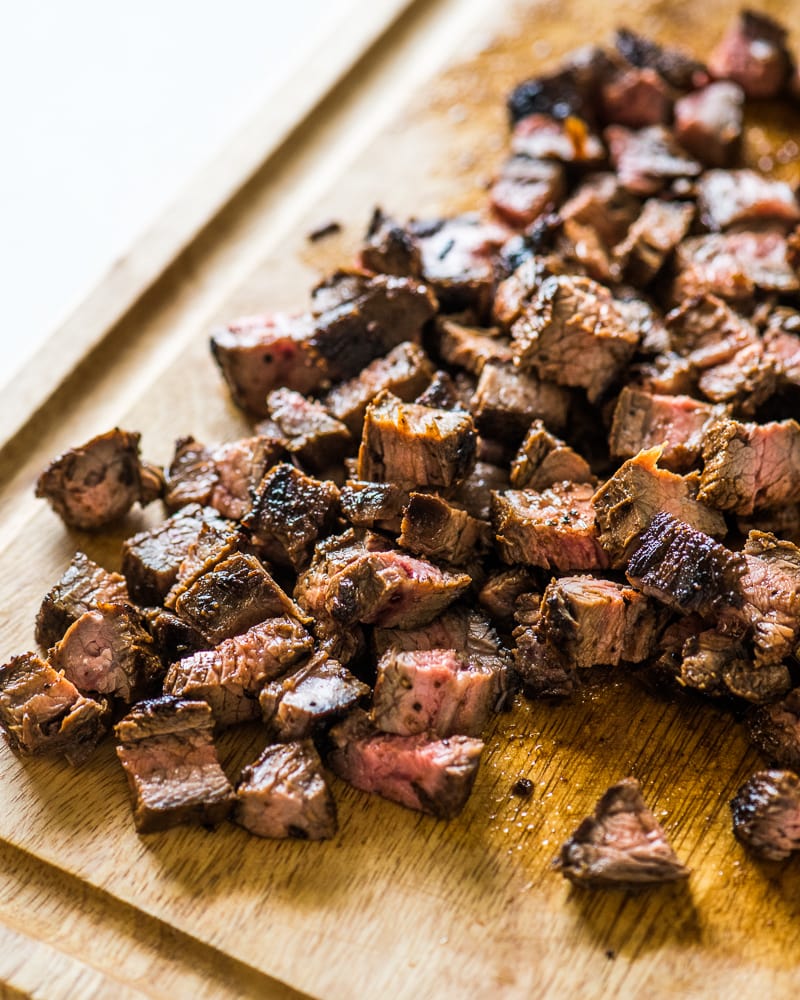 The best toppings to use
Once your carne asada is prepared, it's time to assemble the tacos! Traditional carne asada tacos are topped with very minimal ingredients – chopped cilantro, diced onions, cotija cheese or queso fresco, and a squeeze of lime juice.
I like the addition of a little avocado for some added creaminess in every bite. In these photos, I simply mashed an avocado with a fork and mixed in a squeeze of lime juice and salt. You could also use guacamole and eat any leftovers with tortilla chips!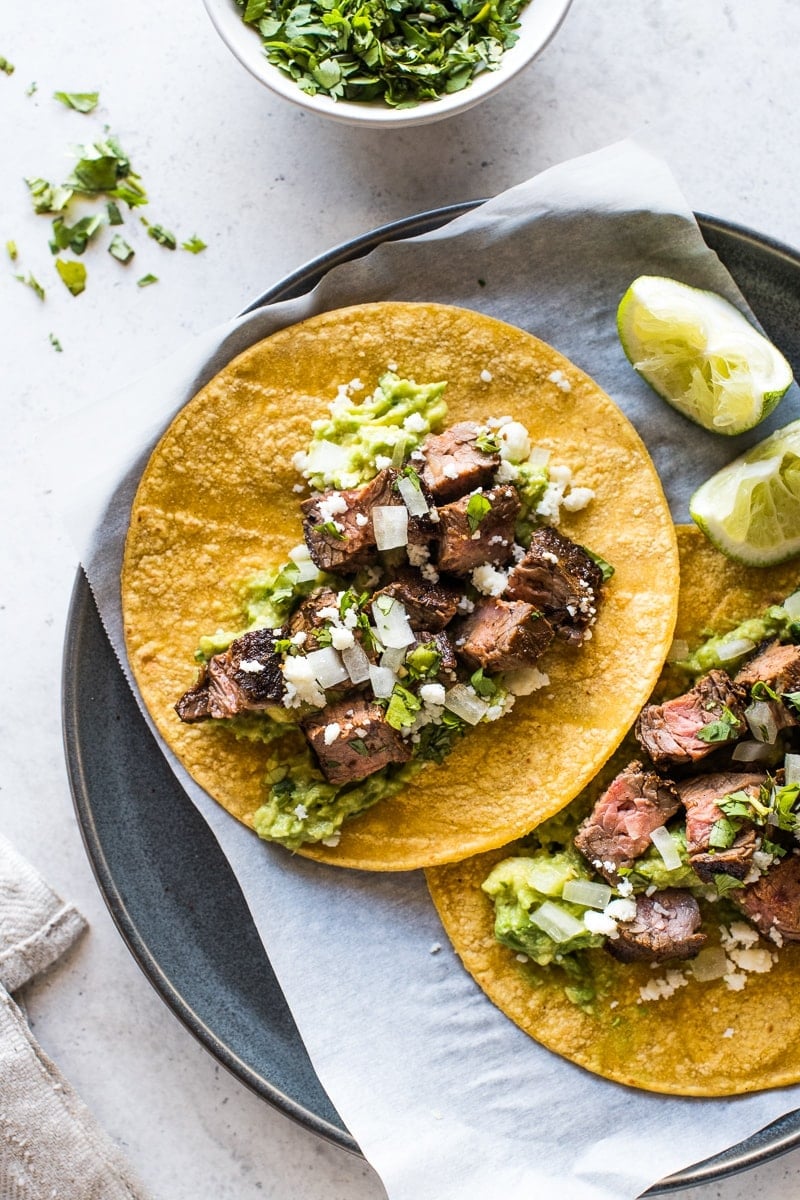 I hope you love these tacos as much as I do! Let me know if you have any questions in the comments below. And be sure to leave a review if you try this recipe!
To get more easy Mexican recipes delivered straight to your inbox, sign up for my email newsletter.
More Mexican Taco Recipes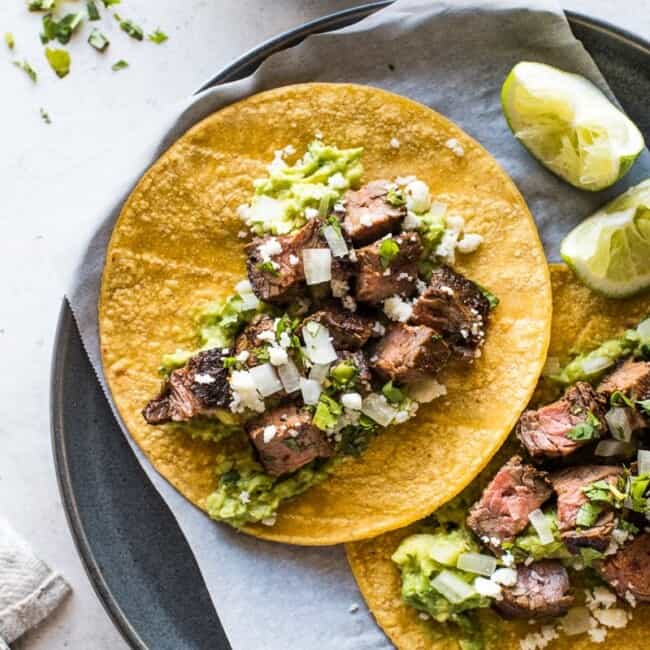 Prep: 10 minutes
Cook: 20 minutes
Total : 2 hours 30 minutes
Easy carne asada tacos made from juicy and tender marinated flank steak or skirt steak and topped with onions, cotija cheese and fresh cilantro.
Ingredients
For the carne asada marinade
Instructions
For the carne asada marinade
In a medium bowl, whisk together all of the ingredients except for the steak.

Place the steak in a large baking dish or gallon size ziplock bag and pour the marinade on top. Turn the steak a few times until it's completely coated with the marinade and refrigerate for 2 to 4 hours. Do not marinate for longer than 8 hours because the meat will start to break down and get mushy due to the acidity in the marinade.

Remove steak from marinade and discard any excess marinade. Pat steak dry with paper towels and drizzle with a touch of olive oil, enough to coat each side. Season lightly with coarse salt and black pepper on both sides.

Preheat grill (or grill pan) to medium-high heat (400-450°F). Grill steaks with the lid closed for 4-8 minutes per side, depending on the thickness. Skirt steak will be closer to 4 minutes per side and flank steak will be closer to 6-8 minutes per side.

Remove steaks and allow to rest for 5 minutes. Slice into bite-sized chunks for easy eating in tacos.
For the tacos
Place a heaping spoonful or two of carne asada onto warm tortillas.

Top with diced onions, chopped cilantro, crumbled cotija cheese and a spritz of fresh lime juice.

Serve with more of your favorite toppings like guacamole, pico de gallo and salsa if desired.
Isabel's Tips:
To make sure the steak is cooked to your preferred temperature, I recommend buying an oven-safe meat thermometer like this one.
To keep your tortillas warm and pliable when serving, place them inside a tortilla warmer like this or wrap them in a clean kitchen towel and place them inside a large gallon-sized zip top bag to help them retain heat and moisture.
Nutrition Information
Serving: 2tacos Calories: 337kcal (17%) Carbohydrates: 25g (8%) Protein: 30g (60%) Fat: 13g (20%) Saturated Fat: 6g (30%) Cholesterol: 85mg (28%) Sodium: 584mg (24%) Potassium: 510mg (15%) Fiber: 3g (12%) Sugar: 2g (2%) Vitamin A: 147IU (3%) Vitamin C: 1mg (1%) Calcium: 160mg (16%) Iron: 3mg (17%)